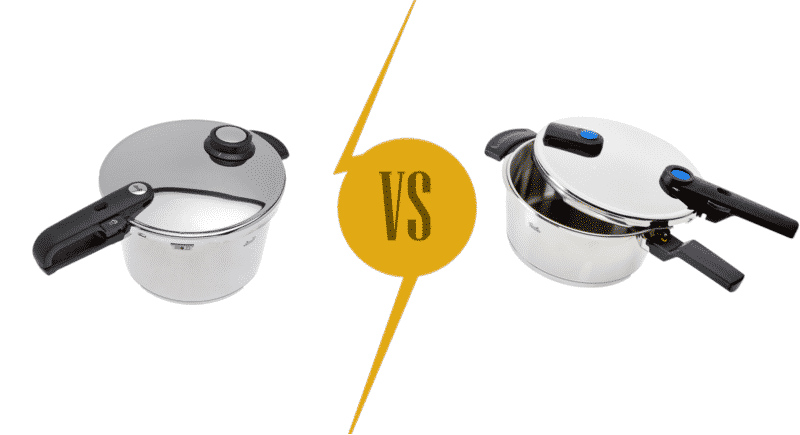 Fissler Vitavit vs Vitaquick
Fissler is a well established German company that has been providing good quality cookware since 1845. Still owned by the 6th generation of the Fissler family, all products are manufactured in Germany, and the make is known for longevity and quality. There are two pressure cooker models in the range, and both look very similar. So which one is best? We take a look at Fissler Vitavit vs Vitaquick to find out.
First, up let's see what makes this brand so special.
Fissler Pressure Cookers
Fissler pressure cookers are all stovetop models. The company does now make a multi-function electric pressure cooker, but the pressure cookers here all look traditional in that you do need to cook with them, rather than press a button and leave it all to a preset.
That said, it is so much you can do in a traditional style stovetop pressure cooker. You can carry out most of the same functions if not all of the functions advertised by multi-function appliances, but the main difference is that you have to make your own calculations regarding cooking times and pressure. This type of pressure cooker is not difficult to use, but it can be a bit daunting for beginners.
Although stovetop pressure cookers may sound like a thing of the past, there is no comparison with Fissler pressure cookers and the old-style jiggle top cookers that our grandparents used.
All Fissler models feature a sleek ergonomic design that will look beautiful in any kitchen. They are manufactured from high-quality stainless steel and are compatible for use with any type of hob including induction hobs. The handles and locking mechanisms are safe and easy to use, and overall, this pressure cooker range is like the Mercedes Benz of the pressure cooker world.
All Fissler products are made in Germany so you can be assured of good quality production and durability. You also have a wide range of size options from 4.5 liters capacity up to 10 liters.
Fissler Vitavit
There are two products in this range; the Fissler Vitavit Premium and the Vitavit Comfort. We will focus on Vitavit Premium as the Comfort range does not seem to be as readily available outside Germany. As both models look very similar, there does not appear to be much difference.
The Vitavit Premium is a sleek good looking pressure cooker that comes with accessories, including a steamer insert. You can use it as a pressure cooker but also with a no-pressure setting and as a steamer.
All of the control is carried out via the handle. Settings include gentle or fast cooking programs. You can depressurize very easily at the end of cooking time, controlling whether you want slow-release or quick release. You have a setting to steam without pressure, which looks very good, and the handle is removable for easy cleaning. The valve features a traffic light system, which makes it very easy to control pressure instantly.
Vitavit Premium is available in all sizes, and you can choose between the more traditional deep saucepan shape or, the more shallow pressure skillet.
The Vitavit Premium range is not cheap. Prices start at $199, but as there is little to go wrong with this pressure cooker and it is so well made, it should last a lifetime.
You can buy new gaskets direct from the company. There is also a range of accessories available such as insets and tripods and glass lids for when you want to use the pressure cooker without pressure, such as for steaming.
You can also buy a bundle of products in the same deal. Such as the pressure cooker and the pressure skillet, with added glass lid and tripod inset. A 6-piece set of Fissler pressure cooking products costs $449 if you buy direct from Fissler.
Pros
Great quality cookware
Made in Germany
Easy to use
Cons
Expensive
Not as easy to use as a multi-function appliance
Does not come with instructions for beginners
Fissler Vitaquick
According to the Fissler product information, the Fissler Vitaquick is suitable for beginners to pressure cooking and offers the user a simple, efficient pressure cooker that you can use every day.
However, there does not seem to be much difference between the Vitaquick and the Vitavit models. They are roughly around the same sort of price, the design looks near enough identical, and as with the Vitavit, it features the same good quality and usability. As with the Vitavit, it features the same easy locking mechanism and pressure control. It may not have the traffic light indicator on the valve, but this point is not made clear by the advertising.
Prices start at $189, so it is roughly $10 cheaper than the Premium model. You can also buy Fissler sets, such as the 6-piece set of Fissler cookware for $349.99
Pros
Slightly cheaper than the Vitavit models
Advertised as suitable for beginners
Good quality German make
Cons
Although advertised as suitable for beginners, this does not look any easier to use than the other Fissler models
Advertising is unclear
It is expensive
In conclusion
Fissler is undoubtedly a respected European company, and we always like to see kitchen equipment that is manufactured per quality and tradition. If you enjoy pressure cooking already, you may find that the Fissler brand gives you the freedom to cook in the way that you want without the encumbrance of presets. Besides, any of these pressure cookers will look incredibly stylish in your kitchen.
That said when it comes to at Fissler Vitavit vs Vitaquick it is hard to tell the difference between them. They are both very similar looking, and they both do much the same thing. With so little price difference, we would tend to favor Vitavit over Vitaquick because it as advertised as premium quality, but in truth, it seems unlikely that there is much difference between the two.
Related Video: