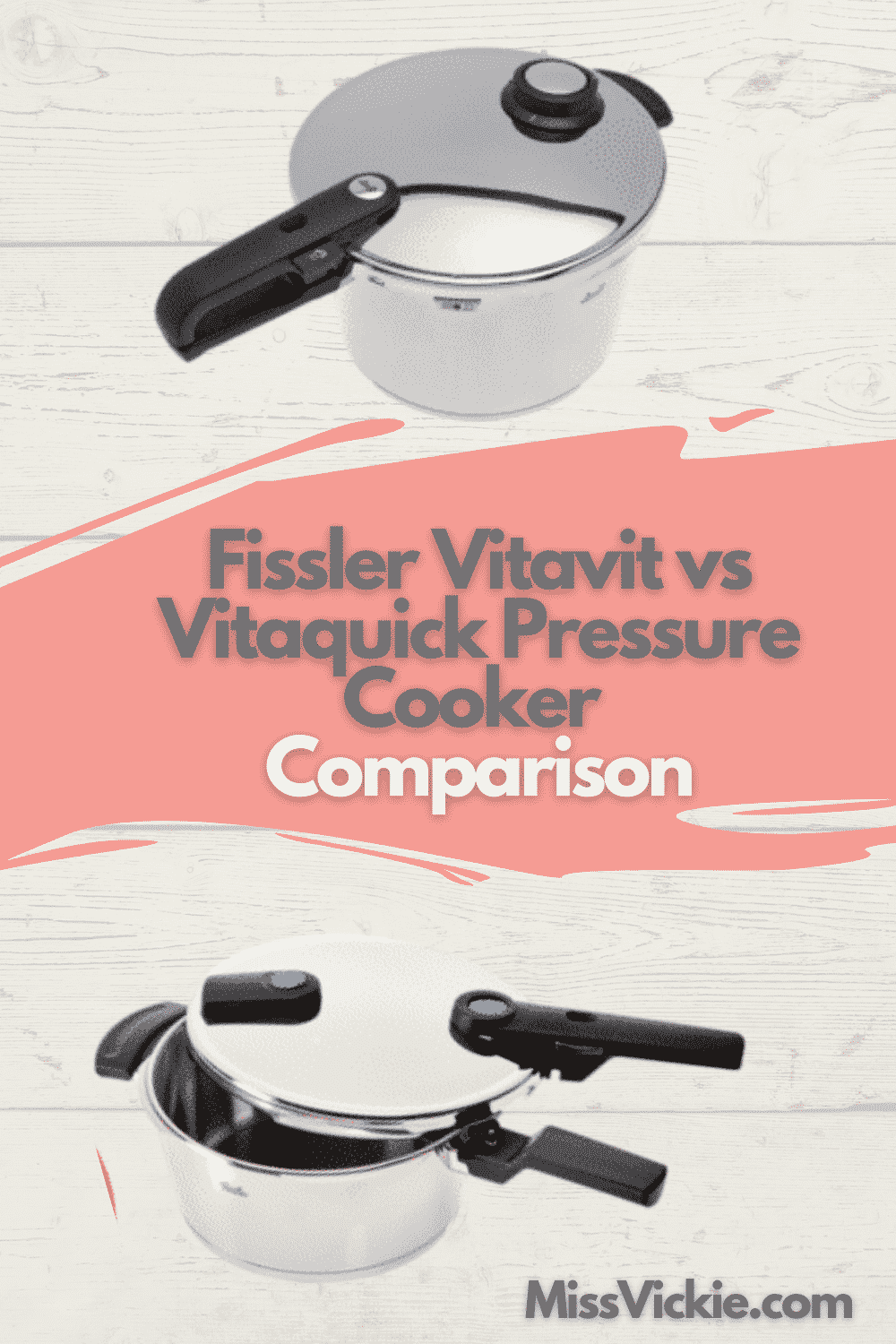 Fissler is an esteemed German manufacturer of high-quality cookware. Founded in 1845, Fissler is proudly famous for making the world's first stainless steel pot in 1920.
They were also the first to introduce a pressure cooker that had a multi-control valve which soon became an industry standard.
All cookware from Fissler is manufactured in Germany and largely accepted to be among the world's highest quality, longest-lasting pots.
Fissler Vitavit vs Vitaquick
There are two main pressure cookers in the Fissler range. Despite looking similar to each other, each delivers unique benefits.
We'll be giving you a comprehensive comparison between the Fissler Vitavit and the Fissler Vitaquick Pressure cooker, but first, let's see what makes this such a special brand in the first place.
Fissler Pressure Cookers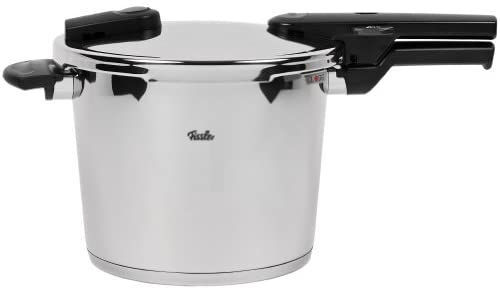 Fissler started off manufacturing stovetop models. For a long while they were known for their stovetop pressure cookers only but today, you find both multi-function electric pressure cookers and traditional units available.
The convenience of later models matches the quality of their predecessors, providing one-button cooking thanks to a broad range of presets.
Traditional stovetop pressure cookers are equally as versatile but take a degree of skill to use.
Both multi-function and manual pressure cookers can cook up the same meals and the same duration but you'll need to know the cooking times and pressure requirements beforehand.
If you had to compare standard cooking procedures on a manual cooker to the presets of a multi-function electric pressure cooker, you'll find they're an exact match.
Despite traditional pressure cookers all functioning on the same principles, there's no comparing Fissler pressure cookers to the old, clunk, hissing stovetop models that our predecessors used.
Fissler models boast beautiful, slimline ergonomics and striking designs that match any kitchen perfectly. Stainless steel construction ensures that they're induction ready, working with all types of hobs.
From the high-end manufacturing to long, durable handles, secure locking technology, and extreme ease of use – these are the Rolls Royce of pressure cookers.
You can expect to find a wide range of sizes available, with capacities ranging from 4.5 liters all the way to 10 liters.
All Fissler products are made in Germany so you can be assured of good quality production and durability.
You also have a wide range of size options from 4.5 liters (2.5 Quart) to 10 liters (4.45 Quart) capacity available.
Now that you know what to expect from the range, let's take a closer look at the Vitavit and Vitaquick product line individually.
Fissler Vitavit Premium vs. Vitaquick Pressure Cooker Comparison
| | | |
| --- | --- | --- |
| | Fissler Vitavit Premium | Fissler Vitaquick |
| Design | Attractive Slimline Aesthetics | Large Durable Striking Aesthetics |
| Size | 2.5 Liter, 6 Liter & 8 Liter | 4.5 Liter & 6.5 Liter |
| Features | Traffic Light Color Pressure Indicator, Euromatic Valve, Locking Handles, Rubber Gasket, Steamer Insert | Simplified Blue Visual Pressure Indicator, Fast Depressurization, Rubber Gasket, Accessories & Inserts Available |
| Ease of use | Handle-Mounted Pressure Controls, Slight Learning Curve | Locking Handle, Failsafe Operation |
| Affordability | $199 | $189 |
| Accessories/Parts | Full Range Of Parts Available | Full Range Of Parts Available |
| Bundled deals | 6 Piece Set – $449 | 6 Piece Set – $349 |
Fissler Vitavit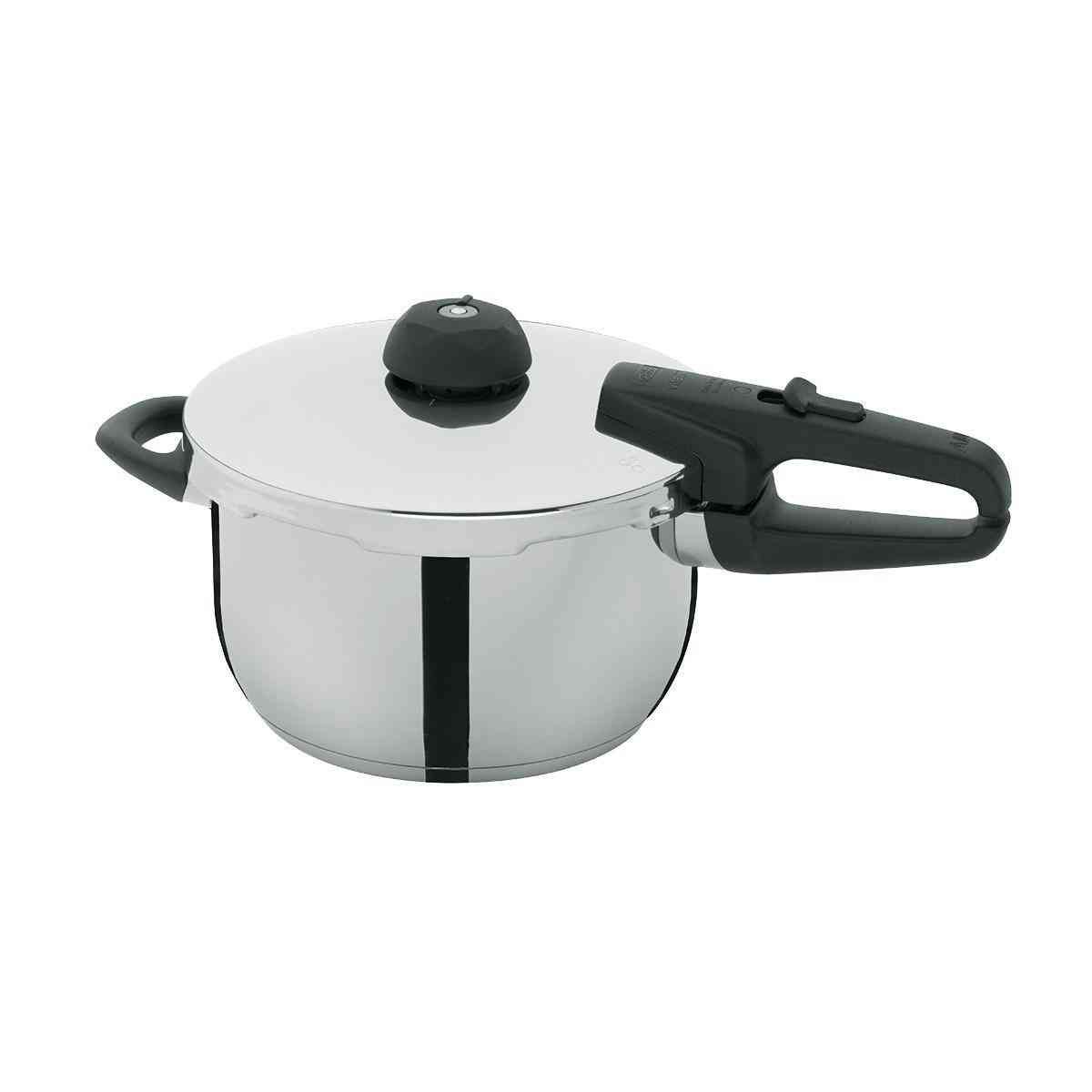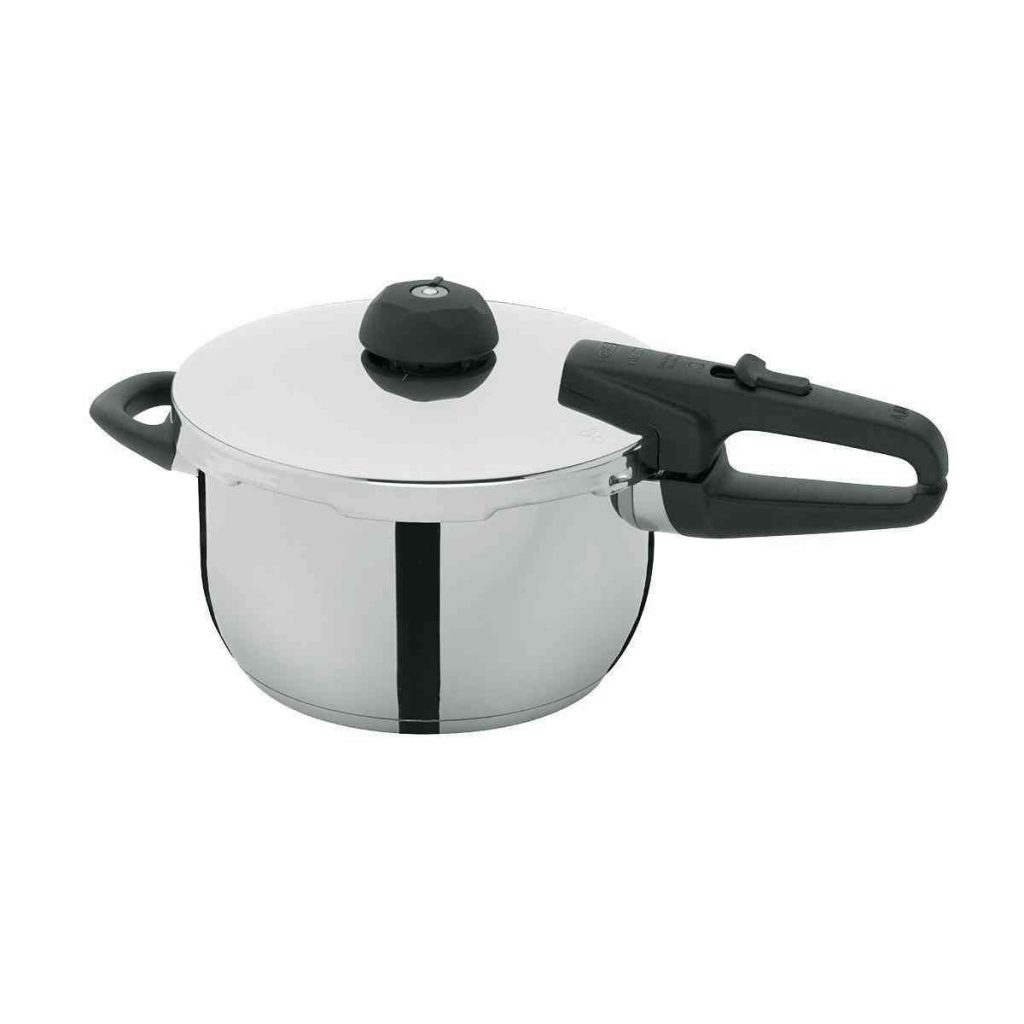 The Fissler Vitavit is split into two main models, the Fissler Vitavit Premium and the Fissler Vitavit Comfort. The Fissler Vitavit Comfort is sold mainly in Germany and other countries in Europe.
The Vitavit Premium and Comfort are very similar in their looks and features but we'll be overviewing the Premium found predominantly in the U.S.
Design
The Vitavit Premium features sleek, attractive aesthetics and an attractive overall design. The Premium model is suited to both pressure cooking and zero-pressure steaming.
Size
There are three different sized induction-compatible pressure cookers available in the Vitavit Premium range.
Choose from an 18 cm – 2.5 Liter (2.6 Quart), a 22cm – 6 Liter (5.28 Quart), and a 26 cm diameter – 8 Liter (8.45 Quart) pot.
Features
The Fissler Vitavit Premium uses a traffic light color indication system that visually indicates the level of pressure in your pot.
The euromatic valve offers superior pressure control, lifting and revealing a different color as the pressure rises.
It comes with a complete range of accessories including the steamer insert which lets it function as a steamer. A thick rubber gasket ensures a tight, failsafe seal.
The handles lock in place using fastening screws, a feature that lets them be replaced should wear and tear make it necessary.
Ease of use
The Vitavit Premium has all of its cooking controls built into the handle. Gentle or fast cooking can be selected, and you're given control over depressurizing the pot at the very end of your cooking cycle.
Slow and quick pressure release are offered at a touch, and you can also steam without pressure.
Affordability
The Vitavit Premium range may not be cheap but you are rewarded with outstanding value for money. Vitavit Premium pressure cookers start at around $199 but a single pot should last you a lifetime.
Accessories/Parts
Fissler provides replacement gaskets, handles, lids, valves, and reliable support services straight from their website. You'll find everything from glass lids to tripod insets available.
Bundled deals
Shopping directly from Fisslers offers significant discounts when purchasing a pot set. A six-piece set of pressure cookers and a pressure skillet are available for just $449.
Pros
Control Over Pressure Release
German Manufacturing
High Ease of Use
Industry-Leading Durability
Replacements/Parts Available
Cons
Expensive
More Complicated Than Standard Multi-Function Appliance
No Beginner Instructions
Fissler Vitaquick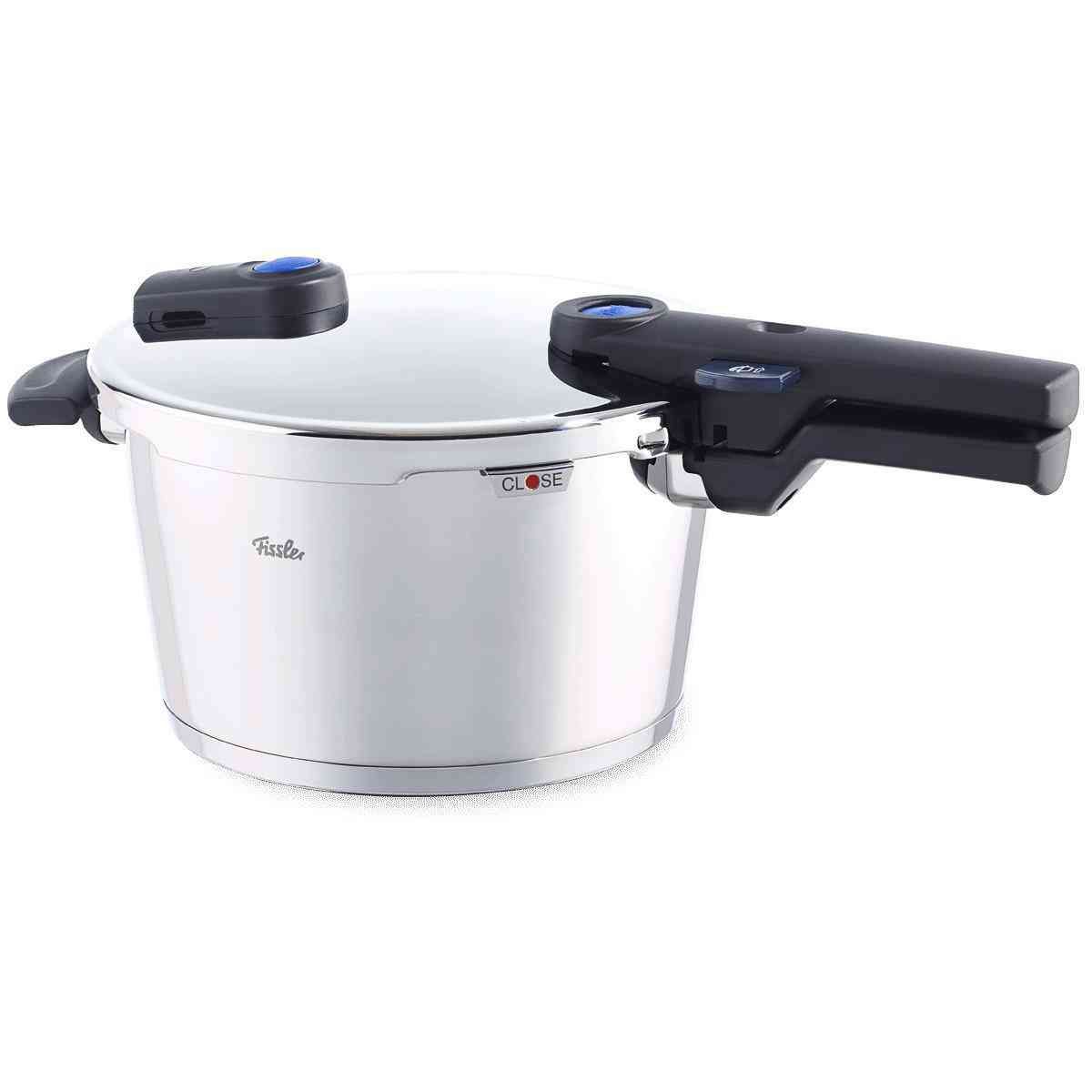 Fissler takes ease of use to an even higher level than their already impressive Premium pressure cookers. It's one of the easiest to use pressure cookers available, perfectly suited to beginners.
Its hassle-free design has been specifically created to make pressure cooking as easy and safe as possible.
Design
The Vitaquick isn't as sleek as the premium but it's just as good looking. The top-quality super-thermic base offers supreme heat distribution and cooking efficiency.
You can only pressure cook in this pot but everything is practically positioned and placed.
Size
There are only two different sized Fissler Vitaquick pressure cookers available. You've got the 22cm – 4.5 liter and the deeper 22 cm – 6.5 liter available.
Features
Every design feature of the Vitaquick is there to make cooking as safe and straightforward as possible. The most striking aid to novice pressure cookers is the positioning aid.
The Vitaquick position aid guides you with a 'Close' visual indicator on the lid that clips into place.
There's only one way that it closes and once the lid has clipped on a locking indicator extends showing that the seal is secure. Detachable handles reattached with a durable screw.
An encapsulated superthermic base offers some of the best and most balanced heat distribution on offer out of any cookware.
Ease of use
A conveniently placed blue cooking display shows you the progress of your pot as it pressure cooks.
There are no pressure release controls like the Premium but you know exactly when all the steam has dissipated. It is also designed to depressurize far faster than conventional pressure cookers.
The Vitaquick will show you when it is safe to open, and the lid can only open when the pressure is gone and the indicator shows it's.
You'll have to wait longer to open your pressure cooker than when using the Premium's controls, but it's far safer.
Affordability
The Vitaquick is slightly cheaper than the Vitavit Premium. With pricing starting at $189, it's just $10 more affordable.
Accessories/Parts
Replacement handles, valves and lids are available online from Fissler. As a market leader in cookware since the very beginning, customer service is fantastic.
Bundled deals
Fissler offers a 6-piece Vitaquick cookware set at $349.99 which is roughly $100 cheaper than its Vitavit Premium counterpart.
Pros
Slightly More Affordable Than Fissler Vitavit Premium
Designed For Beginner use
German Manufacturing
Industry-Leading Durability
Replacements/Parts Available
Cons
Expensive
Learning Curve Higher Than Expected
Ambiguous, Difficult To Understand Advertising
Insert/s Not Included
In conclusion
Fissler boasts a long record of producing some of the world's best kitchen equipment. As one of the most respected companies in Europe, you can rely on the pressure cooking all pots in their range.
It's a brand that you can trust for everything from high-performance, efficient cooking to customer service and replacement parts further down the line.
While there's little difference between the Fissler Vitavit vs Vitaquick, Fissler's recommendations ring true.
Both offer premium quality and better pressure cooking than you've likely experienced, but the Vitaquick is the easier pot to use for beginners.
The sheer simplicity of the visual indicator and locking lid makes sure that no one can go wrong.
However, if you're a seasoned cook who prefers complete control over all aspects of your meal – the Fissler Vitavit is the premium pressure cooker for you.
Related Video: