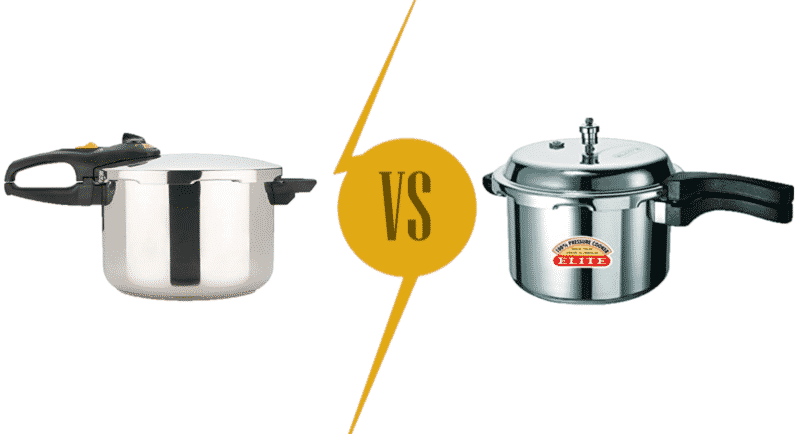 Fagor Duo vs Elite
Pressure cookers come in all types of models, and although the modern electric multi-function appliances are popular, there is still a demand for stovetop models. When it comes to the Fagor Duo vs Elite pressure cooker, both types have plenty to recommend them. So let's take a look.
Fagor Duo
The Fagor Duo is a stovetop pressure cooker. It is available in 4qt to 10qt sizes, with the 6qt being the most popular, and it looks very good at first glance.
The Fagor Duo features good quality stainless steel construction, and it is very easy to use. The locking system and handle are fitted with a spring-loaded mechanism, and there are two pressure settings; low at 8psi and high at 15psi.
Although this is not a one-touch multi-function appliance, don't be fooled into thinking that the Fagor Duo is limited and basic is what it can do. You can do a lot in this pressure cooker, including sauteing, roasting, soups, casseroles, and steaming.
It does much the same as a multi-function appliance apart from slow cooking, but the only difference is that you can't just press a button and expect this to work automatically. You do need to know what you are doing to use this pressure cooker, and you will need to supervise the cooking yourself and make your own decisions regarding how long you should cook for and more.
The Fagor Duo does not have a built-in timer, and there are no gadgets such as an LED display. However, it is pretty easy to use. You know it has reached pressure – there is a pressure indicator on the lid, and there are plenty of safety functions that will prevent you from opening until it is safe to do so.
The Fagor company has been undergoing financial problems for the last few years despite being a popular company in the USA for the last few decades. In recent years it moved much of its operation to Spain where the brand sometimes goes under the Zavor name.
Even more confusingly, there appear to be two manufacturing bases, and although some models are made in Spain, others are made in China. There does not seem too much information about this in the product information, but customers report buying the Fagor Duo with either a made in Spain or a made in China label.
Pros
Good quality pressure cooker
Looks safe to use
Comes with a recipe book
Cons
Some confusion over the country of manufacture – could be made in Spain or China
Some customer complaints about the quality
Not as easy to use as an electric multi-function appliance.
Elite Pressure Cooker
By contrast to the Fagor Duo, the Elite Platinum seems to have every gadget available. This electric multi-function pressure cooker features an LED screen and functions as a rice cooker, slow cooker, and pressure cooker. You can use it for sauteing, there is a keep-warm function, automatic timer, and there is a timer delay.
The Elite also features numerous preset buttons, including; Vegetables/Fish, Soup/Stew, Steam, Potatoes, Beef/Meat, Slow Cook, White Rice, Chicken, Keep Warm, Brown/Sauté, Beans/Chilli.
The Elite is available in a good choice of sizes, 6qt, 8qt, and 10qt so that it will suit a wide range of family sizes. It is also available in a range of color choices. The new 10qt size (EP1013) comes in red, blue, yellow, and black, so you could buy one to match your décor.
The exterior of the Elite Platinum is constructed from stainless steel. However, it is unclear whether the inner pot is also stainless steel, and it is most likely aluminum. Some customers have complained that this seems flimsy, and a few people have experienced the non-stick coating peeling off in the food.
The Elite Platinum does come with a year's warranty, so if you do go for this pressure cooker, make sure you have signed up to this and completed any paperwork if required. That way, if things do go wrong, you should be able to get a replacement.
Overall the Elite Pressure Cooker looks reasonable. It certainly does a lot and is easy to use, but there is also a high level of customer dissatisfaction regarding durability. Not everyone has experienced problems, but with only 51% of feedback wholly positive on Amazon, this leaves a whopping 49% of customers who probably wished they'd bought something else.
Pros
Easy to use
Some good customer feedback
An attractive kitchen appliance that comes in various colors
Year's warranty
Cons
Very high level of customer complaints
The inner pot is aluminum and Teflon coated
It might be difficult to cook away from the presets.
In conclusion
These two pressure cookers are at the opposite end of the spectrum. The Fagor Duo is a modern version of classic design, and if you like pressure cooking and are already a fan of this cooking method, you will probably love it. Besides, we like that it is made from stainless steel and we like that it is made in Spain, but this was disappointing when we discovered that Fagor also manufactures in China. There is nothing wrong with Chinese made goods, but it is misleading of the company to state that their goods are made in Spain when this is not always true.
There is no such confusion with the Elite Platinum. Like most household appliances, this is made in China, no question. We like the design, and we like that it is really easy to use; you can just press a preset button, and your meal is cooked. The downside is that it doesn't seem to be very reliable, and many customers have had problems.
If we had to choose between Fagor Duo vs Elite pressure cooker, we would probably choose the Fagor Duo. We like that this pressure cooker is more traditional, and it will be more versatile if you know what you are doing. But for inexperienced pressure cooker cooks, the Elite will certainly be easier to use