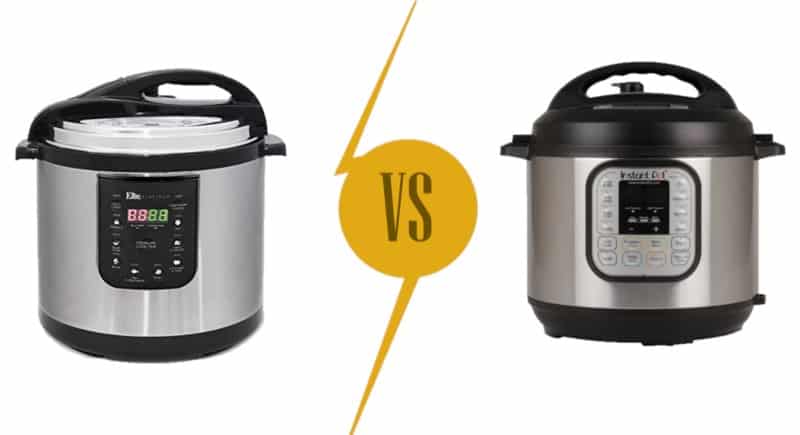 Elite Pressure Cooker vs. Instant Pot
Multifunction electric pressure cookers are popular. They offer a wide range of cooking capabilities and are economical and easy to use, so it is easy to see why. With so many brands on the market, it can be hard to make the right choice and although the Instant Pot is the USA's number one make, does this mean that this is the one to buy?
We check out the pros and cons of the Elite pressure cooker vs. the Instant Pot.
Elite Pressure Cooker
The Elite pressure cooker is available in a range of sizes and models including 6qt and 10 qt so it is adaptable for varying sizes of families.
The 6 qt Elite Platinum model offers 11 cooking modes via the 11 preset functions. These are Vegetables/Fish, Soup/Stew, Steam, Potatoes, Beef/Meat, Slow Cook, White Rice, Chicken, Keep Warm, Brown/Sauté, Beans/Chilli.
You can also brown and sauté food before using the pressure cooking function. Unlike some multipurpose cookers, this one does not come with a yogurt making function. In addition, you can't use it as a canner but as a general-purpose pressure cooker, it looks to fit the bill. The slow pot function is also useful for when you don't want to pressure cook.
This pressure cooker looks easy to use. The control panel is easy to navigate and it should simply be a case of adding the food and pressing the right button.
If you are an experienced pressure cooker cook, you may find it a little basic. There does not seem to be a pressure control setting. Instead, you follow the directions depending on the type of food you are making and set the timer.
There is also a preset timer that you can program in order for the Elite to start cooking for up to 24 hours in advance.
The construction of the Elite looks pretty good. The pot is fabricated from stainless steel and the inside liner is detachable and dishwasher friendly.
Safety functions include an automatic float valve and an adjustable airtight and exhaust valve. The lid is easily operated and all cooking cycles are notified by an indicator beep.
Each Elite comes with a serving scoop, measuring cup and steamer rack.
Customer feedback is not overwhelmingly good. Although 52% of Amazon customers are completely satisfied, this means that 48% have reservations about it. Common complaints mostly relate to reliability or lack of it. Blown fuses are a common issue and there seem to be issues around the lack of warranty.
Prices vary depending on model and retailer but in general Elite pressure cookers are more expensive than other models including the Instant Pot.
Pros
Available in a range of sizes
Looks simple to use
Cons
More expensive than other models
High level of customer complaints about durability.
Seems basic compared with other brands
Doesn't appear to come with many recipe suggestions
No yogurt-making function
Instant Pot
Instant Pot is the number 1 brand in the USA and it offers the customer a good combination of being easy to use with a wide range of cooking options. Models vary and the Instant Pot is always fast to bring out new features and developments. The top of the range model is the Instant Pot Duo Nova which is available in 3 qt, 6qt or 8 qt sizes.
The Instant Pot Duo Nova has seven different functions; pressure cooker, rice cooker, steamer, sauté pan, yogurt maker and warmer. You can also use the Instant Pot as a slow cooker.
A good point about the Duo Nova is that the control panel is easy to use. There are two pressure settings, you can choose between Low and High. If you are more experienced you can alter the pressure level manually via the plus and minus setting.
There are 10 one-touch smart programs such as; rice, poultry, beans, and meat. The instructions are clear and easy to follow. You also have access to a website where you can get pressure cooking advice and access hundreds of recipes.
Because the Instant Pot is so well known and popular, you have the confidence that safety settings are good so this multi-function cooker is extremely safe to use.  You can be confident that if you ever need to replace seals in the future, the company will still be around. This suggests that your pressure cooker will probably last for a number of years without any problem or need for replacement.
Some customers have complained about the durability of the Instant Pot but with thousands of reviews on Amazon alone, negative experiences are certainly in a minority. Most models have around 82% completely positive comments and when you consider that most of these have attracted close to 40,000 customer reviews, it does suggest that most people are completely satisfied.
Price-wise, the Instant Pot is cheaper and more easily available than Elite.
Pros
USA Number 1 proven and trusted brand
Well priced
Easy to use and safe
Lots of functions
Cons
Doesn't come with a money-back guarantee or standard warranty
Some complaints about reliability
In conclusion
Overall we think that Instant Pot wins hands down against the Elite Pot. The Elite Pot looks extremely basic by comparison and although you might not want to make yogurt, it is nice to have the choice. In addition, there seem to be issued with the manufacture of Elite. Many customers have complained about the lack of reliability and the fuses are a matter of concern.
Finally, the Elite Pot is not as easy to buy as the Instant Pot and the customer support seems lacking. It does not come with any guarantee and with a large percentage of negative customer feedback this does not seem such a great buy to us.
The Elite Pot may suit some users but if you are looking to buy a pressure cooker that works and is reliable and easy to use, we recommend the Instant Pot every time.
Related Video: