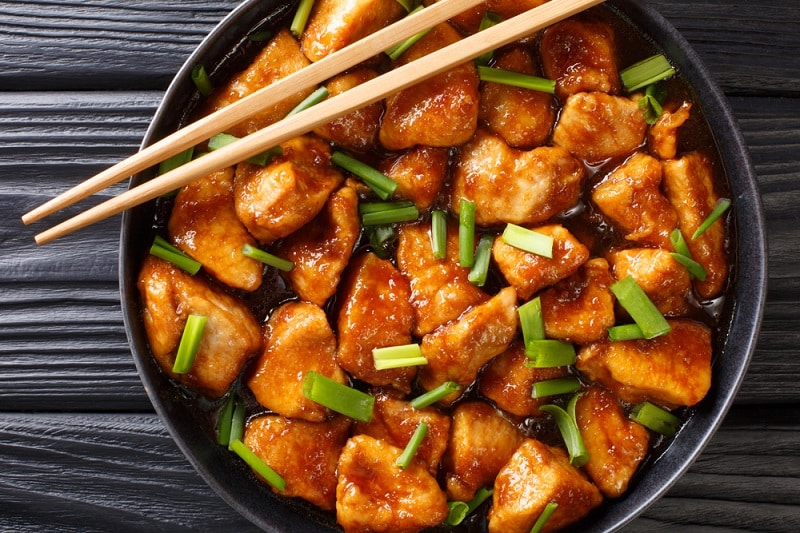 Chicken Breast In Pressure Cooker Recipe
The chicken breast is one of the most popular cuts of meat in the world, thanks to its tenderness, juiciness, and potential for rich flavor. The following are 2 delicious chicken breast in pressure cooker recipe you can cook right in your pressure cooker.
1. Onion Gravy Chicken Breast
This is a classic rich chicken breast recipe cooked in a pressure cooker filled with delicious spices and a savory gravy. It will go well served with rice, mashed potatoes, even mixed steamed vegetables.
Ingredients
4 chicken breasts – with or without skin, boneless
1 tsp Italian seasoning
1/2 tsp minced garlic
1/2 tsp salt
1/2 tsp pepper
1 onion – diced
2 cups chicken broth – low or no salt added preferred
1 1/2 Tbsp. butter
1 Tbsp. cornstarch + 1 Tbsp. water
Instructions
First, pour all of your chicken broth into your pressure cooker.
Season your chicken breasts with Italian seasoning, salt, pepper, and garlic powder; then, add your chicken breasts to the pressure cooker.
Add in your diced onions, making sure that they are spread around the chicken.
Add your butter to the pot.
Then, turn your pressure cooker on manual/high-pressure and cook it, locked, for about 8 minutes after the cooking count down begins.
Once the cooking time is over, let the steam release from your pressure cooker naturally for 10 minutes or as long as possible.
If you want to do so, after 10 minutes you can release the rest of the steam manually.
Remove chicken from pot; leave onions, then add a combined cornstarch and water mixture (about 1 Tbsp. starch, 1 Tbsp. water) to the pot.
Stir and cook on sauté mode until a gravy forms.
Serve chicken with gravy and onions.
2. Sweet and Spicy Chicken Breast
If you are looking for something bursting with flavor and a little kick of spice, then this sweet and spicy chicken breast recipe prepared with a pressure cooker is the perfect dish to make for dinner.
Ingredients
4 chicken breasts – with or without skin, boneless; cut into bite-sized pieces
2 Tbsp. garlic – minced
1 Tbsp. hot sauce – preferred brand. You can add more hot sauce if you prefer a spicier dish
2 Tbsp. honey
1 onion – diced
1 green pepper – diced
1/3 Tbsp. brown sugar
1 Tbsp. cornstarch + 1 Tbsp. water
Instructions
Mix together all of the ingredients in a bowl, except cornstarch, water, and peppers/onions, then set aside.
Place your chicken breasts, peppers and onions inside your pressure cooker, then top with the bowl mixture.
Lock your pressure cooker and cook on the manual/high-pressure setting for about 4 minutes of cooking time.
Quick-release the steam, then lift the lid.
Whisk together water and cornstarch, then add it to the pressure cooker. Stir so that the cornstarch mixture is well combined.
Set your pressure cooker to sauté mode, then let cook for a few minutes until the sauce in the cooker has thickened up.
Remove chicken breasts and serve, along with the sauce, over rice.
Related Video: