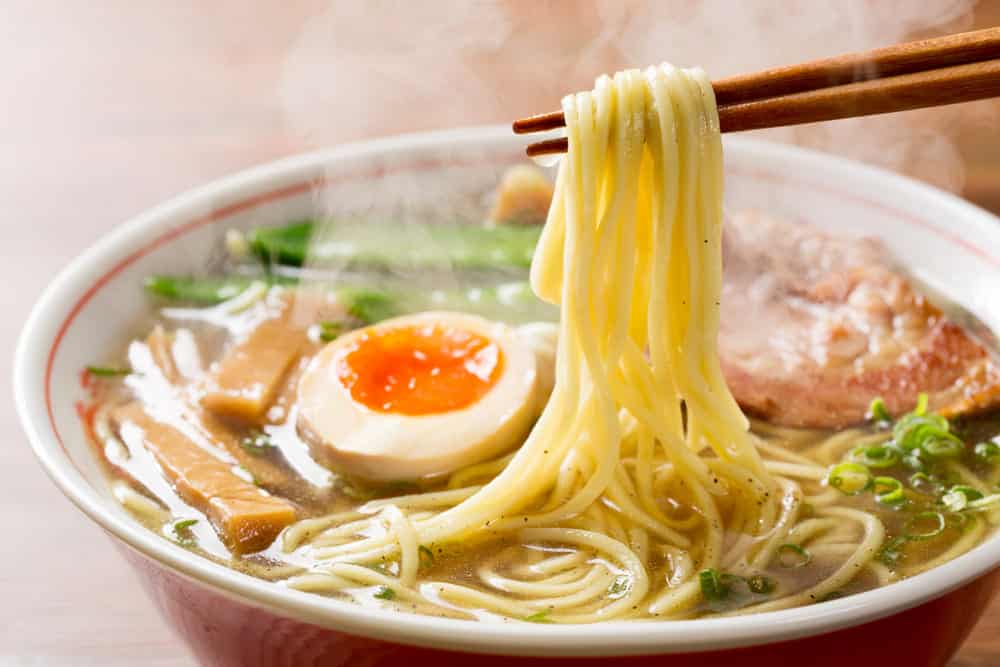 If you are a foodie and want light dishes, Chinese and Japanese cuisines will be the ultimate fit for you. So, ramen is the Japanese dish, which is a noodle soup that's made with wheat noodles, broth, and meat, along with the soy sauce seasonings on the top. However, ramen depends on noodles, and if you are looking for the best noodles for ramen, we have outlined some options for you!
Best Noodles For Ramen
1) Egg Noodles
The egg noodles are pretty similar to the conventional pasta, which are made with a high egg and wheat ration. When it comes down to the egg noodles, there are two types of egg noodles. Firstly, there are dried German noodles that are short in size and have a corkscrew shape, which makes a perfect fit for ramen. Secondly, there are Chinese egg noodles that have a thin and long shape. These noodles are available in dried and fresh form, which makes them perfect for the soups and broth, which makes them a suitable choice for ramen with meaty broth.
2) Wheat Udon Noodles
The Udon is a thick Japanese noodle that has a very chewy and soft texture. These noodles are made with wheat flour and have a slight taste to it. The Udon noodles are seamlessly used with the soup and mild broth. In addition to ramen, you can use Udon noodles with broth made out of mirin, dashi, and soy sauce. On top of everything, you can add the scallions. These noodles are also available in frozen form along with the dry and fresh form. These are white and thick noodles with slippery texture. In old times, these noodles were made with some guy stepping on the dough (obviously after wearing the socks!).
3) Soba Noodles
Soba noodles are perfect for making ramen, which is available in thin and dried form. These noodles have a flat form that can be made from buckwheat flour. With this ingredient, you will get the nutty flavor that can be strong for some people. The best thing is that soba noodles are perfect for adding in the Japanese soups, even the vegetable soups. These noodles have the brownish hues given the buckwheat flour. These noodles have a nutty flavor. As far as the texture is concerned, it's pretty smooth and can be used in ramen as well as in a salad.
4) Wheat Ramen Noodles
These noodles are extremely light that have become popular with their springy form. These ramen noodles are made with wheat flour that can be cooked and dehydrated after frying. On the other hand, the fresh ramen noodles are made with a combination of eggs, wheat, and alkalized water. These noodles have the slurping texture because it's made with the combination of gluten flour and higher protein count. These noodles have yellow tones that are available in straight and wavy forms.
5) Rice Vermicelli Noodles
These noodles are made out of rice flour that is available in dried and fresh variants. When it comes down to the shape, the rice vermicelli noodles have the same thickness level as the hair pasta and has a wide cut. Al in all, it doesn't matter which type of noodle soup you are making; these rice vermicelli noodles are the fine choices for you.
6) Somen
These noodles are pretty thin and white because these noodles are made with wheat flour. This thin configuration makes sure that noodles are cooked within one minute (even less, only thirty seconds!). These noodles can be used in ramen and can be dipped in the sauces as well. The Somen noodles are usually available in dried form.
7) Shirataki
These noodles are for everyone who needs zero calorie count, gluten, and carbs because these noodles have a slippery texture. The noodles are made from the soluble fiber, which means they are easily digested. The noodles are available in the refrigerated form, and all you need to do is boil them and add to the ramen or broth.