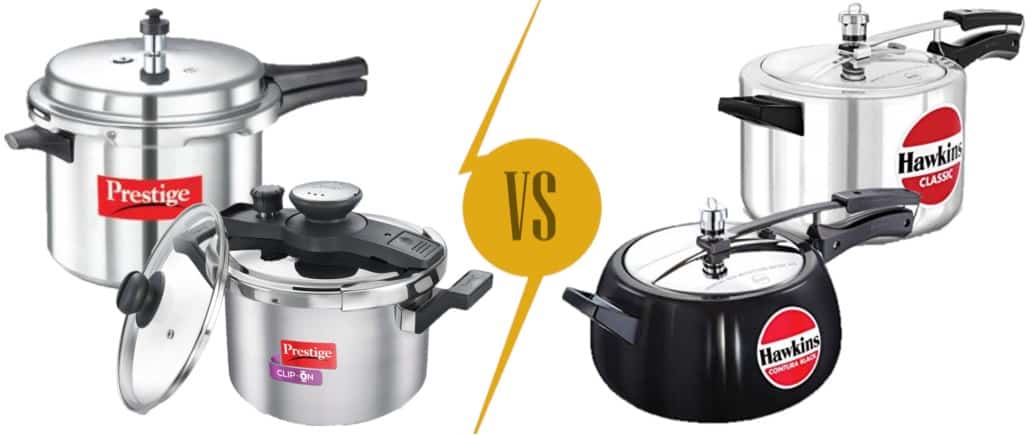 Which pressure cooker is the best: Prestige or Hawkins?
With so many pressure cooker brands on the market right now, it can easily become overwhelming to choose a good one that fits all your needs and requirements. With that in mind, it's all a matter of perspective and actively figuring out the better option. Prestige and Hawkins are great Indian pressure cooker brands and they are both known for their versatility and amazing value for money. But this brings in the question, which pressure cooker is the best, Prestige or Hawkins?
Prestige pressure cookers
Prestige is a company based in Bangalore and the great thing is that they are offering pressure cookers of all sizes that you can enjoy using often. What makes the company great is the fact that their products are geared towards the budget market. They might not have amazing bells and whistles, but they get the job done and the return on investment is great because of that.
In addition, Prestige pressure cookers are designed to be very simple and convenient too. Even if there are any issues with your unit, you can easily find a replacement part online. That alone certainly adds to the convenience side of things, and you don't have to worry that much about problems that can arise out of nowhere.
When it comes to size, you usually have options as small as 1.5 liters and as large as 8 liters. As you can see, there's plenty of room to work with, and the increments are very good too. So you can easily find a good model to suit all your needs and requirements without that much of a problem.
One thing to consider about the Prestige pressure cookers is that they tend to have a very distinctive shape. Some of them have a wide mouth and are straight-walled, others are curved, you can even find apple-shaped units. Having so many different options on the market certainly helps and it just gives you a much better experience than you imagine. That alone is great if you're looking for something more specific.
Durability-wise, these Prestige pressure cookers are pretty good. They are made from anodized aluminum which isn't the most durable on the market, but it gets the job done and that's the thing that you really need in the end. Of course, you can't expect them to last for decades, something that's also reflected in the overall price too. But for the most part, you are getting an extraordinary ROI and that's what you want to pursue the most.
If you want to avoid spending too much money on stainless steel cookers, the Prestige pressure cookers will be just as good. They are better than regular aluminum pressure cookers, so that alone offers plenty of value. Since this material is less reactive to acidic foods, it might very well be the best option you can go with, and it's very easy to use for most foods.
That means if you want a cheaper, more affordable pressure cooker, anodized aluminum models from Prestige are certainly the way to go. The company has a rather interesting inner lid system and that keeps the lid from blowing off. Some people had issues with other companies, but Prestige seems to be one of those that really bring you great results and value without any worries. And that alone can be a very good idea to buy from them.
Hawkins pressure cookers
Hawkins is another pressure cooker company from India. They are great and very reliable, which is why the company has a worldwide reach. That being said, these pressure cookers all come with an inside fitting lid. That's a trademark for this business and apparently it makes it easy to keep the lid sealed at all times. It's very helpful and it brings in front a better and simpler way to manage the unit without any damage in the long run.
The company has no less than 73+ different pressure cookers to choose from. Not only that, but there are 12 distinctive product lines, so there's plenty of variety to be had and the results can be very good. As you can imagine, Hawkins also has models in all shapes and sizes. That's great because you get more versatility in regards to product value and quality, and results themselves are very impressive. It's certainly going to impress you a lot to see all this product value and quality, and the fact that it's so affordable certainly comes in handy too.
One thing to note that the company does differently is that they do have ceramic coated cookers in red, green and even mustard yellow. So they are certainly pushing the boundaries with quality and overall results too. That's great and it brings in front of some astonishing results every time.
When it comes to product size, Hawkins has all kinds of cookers. They range from 14 to 22 liters. That's quite a large set of options. The company, in general, is known for creating some rather large units, and you can expect them to deliver a pretty impressive return on investment. You just have to give them a try and the results can be amazing every time because of that.
Some of their models are also compatible with an induction cooker. As you can imagine, those products are usually on the higher end spectrum and they are a bit more expensive. But for the most part, Hawkins models are very affordable.
Prestige or Hawkins: Which is the best option?
Both companies are very well regarded as an entry-level pressure cooker manufacturer. It all comes down to what special features you need, what colors suit your needs the most and so on. Every person comes with his/her own requirements when it comes to pressure cookers, so you just have to identify what's good for you here. Thankfully, both Prestige and Hawkins offer affordable pressure cookers and they are bringing in a good return on investment. Don't hesitate and pick the right model by checking its features. Comparing pressure cooker features is how you can determine whether Prestige or Hawkins is a better fit for you. Rest assured that they are both great companies, so it all comes down to the pricing and features you need!