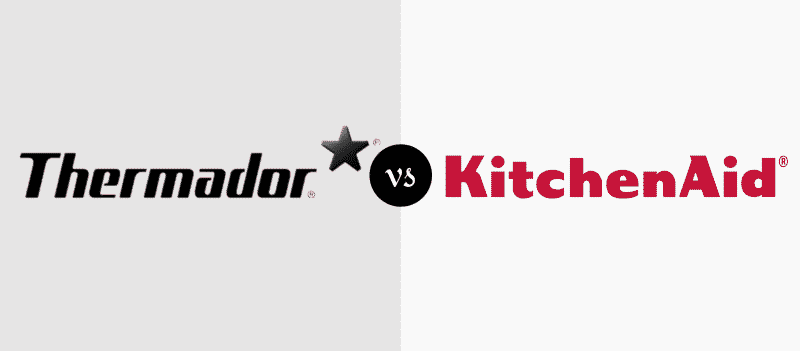 Thermador and KitchenAid are renowned for manufacturing some of the highest quality cooking appliances available. Both companies boast high-end fridges, stunning cooking ranges, stylish ovens, cutting-edge dishwashers, and more.
We'll be taking you through a comparison between Thermador vs KitchenAid so that you know exactly where to start shopping the next time you want to invest in your kitchen.
Thermador vs KitchenAid
| | | |
| --- | --- | --- |
| | Thermador | KitchenAid |
| Origin | Irvine, California – 1916 | Benton Harbor, Michigan – 1919 |
| Product Selection | Ranges, Rangetops, Ovens, Refrigeration, Ventilation, Dishwashers, Coffee Machines | Stand Mixers, Immersion Blenders, Refrigerators, Dishwashers, Ranges, Wall Ovens, Microwaves, Cooktops, Undercounter Refrigerators, Hoods & Vents, Disposals & Compactors, Grills, Water Filters, Food Processors, Kettles, Toasters, Slow Cookers, Multi-Cooker |
| Fridges | Single-Door & Double-Door Fridges, Freezer Columns, Freezers, Coolers With Cool Air Flow, QuickChill, Filtered Ice Makers & All-Leg Leveling | Single & Double-Door Fridges, Built-In Fridges, Freestanding Fridges, French Door Fridges, And Side-by-Side Refrigerators With Preserva Food Care, FreshFlow Air Filtration & FleshFlow Air Produce Preserver |
| Ranges | 30″, 36″, 48″, 60″ Professional Telescopic Stainless-Steel Ranges With HomeConnect Wi-Fi And Single Fan Technology | 30″, 36″ and 48″ Professional Stainless-Steel Ranges With Even-Heat True Convection, SatinGlide Racks, EasyConvect Conversion System |
| Ovens | Single, Double & Triple Wall Mounted Ovens With HomeConnect WiFi, SoftClose Hinges, Self-Cleaning, And Optional Rotisserie | Single, Double & Combination Wall Ovens With SmartOven+, Optional Grill, Baking Stone & Steamer, And Smart Controls With Voice Support |
| Dishwashers | Sapphire, Topaz & Emerald Luxury WiFi Dishwashers With Improved StarDry Drying, Easy Loading, And Silent Operation Available | Front Control & Fully Integrated Dishwashers With FreeFlex Third Rack For Glasses, Mugs & Bowls, Rotating Wash Jets, Advanced Clean Water Wash, Quick Pro-Dry Drying |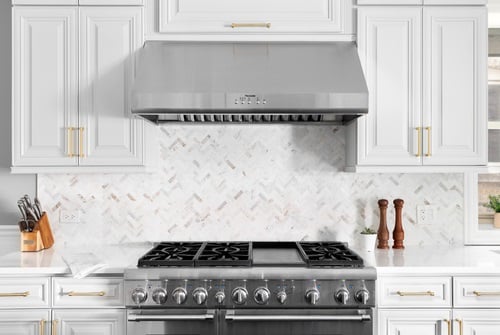 Thermador luxury appliances aim to deliver features, functionality, and looks that are a step above the competition. As the first wall oven and cooktop inventor and the first to bring stainless steel to home appliances, Thermadore is proudly the second largest appliance manufacturer on Earth.
Thermadore was founded in 1916 as a part of the BSH Home Appliances Corporation and is headquartered in Irvine, California.
The Thermador Professional Collection spans ranges, range tops, ovens, refrigeration, ventilation, dishwashers, and coffee machines.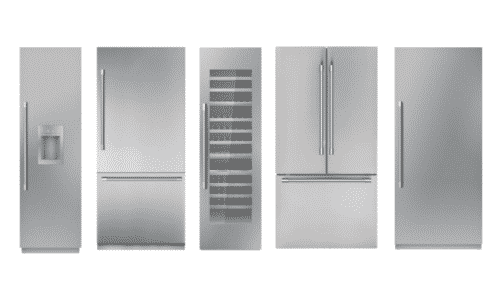 Thermador is one of the most famous brands within kitchen appliances. Thermador's range of refrigerators presents something for everything, spanning a full selection of double-door and single-door fridges across varying price brackets.
From fridges with freezer columns, bottom freezer refrigerators, wine columns, under-counter coolers, and tons of other models are available with a host of features. Thermador's freezer columns are famous for keeping food fresher for longer and a striking hallmark of the brand.
Thermador's Cool Air Flow technology circulates cold air throughout the refrigerator, ensuring optimal freshness and temperature control. You also get a built-in filtered automatic ice maker, and some units even create diamond-shaped cubes.
Quick Chill gets your frozen gets icy quicker than ever, while all-leg leveling functionality cuts roughly 30 minutes off a professional fridge installation.

Thermador doesn't only make fridges but outstanding cooking appliances as well. Thermador Professional Cooking Ranges epitomize high-end luxury cookware, giving you near-unmatched cooking power and manufacturing quality.
Thermador's Professional Ranges are available in 30″, 36″, 48″, and 60″ sizes, and each is manufactured from top-quality stainless steel.
From precise temperature control to premiere features that boost efficiency and heat distribution – few Professional Cooking Ranges can compare to the four, five, or six burners from Thermador.
All Thermador Pro Ranges come with telescopic ranges and single fan technology for superior temperature control. Certain ranges even have Home Connect within the oven cavity, allowing you to monitor temperatures and cooking progress on your phone or desktop device via Wi-Fi.

Thermador's range of stainless steel ovens offers outstanding value for money. Suitable for professional use, Thermador stainless steel ovens are available as single, double, and triple ovens.
The wall-mounted ovens offer 5 cubic feet of cooking space across four different models. They're the ideal ovens for those passionate about cooking and indispensable to any professional chef who needs more space than their range offers alone.
Thermador ovens are smart appliances equipped with Wi-Fi connectivity. Personalized notifications and controls, as well as diagnostics, are offered via the Thermador Home Connect App.
You can select the hinge style that suits you best, opening from the left, right, or bottom. Patented SoftClose hinges guarantee that your oven door can't be slammed closed.
Ovens with and without a rotisserie are offered. All ovens come with a self-cleaning mode that automatically cleans the interior walls and rack supports in just under two hours flat.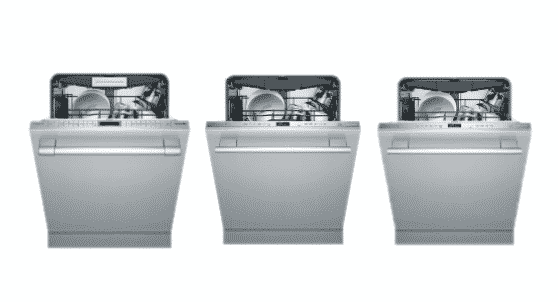 Thermador's luxury WiFi dishwashers are offered across three distinct ranges – Sapphire, Topaz, and Emerald. Each offers unparalleled design excellence and near-unmatched drying capability.
Each packs industry-leading technology and superior style, from the efficiency to the sheer beauty of the stainless steel finish.
All dishwashers have built-in WiFi that lets you personalize the controls and notifications while giving access to a comprehensive diagnostic mode, remote start, and automatic dish tab replenishment via Amazon Dash as well.
They also have an adjustable chef's tool drawer granting greater capacity specially designed for small, irregular-sized objects.
The Sapphire range features StarDry Zeolite technology which eliminates the need to towel dry completely. No drying technology can compare.
Push to open makes loading easy even with full hands. Patented Sapphire Glow illuminates glassware. The Topaz range sports PowerBeam technology from Thermadore, which literally shines the remaining time of your dishwashing cycle on your floor using a powerful light.
It's wider and holds twice the amount of items as similar-sized models thanks to the flexible folding tines. Finally, the Emerald range is the ultimate option for those who want an impressively quiet operation. Emerald Dishwashers run at 48dBA and will be barely audible.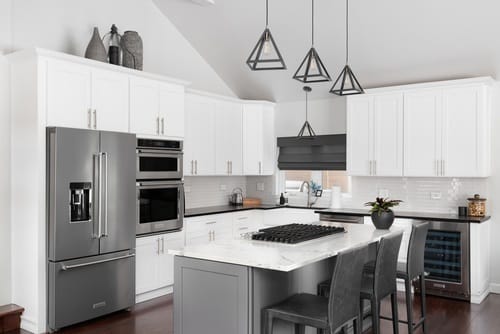 KitchenAid started as a stand mixer manufacturer that was a part of The Hobart Manufacturing Company. Today, they are owned by the Whirlpool Corporation and sell an expansive range of kitchenware, including appliances, gadgets, cookware, and bakeware.
Kitchenaid is headquartered in Benton Harbor, Michigan, and has been in operation since 1919.
KitchenAid has a massive range of products. There are stand mixers, immersion blenders, refrigerators, dishwashers, ranges, wall ovens, microwaves, cooktops, under-counter refrigerators, hoods & vents, disposals & compactors, grills, water filters, food processors, kettles, toasters, slow cookers, multi cooker and a range of other kitchenware available.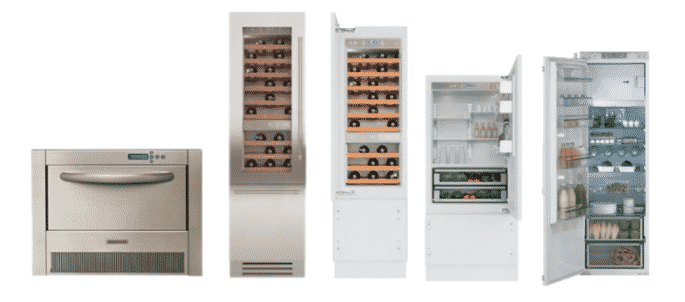 KitchenAid offers built-in refrigerators, freestanding refrigerators, French Door refrigerators, and side-by-side refrigerators across a range of popular models.
Built-in fridges from KitchenAid are elegantly designed to save space but require cabinetry to be designed. Freestanding fridges are the easiest to install and have varying depths available.
Massive French-Door fridges are the ultimate option for those who demand space, while side-by-side fridges grant a great midway point for those who value convenience and style.
All KitchenAid fridges come with the patented Preserva Food Care System utilizing two separate cooling systems.
The FreshFlow Air Filter keeps food fresh, flavorful, and crisp while getting rid of fridge odors completely, while the FreshFlow Air Produce Preserver helps prevent early over-ripening.

There are freestanding, slide-in, and double oven ranges available from KitchenAid. KitchenAid Ranges are available in 30″, 36″, and 48″ sizes and various models, with each type offered in your choice of nine curated colors: gas, electric, and dual fuel ranges.
The dual fuel range lets you bake in a separate compartment at its own temperature independent of your oven, giving you the efficiency of gas with the control of an electric oven.
SatinGlide® racks make removing meals from the oven easier than ever. Cooktops have touch-activated or knob-based controls and evenly spread heat across elements which prevent temperature spikes and hot spots.
KitchenAid ranges feature Even-Heat True Convection, which keeps the temperature perfectly stable at whatever you choose to heat it on.
This system fuses a bow-tie-shaped battle with a similar fan to a convection oven, which guarantees balanced heated air circulation to all three racks.
The EasyConvect Conversion System automatically adjusts cooking times intended for traditional ovens to convection cooking times.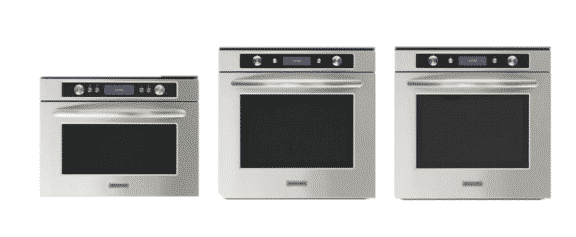 KitchenAid offers single, double, and combination wall ovens. Single wall ovens come in various finishes and are meant to be paired with KitchenAid cooktops but can also serve as an additional range for cooking capacity.
Double-wall ovens are just as versatile with a larger capacity. Combination wall ovens have a full-sized lower oven and a microwave oven on top.
The KitchenAid SmartOven+ technology is built into all wall ovens. You're provided a powerful grill, baking stone, and steamer when using the right attachments.
Sold optionally, the grill, baking stone, and steamer vastly expand the capabilities of your oven. As smart kitchen appliances, wall ovens from KitchenAid support remote monitoring and control while providing alerts and voice control support when using Google Assistant or Alexa.
Crystal-clear touchscreens in full color with a Recipe Guide mode make step-by-step cooking and cooking control easier than ever.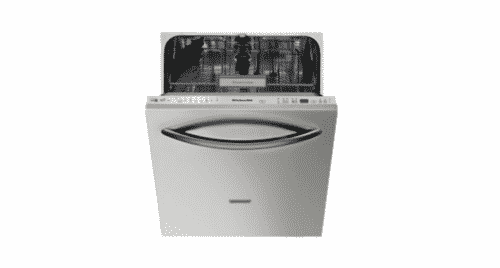 You'll find both front control and fully integrated dishwashers available from KitchenAid. Front control dishwashers are available as either front or top units, placing the controls and indicator lights clearly.
Stainless steel construction makes KitchenAid dishwashers highly attractive; durable options with matt black finishings are also available.
Fully integrated dishwashers hide the controls from clear view. All dishwashers come with ProWash, which determines the best cycle for your dirty dishes.
KitchenAid fits their dishwashers with a FreeFlex Third Rack designed for 6″ glasses and deeper mugs and bowls. Rotating wash jets make sure that your dishes are washed and rinsed better than ever.
A drying bar wicks off moisture, leaving glasses and utensils dry. An advanced clean water wash system continually flushes food particles away, ensuring that all three racks are crystal clean.
This lets you wash cookware and glasses together. The built-in Pro-Dry system heats and circulates air, drying your dishes thoroughly in no time.
Thermador vs KitchenAid: What Can Be Concluded?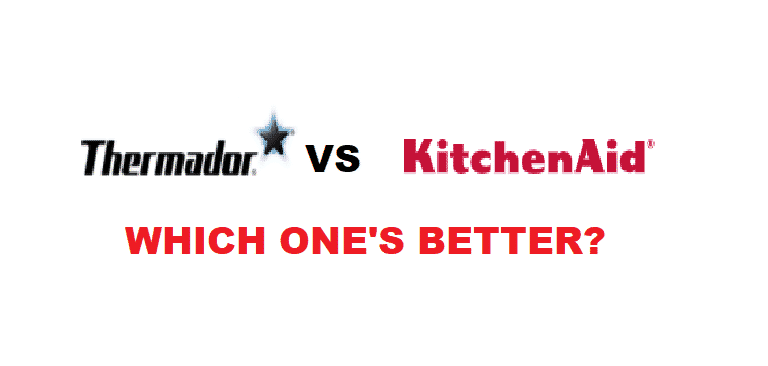 Both KitchenAid and Thermador supply outstanding luxury kitchen appliances. The quality of their products is a close match. However, Thermador's Professional Ranges have a slight edge.
Those shopping for variety will prefer the vast selection of items on sale from KitchenAid, but Thermador's cooking appliances are some of the highest-quality units available.