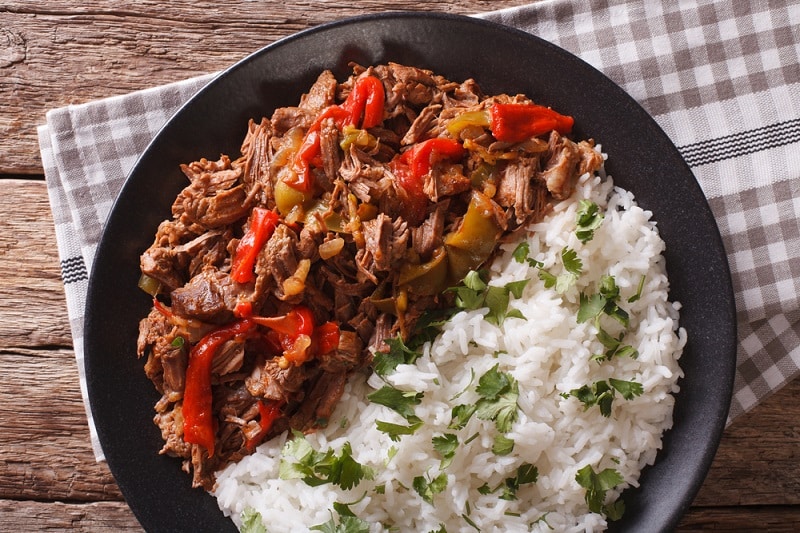 Ropa Vieja Pressure Cooker Recipe
Ropa Vieja is a classic Cuban dish that is flavorful, hearty and perfect when you want something tasty and filling. A Ropa Vieja recipe can be quickly and easily prepared in a pressure cooker; the following are 2 easy and delicious Ropa Vieja recipes you can make at home using any pressure cooker.
1. Classic Ropa Vieja
This classic Cuban Ropa Vieja features delicious beef and flavorful spices that are sure to kick any meal up a notch.
Ingredients
2 lbs. beef
1 onion – chopped
2 bell peppers – chopped
1/2 lb. green chilies – canned or fresh
1 tomato – chopped
5 Tbsp. apple cider vinegar
5 Tbsp. tomato paste
5 Tbsp. oregano
1 tsp cumin
2 tsp salt
1 tsp lime juice – optional
Instructions
First, add water to your pressure cooker and then add in your beef; cook on the Manual/High-Pressure setting for 35 minutes.
Use the quick release feature to release the steam and then let your beef cool for several minutes before shredding it.
Empty your pressure cooker, but keep about 1 cup of the liquid aside.
Turn your pressure cooker onto the sauté function and heat up some oil.
Cook your onion, bell pepper, green chilies, oregano, and cumin for 5-6 minutes or until the onions are soft.
Add in your tomato paste, chopped tomato, the set-aside liquid, apple cider vinegar, and beef.
Season with salt and if desired, pepper to taste.
Lock the lid and cook for 15 minutes on the Manual/High-Pressure setting.
Let the steam release naturally for at least 10 minutes, and then use the quick release feature to release the rest of the steam.
If desired, top with lime juice for an extra tanginess.
2. Spicy Mexican "Two-Step" Ropa Vieja
This Mexican-style Ropa Vieja features extra peppers, extra spiciness and a definite "kick" that is perfect when you want something spicy and sizzling for your meal. Best of all, it's only two steps and is ideal for dinners when you don't want to fuss in the kitchen.
Ingredients
2-3 lbs. beef
2 onions – chopped
2 bell peppers – chopped
5-6 jalapenos – chopped; for extra-spicy results, include cores and seeds
1 tsp paprika
1 can diced tomatoes
1 Tbsp. garlic – chopped
2 tomato paste
1 oregano
2 tsp salt
Instructions
First step: you need to add in every ingredient to your pressure cooker. Make sure that you season your beef with salt and pepper to taste before adding it to the cooker. If there is not enough liquid in the pressure cooker from the can of diced tomatoes, then you should add in more water. Cook on the Manual/High-Pressure setting for about 35 minutes which will make the beef tender.
Second step: allow the steam to release naturally and then remove the beef from the pressure cooker. Let it cool, then shred and add back to the pressure cooker. Serve over rice or alone as a stew.
Related Video: