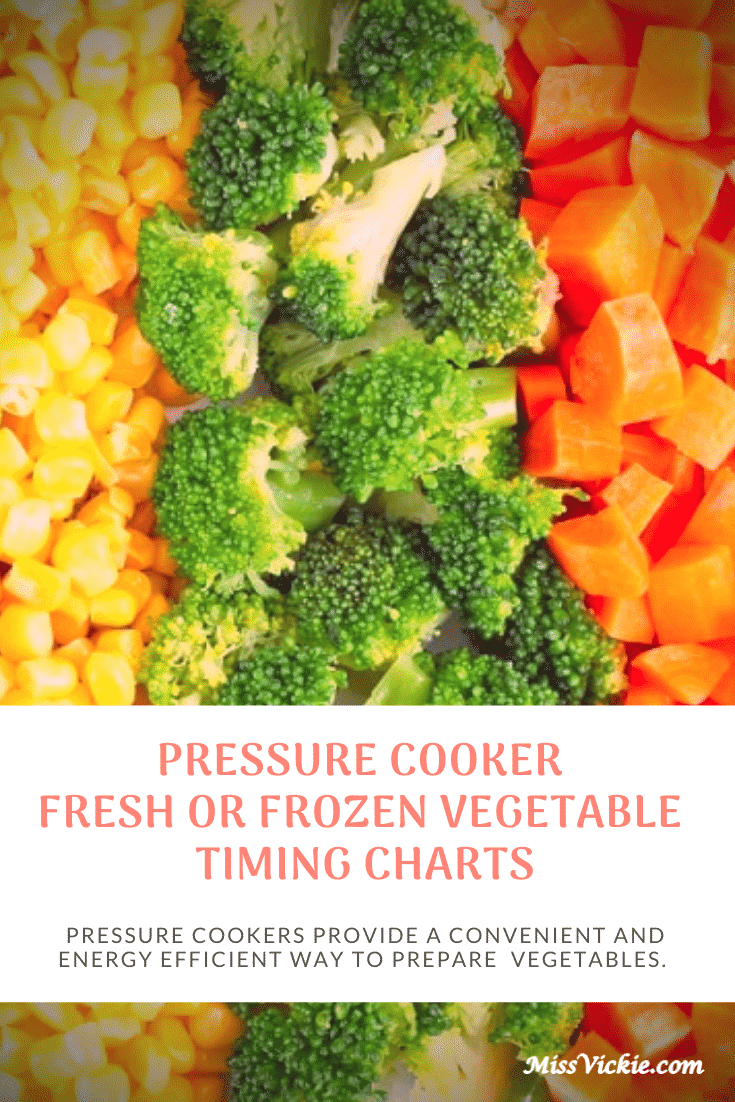 Pressure cooking vegetables can be an extremely delicate balance because even the smallest mistakes can transform an otherwise decent veggie meal into an inedible, revolting mess. Whether you are preparing fresh or frozen vegetables, pressure cookers provide a convenient and energy efficient way to prepare your vegetables. Pressure cookers are also great for veggies because they preserve their flavors, color and vitamins so that you can get the most nutritional value from your meals.
While not all varieties of vegetables can withstand cooking in a pressure cooker, the good news is that a large number of vegetables fair well. Cooking times can also vary depending on the vegetables in question, the portion to be cooked, as well on the moisture content of the veggies so it is important to take time to figure out what works best for your pressure cooker. Before you delve into pressure cooking fresh or frozen vegetables, here are some things that you have to keep in mind:
Always follow the instructions
The instructions for using your pressure cooker should vary depending on the model and size of your pressure cooker. However, more often than not, most frozen and fresh vegetables only require about 2 to 3 minutes to prepare. If you do not have access to the instruction guide that was attached to your pressure cooker, there are many online guides and free resources that offer pressure levels and times for preparing fresh and frozen veggies that have to be followed if you do not want to end up with unappetizing results.
Always keep time
Whenever you are making fresh or frozen vegetables, consider keeping track of your cooking times using a digital timer on your phone or microwave to ensure that you do not overcook your vegetables.
Preparing starchy vegetables
Starchy vegetables such as potatoes, butternut squash, pumpkins, parsnips, and so on, tend to do really well in pressure cookers. This is because they are the most forgiving as they require much longer cooking times than most other vegetables. As a rule of thumb, you should always add ingredients that cook faster than others at the end of the cooking process. As such, starchy veggies such as potatoes should always be included first as they take longer to cook.
Consider placing your veggies in a steamer basket
Your pressure cooker is already designed to preserve as many vitamins and nutrients as possible by expelling oxygen before pressure is reached. However, you can save even more nutrients by placing your veggies in a steamer basket that contains a small amount of water rather than cooking them directly in water.
Not only will this technique ensure that your vegetables remain nice and crunchy, but it will also leave you with a good amount of vegetable stock that you can use for other recipes later on.
Use your quick release
When you are done preparing your vegetables, ensure that you open your pressure cooker as quickly as you can. If the recipe you are using calls for al dente vegetables, you can try dunking your vegetables, while they are still contained in the steamer basket, under an ice water bath or you can alternatively run cold water over them to slow down the steaming process.
Pressure Cooker Fresh Or Frozen Vegetable Timing Charts
| Vegetables | Cooking Times | Liquid | Release |
| --- | --- | --- | --- |
| Artichokes, small whole, trimmed | 4 to 5 minutes | 1/2 cup | Cold water or Quick |
| Artichokes, medium whole, trimmed | 6 to 8 minutes | 1/2 cup | Cold water or Quick |
| Artichokes, large whole, trimmed | 9 to 11 minutes | 1/2 cup | Natural release |
| Artichoke, hearts | 2 to 3 minutes | 1/2 cup | Cold water or Quick |
| Asparagus, thick whole (fresh or frozen) | 1 to 2 minutes | 1/2 cup | Cold water or Quick |
| Asparagus, thin whole | 1 to 1 1/2 minutes | 1/2 cup | Cold water or Quick |
| Beans, green, or wax, (fresh or frozen) | 2 to 3 minutes | 1/2 cup | Natural release |
| Beets, small whole | 12 minutes | 1/2 cup | Natural release |
| Beets, large whole | 20 minutes | 1 cups | Cold water or Quick |
| Beets, 1/4 inch slices | 4 minutes | 1/4 cup | Cold water or Quick |
| Broccoli, florets (fresh or frozen) | 2 - 3 minutes | 1/2 cup | Cold water or Quick |
| Broccoli, spears | 3 minutes | 1/2 cup | Cold water or Quick |
| Broccoli stalks, 1/4" slices | 3 to 4 minutes | 1/2 cup | Cold water or Quick |
| Brussels sprouts, large (fresh) | 4 to 5 minutes | 1/2 cup | Cold water or Quick |
| Brussels sprouts, small (fresh or frozen) | 3 minutes | 1/2 cup | Cold water or Quick |
| Burdock Root; cut 1 inch thick | 10 minutes | 1/2 cup | Cold water or Quick |
| Cabbage, any variety - shredded | 2 - 3 minutes | 1/2 cup | Cold water or Quick |
| Cabbage, any variety - quartered | 3 to 4 minutes | 1/2 cup | Cold water or Quick |
| Carrots, whole | 3 to 5 minute | 1/2 cup | Natural release |
| Carrots, 1 inch chunks | 4 minutes | 1/2 cup | Cold water or Quick |
| Carrots, 1/4 inch slices | 1 minute | 1/2 cup | Cold water or Quick |
| Cauliflower, florets | 2 to 3 minutes | 1/2 cup | Cold water or Quick |
| Cauliflower, whole | 6 minutes | 1/2 cup | Cold water or Quick |
| Celery, 1 inch slices | 3 minute | 1/2 cup | Cold water or Quick |
| Corn, kernels (fresh or frozen) | 1 minute | 1/2 cup | Cold water or Quick |
| Corn on the cob (fresh or frozen) | 4 minutes | 1/2 cup | Cold water or Quick |
| Eggplant, sliced 1/8- to 1/4 inch slices | 2 to 3 minutes | 1/2 cup | Cold water or Quick |
| Eggplant, 1/2 inch chunks | 3 minutes | 1/2 cup | Cold water or Quick |
| Endive, thickly cut | 1 to 2 minutes | 1/2 cup | Cold water or Quick |
| Escarole, coarsely chopped | 1 to 2 minutes | 1/2 cup | Cold water or Quick |
| Greens, Beet, coarsely chopped | 1 to 4 minutes | 1/2 cup | Cold water or Quick |
| Greens, Collard coarsely chopped | 5 minutes | 1/2 cup | Cold water or Quick |
| Greens, Kale, coarsely chopped | 1 to 2 minutes | 1/2 cup | Cold water or Quick |
| Greens, Kohlrabi, cut in pieces | 3 to 4 minutes | 1/2 cup | Cold water or Quick |
| Greens, Mustard, cut in pieces | 3 to 4 minutes | 1/2 cup | Cold water or Quick |
| Greens, Swiss chard, coarsely chopped | 2 minutes | 1/2 cup | Cold water or Quick |
| Greens, Turnip greens, coarsely chopped | 4 minutes | 1/2 cup | Cold water or Quick |
| Leeks, Whole, large (white part only) | 3 to 4 minutes | 1/2 cup | Cold water or Quick |
| Leeks, Whole, small (white part only) | 2 to 3 minutes | 1/2 cup | Cold water or Quick |
| Mixed Vegetables, frozen | 2 minutes | 1/2 cup | Cold water or Quick |
| Okra, small pods | 2 to 3 minutes | 1/2 cup | Cold water or Quick |
| Onions, whole | 7 - 9 minutes | 1/2 cup | Cold water or Quick |
| Onions, quartered | 3 minutes | 1/2 cup | Cold water or Quick |
| Parsnips, 1 inch chunks | 4 minutes | 1/2 cup | Cold water or Quick |
| Parsnips, 1/4 inch cubes | 2 minutes | 1/2 cup | Cold water or Quick |
| Peas, shelled (fresh or frozen) | 1 minute | 1/2 cup | Cold water or Quick |
| Pepper, whole sweet, or Bell (green, red, yellow), mild Mexican chilies | 3 minutes | 1/2 cup | Cold water or Quick |
| Potatoes, new, or small (2 inch diameter), whole | 8 minutes | 1/2 cup | Natural release |
| Potatoes, red, whole | 10 minutes | 1/2 cup | Natural release |
| Potatoes, red, halved | 6 minutes | 1/2 cup | Natural release |
| Potatoes, red, cubed | 4 minutes | 1/2 cup | Cold water or Quick |
| Potatoes, large baking-size russets, whole | 25 minutes | 1/2 cup | Natural release |
| Potatoes, russet, peeled & quartered | 8 minutes | 1/2 cup | Natural release |
| Potatoes, russet, 1 1/2 inch chunks or slices | 5 minutes | 1/2 cup | Cold water or Quick |
| Potato, Sweet, sliced or chunks | 5 minutes | 1/2 cup | Cold water or Quick |
| Potato, Sweet, whole | 18 minutes | 1/2 cup | Natural release |
| Potatoes, white, whole 7-10 ounces | 16 minutes | 1/2 cup | Natural release |
| Potatoes, white, half | 10 minutes | 1/2 cup | Natural release |
| Potatoes, white, cubed | 4 - 5 minutes | 1/2 cup | Cold water or Quick |
| Pumpkin, 2 inch chunks | 3 to 4 minutes | 1/2 cup | Cold water or Quick |
| Pumpkin, half of a 7-8 inch | 10 minutes | 1/2 cup | Natural release |
Find Out All About Winter Roots And Try Some New Recipes
| Vegetables | Cooking Times | Liquid | Release |
| --- | --- | --- | --- |
| Rutabagas, 1 inch chunks, peeled | 4 minutes | 1/2 cup | Cold water or Quick |
| Rutabagas, 2 inch cuts, peeled | 6 - 8 minutes | 1/2 cup | Natural release |
| Spinach, (fresh or frozen), coarsely chopped | 1 minute | 1/2 cup | Cold water or Quick |
| Spinach, fresh, whole leaves | 0 minute | 1/2 cup | Cold water or Quick |
Find Out All About Winter Squash Varieties And Try Some New Recipes
| Vegetables | Cooking Times | Liquid | Release |
| --- | --- | --- | --- |
| Squash, Acorn, halved | 8 minutes | 1/2 cup | Cold water or Quick |
| Squash, Banana, cubed | 3-4 minutes | 1/2 cup | Cold water or Quick |
| Squash, Butternut, 1 inch chunks | 4 minutes | 1/2 cup | Cold water or Quick |
| Squash, Butternut, halves | 6 minutes | 1/2 cup | Cold water or Quick |
| Squash, Chayote or merliton, halved | 5 minutes | 1/2 cup | Cold water or Quick |
| Squash, Chayote or merliton, peeled, 1/2 inch sliced or cubed | 2 minutes | 1/2 cup | Cold water or Quick |
| Squash, Hubbard 1 inch chunks | 8 - 10 minutes | 1/2 cup | Cold water or Quick |
| Squash, Patty Pan, sliced or cubed | 0 minutes | 1/2 cup | Cold water or Quick |
| Squash, Spaghetti, 2 lbs. whole or halves | 9 minutes | 1/2 cup | Cold water or Quick |
| Squash, Summer, or Yellow, 1/2 inch slices | 0 minutes | 1/2 cup | Cold water or Quick |
| Squash, Zucchini, 1 1/2 inch slices | 2 to 3 minutes | 1/2 cup | Cold water or Quick |
| Tomatoes, quartered | 2 minutes | 1/2 cup | Cold water or Quick |
| Tomatoes, whole | 3 minutes | 1/2 cup | Cold water or Quick |
| Turnips, small, quartered | 8 minutes | 1/2 cup | Cold water or Quick |
| Turnips, 1/2- inch chunks | 5 minutes | 1/2 cup | Cold water or Quick |
| Yams, 1/2 inch slices | 6 minutes | 1/2 cup | Cold water or Quick |
*Table by Miss Vickie Smith