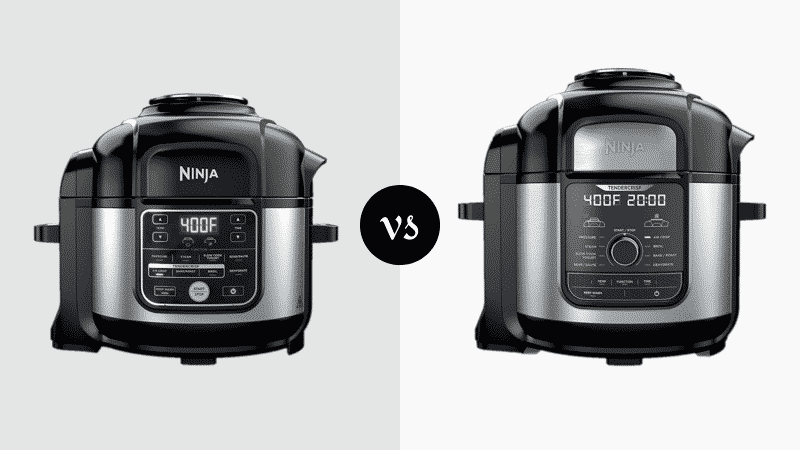 The world is on a fast-paced trajectory that's picking up speed, and it's all thanks to technology. As everything grows more advanced, we are pushed to do our best.
Food and cookware are no different in this sense. There have been so many practical advancements and ease of use that our kitchen efficiency improves. It's quicker and easier to cook up a premiere meal than ever.
SharkNinja has been making waves in the culinary industry since first arriving with its outstanding range of home appliances and breakthrough cookware.
The Ninja Foodi 9 is one of their best models yet, coming in various sizes and boasting the same outstanding features. Today we'll be providing a review and comparison of the Ninja Foodi 6.5 vs 8-Quart.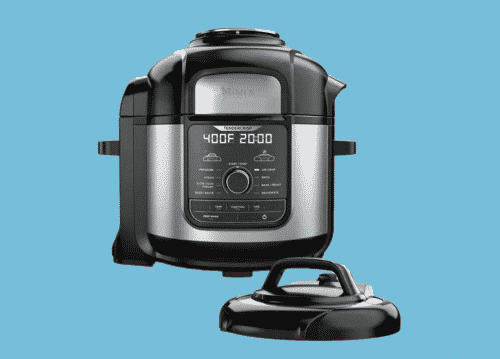 What is the Ninja Foodi?
All the hype tells you that a Ninja Foodi is far more than your standard instant pot but does this ever-popular appliance live up to its name? SharkNinja's 9-in-1 Multi-Cooker exceeds all expectations.
The versatility is near-unmatched. You can air fry and multi-cook, which means that you can steam, warm food, sauté, pressure cook, and slow cook with one device.
The Ninja Foodi comes with patented TenderCrisp technology, which is a built-in advanced heating system that first pressure-cooks your food to lock in flavor before air frying it to bring out the ideal degree of crispiness.
Pressure cooking is 70% faster, and the crisping feature leaves your food with an unbeatable golden crust just as if it was perfectly roasted in the oven.
The ultra-fast pressure cooking means super fast stews and soups and pasta that's ready in minutes. Whipping up a meal in the Ninja Foodi uses 75% less fat than other means of cooking.
Air Crisp gets the job done with little to no oil. Slow cooking by timer lets you set up supper up to 12 hours in advance.
Now that you know the leading benefits of this indispensable kitchen appliance let's take a look at the advantages of the Ninja Foodi 6.5 vs. 8-quart.
Ninja Foodi 6.5 vs 8 Qt Comparison
| | | |
| --- | --- | --- |
| | Ninja Foodi 6.5 Qt | Ninja Foodi 8 Qt |
| Size | 14.25 x 16.75 x 13.1 inches | 16.1 x 14.57 x 14.2 inches |
| Weight | 26 Pounds | 26.04 Pounds |
| Pressure Cooker Lid | Interchangeable. Replaceable | Interchangeable, Replaceable |
| Basket | Deep Basket | Standard Basket |
| Air-Fryer | Even cooking from top to bottom | Even cooking from top to bottom |
| Crisping Feature | TenderCrisp – reliable crisping | TenderCrisp – superior crisping feature |
| Pressure Cooker Feature | Two temperature functionality | Two temperature functionality |
| Cup Capacity | 18 | 24 |
| Power | 1460W | 1760W |
| Downsides | Fan failure before unit failure | Fan failure before unit failure, Audible noise during operation |
Here's a breakdown of the basic design and features of each appliance. The Ninja Foodi 6.5-Quart and Ninja Foodi 8-Quart are very similar, but here are the precise differences.
Size
Other than the obvious difference in liquid capacity between the Ninja Foodi 6.5 and 8-quart, each pot's height is also different.
The Ninja Foodi 8-quart is a slightly taller appliance standing at 16.1 inches. By comparison, the 6.5-quart measures just 14.25 inches. Both pots, however, have the same thickness as the base.
Weight
The Ninja Foodi 8-quart weighs 26.04 pounds, while the 6.5-quart weighs 26 pounds. It's a fraction of a difference thanks to the inner technology being almost the same.
Pressure Cooker Lid
The Ninja Foodi 6.5 and 8-quart have interchangeable lids of the same size.
Basket
The difference in depth means that the basket is slightly taller as well in the 8-quart model.
Air-Fryer
Now, the Ninja Foodi's most celebrated feature, it's functionality as an air fryer. The 8-quart, as the larger unit, has a larger inner basket. The basket prevents uneven cooking due to the elongated length.
With the depth being longer, if an inner air fryer basket were not available, the whole meal would not be cooked uniformly.
Fortunately, SharkNinja's design air fries to perfection, letting you cook from the top, remove the rack and then cook from the bottom. Even cooking is made easy, with this feature saving you time and effort.
Crisping Feature
Both pots have the same built-in TenderCrisp technology, but one must keep in mind the basic physics of air frying. The greater amount of space translates into crispier food in general.
If you pay attention to fine details and are a true foodie at heart, then go for the slightly improved crisping feature of the 8-quart model.
Pressure Cook Feature
The higher 8-quart capacity means you can pressure cook up a bigger meal, taking a longer period of time. The efficiency of the Ninja Foodi is extremely high across both sizes.
Still, the smaller pot will cook a smaller meal faster than the volume in the larger capacity appliance.
Cup Capacity
The Ninja Foodi 6.5-quart has 18 cups capacity, while the 8-quart carries a maximum of 24. Those with large families and people who entertain often will prefer the larger multi-cooker.
Power
SharkNinja has packed a lot of power into both pots. Their 8.5-quart model is driven by 1760 Watts, while the 6.50-quart Ninja Foodi pulls 1460W.
Downsides
The Ninja Foodi reports very few faults on average. However, when something does fail, it appears to be the fans. Incidents are, however, scarce and specific to certain users and usage habits.
Fortunately, SharkNinja is renowned for its customer service. You can always reach out for help with repairs or a replacement should anything go wrong.
Another infrequent complaint is how some users find the 8-quart model to be a little noisier than the 6.5-quart.
Ninja Foodi 6.5 v 8-Quart – Which Is The Best?
Both pots boast near-identical features and manufacturing characteristics.
The slight differences listed will only be a factor for the big families, those who cook a lot, of those who pay fine attention to small details like the degree of crispiness when cooking.
If you're the type of person who wouldn't care to tell the difference between 20 minutes roasted and 22, then this isn't a factor for you.
SharkNinja NinjaFoodi is a high-end appliance that'll pay for itself over and over again if you take advantage of its many multi-function uses.