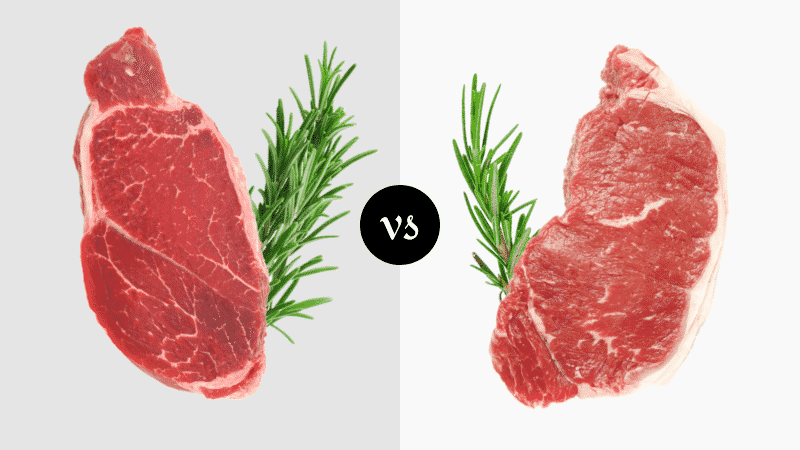 All the cuts of beef are named according to the areas the meat has been cut or extracted from. Beef lovers have developed favorite recipes using almost all the cuts available.
Sirloin and London broil are considered to be two main cuts from the cow's hefty body. Both taste outstanding in their own ways.
However, some people are still perplexed whether sirloin and London broil are the same.
While it is true that both taste exquisitely good, there are several differences between these two cuts.
In this article, we'll walk you through Sirloin vs. London broil, supplying a head-to-head comparison that'll make it easy to identify each while being well aware of all the facts and differences.
Before we move on to the comparison between sirloin and London broil, let's first take a look at what these two meat cuts actually are.
What Is Sirloin?
The sirloin cut of the cow is mostly eaten as steaks. Sirloin is basically a cut extracted from the sub-primal posterior area known as the sirloin found towards the short loin.
This is also where other popular cuts originate, such as porterhouse, T-bones, and club steaks.
The sirloin cut is further broken down into boneless sections known as the upper sirloin butt and the lower sirloin but.
A butcher slices along the natural seam, stretching from the primary muscle of the upper sirloin to the sirloin tip and across the knuckle.
Out of the two cuts, the top section is the most tender and the tastiest. Sirloin develops its rich flavor from lots of exercises.
The sub-primal posterior is responsible for motion, with sirloin muscles becoming immensely lean and toughening with age.
What Is London Broil?
London broil is actually the name of a dish made from top-round or flank steak. This popular cooking style involving marinating and broiling are so widely used that the top round cut is often marked London broil itself.
Regardless of whether you find top-round London broil or flank steak, both varieties are much cheaper than sirloin and much tougher as well.
The top round is another cut taken from the sub primal region of a cow. It's extracted from the leg and rump and cut from the inside of the leg.
It's a cut of meat that's favored for roasting, developing leanness and a degree of toughness with age. The well-exercised muscles of this area that lead to toughening also ensure loads of flavor.
Pay attention to the cut of meat marked as London broil because, as mentioned, both flank steak and top-round are often sold as such. Flank steak is extracted from the lower chest area of a cow.
As a cut of meat taken from the abdominal muscles, flank steak isn't actually steak at all. It's just as lean as top round steak and often equally as tasty. However, flank steak is typically much, much tougher.
London Broil Vs. Sirloin Comparison
Sirloin
London Broil
Tenderness

Top – Extremely Tender

Bottom – Slightly Chewy

Sinuous, Chewy, Tough
Flavor
Decadent Flavor With Rich Beefiness
Immense Deep, Complex Beefy Flavor
Size
9 Ounce, 1-Inch Thick Average

2 Pounds, 12-Inch Long, 2-Inch Thick Average

Nutrition
30.8G Protein, 5G Fat, 25% DV Vitamin B6, 23% DV Cobalamin, 8% DV Iron, 1% DV Calcium, 1% DV Vitamin D, 4% Magnesium (Top Cut Sirloin – 100 Gram Serving)

28G Protein, 7G Fat, 363MG Potassium, 77 MG Cholesterol, 35% DV Vitamin B-6, 66% DV Cobalamin, 16% DV Iron, 6% DV Magnesium, 182 calories (Top-Round – 100 Gram Serving)

Serving Suggestions
High Heat Quick Cooking
Prolonged Cooking To Ensure Tenderness (Marinate, Broil, Roast)
Price
$5 to $8 Per Pound
$4.5 to $7 Per Pound
London Broil vs Sirloin: What's The Difference?
The most prominent difference between these two cuts of steak is that sirloin is a piece of meat that's extremely rich in flavor, taken from one of the most tender parts of the cow.
London broil isn't a steak cut but rather a round or flanked cut of meat with lots of inherent flavors that need to be unlocked by softening or tenderizing the meat first.
Now that you know the main difference between sirloin steak and London broils let's look at the other differences.
Sirloin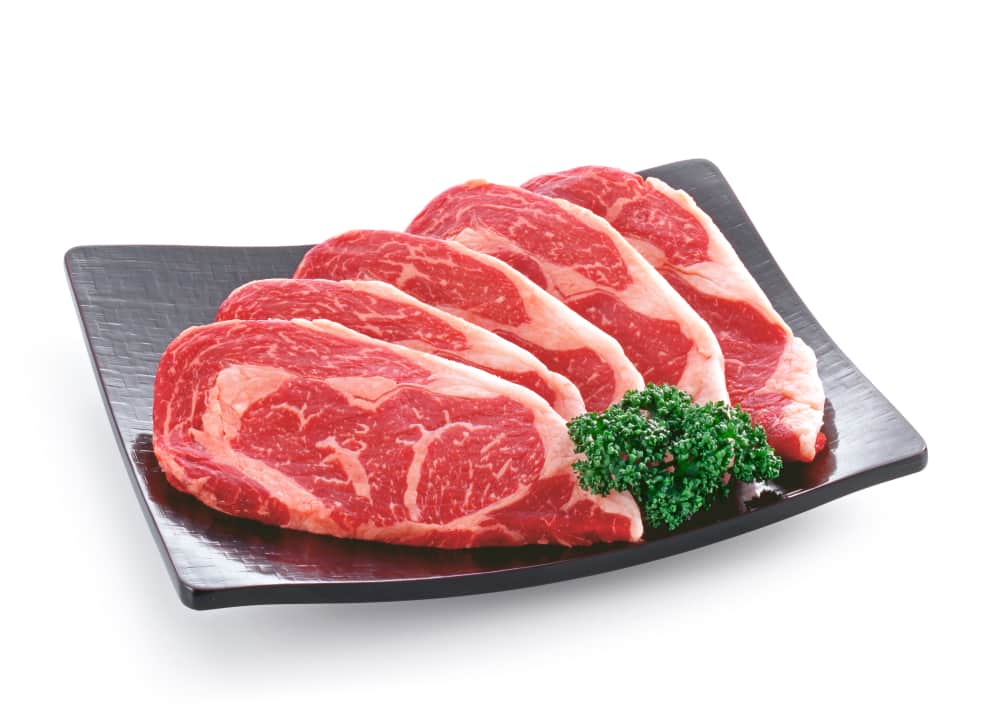 No one can deny the superb value for money of a sirloin steak. It's a mid-range option with tenderness and flavor comparable to much more expensive, exclusive cuts. Let's look closer at the main characteristics of sirloin.
Top sirloin butt cuts are tender, coming close to more expensive options like short loin, New York strip, and ribeye in softness.
Bottom sirloin butt cuts are typically tough compared in toughness to flank steak. The sinuous meat guarantees flavor when the meat is properly prepared and roasted, broiled, or otherwise thoroughly cooked.
All sirloin is slightly chewy with a noticeable degree of marbling, hinting towards the degree of toughness.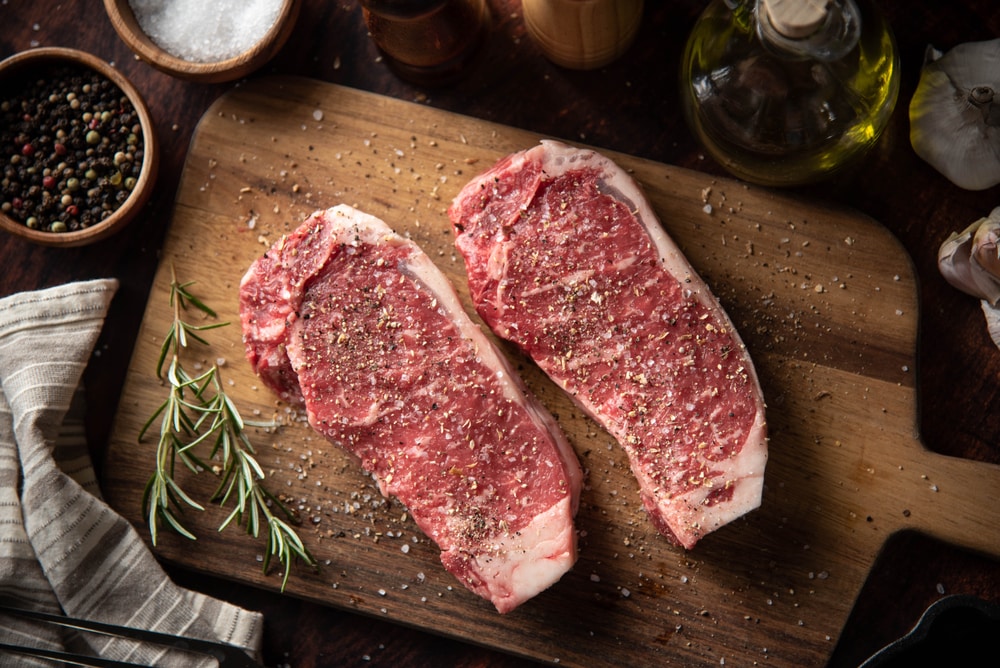 Expect deep beefy flavor from all cuts of sirloin, with even richer flavors developing when slow-roasting bottom sirloin.
Sirloin steaks are cut moderately thick, arriving at roughly 9 ounces each on average. In comparison, the average prime rib and ribeye are around 12-ounces.
Steaks range in thickness between three-quarters of an inch and one and a quarter inches thick.
The average top cut of sirloin steak delivers 30.8 grams of protein and 5 grams of fat in a single portion.
Three and a half ounces of sirloin top butt also supplies around 25% of the Vitamin-B6 daily value for an adult, 23% Cobalamin, 8% Iron, 1% Calcium, 1% Vitamin D, and 4% Magnesium.
Bottom cuts of sirloin give 26.5 grams of protein and 8.3 grams of fat and approximately the vitamins and minerals at 182 calories.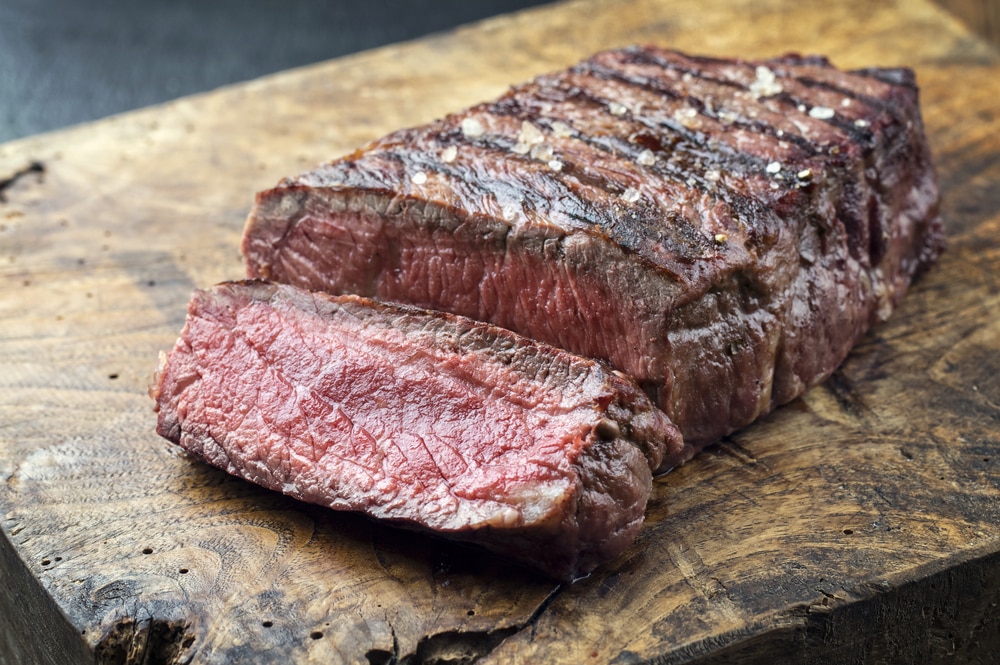 Sirloin top butt cuts need to be cooked on a scorching high heat for a short period. Prolonged cooking will lead to toughness.
Sirloin bottom butt cuts come out best when marinated and roasted or broiled.
You can expect to pay around $6 to $8 per pound for top sirloin steak in the USA. Bottom sirloin steak goes for between $5 to $6 per pound.
London Broil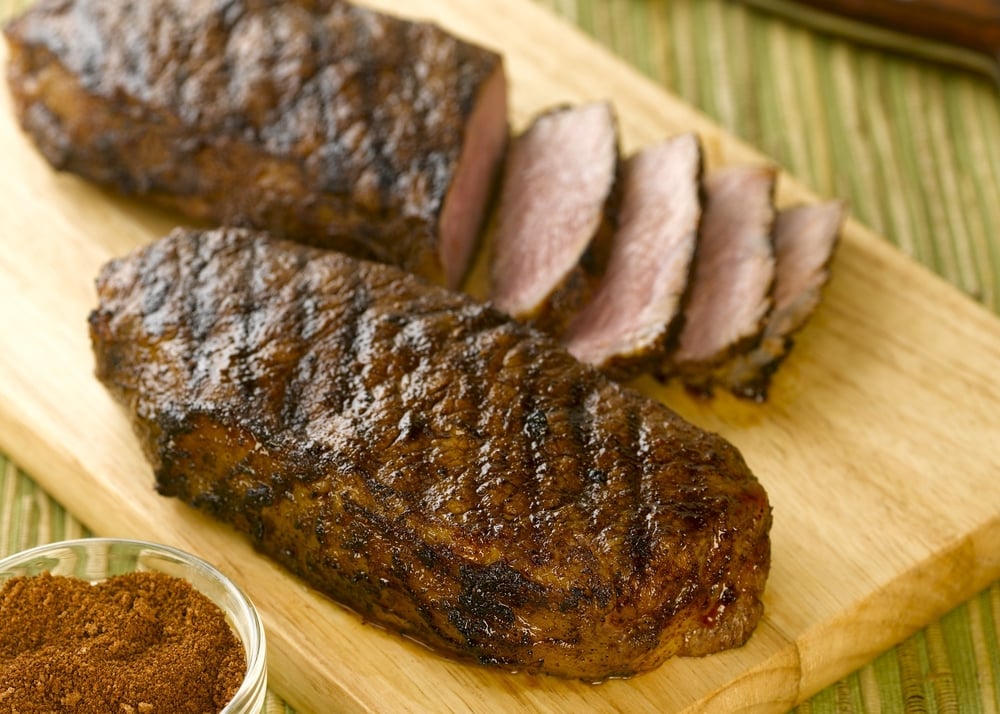 Cuts of meat sold as London broil are the ideal option for families on a limited budget. The great price doesn't mean a lack of flavor, but you'll need to cook your cut more carefully.
Here's a breakdown of London broil's main characteristics.
Both flank steak and top round are sinuous and require roasting or marinating to bring out the bold flavor and a degree of softness.
As a tougher cut of meat, London broil cuts are unsuited for high-temperature grilling or frying. However, leanness means that you need to keep a close eye to avoid overcooking.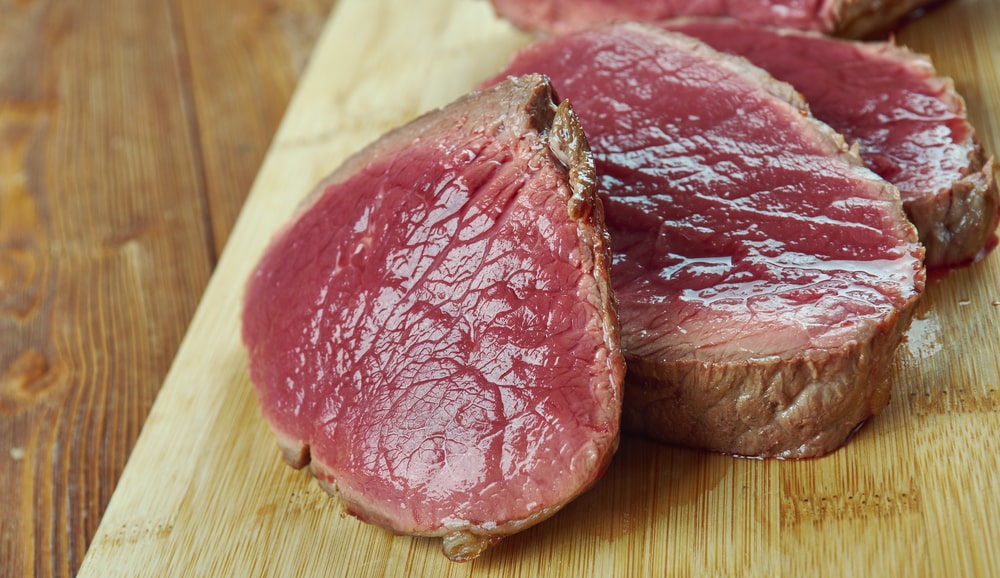 With flank steak, you trade off tenderness for an intense, boldly beefy flavor.
The average flank steak is cut between 4 and 8 inches long and is under an inch thick, whereas a top-round cut for London broil (and flank steak specifically cut for broiling by a butcher) is cut to 12 inches long 2 inches thick.
A 100-gram standard serving size of top round grants 7 grams of fat, 28g protein, 363mg potassium, 77 mg cholesterol and fulfills 35% of the Daily Value for Vitamin B-6, 66% Cobalamin, 16% Iron, and 6% magnesium at just 182 calories.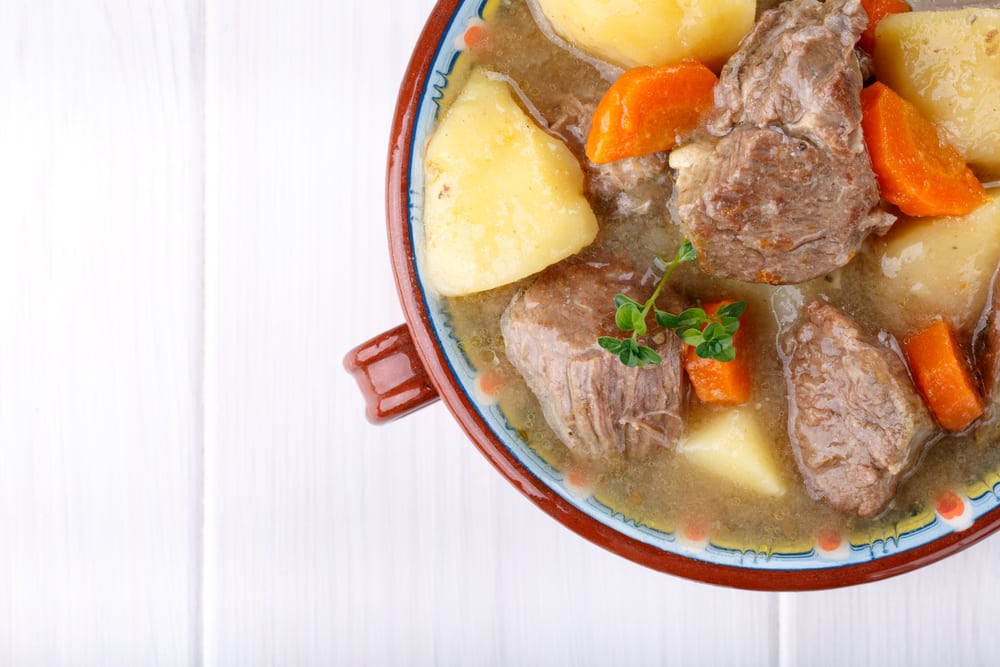 Flank and top round are excellent for marinating and roasting or broiling and come out juicy and taste in soups and stews. Both cuts can be used for ground meat as well.
Top-round and flank steak sell for approximately $4.50 to $7 per pound.
Steaks used for London broiling are tougher with a beefier flavor than sirloin. Ensure that you purchase grass-fed beef so that the meat remains as tender as possible.
London broil may be cut from the muscular section of a cow, but it's still not big enough for most stand-alone roasts. Flank and top-round are thinly sliced most of the time.
Most steaks cut and sold as London broil are two inches thick and 12-inches long but will be thinly sliced after roasting or broiling.
Which Is The Best Between London Broil Vs. Sirloin?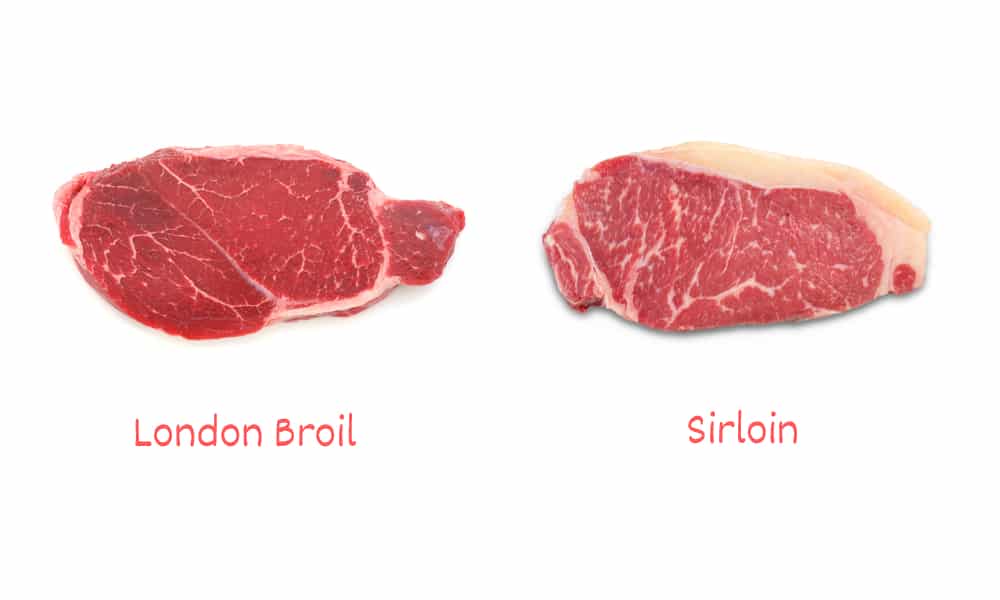 When you are London broil steaks, always remember to marinate your meat thoroughly. The more muscular the cut, the more time it needs to absorb the marinade.
Try a variety of acidic but low-sodium marinating ingredients to guarantee tenderness without spoiling the flavor. If you opt for sirloin instead, they don't take much time to tenderize.
All you'll need is a few minutes to stand after sprinkling over a little salt and pepper. London broil takes far longer to prepare than sirloin, so keep this in mind when deciding on which meat you want.