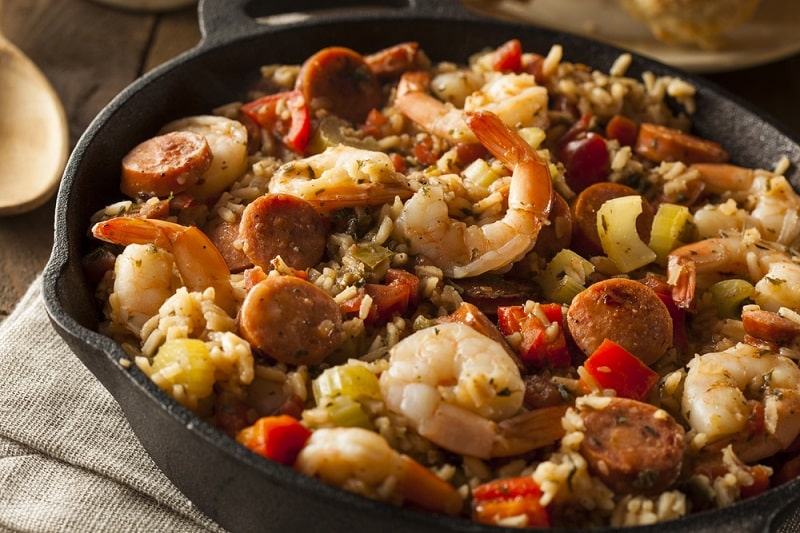 Jambalaya Pressure Cooker Recipe
Jambalaya is a fragrant, flavorful dish that is perfect for when you want an explosion of flavor on your taste buds. The simplest way to make jambalaya is with the right recipe and a pressure cooker that will reduce the time and effort required to make a delicious meal. The following is a jambalaya pressure cooker recipe that will have everyone digging in for seconds.
1. Classic Jambalaya
This classic jambalaya pressure cooker recipe features the cornerstone ingredients found in any traditional jambalaya dish.
Ingredients
2 cups chicken stock
10 oz. chicken or pork sausage
2 onions – chopped
2 stalks celery – chopped
3 tsp Cajun seasoning
5 cup white rice
1 can diced tomatoes with juice
10 oz. cooked shrimp
3 Tbsp. olive oil
Salt to taste
1 clove garlic
Instructions
First, put your olive oil into your pressure cooker and turn the cooker on "sauté."
Once the oil is heated, brown your sausage for about 2 minutes then set aside.
With the sauté setting still on, add your celery, onion, garlic and cook for about 3 minutes.
Add in your rice and Cajun seasoning until the rice is thoroughly coated in the olive oil and seasoning.
Turn the sauté setting off, and then add in the canned tomato, chicken stock, and a pinch of salt.
Cook with the lid locked on high pressure for 8 minutes; allow the steam to naturally release for about 6 minutes, and then release the rest manually.
Stir in the shrimp, sausage, and heat in the pressure cooker for about 5 minutes.
Taste, then add more salt if necessary.
2. Vegan Jambalaya
Here is another jambalaya pressure cooker recipe. Traditional jambalaya is anything but vegan-friendly, but this vegan rendition of jambalaya will have everyone's taste buds singing.
Ingredients
1 Tbsp. olive oil
2 onions – diced
3 cloves garlic – minced
2 celery stalks – chopped
1 green bell pepper
1 red bell pepper
1 orange bell pepper
1 can diced tomatoes
1/2 Tbsp. tomato paste
1 cup mushrooms
1 can kidney beans – drain first
2 tsp Cajun seasoning
2 Cups white rice
1 tsp paprika
1 tsp thyme
Salt to taste
Instructions
Turn your pressure cooker on "sauté" and add olive oil.
Once it's hot, add in your garlic, celery, bell peppers and onions. Cook until the onions are soft, which should take about 3-5 minutes.
Then, add in your tomato paste, canned tomatoes, and paprika. Continue cooking for 2-3 minutes.
Add in your drained kidney beans and all seasonings, along with the mushrooms. Stir and mix well.
Turn off the sauté function, and then add in your rice.
Cook with the lid locked on high pressure for 7 minutes, then allow the steam to naturally release for 5 minutes.
Manually release the rest of the steam.
Taste the mixture. If necessary, add salt and pepper to taste, then serve. You may want to serve with garnish since as freshly sliced green onion for added flavor and texture.
Related Video: