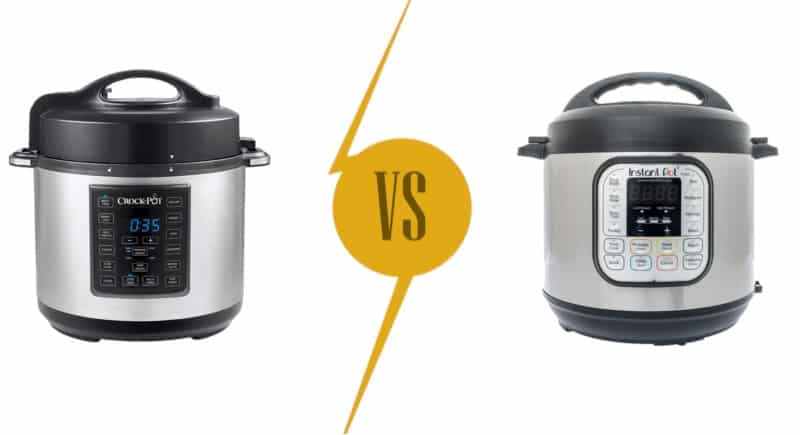 Crock-Pot vs. Instant Pot
We all love our kitchen appliances and the Instant Pot and the Crock-Pot are similar in that they are both favorite US brands. They are not the same; the Crock-Pot is a slow cooker and the Instant Pot a multi-cooker/pressure cooker. Can these two iconic pot cookers really be compared and if so which one is best?
Instant Pot
The Instant Pot is a multi-function pressure cooker brand. It is available in a range of sizes from 3qt – the mini pressure cooker, right up to the mighty 10 qt size, ideal if you regularly cook for a large family or cook as a business.
We create amazing recipes. Gain FREE access to Miss Vickie's special recipes.
We won't send you spam. Unsubscribe at any time.
The Instant Pot has numerous functions. It works as a pressure cooker and features numerous presets for different types of cooking styles and dishes such as beans, rice, roasting meat, casseroles and more. Because pressure cooking is on average 70% faster than conventional cooking methods, this means that you can cook a traditional home-cooked food far quicker than would otherwise be possible.
All Instant Pot models also have a sauté function – ideal for browning and preparing meat before pressure cooking. There are a timer and a delay timer switch meaning that you can set the Instant Pot to cook automatically to your own convenience. Some Instant Pots have a canning function. Many can work as a yogurt maker. The Instant Pot is incredibly versatile and depending on the model can function in up to 9 different ways of cooking.
A popular function with many users is the Instant Pot's use as a slow cooker. Slow cooking is extremely popular because you can leave your casserole or other dishes to cook all day on a very low heat which is not only economical but very convenient.  Who doesn't like coming home from work on a cold winter's night to be met by the enticing aroma of a casserole that is ready to eat?
Despite the many functions of the Instant Pot, this multi-function pressure cooker is extremely easy to operate. The easy to use interface and presets enable you to cook a wide range of dishes at the touch of a button. And with thousands of recipes available to Instant Pot customers, this appliance really can transform your menu without any added hassle.
Instant Pot is popular with customers and has generated thousands of positive reviews on Amazon alone.
Pros
Extremely versatile
Available in numerous sizes
Easy to use.
The USA's #1 pressure cooker brand
Cons
A small number of customer complaints about reliability
Does not come with a money-back guarantee as standard
The Crock-Pot
Whereas the prime function of the pressure cooker is to cook food fast, the Crock-Pot is the complete opposite because this slow cooker really does cook food slowly.  That said it is still remarkably convenient for consumers. You can prepare your food in advance, place in the Crock-Pot and leave it to cook automatically. Food in the Crockpot takes between 4 to 10 hours to cook so you do have to think in advance but results are worth it. Slow cooking enables the flavors to develop and because it is a sealed unit, retains all the healthy nutrients and vitamins.
In addition, Crock-Pot is extremely economical to use.  It is extremely energy efficient using the equivalent power of a light bulb to cook all day, between 75 and 150 watts of energy. As with a pressure cooker, the Crock-Pot enables you to use the cheaper more economical cuts of meat because the slow cooking time makes them so tender.
Crock-Pot is an established brand. The company was developed in 1970 and Crockpots have gone onto sell in millions around the world. In fact, many people refer to all slow cookers as Crock-Pots in reference to this iconic brand.
As with Instant Pot, the Crockpot has moved with the times. The Crockpot Slow and Multi-Cooker provide five separate functions; slow cooking, steaming, sauté, roasting and baking.  There are multiple settings for each of the functions and a sophisticated timer program so you can set in advance.
Price-wise, the Crock-Pot and the Instant Pot are comparable depending on size and functions. Customer feedback is generally positive and many people do love this method of cooking. However, the Instant Pot is undeniably more popular with thousands of customer reviews.
Pros
Well known and established brand
The Crockpot is a convenient and economical way of cooking
Comes with 5 multi functions and presets
Cons
Slow cooking method; takes between 4 – 10 hours
Not as popular as the Instant Pot
In conclusion
We love both appliances. We love the Instant Pot and we love the Crock-Pot. Both multi-cookers offer a range of options and enable you to cook economical meals. However, you do get more for your money with the Instant Pot. If you want to use the slow cooking function you can use it but if you are time-pressed you can also opt for pressure cooking as an alternative.
This is not the case with the Crock-Pot. The Crock-Pot is not a pressure cooker and it does not have as many functions.  You can not use it to make yogurt. It will not enable you to rustle up a quick meal for surprise guests out of storage ingredients such as dried beans or meat stored in the freezer.
The Instant Pot is the USA's number #1 cooking appliance because it is so easy to use and is so versatile. Although we really love slow cooking we would not want to miss out on all the functions of the Instant Pot especially as there is not much difference in way of price between the two. On balance we think the Instant Pot is the better buy.
Related Video: