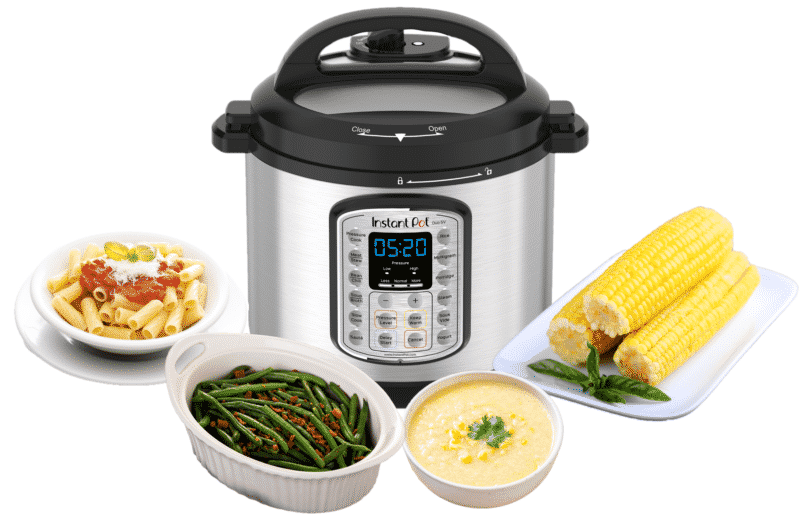 Best Instant Pot Side Dishes 
When it comes to the point when you have cracked the code to a perfect main meal, you then have to come up with appetizing and complementary side dishes to accompany your meal. To do this, you want to optimize the convenience of your Instant Pot, but what side dishes can you make in it that is yummy and easy?
The answer to that question is vast since there is a lot that you can make in an Instant Pot, but there are some side dishes that stand out among the rest. To help you complete your meal, we have compiled a list of the best Instant Pot side dish ideas and recipes.
Below are the top five side dishes that you can make in your Instant Pot quickly and easily:
1. Mac 'n' Cheese
Mac' and Cheese is a favorite meal worldwide which is why it makes the perfect side dish for any meal. Making it in the Instant Pot just makes the process that much easier and faster, and your scrumptious mac' n cheese can be done in under ten minutes.
2. Creamed Corn
Creamed corn seems like such as a simple side dish, but it can actually be the perfect complement to many meals. With the right amount of butter and creaminess, you will be begging for more once you are done. You can make your creamed corn even better by adding a little kick of spice into the recipe. Creamed corn is not only easy, but it is also extremely fast to make and will only take around ten minutes.
3. Green Beans (With Bacon)
Green beans often scare people away, but you will grow a new love for this vegetable once you try them from the Instant Pot, especially when you add bacon into the mix. What makes this side dish even better is it takes absolutely no preparation. All you have to do is throw the bacon and green beans into the Instant Pot and you will have the perfect side dish in under half an hour. Also, if you want to spice up this recipe, you can even add in spices and seasonings.
4. Corn on the Cob
While people enjoy corn on the cob all of the time without using an Instant Pot, you will never go back to your old methods of making this side dish once you make it in the Instant Pot. While boiling corn on the cob works perfectly well, the consistency that the Instant Pot makes your corn is perfection in your mouth. On top of that, you can even add seasonings and other add-ins to the Instant Pot to make it even better. Plus, it can be made in just around ten minutes.
Overall
Overall, if you want the perfect side dishes to go with your Instant Pot meal, there are many that you can choose from. If you want one that is easy and quick to make, you can follow any of the above recipes and have yummy food in under half an hour.
Related Video: