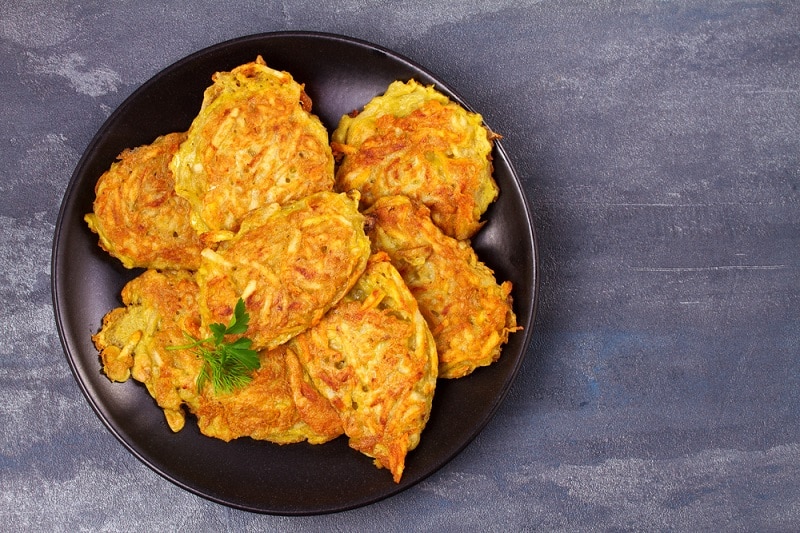 Instant Pot Hash Browns Recipes
Hash browns are a classic potato recipe that makes for a delicious meal or side dish for breakfast, lunch, or dinner. You can easily make hash browns in your Instant Pot whenever you want to enjoy this hearty and filling dish.
1. Classic Hash Browns
These classic hash browns utilize spices and garlic to create a crispy, delicious flavor that you'll want to enjoy time and time again.
We create amazing recipes. Gain FREE access to Miss Vickie's special recipes.
We won't send you spam. Unsubscribe at any time.
Ingredients
7 potatoes, shredded or grated (russet, Idaho or golden)
2 tsp minced garlic
1 tsp salt
1 tsp pepper
1 tsp onion powder
2 green onions, chopped
3 Tbsp butter
Instructions
Turn on your Instant Pot to Saute mode and wait until hot.
Then, add in your butter and stir around with a wooden spoon until it has melted.
Add in your garlic and cook for about 2 minutes while stirring to keep the garlic from burning.
Then it is time to add in your potatoes, salt, pepper, onions, and onion powder; mix until everything is well combined.
Cook your potato mixture on Manual for 4 minutes and then let the steam release naturally. This will take about 10 minutes or so.
After the steam has released, open up the lid and stir the hash browns around to check that they are cooked through.
At this point, you can optionally cook the hash browns for an additional 2 minutes if you would like them extra crispy. If you choose this option, make sure to release the steam manually rather than naturally.
Serve hash browns hot alone or as a side dish.
2. Cheesy Hash Browns
Cheese and potatoes are a classic combination that you can enjoy all day long. If you are in the mood for something cheesy and delicious, you'll definitely want to cook up these Instant Pot cheesy hash browns.
Ingredients
7 potatoes, shredded or grated (Idaho, golden or russet)
3 Tbsp butter
1 cup bread crumbs
1/2 cup low-sodium broth (chicken or vegetable)
3 cloves garlic
1 yellow onion, finely chopped
2 cups cheese (cheddar or Monterey Jack)
1/2 cup sour cream
Instructions
First, add your butter to your Instant Pot and turn on the Saute function.
Wait until the butter has completely melted and then add in your onion, cooking until the onions are soft and slightly translucent for about 5 minutes.
Add in your garlic and cook for another 2-3 minutes until fragrant.
Turn off the "saute" function and add your potatoes, spices, and broth. Stir until well combined.
Then lock your Instant Pot and cook on Manual for 2 minutes of cooking time.
Let the steam release naturally, which will take about 10 minutes.
Open the lid of your Instant Pot and stir in sour cream and cheese until well mixed and creamy.
Transfer to a casserole dish and top with bread crumbs before serving.