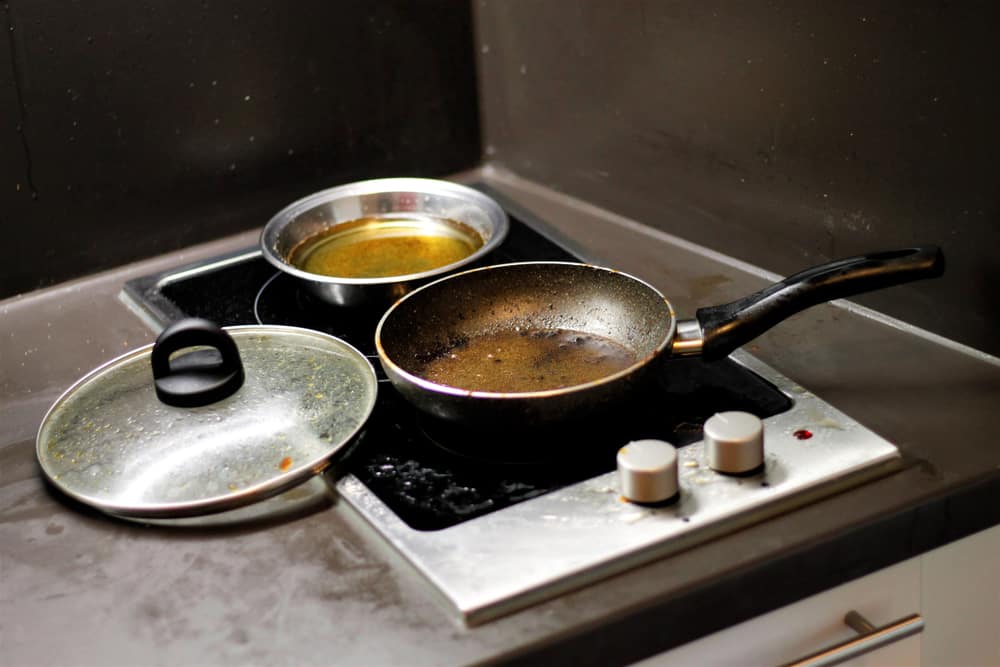 We definitely need a bit of oil to cook and it goes without saying that almost all the recipes that we might be preparing on fire are incomplete without adding some oil to them. Similarly, you will need to make sure that you are removing the oil from your pans after you are done fully cleaning them. At times, oil can get a bit stubborn as well and will refuse to leave the pans. If you are facing the same problem and wondering how you can remove the sticky oil off your pans, here are a few things that you will need to know about.
How To Get Sticky Oil Off Pans?
1. Vinegar
White vinegar is an excellent remedy to ensure that you can remove the oil from the pan. It is best to take some white vinegar and let it sit in the pan for an hour or so. This goes perfect for the pans where you have some oil sticking to the bottom only since you cannot use the vinegar in a deep pan that has oil all around the bottom of the pan and the walls too. So, you need to let white vinegar sit in the pan and after that, you can wash the pan as you would normally have done. This should be enough to help you out getting the sticky oil off your shallow pans and you will get a squeaky-clean surface like you would want to have.
2. Boil Some Water
Another thing that you can try out is to boil some water in the pan and the heat along with boiling water should be enough to get the job done for you. So, what you will need to do is fill the pan with water and then boil it on the stove for some time. That should be getting the sticky oil off your pans and you will be able to make it work pretty great for reusing those pans for cooking what you like. While lukewarm water would serve the same purpose, it is just better to use boiling water to get the oil off for good without having to face any difficulties or hurdles with the process.
4. Lime based Cleaners
There are certainly some cleaners out there in the market that can help you with clearing the oil from your pans and you should definitely opt for these if you want to clear the oil off your pans. These lime-based cleaners are the best thing that you get to enjoy to clean off oil and all such other particles that might be on the pan.
You just need to make sure that you are using the right lime-based cleaner on such pans and after that, you can rinse them with lukewarm water to wash the cleaner off as well. That will do the trick for you and you will be able to get the most out of your pans without having to worry about the oil sticking to the pan or anything like that at all.