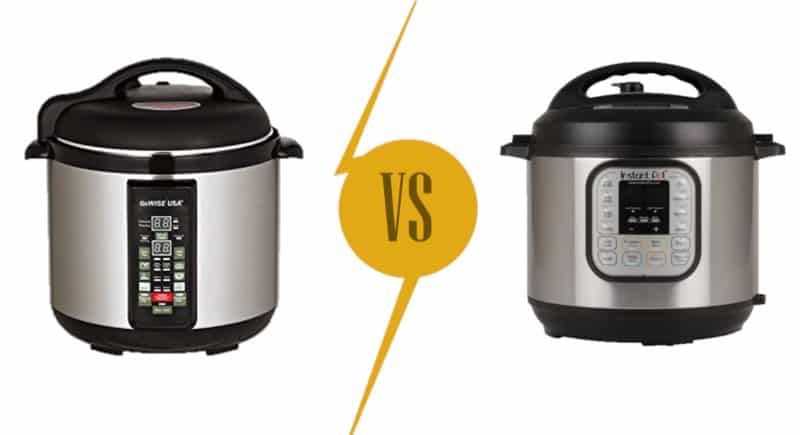 GoWISE Pressure Cooker vs Instant Pot
Pressure cooking was once the preserve of old fashioned homemakers but these days are more likely to be used by busy modern families. Pressure cooking is fast and convenient and fits in perfectly with a fast-paced lifestyle that doesn't want to compromise on food quality. This has lead to an explosion of pressure cooker multi cooker brands on the market. In this article, we take a look at the comparison GoWISE Pressure Cooker vs Instant Pot.
GoWISE Pressure Cooker
The GoWISE Pressure Cooker comes in a range of models and options. You can choose between the 3qt size up to the 12.5 qt with everything in between. This model offers 12 separate functions and is available in stainless steel natural finish or copper finish which would look really attractive in anybody's kitchen,
The GoWISE Pressure Cooker is extremely versatile. As well as the usual pressure cooking functions and easy to use presets such as Rice/Risotto, Multigrain, Porridge, Meat/Stew, Poultry, Seafood, Veggies, Bean/Chili, it also has additional purposes.
You can use it for canning, as a yogurt maker, egg maker and it has a steam function. It is also suitable for sautéing and frying and it functions as a slow cooker.  It has a keep-warm function so you can cook in advance.
The control panel is easy to understand. There is a timer so you can delay cooking times. There is an automatic pressure cooking function that offers high or low pressure but you can switch to manual and raise or lower pressure via the plus or minus signs.
You do get some additional freebies when you buy them. Each purchase comes with 2 stackable steaming baskets, stainless steel measuring spoon and cup, and a steam rack. It also comes with a detachable cord.
The inner cooking pot is manufactured from aluminum, a material that some people have concerns about being associated with causing Alzheimer's disease. However, it is coated with ceramic so this should prevent this dangerous metal from entering into the digestive system.
There is not much information about safety features but the brand is ETL certified – a governing body that verifies that an electric appliance is safe and can work as described.
Overall the GoWISE seems to have created a simple to use a pressure cooker that offers the more experienced user, flexibility and added control and plenty of options.
Prices vary depending upon size and retailer. We found the 6qt size on sale for just $59.99 which seems amazing value. The larger sized models are upwards of $109.
Customer feedback is generally good. However, numbers are fairly low, especially on Amazon and there are a couple of complaints about the steamer button.
Pros
Lots of functions including canning
Safety approved
Reasonably priced
Cons
Not as popular as the Instant Pot
No guarantee or warranty provided as standard
Some issues with the release valve
Inner pot constructed with aluminum and lined with ceramic
The Instant Pot
With thousands of customer reviews on Amazon alone for the Instant Pot, no one can escape the fact that this is the USA's favorite brand. There is a lot to like. The Instant Pot Duo Nova is available in a range of sizes; the in 3 qt, 6 qt or 8 qt and although this is not as extensive as GoWISE range it will be enough for most users.
Where the Instant Pot scores with most people are that it is extremely easy to use. The control panel is easy and there are 10 preset options to enable you to cook a range of different foods and in many different ways at the touch of a button.
There is plenty of customer support too and you can find thousands of great recipes via the Instant Pot customer website.
There are seven listed functions; pressure cooker, slow cooker, rice cooker, steamer, sauté pan, yogurt maker, and warmer. This will be sufficient for many users but is actually fewer functions than the GoWISE model.
Where Instant Pot scores over GoWISE is in construction of the appliance itself. We like that the inner pot is made from stainless steel and that design looks to be sturdy.
GoWISE, by contrast, offers an aluminum inner lining coated with ceramic so it is unlikely to be quite as long-lasting. In addition, if the ceramic wears off or becomes scratched, there is a chance that aluminum could enter your food.
Price-wise, the Instant pot is slightly more expensive than GoWISE. The 6qt model costs around $64.00. However, the mini pot (3qt) costs around $75.00 and the largest size (8qt) costs $90.00. The 8qt Instant pot is cheaper than the equivalent GoWISE making this the better deal.
The Instant Pot is undoubtedly the market leader in the USA. This is a well-known brand and is much loved by legions of customers and we would not want to go against such a reputable brand. However, it does look a little basic when compared to the GoWISE and does not seem to offer quite as much with regards functionality.
Despite the popularity of Instant Pot, it has attracted some negative customer reviews with some people claiming that this pressure cooker is unreliable.
Pros
Best known pressure cooker brand in the USA
Thousands of satisfied customers
Stainless steel inner pot and sturdy construction
Cons
Fewer functions that the GoWISE
Complaints about reliability.
No money-back guarantee or sales warranty as standard.
In conclusion,
We really like the look of the GoWISE pressure cooker. It offers amazing value for money for such a wide range of functions so it will certainly suit you if you are experienced in pressure cooking. We love the fact that it is ETL approved and is very tempted by the canning function which is simply not possible in most pressure cookers. We love the copper finish as well.
All that said, this brand is not as well known as Instant Pot so if you want to play it safe you may find that Instant Pot is the best option. For more adventurous users, you might just find that the GoWISE pressure cooker is the best deal.