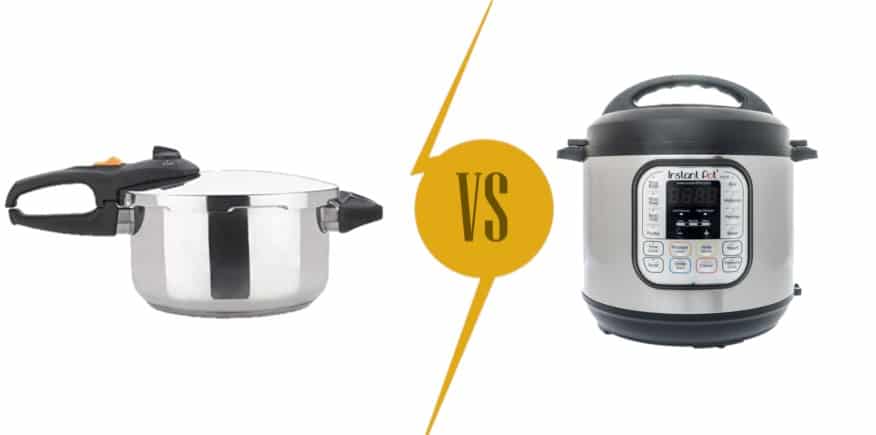 Fagor Pressure Cooker vs. Instant Pot
Although the trend these days is for electric multi-function pressure cookers that come with a digital display and instant preset settings, the more traditional stovetop pressure cooker is still popular. One of these is the Fagor Pressure Cooker named by America's Test Kitchen as "best buy."
The Instant Pot and the Fagor Pressure cooker are two very different appliances so which one is the best buy? The Instant Pot with all its various bells and whistles or the more classic Fagor? Let's find out.
Fagor Pressure Cooker
The Fagor brand is well known in the USA. It is unusual in that it is a European brand although as with all pressure cookers, products are manufactured in   China. The brand has recently been renamed as Zavor and according to company sources has upgraded product design.
There is a wide range of pressure cooker models available. The Zavor is available in a wide range of sizes; the Zavor Duo, for example, comes in 4.5 qt size right up to 10 qt so there is something for all sizes of families.
Pressure cookers are extremely versatile. You can cook just about anything in a pressure cooker as well as sauté or roast meat, cook rice, casseroles, porridge, beans and more. The Fagor/Zavor does not come with presets, however. Unlike the multi appliances, you do need to supervise cooking and make decisions yourself rather than adding the ingredients and pressing a preset.
Although the Zavor Duo is not suitable for use as a slow cooker, it has a great advantage in that it is one of the few pressure cooker models that can be used as a canner. This is only a feature of the 10 qt size pressure cooker. The smaller sizes are not suitable.
Controls look easy to manage and there are plenty of safety functions. There are two pressure settings; high at 15 PSI and low at 8 PSI. The lid and handle are self-locking and easy to use.
The Fagor/Zavor range of pressure cookers is suitable for use on all types of cooking hob. All purchases come with a recipe book, a guide to using, and a stainless steel basket depending upon size.
Pros:
Good quality pressure cooker
Comes with instructions manual and recipe book
Classic pressure cooker with plenty of built-in safety features
10 qt size works as a canner
Cons
It requires some skill to use. It is not idiot-proof
Lacks many of the features of the multicooker
Not as popular on the market as the Instant Pot
The Instant Pot
The Instant Pot has moved away from traditional pressure cooker design with the range of electric multicookers.  These function as pressure cookers and feature numerous pre-settings that you just press in order to cook the food. This takes any guesswork out of cooking; So you are cooking rice? Just press the rice cooking preset. Meat? Fish? Beans? You don't have to think about it. With a wide array of preset functions, you can be confident that your cooking results will be perfect at the touch of a button.
The Instant Pot also functions as a slow cooker and a yogurt maker which will please some customers. However, the truth is that apart from these two functions, there is nothing offered by the Instant Pot that you couldn't cook in the Fagor pressure cooker. All pressure cookers have the ability to carry out a wide range of functions including roasting and sautéing.  They all cook in a fraction of the time of conventional cooking. They all have the same benefits to health and pocket.
Where the Instant Pot scores are that it is so easy to use. Stovetop pressure cookers do scare off some users because historically they could be dangerous. Although all modern pressure cookers come with plenty of built-in safety functions, they do have a slightly risky reputation.
The Instant Pot does not actually look like a pressure cooker and because it is so easy to use, it has captured a whole new generation of fans and users who may have been scared off by traditional pressure cookers.
Customer feedback for the Instant Pot is exceptional. The Instant Pot range has attracted thousands of positive customer reviews from people who love it. In addition, Instant Pot comes with a huge resource of recipes and information. This is the USA's #1 brand.
The Instant Pot design is constantly being updated giving the impression of cutting edge technology and up to the minute design. You can choose from a range of sizes and functions depending upon the model.
Pros
So easy to use it is idiot-proof
The USA's #1 brand
High level of customer feedback
All purchases come with a free recipe book and access to a designated customer information website
Cons
Does using the Instant Pot cause cooking skills to deteriorate?
If it goes wrong the digital presets are unlikely to be reparable
Some customers have mentioned lack of durability
In conclusion
We love the Fagor/Zavor range of pressure cookers. These stovetop pressure cookers are great quality and extremely safe to use. We love that the 10 qt Duo can also be used as a canner. If you are an experienced pressure cooker user, you will probably love using it. However it does require some skill in using and you can't just press a reset button and leave it to cook on its own, as you can with Instant Pot.
On balance for keen cooks who don't want to have to rely on electricity of presets, the Fagor is the better choice.  However, the Instant Pot is so easy to use and convenient we cannot really fault it.
Related Video: