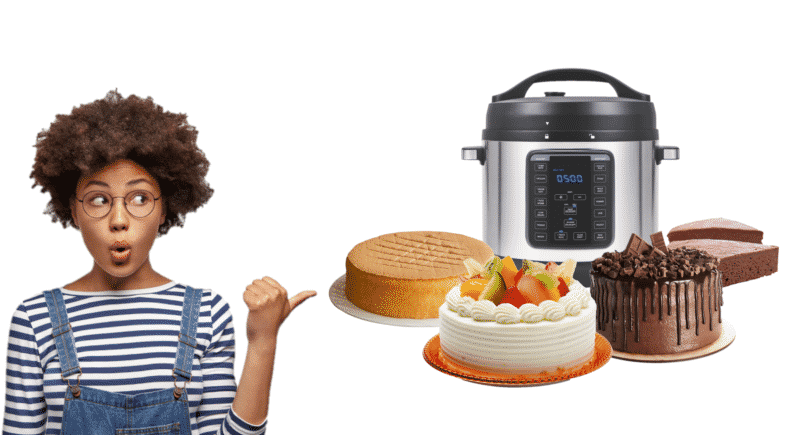 Electric Pressure Cooker Cake Recipes
Cakes are delicious desserts that you can enjoy any time, whether it is for a birthday, a special event, or simply because you want something sweet. One of the most surprising uses of a pressure cooker is the ability to create cakes. The following two delicious electric pressure cooker cake recipes will help satisfy your sweet tooth.
1. Vanilla Birthday Cake
This classic vanilla cake is ideal for birthday parties and other special events. You can use a pre-made buttercream or make your own.
Ingredients
5 cups cake flour
5 cups confectioners' sugar
8 Tbsp butter, unsalted
5 tsp vanilla extract
5 tsp baking powder
1/4 tsp baking soda
1/4 tsp salt
1 egg
1/3 cup sour cream
Buttercream frosting (for topping)
Sprinkles (for topping)
Instructions
First, coat a round cake pan with nonstick spray. Then, line the pan with parchment to prevent sticking.
In a separate bowl, whisk your flour, baking powder, baking soda, salt, and at least half the sprinkles until well combined.
In another separate bowl, beat your butter with a mixer for about 2 minutes.
Carefully add your confectioners' sugar and continue beating until the mixture is fluffy. This will take about 3 to 4 minutes.
Then, add in your egg and vanilla extract; beat until the mixture is creamy or about 2 minutes.
Combine the butter and flour mixture while still mixing on the lowest setting.
Add in your sour cream slowly, then add your finished batter to the cake pan.
Add a rack into your pressure cooker, pour in about 2 cups of water, then add your cake pan onto the rack.
Cook on high pressure for 40 minutes; let the steam naturally release for 15 minutes before manually releasing the rest.
Let cool for at least 30 minutes before removing from the pan, then decorate with buttercream frosting and sprinkles.
2. Rich Chocolate Cake
This simple chocolate cake recipe features two kinds of chocolate and is perfect for chocolate lovers.
Ingredients
5 cups milk chocolate chips
3/4 cup all-purpose flour
1/2 cup cocoa powder (dark)
1 cup sugar
1 tsp baking powder
1/4 tsp salt
5 tsp vanilla extract
1/2 cup butter
2 eggs
1 cup water
Chocolate frosting
Instructions
First, cream together your butter, sugar, and vanilla in a large bowl using an electric mixer. Cream until the mixture is light and fluffy, then beat in your eggs one of the time until the entire mixture is combined.
Then, in a separate bowl, mix your cocoa powder, baking powder, salt, and flour using a hand whisk.
Gradually add in your flour mixture until the two are well combined.
Then, slowly start in your chocolate chips.
Spray a round cake pan with nonstick cooking spray, then spoon in your cake batter. Cover the pan with foil.
Place a rack into your pressure cooker, then add in your cup of water before placing the pan on top of the rack.
Cook on high pressure for 30 minutes, then let the steam naturally release for 10 minutes before releasing the rest using manual pressure.
Let cool for 30 minutes, then frost and serve.
Related Video: