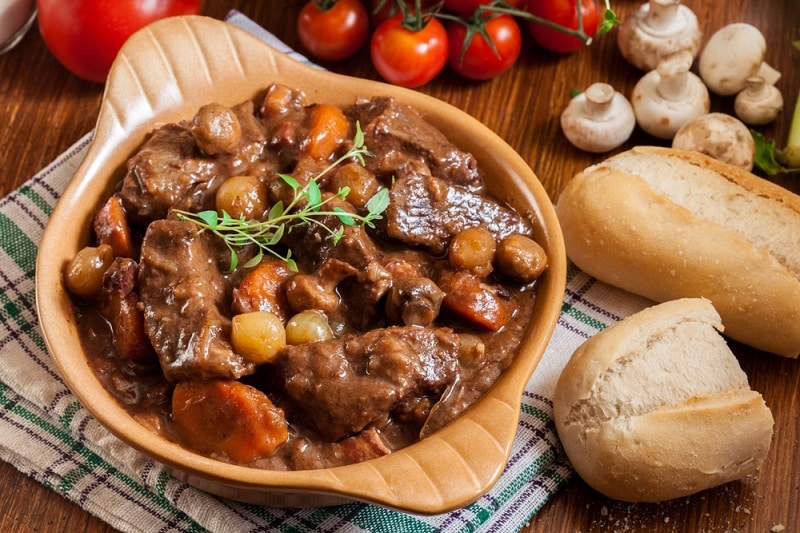 Beef Bourguignon Pressure Cooker Recipe
Beef Bourguignon is a beloved beef dish with a hearty flavor is perfect for anyone looking for a rich, tasty meal. You can easily prepare a delicious Beef Bourguignon recipe with the help of a pressure cooker and it definitely would take less time! The following are 2 pressure cooker recipes that will allow you to cook a Beef Bourguignon dish with minimal effort.
1. "Julia Child" Inspired Beef Bourguignon
Julia Child's Beef Bourguignon is one of the most recognized recipes in the world. Its complex flavor profile yet simplistic ingredients are a trademark of Julia Child's cooking, and you can recreate your own version with this easy pressure cooker recipe.
Ingredients
3 lbs. beef brisket – cut into pieces
6 oz. bacon – chopped
2 onions – diced
2 Carrots – diced
Salt and pepper to taste
5 Tbsp. flour
5 Tbsp. tomato paste
3 cups beef stock
3 cups red wine – e.g. Merlot, Chianti, Pinot Noir
1 beef bouillon – crushed
1/5 lbs. mushrooms – diced
1/2 tsp thyme – chopped
1 Tbsp. fresh parsley – chopped
1 Tbsp. butter
Instructions
First, set your pressure cooker to the "sauté" function.
Then, sauté your bacon with oil until it is browned; remove, and set aside for later.
Now, dry your beef to remove moisture and sear it on all sides until it is nicely browned.
While your beef is browning, melt butter and combine with mushrooms; set aside for later.
Add your bacon, salt, and ground pepper to the cooker with your beef.
Sprinkle the ingredients with flour, toss, and continue cooking for about 5 minutes.
Then add your onions, wine, carrots, stock, garlic, bouillon, herbs and tomato paste.
Stir well to mix.
Turn off the sauté function, then turn your pressure cooker on manual/high-pressure mode.
Cook with the lid locked for 30 minutes.
Allow the steam to release naturally for around 10 minutes, and then manually release the rest of the steam.
Finally, add your mushrooms and serve.
2. French Stew Beef Bourguignon
This thick Beef Bourguignon features melt-in-your-mouth tender beef and large vegetables for a very filling and stew-like meal.
Ingredients
3 lbs. chuck beef – cut into pieces
5 slices bacon – chopped
1/3 cup tomato sauce
1 cup red wine
1 cup beef broth
2 carrots – sliced into medallions
2 onions – chopped into large pieces
1 beef bouillon – crushed
1/3 cup flour
1 Tbsp. garlic – minced
1 lb. baby potatoes – keep them whole
Salt and pepper to taste
Instructions
First, set your pressure cooker to the sauté function.
Cook your bacon for about 4 minutes until it is cooked.
Remove and set aside.
Then, sear your beef for about 3 minutes; make sure to brown on each side.
Add your red wine and deglaze the pressure cooker.
Simmer for about 5 minutes before adding your broth, bouillon and tomato sauce.
Whisk in flour gradually to prevent lumps.
Then, stir in your onions, carrots, potatoes, garlic, bacon, thyme; add salt and pepper to taste.
Set pressure cooker to manual/high-pressure.
Cook for 45 minutes, and then allow the steam to naturally release for 10 minutes.
Use quick release to remove the rest of the steam.
Set your pressure cooker to "sauté," remove the lid, and cook for 5 to 10 minutes until the mixture thickens.
Related Video: