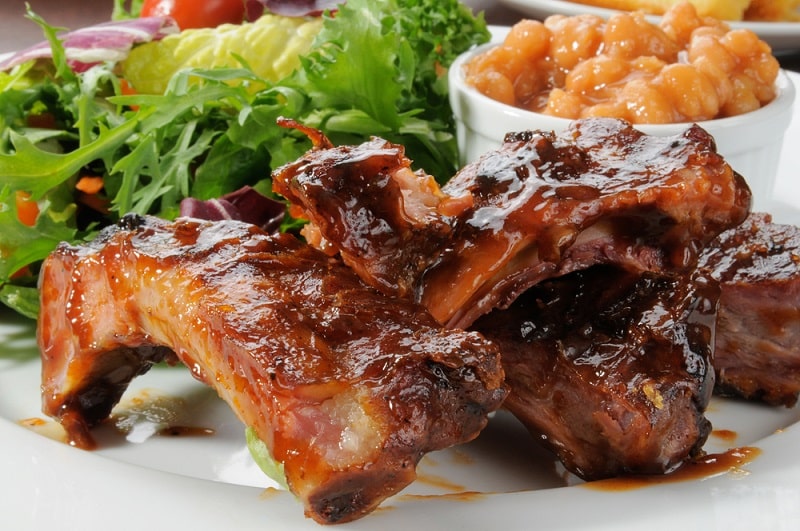 Baby Back Ribs Pressure Cooker Recipes
Pressure cookers are of the most convenient ways to cook meals, especially when you want something to be tender, delicious and perfect for lunch or dinner. Baby back ribs are a great dish for any time of the year, and cooking them in a pressure cooker results in a tender cook that will likely fall off the bone. The following are 2 delicious baby back ribs pressure cooker recipes to check out.
1. Classic Pressure Cooker Baby Back Ribs
This classic recipe is perfect when you want a traditional style BBQ baby back rib.
Ingredients
1 full slab baby back ribs
2 tsp kosher salt
1/2 cup water (or more as needed)
2 cups BBQ sauce – classic/traditional is best
3/4 Tbsp. paprika
3/4 Tbsp. brown sugar
1/4 Tbsp. chili powder
1/2 tsp pepper
1/2 tsp garlic powder
1/2 tsp onion powder
Instructions
Prepare the ribs, if necessary, by removing the membrane. Then combine dry ingredients (paprika, brown sugar, chili powder, pepper, garlic powder, onion powder) and sprinkle generously on both sides of the ribs. Add salt to taste.
Cut ribs into 4 pieces, then place into the pressure cooker with 1/2 cup of water (or more if needed).
Place the with the bone side down, then cook on the high setting with the lid locked for about 30 minutes. Then let the pressure vent naturally, which will take about 15 minutes.
Remove ribs from the pressure cooker and brush with chosen BBQ sauce. Set underneath a broiler on high setting until sauce bubbles and just starts to brown, which will take around 5 minutes.
Remove from broiler, add a final layer of brushed sauce, and let cool for several minutes before serving.
2. Cherry BBQ Pressure Cooker Baby Back Ribs
This cherry flavored recipe is perfect for cooking ribs with a savory and sweet flavor.
Ingredients
3 lbs. baby back ribs – separated individually and with membrane removed
1 bottle BBQ sauce – traditional or favorite
1 Tbsp. Dijon mustard
½ Tbsp. garlic powder
1 Cup cherry preserves
salt
pepper
a dash of hot sauce (optional)
Instructions
Mix together BBQ sauce, Dijon mustard, garlic powder, and cherry preserves. If you want to add some hot sauce in order to add some heat to the dish, add it to the BBQ sauce mixture now.
Season your ribs with salt and pepper to taste then place your ribs in your pressure cooker, then pour BBQ sauce mixture over ribs.
Set your pressure cooker to high, lock the lid and cook for 30 minutes. Let it vent naturally, which will take about 15 minutes. Remove from the pressure cooker, let cool a few minutes, and serve.
Baby back ribs are delicious meat that will cook nicely in a pressure cooker; the end result will be fall-off-the-bone tender, making for a perfect choice for anyone who loves a good rib.
Related Video: