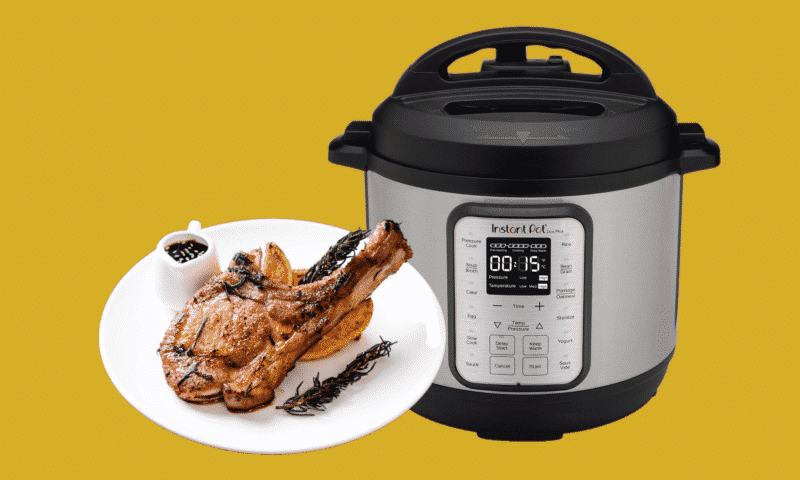 Juicy, tender pork chops are a great midweek dinner for the family. It's good to bear in mind that, unlike bacon and Boston butt, pork chops are unprocessed and unsmoked.
They are also a lot leaner than other cuts of pork. Some have thick skin and fat round along the edge, but the meaty part is very lean.
This must be taken into account when cooking them. Cooking pork chops in an Instant Pot can be a delicate operation, and they can easily become tough.
However, cooking juicy, tender pork chops full of flavor is not difficult once you get the hang of it. We are here to help you avoid the common mistakes that cause the chops to become tough and dry.
Contrary to what many people think, pork chops need to be slightly pink in the center when done. No – we are not saying you should eat undercooked pork!
Well-cooked pork chops are not only tender and juicy, but they are also a little pink at the center. An opaque pink center signals perfectly cooked chops (and when they aren't pink, that's when you need to question the cooking time!).
If you're worried, use a meat thermometer to check. As long as the center has reached 145 degrees Celcius, the pork is done. Try not to go over this temperature if you want tender chops.
Why Are My Instant Pot Pork Chops Tough?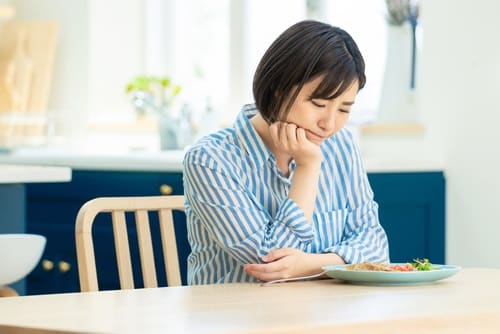 The secret to perfect Instant Pot pork chops is to choose the right chops in the first place. Pork chops are normally very lean and will get tough if they are overcooked.
Pick chops that are bone-in as the bone adds more flavor plus shields the meat around it from overcooking. Ask your butcher to cut the chops thick. Thin chops overcook very fast. Also, look for chops that are well marbled with fat, as this will help keep the meat tender and moist.
Here are the 3 most common mistakes that cause Instant Pot pork chops to become tough:
1. Overcooking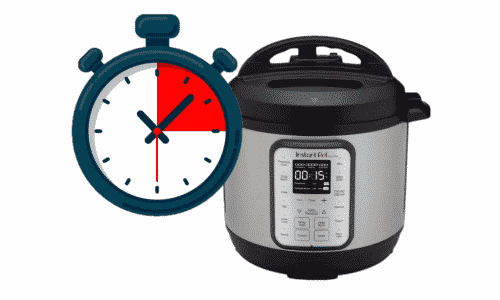 Pork chops are lean cuts, which means they don't need hours of steaming and cooking. However, if you leave them in the Instant Pot for more than the prescribed time, the chops will turn tough, signaling that they are overcooked.
The pork chops can become tough even with just a few minutes of overcooking. This problem isn't just seen with an Instant Pot; overcooked pork chops become tough on the grill or stovetop as well.
With overcooking, the chops will turn dry, chewy, and tough. This is certainly not something your family will find delicious or appealing!
Make sure there is no carry-over cooking time. Remember that even when you take them out of the oven or pot, the chops will continue cooking in the residual heat for a few minutes. This is also why it is best to serve them straight away, rather than keeping them warm.
Also, use the quick-release valve on your Instant Pot so that the meat doesn't continue cooking. Turn the venting knob from the sealing to the venting position.
2. Choosing the Wrong Cuts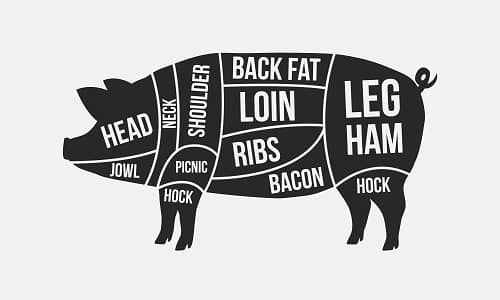 Pork chops are cut from the pig's loin (from the hip to the shoulder) perpendicular to the spine. They usually contain one of the ribs or a piece of the vertebra.
However, boneless chops are also sold. The best, most tender cut is the pork loin porterhouse. This comes from the hip section of the loin and is made up of a piece of loin plus tenderloin with a T-shaped bone in between. The bone ensures juiciness.
Another tender cut to look for is a pork rib chop. It also has a T-shaped bone through it that is often stripped clean by the butcher for you. The cut consists entirely of loin meat with a layer of fat on the edge. Be especially careful not to overcook this one.
Pork shoulder chops are from the upper part of the pig's loin close to the shoulder. They are delicious for pulled pork, but you should marinate them first if you want tender chops for the Instant Pot. The marbling of fat in this cut keeps it nice and moist.
Sirloin chops come from the back part of the loin near the hip. They are tasty but very tough, so only buy these if you will braise or stew them.
3. Buying Chops That are Too Thin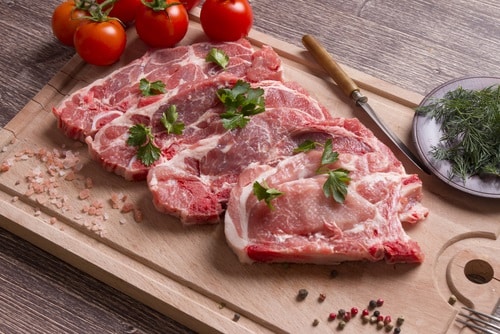 Pork chops are sold in different thicknesses, ranging from extremely thin through to an inch or thicker. So, in addition to overcooking, the thickness of the pork chop can be the culprit for tough chops.
If the chops are too thin, there is a higher chance of tough meat. Therefore, it is advisable to purchase chops with a thickness of one to one and a half inches thick.
4. Incorrect Freezing and Defrosting Techniques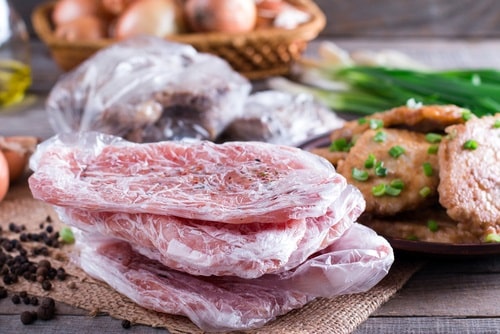 Your toughness problem may not be caused by your Instant Pot cooking method or from the cut of pork you chose. Instead, it may be from freezing the meat incorrectly.
Pork can be spoiled if not frozen correctly, so we'll share some tips with you here to ensure you have juicy, tender chops that will not be tough from their time in the deep freeze.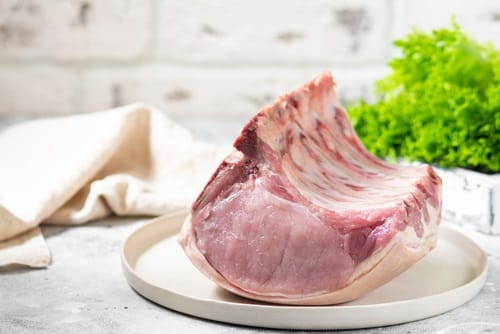 Before freezing, use a clean tea towel or some paper towels to pat the chops dry. This prevents ice crystals from forming on the meat. Ice alters meat's texture, causing it to become tough and dry.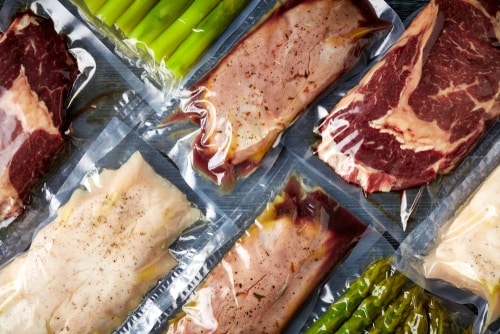 A vacuum sealer is a great investment for your kitchen. If you have access to one, remove all the air from the pork packaging before freezing it. Seal each chop individually, or else make sure they don't touch one another in the bag.
You can separate each chop with wax paper if you like. If you don't have a vacuum, try to eliminate as much air as possible from the plastic bag. This lowers the chance of freezer burn, which causes drying out and toughness.
It is best not to thaw your chops in the microwave. Microwave thawing often results in uneven defrosting and partial pre-cooking of some areas. Rather thaw the chops in cold water. Keep them wrapped in plastic and submerge them in a basin of cold water.
This is a fairly quick method. You need to make sure that the water does not touch the meat. Alternatively, you can thaw your chops in the refrigerator overnight. Whichever method you choose, please do not use the microwave to thaw your chops!
To sum up – tips to avoid tough pork chops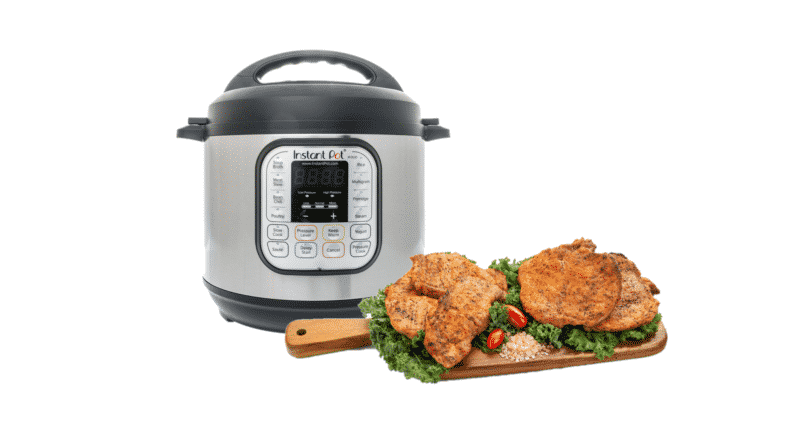 Hopefully, we've made it clear that it's best to judge your chop's doneness by using a meat thermometer rather than looking at the color. Also, remember to choose thick, well-marbled pork chops with a bone in.
Finally, using your Instant Pot is a great way to cook pork chops in a delicious sauce or gravy. This is our chosen way of enjoying them. Let us know how your next batch of Instant Pot pork chops turns out!