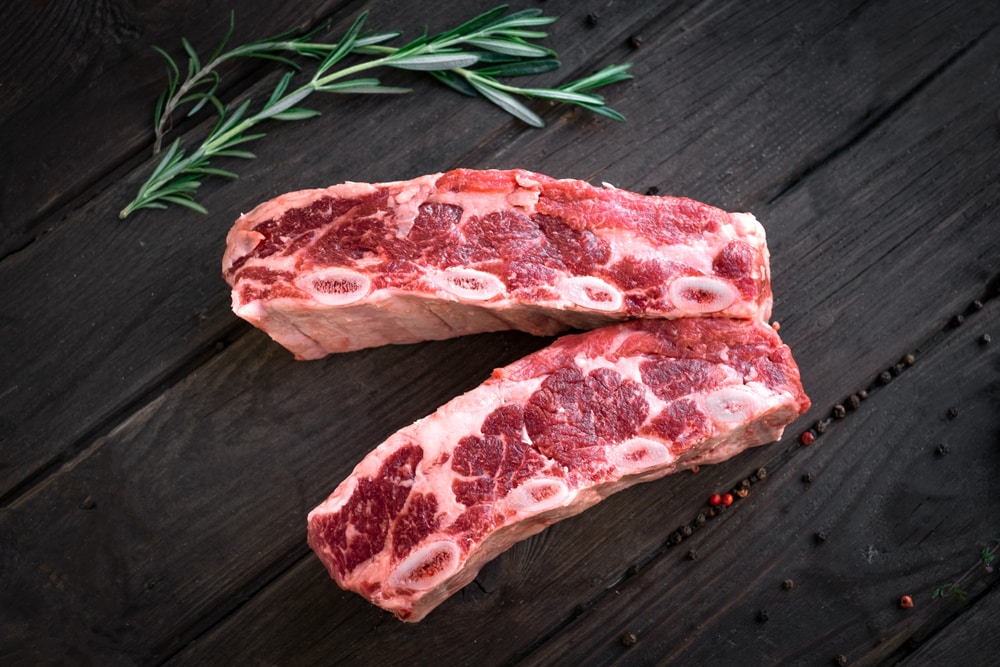 Non-vegetarian people are extremely particular about the meat cuts, and it's safe to say that fine cuts are extremely delicious and flavorful. One such amazing cut is beef short rib and is amazingly juicy, delicious, and tender. However, one question remains constant, "why are beef short ribs so expensive?" if you have been wondering the same thing, we have the answers for you!
Beef Short Ribs – What Are These?
Before we talk about the reasons behind the expensive rate of short ribs, it's important to understand what short ribs are (it will also explain some reasons behind the expensive rate). So, these short ribs are cut from the chuck, rib, or brisket area of the beef.
The cut has a smaller rib bone portion which is covered by meat, but meat has different thicknesses. The short ribs are widely consumed in Korean, Chinese, and Jewish cuisines, and they need longer cooking times for proper cooking.
This is because the short ribs take a long time in breaking down the connective tissues and making the beef tender. For the most part, the short ribs are prepared through sous-vide, braising, and stewing methods. Some people also grill and barbecue these ribs, which is actually a good idea if you want to cook ribs quickly. It wouldn't be wrong to say that cooking methods in Korea and French are pretty unique, but all of them promise tender meat.
For instance, short ribs are cooked by boiling in the broth along with seasonings and onion (it will look like stew and is served with horseradish). On the other hand, Korean people grill the short ribs but steaming, and slow-cooking methods are also used. Last but not least, beef short ribs are equally popular in the United States and Europe, so it's popular all around the globe.
Why Are Beef Short Ribs So Expensive?
The beef short ribs are known for bursts of flavor and tender texture as compared to other beef cuts. This beef cut has a bone that looks pretty awesome when served. It wouldn't be wrong to say that short ribs look more like steaks, but their tenderness and loads of flavor make them an expensive choice. The second reason behind the expensive price tag is that it's cut from the valuable part of the animal (bone-in pork loin).
In addition to this, beef has to be imported, which increases the price given all the taxes. Last but not least, the popularity of beef short rib is constantly increasing, which translates into higher demand and increasing costs.
Cheaper Alternatives Of Beef Short Ribs
For people who cannot afford beef short ribs or just don't want to buy an expensive cut, there are some equally good alternatives. In the section below, we are sharing all the cheaper alternatives of beef short ribs, such as;
Flanken Ribs
These cuts are cut out from the cow's flank (it's pretty close to the animal's area where short ribs are cut through). These ribs are sliced, which goes through bones, and have lean meat. What's best about this cut is that the flavor is amazing, and fat content will be limited.
The flavor is pretty close to short ribs, and it's easy to cook, and it cooks up quickly. Flanken ribs can complement a variety of recipes and can be barbecued as well. In addition, flanken ribs are baked and braised and can be easily bought from the butcher's shop.
Beef Back Ribs
The beef back ribs are commonly known as beef riblets, finger runs, rib bones, and dinosaur ribs. To be honest, it is an extremely popular beef cut and is loaded with savory flavor and taste. For the most part, these ribs are cut from the higher part of the animal's body.
In addition, they are cut when boneless prime ribs are being processed. The beef back ribs have a rectangular shape, and the bones are covered with various meat layers. All in all, it has seven to twelve bones.
Lamb Shanks & Legs
If you want a non-beef alternative, you can opt for lamb shanks and legs because they are delicious and easy to buy. These cuts are cut out from the lamb leg's lower part. As far as the meat is concerned, it has a chewy and meaty texture, and the flavor is pretty strong. All in all, the flavor can be enhanced with sauces and marinades.