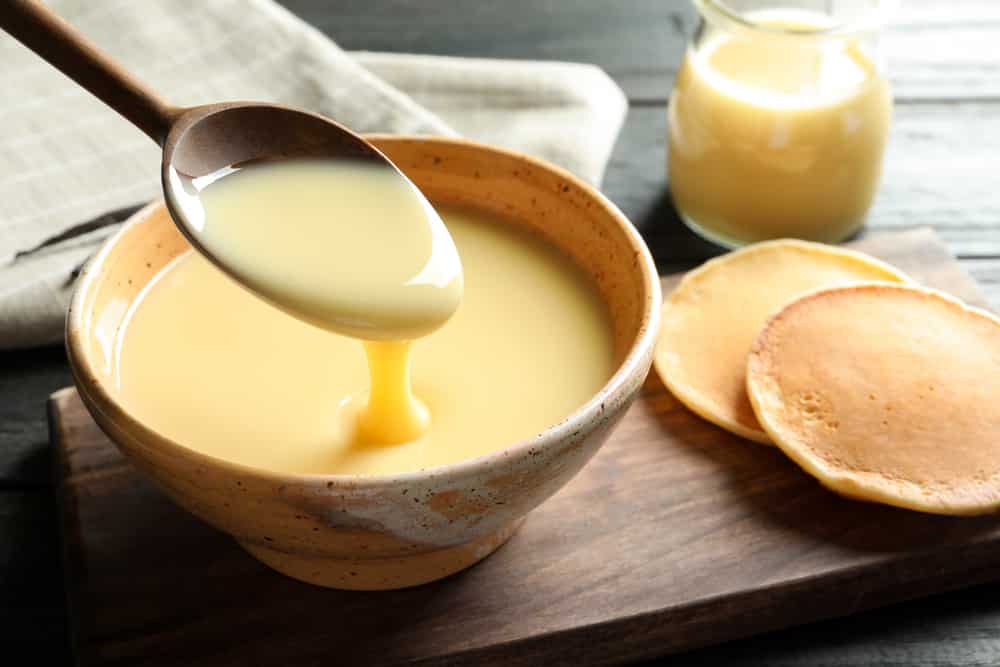 Many people don't care much about how sweetened condensed milk is made – they just know that they are thoroughly addicted to the thick, sticky, decadent treat.
Any food in fact that undergoes a process to remove some of the liquids is regarded as condensed. This is what gives the liquid a thicker consistency and ensures that it is easy and convenient to use.
Sweetened condensed cream vs. sweetened condensed milk? If your creamer or condensed milk is made with fresh milk, both these products will be made by removing water from the milk, sweetening it, and then canning it.
Both these popular products have a thick, creamy texture and are used in many recipes but they can also turn an ordinary cup of coffee into something deliciously appealing.
Both have the advantage of a long shelf life
What's cool about these products is that they have a long shelf life and can also be stored outside a refrigerator. When it comes to sweetened condensed creamer vs. sweetened condensed milk, each can be used as a substitute for the other.
Are there any differences between the two? There are coffee shops that use sweetened condensed creamer and sweetened condensed milk interchangeably. Does this mean that they are the same?
Sweetened Condensed Creamer vs. Sweetened Condensed Milk
Let's take a look at how the two products differ and also at some of their similarities.
Sweetened Condensed Creamer
Sweetened Condensed Milk
As suggested, this creamer is almost the same as sweetened condensed milk, except the ingredients differ somewhat. The cream contains ingredients such as vegetable oil, skim milk powder, whey powder, salt, lactose, and one or two other ingredients, such as carrageenan.
A dairy product made from

cow's milk and sugar

. Sometimes

butter

is added to provide more flavor. These days

skim milk powder

is often used. When fresh milk is used, it is heated to remove excess water and to make it thicker with a slight caramel taste. Sugar is mixed into the concentrated milk, thickening it further and sweetening it. There are also

plant-based condensed milk options

.
Ingredients can vary according to the brand you prefer. Store-bought sweetened condensed creamers often have

a long list of ingredients and may contain additives that you aren't familiar with

.
Ingredients, calories, and even the cans are always much the same, but there are exceptions and some brands use just

milk and sugar

, while others will use

skim milk and also add vegetable oil for fat

.

Sweetened condensed creamers come from Asian countries.

Condensed milk was invented by French confectioner and chef Nicolas Appert. He produced condensed milk for the first time in 1827.

Most sweetened condensed creamers are labeled as

non-dairy

. They do

contain milk protein

, but there is typically no actual milk or cream in them. Having said that, if you extend your research, you'll find that

some sweetened condensed creamers are in fact made from cow's milk

and then processed into a creamy consistency, perfect for your hot or cold drinks and all your favorite cakes and desserts.
Condensed milk is sweetened, containing about

45% sugar

. You also get low-fat and fat-free varieties. The whole idea of adding sugar is to extend the shelf life of the condensed milk. The sugar prevents microorganisms from growing in the milk, and it also helps to thicken it further.
The creamer is ideal for your favorite

beverages

, and you can add it to your tea, coffee, and hot chocolate. It's great for pouring over any

dessert

.
Sweetened condensed milk is relished in most

sweet recipes

, creating a creamy, chewy texture in sweets, pie fillings, and desserts. It is also popular for sweetening hot or cold

beverages

.

There are a variety of quality sweetened condensed creamers, and experts grade them to ensure their quality.

Condensed milk is sold mostly in cans. Even when the cans are opened, the condensed milk can last for years.

The creamers come in

different flavors

, like chocolate and vanilla.
You get

different flavors

of sweetened condensed milk, and chocolate and caramel flavors are great for desserts and cakes.
If you make your own

homemade

sweetened condensed creamer, you need fewer ingredients such as

milk, heavy cream, sweetened condensed milk, and some vanilla extract

.
If you make your own sweetened condensed milk and are allergic to milk, you can try using coconut milk instead of dairy milk.
There can sometimes be confusion about sweetened-condensed milk, sweetened condensed creamers, and evaporated milk, which is unsweetened.
Sweetened condensed milk and creamers are really thick and sweet, and many people simply buy them to eat the sweet treat as it is.
They're both easy to find
You'll find both sweetened condensed milk and creamers in your local grocery store. The two products benefit from having a long shelf life and won't require refrigeration before opening.
Both can be kept tightly covered and refrigerated for up to a week to be used for baking and in your beverages.
When baking, be sure to read the recipe properly to see what canned product is actually required. Both the condensed milk and the creamer can be made at home.
The beauty of making your own sweetened condensed milk or creamer is that you know exactly what went into making them.
Rich flavored creamy deliciousness
If you want to please the palates of your family and friends, these two products will help you do just that, as they are both tasty, creamy liquid products.
They go well with anything sweet, whether it's hot or cold, and they blend in well with puddings, biscuits, and cake mixes; they also enhance your tea and coffee so that you want to enjoy a second cup.