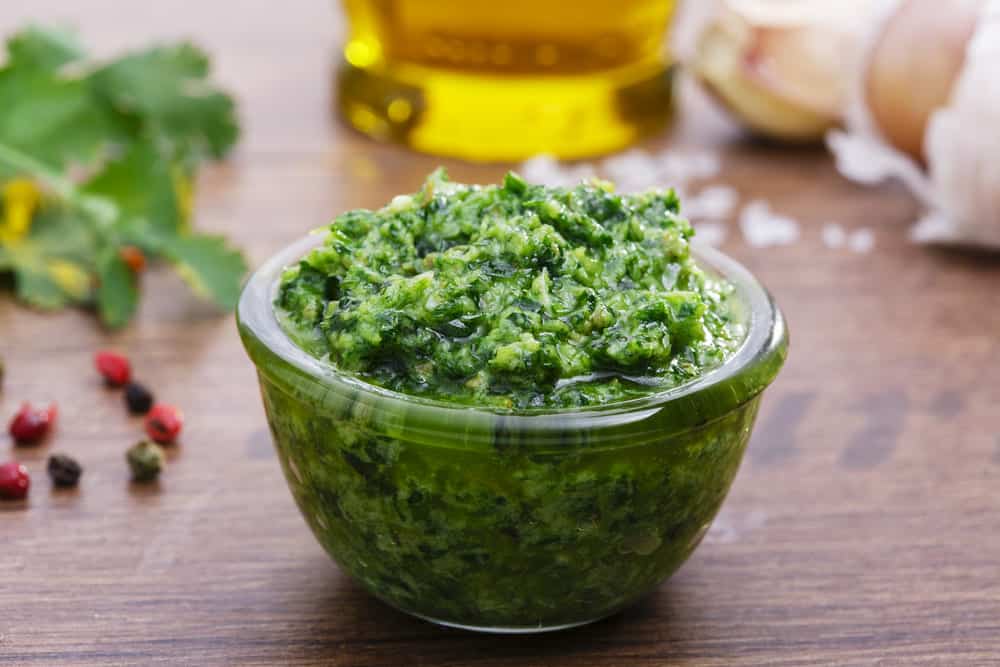 A spicy, green sauce known as salsa verde or green sauce, is an essential element in the Mexican kitchen. The sauce is based on tomatillos, but newer versions also use green chile. Use the sauce on grilled meat or roasted fish of your choice.
The green king of Mexican cuisine is versatile enough to be added in scallops, soups, and rice. There is hardly any tortilla recipe that would not lift by using salsa verde. If the problem of salsa verde unavailability arises, fret not. We are here to solve this problem. Go through the salsa verde substitutes and choose the right one.
Cooking and roasting tomatillo is important as it enhances the flavor of the sauce overall. The point of difference between a regular salsa and salsa verde is the use of tomatillos in place of tomatoes. These add a strong, yet pleasant flavor complemented by other ingredients.
Tomatillos are small and bright delights that look like red tomatoes. When buying, look out for the ones that are dry and firm. Salsa verde is made in two ways, boiled or roasted ingredients. Each method produces a different flavor profile.
The boiled salsa is milder in taste because of the upfront flavor of vegetables. The roasted one, on the other hand, gives a deep flavor to the sauce due to the smokiness added by roasting. Hence, you can eat your favorite food which is highly nutritious because of the vegetables in it.
Salsa Verde Substitute
1) Red salsa
You can achieve a super tasty Mexican restaurant dish with this easy-to-make salsa. This salsa works best with tacos, burritos, casseroles, and many other dishes. Either you can buy some from the grocery store or make some at home.
You need the following ingredients: garlic, onion, tomatoes, lime, salt, jalapenos, and cilantro leaves.
Use tomatoes and tomato juice and mix all the ingredients in a processor. This is the simplest recipe for red salsa. Hence, you can alternate this red salsa for salsa verde.
2) Mexican sour cream dip
Looking out for some unique options? This dip has the potential to turn into everyone's favorite. All you need are some ingredients that you will mix, and your dip is ready.
Sour cream as the name describes is the first item on the list. Chicken broth (we all have some dumped in our refrigerator), cheese, onion and garlic powder, salt, and flour. You can play around by adding some dried parsley or other spices.
Mix the broth, flour, onion and garlic powder, and salt in the butter. Stir them on low to medium heat. Cooldown and add sour cream and cheese. Let the cheese melt and stir properly to get a Mexican sour cream dip.
You can use this sauce in tacos, enchiladas, and tamales. You may try some tortilla with it too.
3) Chipotle hot sauce
If you like Mexican food, then you would have a chipotle product at home. This hot sauce can replace the need for salsa verde. Although the flavor profile is distinct, this sauce can play the role of a dip.
The ingredients you need are Mexican oregano, onion, vinegar, garlic, cumin, salt, and some orange juice. Cook onions and garlic. Then, mix all the ingredients in a blender. You have a hot sauce ready to be jumped on.
4) Homemade salsa verde
If you can't find salsa verde in any grocery store, make your version at home. The ingredients you need are onions, tomatillos, cilantro leaves, jalapeno, salt, lime, and sugar. Roast tomatillos and jalapeno. Meanwhile, mix all the other ingredients in the blender. Serve it hot or chill according to your need.
It was a hard task finding salsa verde substitutes. The reason being it is difficult to replicate the flavor. Salsa verde, green sauce, famous in Mexico contains essential ingredients. In a Mexican kitchen, you will never have the problem of its unavailability.
However, if you are from other parts of the world, it may be a problem. So, use our above-mentioned alternatives. We would highly recommend using salsa verde when the recipe calls for it. Nothing matches as a suitable substitute in our opinion. Create and try new stuff as it is likely you would stumble upon something great.