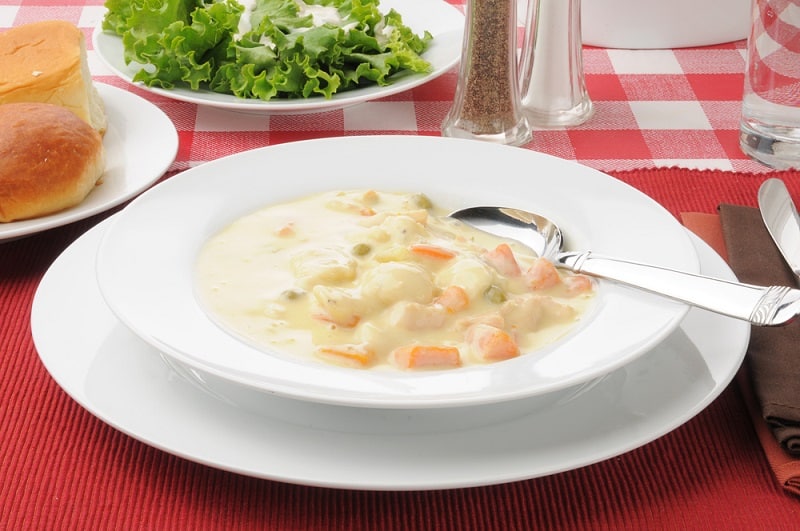 Pressure Cooker Chicken And Dumplings Recipes
Pressure cookers can save you plenty of time, energy and effort in the kitchen—which is why more and more people are turning towards pressure cookers to make everyday meals as effortless as possible. The most popular recipes to make with pressure cookers are those that work well using the "dump and cook method," meaning all you really need to do is toss everything in and let it cook together.
Chicken and dumplings are one of the most popular pressure cooker options thanks to how easy it is to cook this meal in a pressure cooker, as well as the fact that chicken and dumplings simply taste fantastic together. The following are 2 delicious pressure cooker chicken and dumplings recipes that are sure to satisfy your craving for something warm, delicious and best of all, easy to make.
Recipe #1
Ingredients
2 Tbsp. butter
1 onion – diced or chopped
2 carrots – diced or chopped
1 onion – diced
2 celery stalks – diced
2 cups cooked chicken – shredded or diced
1/2 cup frozen peas
4 cups chicken broth or stock
4 Tbsp. cornstarch or flour
1/2 cup cold water
Dumpling Ingredients
1 cup flour
1 tsp salt
1/2 cup milk
1 tsp baking powder
2 Tbsp. melted butter
Directions
Set your pressure cooker to sauté or high heat; add your butter, carrots, celery, peas, and onions until they are soft. Stir occasionally.
Add your chicken, broth, salt, as well as salt and pepper to taste.
Secure the lid.
Cook at high pressure for 10 minutes.
Make dumplings by mixing flour, baking powder, salt; add melted butter and milk, then set to the side.
When pressure cooker cycle is done, open the pot and add in the milk; then mix together cold water and cornstarch/flour and combine until smooth.
Stir this thickener into the pot.
Select Sauté option and low heat; add dumpling mixture to the pot using teaspoons.
Cover and cook for 5-7 minutes until dumplings are cooked and floating on top.
Recipe #2
Ingredients
1/2 lbs. chicken thighs – boneless, skin optional
1 yellow onion – diced
3 celery stalks – sliced
5 cups baby carrots
1 cup corn – frozen/thawed/fresh
2 cups spinach – raw
1 tsp thyme – dried
1/2 tsp chicken seasoning
2/3 cup milk
1/4 cup heavy cream
Bisquick baking mix – as per box instructions: 1 3/4 cups
Salt and pepper to taste
Directions
Add salt and pepper to chicken thighs to taste
Set pressure cooker on high; heat butter until it sizzles, then add chicken with the lid off and cook for about 5 minutes
Add vegetables, chicken seasoning, and more pepper to taste. Cook on high with the lid on for about 8 minutes.
Remove lid, add corn, and let simmer on high.
Prepare dumplings by mixing Bisquick and milk together, and then add the mixture to the pressure cooker by the spoonful.
Continue to simmer for 8-10 minutes.
Turn the heat off then gradually stir in heavy cream.
Related Video: