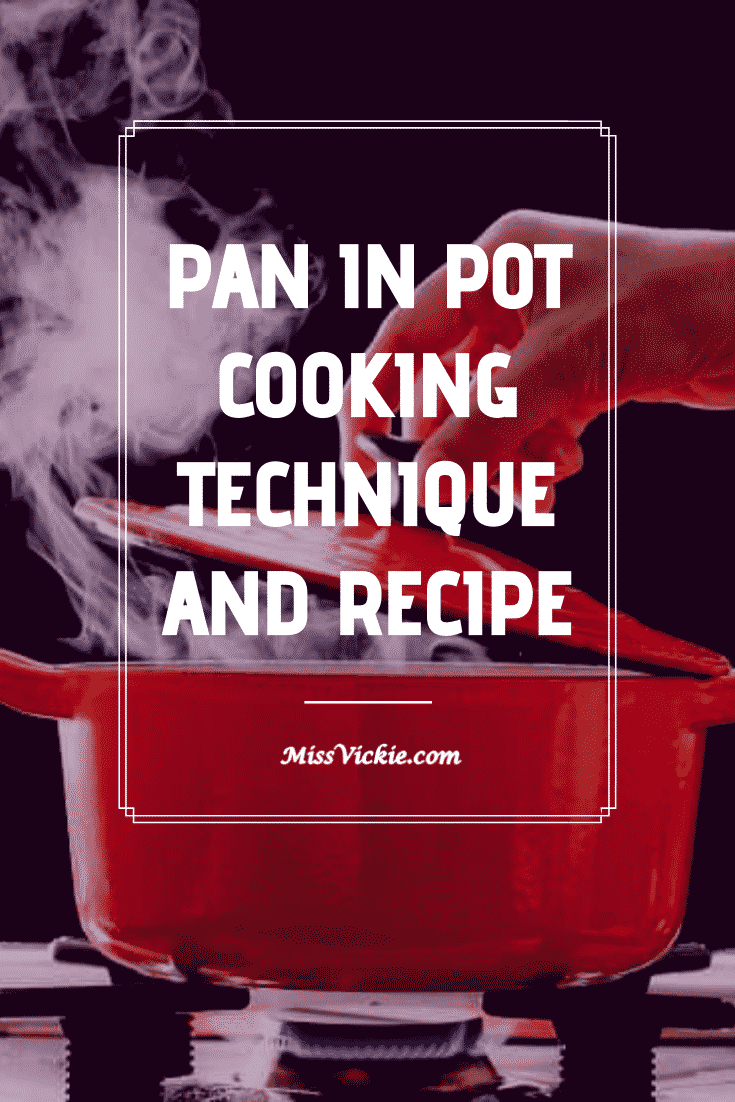 If you have been using your pressure cooker for a while now, then you must have come across some recipes that call for pan in pot cooking. Though it might sound complicated, the concept of pot in pan cooking is actually quite simple. Put plainly, pan in pot cooking, which is also commonly referred to as PIP, essentially involves placing another smaller oven-safe pot or dish into the main pot of your pressure cooker.
PIP – Pan in Pot Cooking Technique and Recipe
When cooking using the pan in pot technique, you begin the process by adding water in the pressure cooker then placing a trivet to act as the base that will support another pot or container. The idea with pan in pot cooking is to keep the container on the trivet separate so that it never touches the liquid inside the pressure cooker. The food on the trivet will, therefore, cook thanks to the steam generated from the liquid in the pressure cooker.
Benefits of using the pan in pot cooking techniques and recipes
There are many reasons why you might want to use the PIP cooking method that includes:
Perfect for simultaneous cooking
The PIP cooking technique is ideal for using when you want to cook food simultaneously and quickly. With PIP it is entirely possible to cook an entrée and a side in the same pot at the same time. For instance, you can cook a chicken dish in the main pot as your rice cooks in the smaller bowl placed on top of the trivet.
You can cook multiple dishes together
With the PIP cooking technique, you can easily cook multiple dishes that make up a whole meal together. You can do this effortlessly using a set of stackable cooking containers that can fit easily into a large pressure cooker. these stackable cooking containers will provide different compartments for your food to cook in.
PIP is ideal for slower cooking
Home cooks often turn to pan in pot cooking when they need to prepare delicate items that need to be slow cooked without overcooking them. As such, delicate items such as broccoli, greens, certain types of fish and seafood like shrimp would fair well with PIP cooking.
PIP is great for water bathed foods
Foods that need to be cooked in a water bath or in a Bain Marie environment such as eggs, steamed puddings, custards, flan, and cheesecakes are often prepared using the PIP cooking method. This method slows down the cooking process by using steam to cook the dish evenly.
Baking
If there are any baked items that should have a soft and moist consistency, PIP would be a great method to utilize. Baked items such as apple cakes, lava cakes, crustless pies, and muffins are, therefore, easier using this technique. If there is a baked item that has to be browned before serving, it can easily be finished in your oven without losing all the moisture.
Great for special diet meals
If you are preparing food for individuals that have special dietary requirements, you can prepare separate dishes for everyone without having to worry about doing it in separate cooking containers.
For reheating your food
With the PIP cooking method, you can reheat your food easily at the same time without losing any moisture in your food.
Use for foods that stick
Foods that stick easily to the side of your pressure cookers such as lasagne or anything containing cheese or sugar can be cooked efficiently using the PIP cooking method.
What to remember when using the pan in pot cooking method
Your cooking time might be longer
When using the pan in pot cooking style, you should expect your cooking time to be slightly longer than what you are used to. Because the pans and pots used are typically suspended above the liquid and not directly on the heat source, the cooking time will be slightly longer.
What goes in the top and bottom pan matters
In the PIP cooking technique, the bottom pans always receive more heat than the top pan. As such, when you are preparing 2 dishes at the same time, items that require longer cooking times such as meats and beans should be placed on the bottom pans while those that cook quickly such as fish, rice and veggies should be prepared on the top pan.
Cooking two similar items simultaneously
When you are preparing two similar dishes simultaneously, such as 2 cheesecakes, you should swap the position of the two items, such that the top cheesecake will move to the bottom while the one at the bottom will move to the top. This should be done halfway through the cooking cycle by releasing the pressure to open the pressure cooker so that the swap can be done.
Check when food is done
When you get to the end of the cooking process and a dish is not done well enough, simply place it back into the pressure cooker so that it can continue to cook until done. Simply manually quick release the steam to check for doneness and replace the item that needs to cook a little further.
Cooking 2 dishes that have varying cooking times
When cooking 2 dishes that have completely 2 different cooking times, you can try precooking the dish that requires the longest cooking time first. Do a quick release of the pressure before placing your second food item on top of the one that has already precooked and secures the lid to continue cooking. If you can, try wrapping the second dish in a double layer of aluminum to insulate it against the heat and to ensure that it cooks slowly and evenly.
Items and accessories needed for pan in pot cooking
To use the pan in pot cooking method, there are a few accessories that you should have such as:
Your pressure cooker
Steamer basket
Water: Depending on how big your pressure cooker is, you will need to place between one and two cups of water in the main pot so as pressure and steam can build.
A trivet: Most modern pressure cookers today already come outfitted with a trivet. However, you can buy one easily if you need a replacement.
Oven safe containers: Any container that is considered oven safe can be sued for pan in pot cooking whether it is stainless steel, ceramic, porcelain or silicone.
Chicken Cacciatore – A PIP Recipe
Number of servings: 4
1 can (14.5 oz.) Italian-flavored diced tomatoes, undrained
2 cups sliced fresh mushrooms
1 can (2.25 oz.) sliced ripe olives, drained
1 cup assorted peppers (red, green, yellow)
1/2 cup chopped onion
1 tablespoon flour
1/2 teaspoon garlic salt
1/4 teaspoon pepper
4 boneless, skinless chicken breasts
1 teaspoon Italian seasoning

Use a regular size foil cooking bag (like the ones from Reynolds). Combine tomatoes, peppers, mushrooms, olives, onion, flour, garlic salt and pepper. Open foil bag. Spread tomato mixture in foil bag in an even layer. Arrange chicken on top; sprinkle with Italian seasoning. To seal, double fold open end of foil bag. Place foil bag on the rack inside the pressure cooker. Add water to reach just to the top of the rack. Be sure to leave enough space around the packet for steam to move freely. Position the lid and lock in place. Raise the heat to high and bring to pressure. Adjust the heat to stabilize the pressure and cook 12 minutes. Remove from the heat and use the quick release method to open the pressure cooker. Use oven mitts to remove the foil bag to a serving bowl. Open the bag with scissors or a sharp knife. Carefully fold back top of foil bag, allowing steam to escape and empty into bowl. Serve with pasta and garlic toast.