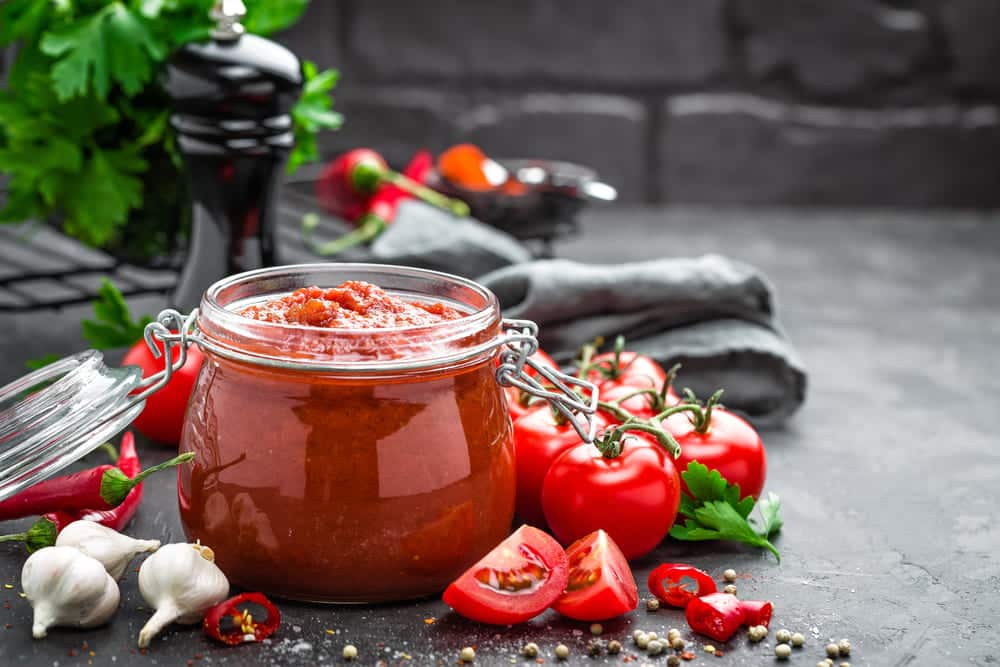 Tomatoes are a staple for culinary experts and passata is extremely popular in British cuisine. For the most part, passata is known to be a liquid tomato puree that is generally sold in glass jars as well as cartons. However, it can be hard to find it in local grocery stores which is why we are sharing the passata substitutes!
Passata Substitutes
Passata is strained and pureed tomatoes that are widely sold in bottles. The passata is 100% tomatoes without additional flavoring and additives. However, some companies do add salt to passata. It has a smooth and unique appearance rather than a chopped or crushed texture. It makes a perfect addition to the tomato sauces.
To illustrate, it's the canned and crushed tomatoes that are pureed but have a thicker texture. It delivers the intense tomato flavor in the sauces, such as soups and pasta sauce. Now that you are clear about the consistency and texture of passata, we are sharing the substitutes with you!
1) Canned Tomatoes
Canned tomatoes are the finest substitute for passata. However, if you use canned tomatoes, keep in mind that the tomatoes will be whole and has seeds in them. In some cases, you might even find the chopped tomatoes but they won't be available in smooth puree form. You can use canned tomatoes in the same amount as you would with passata. To illustrate, one tin of canned tomatoes makes around half passata.
In addition, you can take out the tomatoes from the jar and blend them to make passata. However, we suggest that you mash them to get the thick texture because blending might result in a runny texture. Also, for making one tablespoon of passata, you have to mash or blend a medium-sized tomato.
2) Pasta Sauce Or Marinara Sauce
When it comes down to commercial tomato sauces, they tend to be more concentrated as compared to passata. The tomato pasta sauce will additional ingredients like basil or onion, so you have to consider the recipe. Some people for 1:1 ratio for substitution but you can also dilute it with water to make a passata-like appearance and texture. In case you needed passata for making a sauce, this tomato pasta sauce will make a great option.
The tomato paste is actually suitable for selected dishes but there might be compromises on the thickness of the sauce. In addition, when you use tomato pasta sauce, you will need to reduce the cooking time.
3) Tomato Paste
Tomato paste is basically tomato passata which has been concentrated by three folds. To be honest, it tends to be less watery as compared to passata but the taste profile will be similar. Even more, you can make your own passata by diluting the tomato paste. For this purpose, you have to use one part of tomato paste with two parts of water for making passata.
4) Ketchup
To begin with, tomato ketchup is likely to be sweeter as compared to passata but it will be way more concentrated when compared to passata. That being said, you should only use tomato ketchup as a substitute for passata if you don't have any other option available. Generally, it's best to add water to tomato ketchup to make it a decent substitute. Still, the flavor of your dish will be sweeter and you might feel extra vinegar and spices.
5) Fresh Tomatoes
Fresh tomatoes are a fine choice for people who can work a bit (you can use them to make passata). If you use the fresh tomatoes directly, you might have to struggle with seeds and skins (you can cut them out, by the way). However, you can remove the skins and seeds, blend the fresh tomatoes in the food processer and you will have your own homemade passata. Also, you can strain this mixture to clean out the chunks or seeds. Lastly, don't forget to peel off the skins.
6) Puréed Red Peppers
If you wanted to use passata for adding the pop of flavor but tomato isn't the crucial flavor, we suggest that you use pureed red peppers. You can make the red pepper puree on your own. For instance, you have to take the roasted red peppers, remove the skin, and blend them in the food processor. You have to blend until the red pepper puree is smooth.