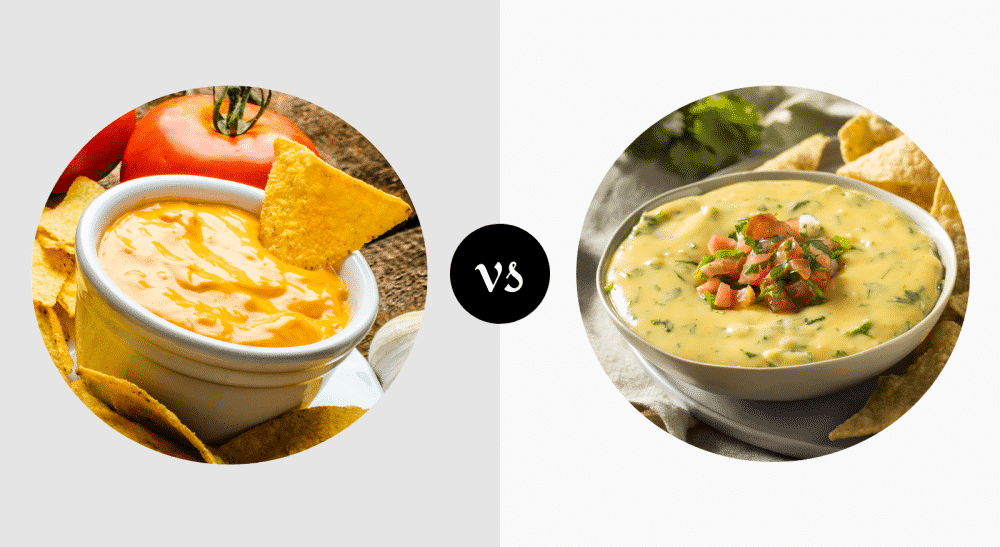 Cheese dips are really famous in the USA. Whether you're an adult or a child, cheese dip is ever-popular. Dipping fries, coating sandwiches, or topping pizza, wraps, nachos, or tortilla? Cheese dip is a go-to choice for many.
Two of the most delicious kinds of cheese sauces available are Nacho and Queso cheese. Nacho cheese is a processed cheese sauce that is commonly found coating tortilla chips, whereas Queso is served in Mexican and Tex-Mex restaurants accompanying all sorts of food.
Our breakdown between Nacho cheese vs. Queso is a must-read for anyone who enjoys cheese sauce or spicy cuisine.
Nacho Cheese Vs. Queso Comparison
| | | |
| --- | --- | --- |
| | Nacho Cheese | Queso Cheese |
| Definition | Processed Cheese-Like Sauce That Melds Two Processed Cheeses & Chili With Emulsifier Into Strong, Tangy Cheese Flavor | Mexican Starter/Side-Dish – Thick And Creamy Melted Cheese Combining Processed Cheese And Whole Fat Cheese With Cream And Chili |
| Flavor | Bold Sharp Cheddar Flavor Combined With Intensity Of Pepperjack And Chili Sauce & Tanginess Similar To Mature Cheddar | Tangy, Fresh Milky Cheese-Like Flavor With Hints Of Sharpness, Spicy Undertones, Slight Sweetness And Real Cheese Taste Overall |
| Ingredients | Cheddar Cheese, Milk, Flour, Salt, Chili Powder, Pepperjack Cheese, Hot Sauce, Sodium Citrate | Evaporated Cow's Milk, Cornstarch, Monteray Jack Cheese/Cream Cheese, Velveeta/Soft Processed Cheese, Fresh jalapeno chili, nutmeg, red pepper, salt, pepper, Cream |
| Serving Suggestion | Nachos, Pizza, Wraps, Baked Vegetables, Burgers, Tortillas, Sandwiches, Dipping, Stews, Sauces, Baked Goods | Garnishing Mexican Food (Tacos, Enchiladas, Cooked Black Beans) | Guacamole | Pico De Gallo | Tex-Mex & Mexican Cuisine – All Purpose Versatility |
| Method | Butter & Flour Heated And Whisked Into Milk Until Thickened, 2 Varieties Of Shredded Cheese Added, Diluted With Milk, Seasoned With Salt & Chili Then Emulsified With Sodium Citrate | Evaporated Milk Heated And Whisked With Cornstarch Which Is Then Combined With Either Monteray Jack Or Cream Cheese And Velveeta Or Processed Cheese, Chili, Spices & Seasoning Infused, Cream Added, Solution Thicked Then Served Topped With Garnish |
| Affordability | $3.5-$5/Can | $4-$8/Can |
| Availability | Global Availability | Limited Global Availability, Widespread Availability In US & Mexico |
| Nutrition | 1 Tablespoon – 37 G Fat, 57 Calories, 4.2 G Fat, 2.5 G Saturated Fat, 13 Mg Cholesterol, 233 Mg Sodium, 55 Mg Of Potassium, 2.5 Mg Carbohydrates | 1 Tablespoon – 15 Calories, 170 Mg Salt, 3 G Carbohydrates, 1 G Glucose, Vitamin A, Vitamin C, Calcium |
Nacho Cheese Vs. Queso
In this article, we give you a detailed comparison of Nacho cheese vs. Queso cheese. Each is readily available in stores and equally easy to make at home. Let's take a closer look at both of these popular cheese sauces.
Nacho Cheese
Nacho cheese seems to be everyone's favorite these days. Whether you want to relax after a hectic week or want to talk about all the latest stuff with your best friend, fries with nacho cheese are a go-to for most people.
Essentially, nacho cheese is not real cheese. Well, not according to the FDA, which has no set definition for it, at least. Want to know what it is and what to expect? Read on.
What Is Nacho Cheese?
Nacho cheese is not a cheese by cheese's definition but instead a thickened cheese sauce that is made from real cheese.
Every company has a different method and recipe for Nacho cheese, but essentially it's an amalgamation of two or more different types of real cheese that's been flavored with chili, seasoned, and finally and emulsified.
Most do not conclude Nacho cheese to be a true cheese sauce as most commercially produced varieties start their mixture from a basis of melted processed cheese which is unfortunately often made from curds and additives.
Flavor
Expect a sharp, boldly cheesy flavor that combines the intensity of cheddar with the subdued spicy sweetness of pepper jack. There's a light kick thanks to the chili sauce, with a taste similar to mature cheddar featuring prominently at all times.
Tanginess is very low thanks to the piquancy of the individual flavors being replaced by intensity and sharpness. Zero artificial flavors are detectable, with Nacho cheese instead delivering a lingering cheesiness.
Ingredients
Nacho cheese is a cheese sauce with no artificial ingredients that are created from cheddar cheese or milk products, butter, whole milk, flour, salt, and chili powder. The tastiest recipes also include pepper jack and a little hot sauce.
Sodium citrate is often added to commercially produced nacho cheese, which adds saltiness while working as an emulsifier. It is a safe additive that infuses a mildly tart flavor that is only added in minute quantities.
After all, half a teaspoon of sodium citrate mixes with half a cup of liquid to produce approximately 8 ounces of grated cheese equivalent. Not every Nacho cheese brand uses the same two kinds of cheese. This is why many consider the blend not to be true cheese but rather an equivalent.
Serving Suggestion
As the name suggests, Nacho cheese is made to go with nachos. However, in actuality, nacho cheese is one of the most versatile toppings around and can be enjoyed on just about any type of food.
Give it a try on pizza, wraps, baked vegetables, burgers, tortillas, and sandwiches. It's one of the tastiest dips around and introduces just as much bold flavor when cooked into stews, sauces, and even baked goods.
Method
Butter and flour are heated and whisked together until well aerated. The solution is whisked into milk and then simmered until thickened. As the mixture cools, shredded cheddar and pepper jack cheese are added and stirred in until well-combined.
Finally, the nacho cheese is diluted with milk, seasoned with salt and chili, and then emulsified when commercially produced using sodium citrate.
Affordability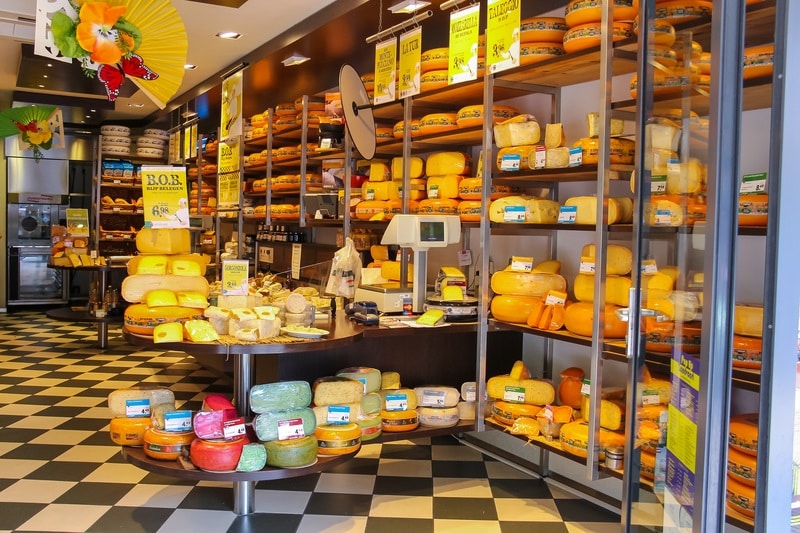 Making nacho cheese at home is a fairly costly exercise as one has to buy both pepper jack and cheddar cheese. The sauce is possible with just cheddar, but you'll struggle to compare to canned and restaurant-quality nacho cheese if you use just one type by itself.
Between canned Queso and canned Nacho cheese, Nacho cheese is by far the cheaper option. It is considered a standard American ingredient and therefore doesn't retail at gourmet food prices like Queso. Prices range between $3.5 and $5 per 15-ounce can on average.
Availability
Nacho cheese in a can is an ingredient that you can buy just about anywhere in the world. Both pepper jack and cheddar cheese are also popular varieties which means that they're globally available as well.
Whether you're whipping up your own homemade Nacho cheese or opting for a tinned variety, this is one tasty product that's available almost everywhere and to everyone.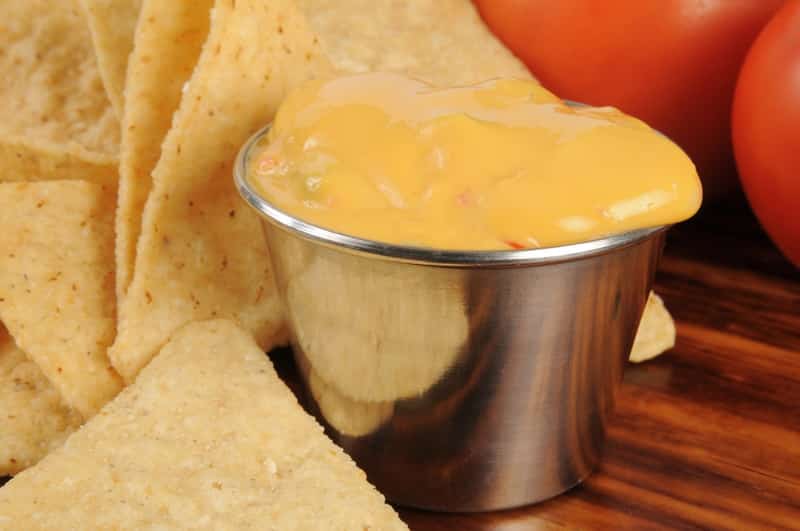 Nutrition
The nutritive benefits of each brand of nacho cheese will differ.
However, the average reputable brand supplies roughly 37 grams of fat, 57 calories, 4.2 grams of fat, 2.5 grams of saturated fat, 13 mg of cholesterol, 233 mg of sodium, 55 mg of potassium, and 2.5 mg of carbohydrates in a single tablespoon.
As a cheese sauce that's ultra-high in fat, limited consumption is recommended. Control your portions.
Queso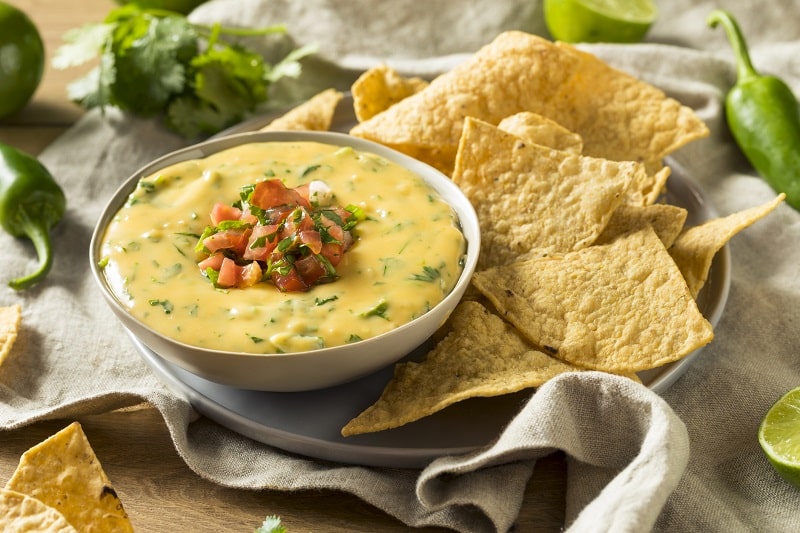 If you're fond of Tex-Mex or Southwestern cuisine, then Queso is surely a favorite or your next must-try.
In fact, we'd strongly urge anyone who enjoys cheese sauces to go out of their way to try this unbelievably cheesy option. Let's take a closer look at the Mexican cheese dip, better known as Queso.
What Is Queso?
Queso is a Mexican-inspired starter or side dish that's essentially a thick and creamy melted cheese. The dish that most know as 'Queso' is actually called 'Chili con queso' in Spanish.
This Tex-Mex staple typically includes Velveeta or another processed cheese, as well as either Monteray Jack or cream cheese, additional cream, and chili peppers. The cheeses melt together into a rich sauce that's fortified with extra ingredients like raw chili, chili sauce, and chili powder.
Flavor
One can expect a tangy, fresh, milky cheese-like flavor with hints of sharpness and spicy undertones. There's a lingering burn to Queso that's blanketed by sweetness.
It is this sweet quality that dampens the sharpness that one would expect from such prominent tasting cheesing, transforming Queso into a sauce that tastes like real cheese at all times.
Serving Suggestion
There is a wide range of uses of Queso Fresco, such as using it for the garnishing of Mexican food, adding it in tacos, or topping off either enchiladas or cooked black beans.
Queso is traditionally favored with guacamole and pico de gallo, but you can enjoy this creamy cheese sauce with all types of Tex-Mex and Mexican cuisine.
Ingredients
Queso is traditionally made from evaporated cow's milk, cornstarch, and either Monteray jack or cream cheese and Velveeta or soft processed cheese.
Once melted, fresh jalapeno chili, nutmeg, red pepper, salt, and pepper are infused, and cream is added to thicken the Queso. There are all sorts of ways to customize Queso.
You can add your preferred ingredients to the cheesy dip. From jalapenos to tabasco and habanero pepper, there are several common ingredients added to give it a kick and flavor infusion.
Method
Queso is another cheese sauce that you can either buy or make at home. Authentic Queso is made from a combination of evaporated cow's milk that is heated and whisked with cornstarch over low heat.
The mixture is then brought to a boil and simmered slowly over an extended period, during which Monteray jack or cream cheese is added as well as either Velveeta or another type of soft, processed cheese.
Once the cheese begins to melt, jalapenos, chili powder, nutmeg, red pepper, salt, and pepper are added. Finally, the cream is stirred in to thicken the mixture after the flavors have infused. Queso is then topped with chopped cilantro, diced tomatoes, and fresh chili if preferred.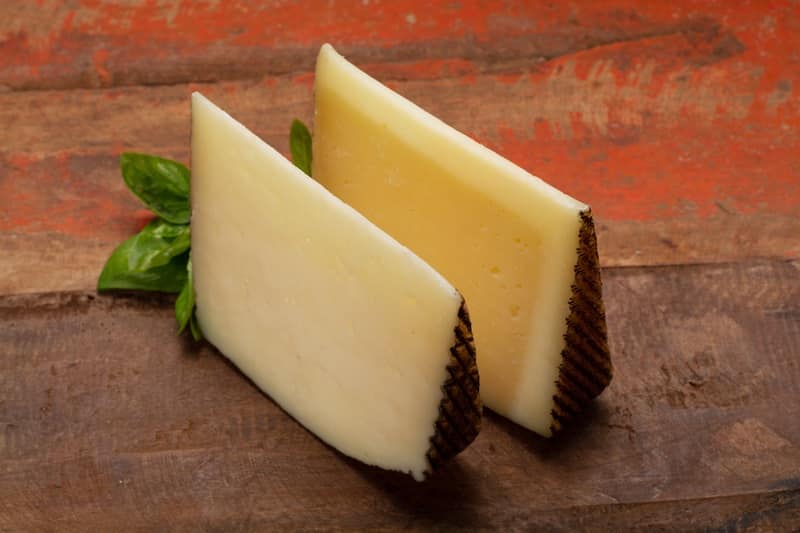 Affordability
It is a little more expensive to manufacture Queso than it is to make Nacho cheese. Even when making it at home, one has to factor in how you'll be using two types of cheese and cream instead of just cheese alone like when making its counterpart.
This makes the at-home recipe more expensive than Nacho cheese. Canned Queso is also sold at a slightly higher price point. Expect to pay anything between $4 and $8 per 15-ounce can.
Availability
Although equally as popular in the United States and Mexico, many other countries do not carry commercially produced Queso. It isn't globally available like Nacho cheese, but you'll find it across the US and in certain gourmet foods stores in other countries.
Nutrition
Queso has roughly 15 calories in a 30-gram single serving. It contains almost 170 mg of sodium, 3g of carbohydrates, and 1 gram of glucose. Vitamin A, Vitamin C, and calcium are also present in Queso in healthy concentrations.
Which Is Better Between Nacho Cheese Vs. Queso?

Cheese lovers always have a special liking and disliking for certain cheeses. Queso and Nacho cheese are significantly different from each other.
Nacho cheese is processed cheese, whereas Queso technically is not – it is just a cheese sauce. The major similarity is that both are used as dipping sauces.
Ultimately, the winner between Nacho cheese vs. Queso doesn't typically come down to how healthy it is but rather what you plan to enjoy each sauce with and how cheesy you prefer your sauce to be.