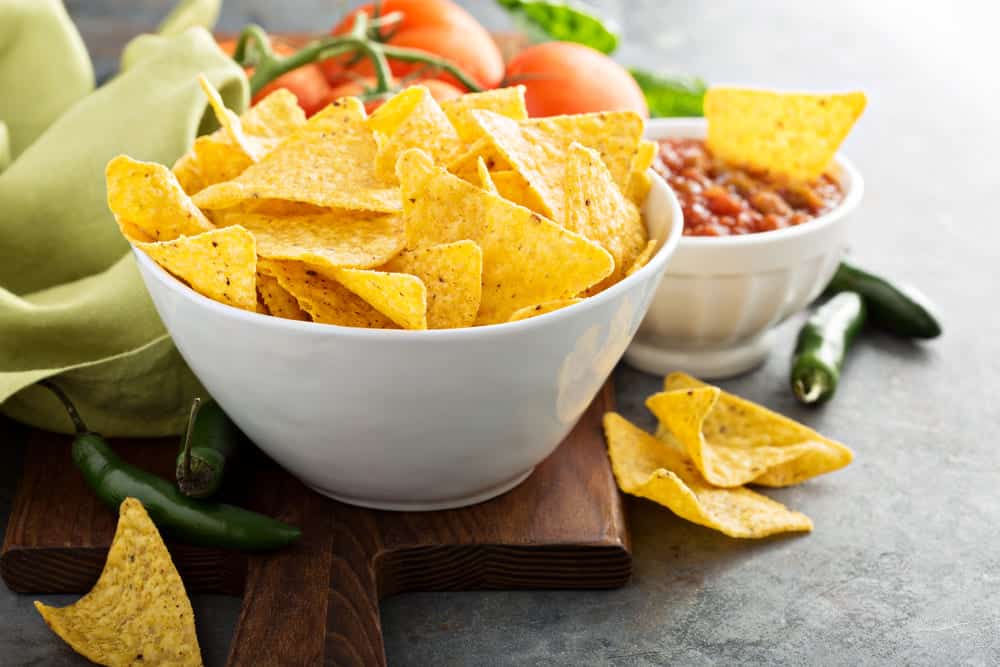 Tortilla chips are a staple snack around the globe. They are available separately or you can buy them in branded packets from several major distributors.
Tortilla chips are loved around the world simply because they taste great, and of course, because they are so versatile. You can have them discretely, or you can have them with a dip. Or, you can pour some melted cheese on top and have them this way!
Tortilla chips are mainly made from corn tortillas and are sliced into wedges. Then, they're deeply fried before consumption.
While many consider tortilla chips to be of Mexican origin, it may come as a surprise to you knowing that they're purely an American invention. Tortilla chips, despite their global popularity, were produced in Los Angeles in mass quantities.
In terms of their health benefits, there's little doubt that these are not healthy for you at all. They contain immensely high levels of sodium and carbohydrates, and their calorie content is also incredibly high.
You can never have too many tortilla chips, but if you want to be more conscious about your food intake, and avoid excess calories, you would definitely want to consider opting for a few alternatives.
Without further ado, here are some of the best alternatives for tortilla chips.
Healthy Substitute For Tortilla Chips
If you're looking for the best healthy alternatives for tortilla chips, here are some of the best options that you can consider.
1. Kale chips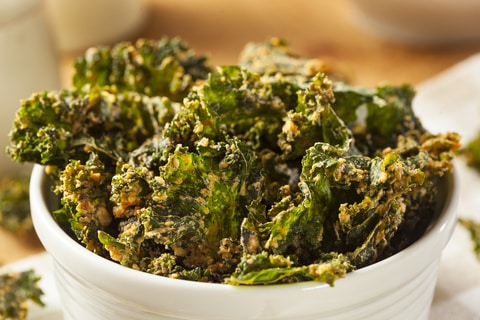 A wonderful healthy subsite for tortilla chips is kale leaves. There are multiple ways you can make kale chips. The most popular recipe though is baked kale leaves. You can add kale chips to your breakfast meal, in salads, and as snacks throughout the day.
Unlike tortilla chips, kale chips are healthy and full of nutrition. A single serving of home-baked kale chips carries around 60 calories and almost a gram or more of fiber.
If you're trying to cut down on unhealthy munching, air fry some kale leaves and store them in an airtight container. You can consume air-fried kale for up to a week.
Kale is one of the healthiest alternatives that you can choose for tortilla chips. However, kale chips are generally more expensive than tortilla chips, as you'd expect. Therefore, it would be a better option if you just make them yourself.
The preparation time might be a bit longer, but as mentioned above, kale chips are definitely worth it.
2. Zucchini chips
Zucchini chips are very popular among people who are interested in losing weight. Zucchini is incredibly nutritious and packed with vitamins.
An average cup of baked zucchini has as low as 12 calories, which is why it ranks so highly on our list of tortilla chip alternatives.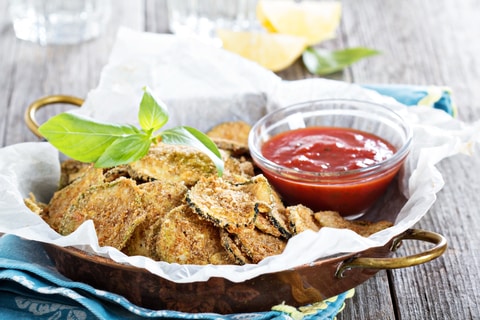 Zucchini chips are also incredibly filling, so when you are trying to shed weight, you should absolutely consider going for them. Unlike most others, zucchini chips will leave you feeling sated when you're done with the bowl.
Zucchini chips are also keto-friendly and can be stored for up to a week. There are multiple ways you can cook zucchini chips, either by deep-frying, air frying, or even baking them.
If you want the healthiest option, the best thing to do would be to air fry or bake them properly. The good thing about zucchini chips is that they taste great with so many different types of dips, though you may want to be careful.
3. Cauliflower crowns
Baking a cauliflower crown as a substitute for tortillas is a wise option. Cauliflower crowns taste amazing when lightly seasoned and baked for a short while. If you're looking for healthy snacks and meal fillers, then cauliflower crowns would be amazing.
An average serving of cauliflower crowns contains as little as 25 calories and a good amount of fiber. The high vitamin C content in cauliflower makes it healthy and a great source of folate.
Just don't add too much cornflour to it, as that could affect the "healthy" component. Most people tend to do that because they want the cauliflower crown to be crisp. As long as you bake it properly, this shouldn't be a problem.
4. Broccoli crowns
Similarly, just like cauliflower crowns, you can also bake broccoli crowns. Broccoli is considered to be among some of the healthiest vegetables. With a little salt and pepper, you can enjoy broccoli crowns to their best.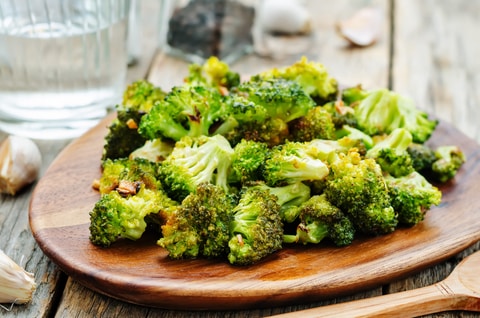 Broccoli just like cauliflower is very nutrient-dense and contains as little as 30 calories per cup. The high vitamin C and vitamin K content in broccoli crowns add to their nutritional value.
Broccoli crowns are slightly hard to make because you'll have to first cut them into thin pieces. Even then, you can't expect them to be similar to tortilla chips, as the shape is completely different.
However, if you want a healthy alternative and have a bit of flexibility, you simply can't go wrong with broccoli crowns.
5. Banana Chips
If you've never tried banana chips, then it's time you really prioritize that; banana chips are absolutely awesome! The original recipe for banana chips comes from India, but they are now consumed worldwide.
You can get ready-made banana chips from any superstore, but if you're looking for a healthy option, you can always bake them at home.
The authentic banana chips recipe is rich in flavor and the recipe requires unripe bananas, some turmeric, chili powder, a little salt, coconut oil, and a pinch of salt.
Once the banana slices are marinated, they can be left to dry in the sun like the traditional recipe or you can bake them to quicken the process
If you're not looking for too much flavor, you can simply bake the banana slices and enjoy the original flavor of what many call the world's favorite fruit.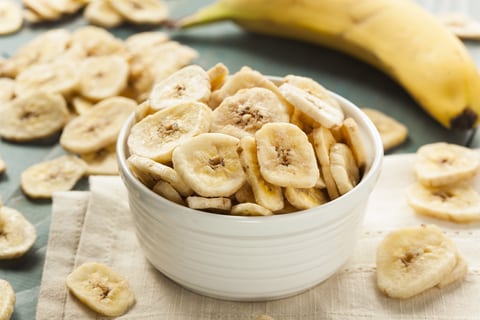 Unlike the above-mentioned alternatives to tortilla chips, banana chips are high in calories and can increase blood sugar levels.
However, they are definitely better than tortilla chips in every sense of the word. When slicing the bananas, it's important for you to make sure that you cut them really thin. Out of habit, most people tend to cut thick chunks.
These are often difficult to bake, and you won't even be able to eat them properly.
6. Flax crackers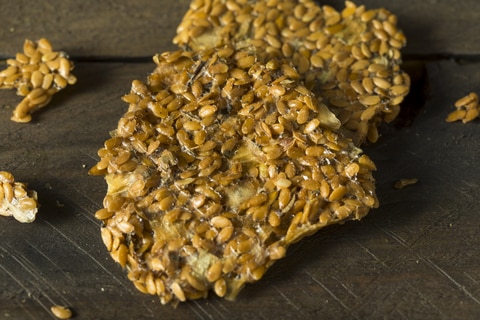 Flax crackers are delicious when eaten with a savory dip. Before you substitute flax crackers with tortilla chips, remember that flax crackers tend to speed up bowel movements.
If you are going on a road trip, avoid eating flax crackers. Otherwise, you'll be making stops at every other restaurant or motel that you come across!
Flax crackers are keto-friendly and a great alternative to tortilla chips if you're looking for a low-calorie substitute. However, most people generally don't like flax crackers because of their muted taste, which is why they are so low on this list.
7. Cucumber slices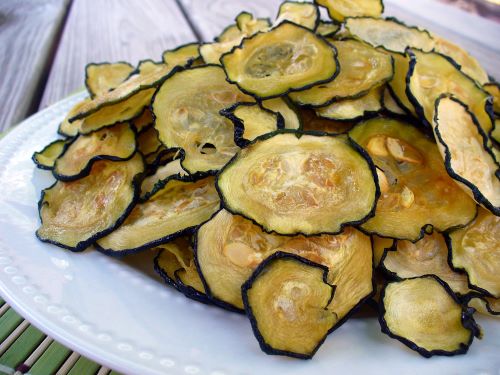 Fresh cucumber slices are added to salads and even eaten raw. Cucumber slices can be dried up and enjoyed as crackers instead of tortilla chips. Cucumbers are rich in water and are a healthy snack option.
Cucumber pickle slices are more flavorful if you're looking for a different alternative. You'll have to use a food dehydrator to really get them crispy before you can eat cucumber slices.
There are multiple substitutes for tortilla chips. If you want a healthy replacement, then zucchini and kale chips are the answer.
However, if you want something that's going to leave you feeling full and sated, then cauliflower and broccoli crowns will do the job.
Banana chips are a wonderful snack if you're not worried about the extra calories and want something sweet. And, if you want something that's slightly less in terms of calories, go with flax crackers!