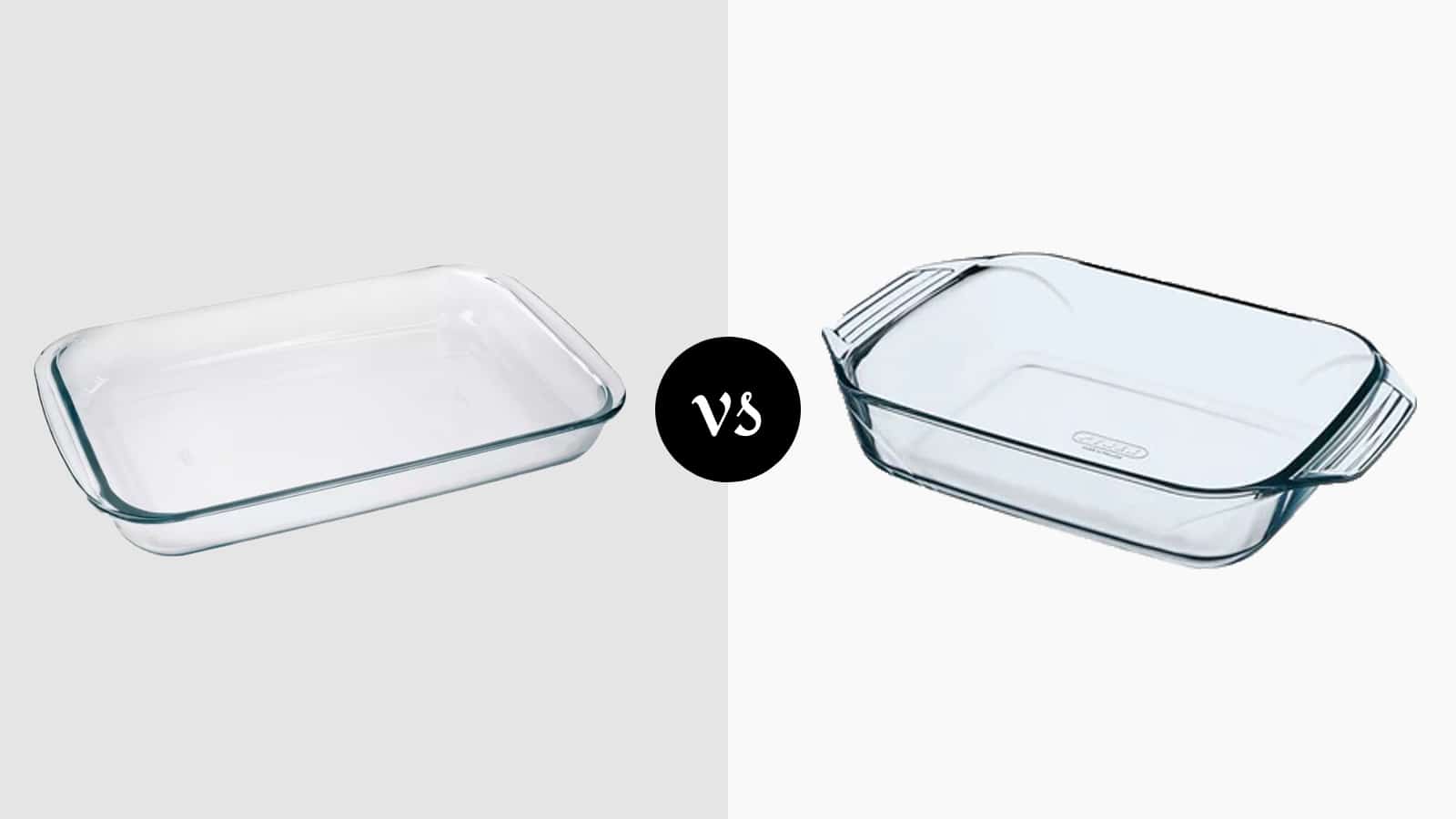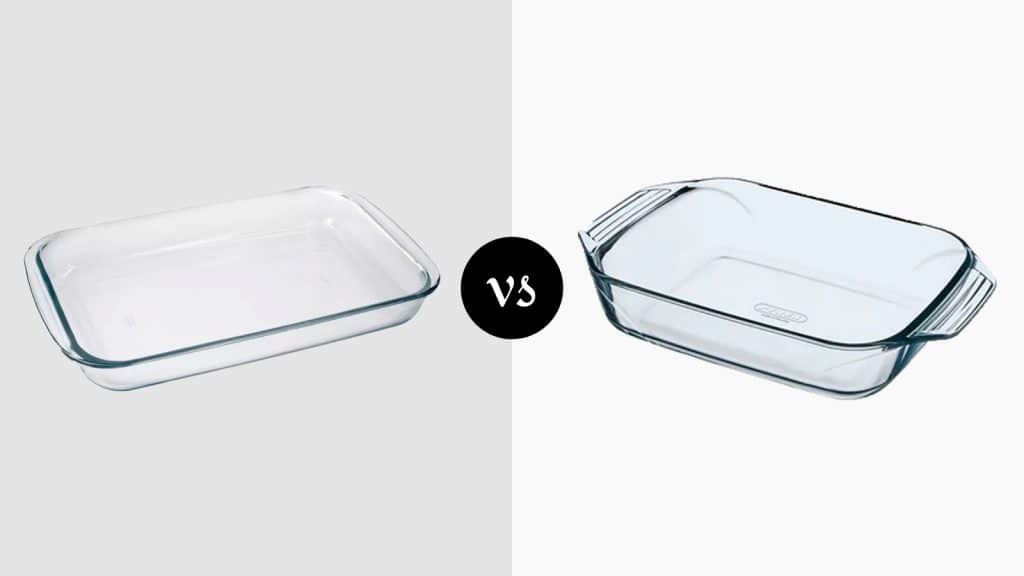 Spending a generous budget on premium cookware makes sense if you want to get the most impact on flavor and taste from your recipe.
The thickness and the quality of materials used in kitchenware for cooking and baking make a difference in heat distribution while developing the flavors of the ingredients. Keep reading as we talk about the differences between Marinex vs Pyrex cookware.
Marinex vs Pyrex: A Comparison Table
Use our comparison table to give you a quick overview of the differences and similarities between Marinex and Pyrex cookware.
Feature
Marinex
Pyrex
Quality
Good
Premium
Materials
Borosilicate glass
- Borosilicate glass
- Combination of borosilicate and soda-lime glass
Product portfolio
Large variety with different sizes and tints
Less variety of sizes and tints
Oven-proof
Yes
Yes
Microwave-safe
Yes
Yes
Stovetop
No
No
Freezer-safe
Yes, and can go into a pre-heated oven not higher than 100⁰C
Yes, but avoid extreme temperature changes
Dishwasher-safe
Yes
Yes
Thermal-shock resistant
Yes
Yes, if made with only borosilicate glass
Heat distribution during cooking
Fair
Excellent
Glass density
Thin
Thick
Flavor and texture of food
Good
Excellent
Affordability
Cost-effective
Expensive
Durability
Breaks if handled roughly
Strong
Easy to clean
Yes
Yes
Lifespan
Long if handled with care
Long
Marinex vs Pyrex
What Materials Are Used to Make Marinex and Pyrex Glass Cookware?
Whether you're an amateur or professional chef, setting aside a substantial budget to include high-quality cookware for your kitchen will make all the difference to producing a gastronomic delight!
Buying cookware made with certain materials makes all the difference to the outcome of your recipe. Glass cookware is popular not only because it looks stylish but because it's non-toxic, heat-resistant, and doesn't corrode.
Glass bakeware is easy to clean, either by hand or using the dishwasher. However, this type of cookware should never be placed on the stovetop or in direct flame. Marinex and Pyrex baking and cooking kitchenware is made from borosilicate glass which is known for its following qualities:
Durability
Chemical and heat resistance
Despite these qualities, Marinex and Pyrex dishes can still shatter or crack if subjected to rapid or sudden temperature changes when used for cooking or baking. This is more relevant for Pyrex glassware that's been made with both borosilicate and soda-lime glass.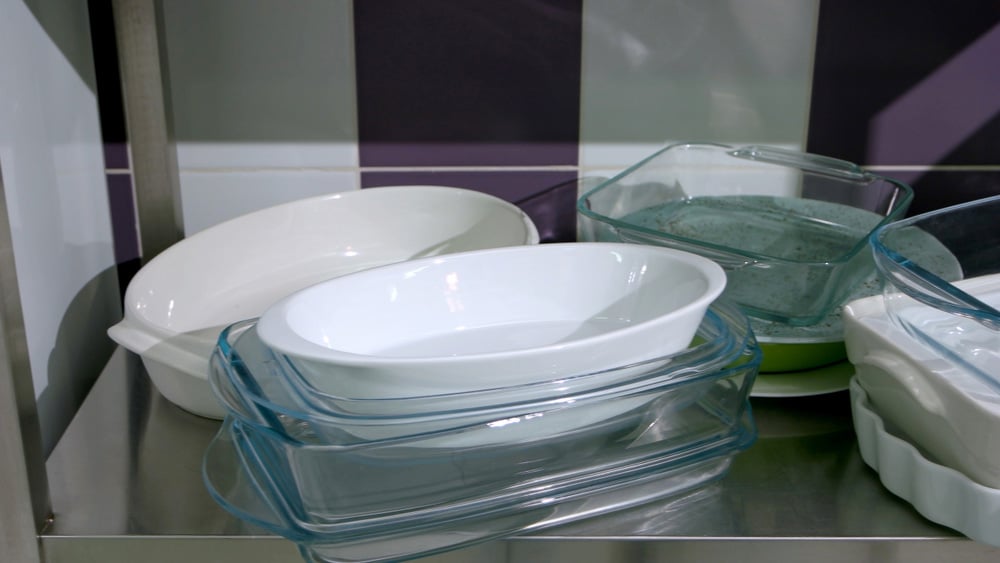 Baking and cooking ware made from borosilicate glass is both dishwasher- and microwave-safe. They can also be placed in the refrigerator or freezer when storing prepared food.
What You Need to Know About the Marinex Brand
Marinex is a Latin American brand first produced over 50 years ago by Santa Marina, a glass manufacturing division of Saint-Gobain Vidros S/A based in Brazil. The factory is located close to raw materials such as boron and sand, both essential components of borosilicate glass.
Marinex products are used for cooking, baking, and serving food and can be used in both conventional and microwave ovens safely. Prepared food can be safely stored in Marinex dishes in the refrigerator or freezer.
It's safe to take straight from the freezer into a pre-heated oven as long as the temperature isn't over 100⁰C or 215⁰F. Marinex products are thermal-shock resistant, preventing the items from shattering when exposed to different temperatures.
However, the manufacturers advise against using Marinex cookware on the stovetop or direct flame if you want to prevent your dish from breaking into smithereens!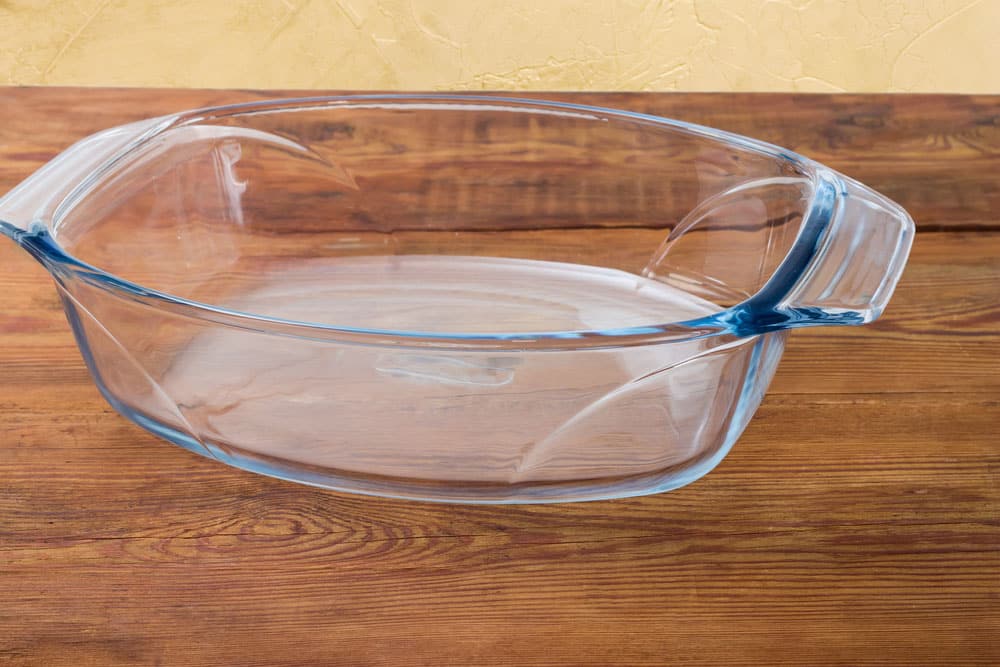 What You Need to Know About the Pyrex Brand
Pyrex, also sometimes known as PYREX glassware, was a registered trademark of Corning Incorporated and was first produced in 1915.
The main material used to construct Pyrex products is clear, low-thermal borosilicate glass and the company manufactures both laboratory equipment and kitchenware.
Pyrex cookware now falls under the Instant Brands license for products sold in the United States, Asia, and South America. International Cookware holds the license for PYREX cookware sold in Africa, Europe, and the Middle East.
In these countries, the products are made with a combination of borosilicate and soda-lime glass. However, in 2011, the European market reverted to only using borosilicate glass.
While soda-lime glass is used to reduce breakage on physical impact, it does lower the heat-resistant properties of the kitchenware. In its pure form, borosilicate glass is thermal shock-resistant.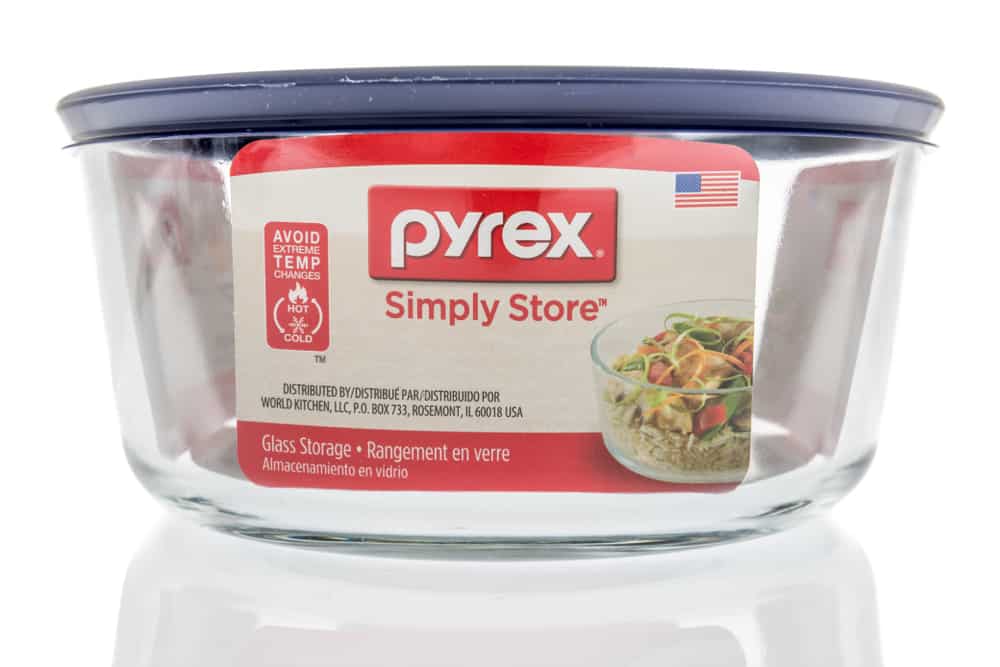 The same can't be said of the soda-lime glass which will shatter when exposed to extreme temperature changes.
Marinex vs Pyrex: Which One is the Best for Cooking and Baking?
Marinex
Marinex is one of the most popular options when it comes to cookware that can be used for baking. If you're looking for high-quality glass that can withstand extreme temperatures in the oven, Marinex bakeware will serve you perfectly.
Affordability
Marinex is an affordable option and you won't have to extend your budget by a huge margin to include this cookware in your kitchen. The Marinex portfolio offers you premium-quality cookware at cost-effective prices.
While the quality of these items isn't as premium as Pyrex cookware, you'll be paying a lot less for these products. Keep this in mind as you put together your budget for purchasing oven-proof glass cookware.
Variety and Quality
In comparison to the Pyrex portfolio, you'll enjoy a better variety of sizes and tint options with this brand. However, when it comes to glass density, Marinex products isn't as thick as Pyrex items. Chefs using Marinex cookware have pointed out that the items do break easily if not handled with care.
With that said, if you're careful with your Marinex products, you can expect them to last you for several years. However, if you're looking for baking and cooking ware that'll withstand rough usage, going with Pyrex will serve you better long-term.
Pros
Good quality budget cookware
Long lifespan if handled properly
Can withstand extreme temperatures
Microwave-safe
Can be placed in the freezer
Dishwasher-safe and easy to clean
Cons
The glass is thinner compared to Pyrex products
Breaks easily with rough usage
You could end up paying more in the long run when trying to purchase replacement containers for your daily use. For this reason, it is best to evaluate the working conditions before making an investment in the Marinex cookware brand.
Pyrex
Pyrex glass cookware has been in the market for many decades. During this time, the brand has established itself as the market leader when it comes to oven-proof glass containers. If you're looking for a safe option to purchase, going with Pyrex will serve you better in the long run.
Affordability
While many users point out the inflated prices of these products as a limitation, you won't have to worry about replacing them for a long time. On top of that, the thickness of Pyrex glassware is substantially more than Marinex, making them extra-durable and less likely to break if handled roughly.
In comparison to Marinex glass cookware, while Pyrex is the more expensive brand, you can rely on the products being durable and longer-lasting.
Variety and Quality
When looking at the variety of sizes and tint options, you'll find a much larger portfolio when you browse through Marinex products. If you can't find a particular size or design, sticking with Marinex will take care of these issues.
With its thicker glass, the heat distribution help chefs develop an even flavor throughout their recipe. Sticking with the Pyrex range not only helps you get a nicer flavor but you'll get a richer texture when comparing the final results of food cooked in Marinex products.
On the downside, it's somewhat challenging to source high-quality Pyrex products in the current market. Depending on where you purchase your Pyrex cookware from, you could end up with dishes made from a combination of borosilicate and soda-lime glass.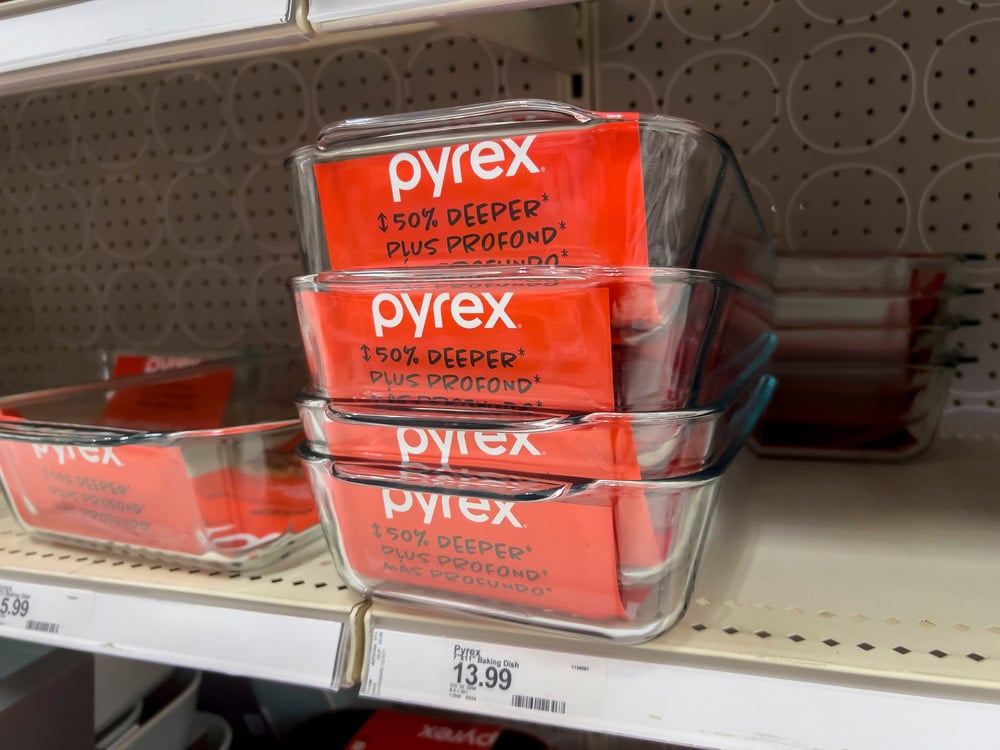 Pros
Premium quality glass cookware
Thicker glass for more durability
Long lifespan if handled properly
Better heat distribution
Microwave and dishwasher-safe
Cons
More expensive compared to Marinex
Not easy to find a reliable Pyrex distributor
When compared to the Marinex brand, Pyrex is a better option if you have the budget and can source premium-quality products from a reliable dealer. This glass cookware will last you for many years if good care is taken.
The flavors and texture of food cooked in Pyrex kitchenware are sublime with optimal heat distribution during cooking or baking.
Final Thoughts
Purchasing glass cookware comes with a number of questions that need to be answered before making a final decision of which brand to use in your kitchen. Two popular choices are Marinex and Pyrex kitchenware.
While they share a number of similarities, it's the differences you need to take note of before deciding which one is best for you.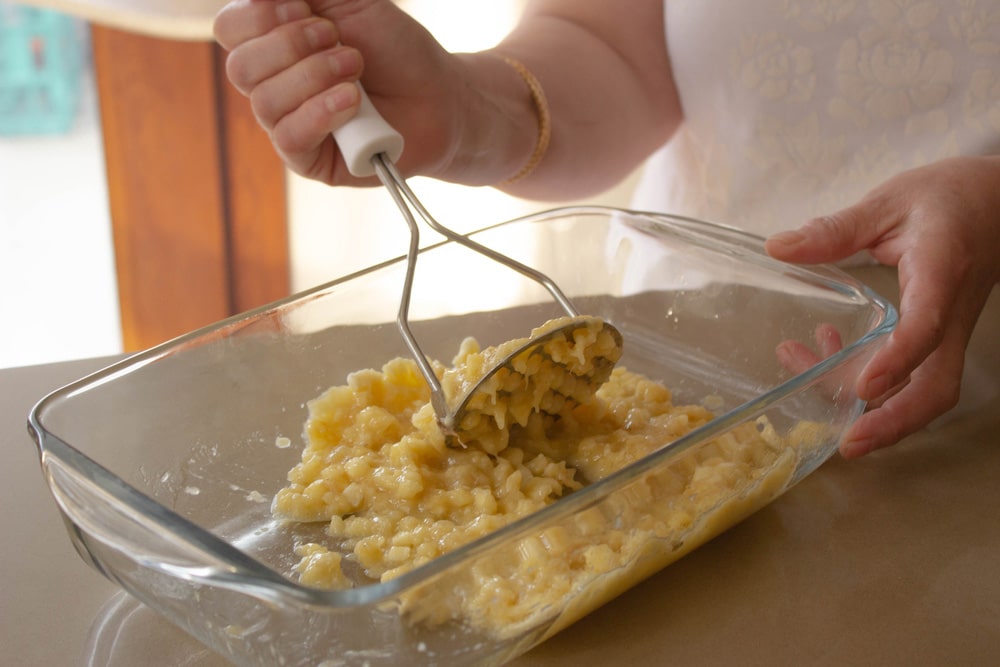 Marinex is the more affordable option with a bigger portfolio of products while Pyrex is considered premium-quality when it comes to cooking or baking with glass dishes.
Both can be used in conventional and microwave ovens. However, if you use Pyrex made with a combination of borosilicate and soda-lime glass, there's less thermal-shock resistance.
Our article gives you all the answers you need to make a well-informed decision before purchasing Marinex or Pyrex cookware. Which one will it be for your kitchen?