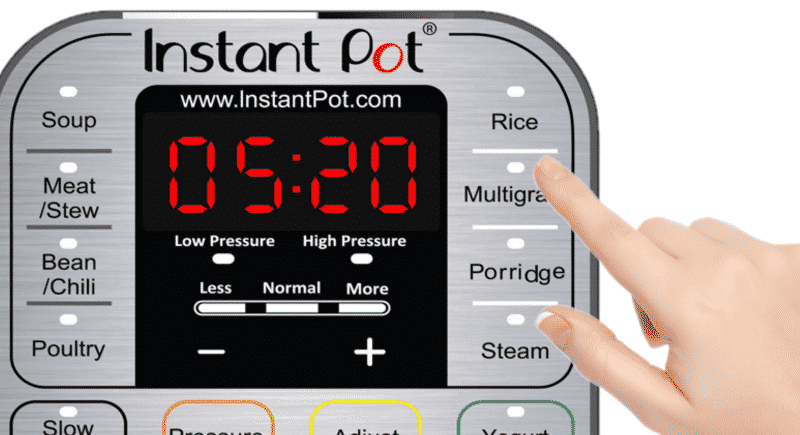 Instant Pot Multigrain Setting
Are you interested in exploring some of the lesser-used options of your Instant Pot? You may just find out your new favorite setting — the Instant Pot multigrain setting. It is included in most recent models, and it can offer you a lot of freedom if you are someone who regularly enjoys cooking multigrain-based dishes.
The Instant Pot multigrain setting
There are three components to this multigrain setting, regardless of how you use it. These include:
Pre-soaking: It is to soak the grains thoroughly. This correlates to the kind of cooking that you are going to do with the setting. It's nice to know that you won't have to do it manually anymore, and you get perfect tenderness each time!
High-pressure cooking: Multigrain goods are cooked at a consistent high pressure to ensure proper cooking all the way through the pot. The amount of time will vary on what kind of stickiness or amount that you are using. 
Natural steam release: This is thought to be the best kind of release for those who use the setting often. That being said, it can take anywhere to 20 minutes for it to release enough for you to use it, so you may want to consider another option if you are impatient or short on time!
The cooking options
When you are cooking a multigrain, the amount of water that you use is going to determine how wet, sticky, or dry the grain is in the end. As you can probably guess, the lower the amount, the drier the grain. You may want to experiment with this a bit to help you get it just right for your preference per meal and, of course, per grain.
You'll also want to make sure that you fluff up the grains you're cooking before serving, just like you would with a traditional pot or other cooking methods.  Even though the Instant Pot does arrange the proper timing for the amount that you're cooking, it's not entirely automatic as far as just spooning it out and serving. You'll still need to fluff it up and put the finishing touches on it.
You can choose between less, normal, and more. The selected setting is based on how much you are cooking, and even how cooked (i.e., not crunchy) you like your grain.
Perks of the multigrain setting for your Instant Pot
Simply put, there is a steep learning curve in this particular setting. It takes time to get the less/normal/more setting right as well as the about of water.  You'll want to keep a record of what works best for you in each setting. The perk is, you get to try a lot of great meals and recipes!
Another benefit of using your Instant Pot for multigrain cooking is that it is much easier to clean than a traditional stovetop pressure cooker.  No more played foam or tricky corners with residue. This is the dishwasher safe option to help you enjoy all of the flavors and none of clean up.
Related Video: