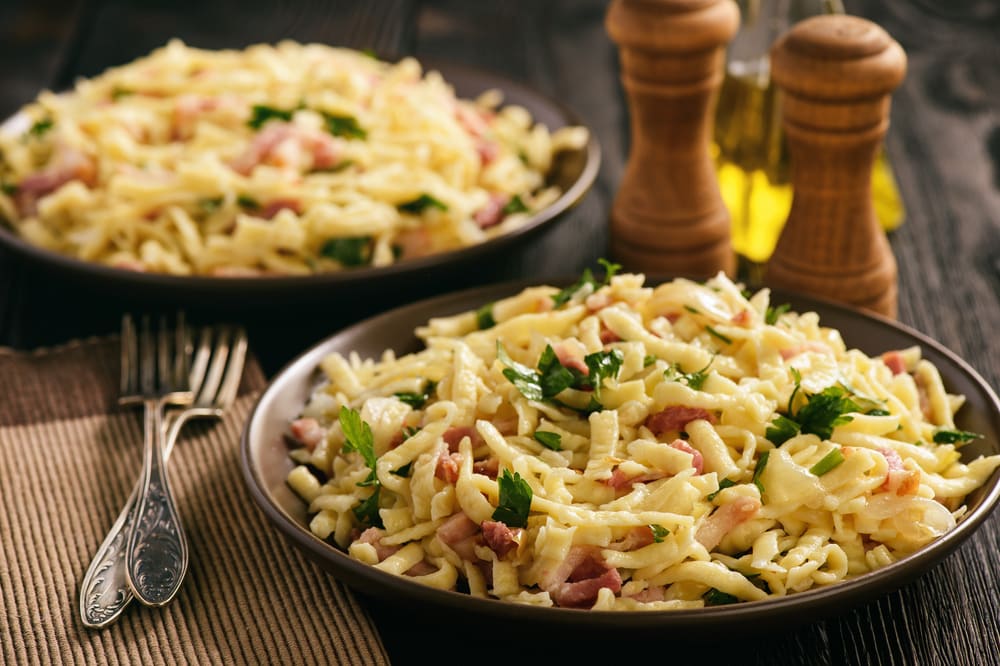 Spaetzle is a famous cuisine that originates from South German. This dish comes in small dumplings or pasta form. The recipe of Spaetzle has been taken from people belonging to Austria, Hungary, and Switzerland. You can make Spaetzle with or without Spaetzle maker quite efficiently. However, cooks have stopped traditionally making Spaetzle. Now, almost everyone cooks this tasty recipe in a versatile number of ways. This article will guide how to make Spaetzle without a Spaetzle maker—in a totally non-traditional and handy way. Stay with us!
How Do I Replace Spaetzle Maker?
Spaetzle maker is a sole metal surface that usually has to pour holes for the pasta or dumplings to directly go into the boiling water. Now, anything in your kitchen having pores can be used to make Spaetzle as long as you have a functional kitchen device that has pores and can take up the spaetzle batter. That's all!
How To Make Spaetzle Without A Spaetzle Maker?
Why bother to rush and purchase a separate Spaetzle maker when you can use your regular kitchen device? Spaetzle maker is, no doubt, a great application to make Spaetzle efficient. However, you can do it as efficiently as possible with a regular kitchen device having holes.
Devices like colander and cheese grater planes are used as great alternatives for Spaetzle makers. The entire procedure is as easy as holding the batter for spaetzle in a device and slowly pouring the pasta shaped spaetzle in a pot of boiling water.
You can use a ladle to help push the leftover spaetzle through the device. We will tell you a comprehensive step-by-step approach to making spaetzle in a non-traditional and easy-peasy way!
Ingredients To Make Spaetzle:
Note that this recipe is for 5 to 6 servings.
Floor (2 cups)

Minced or crushed fresh parsley (1 tbs)

Nutmeg (1 tbs)

Eggs (6)

Milk (1 cup)

Fresh butter (1/4 cup)
Directions To Make Spaetzle:
Take a large mixing bowl.

Add flour, parsley, and nutmeg in the bowl and whisk them well.

Take another bowl.

Beat six large eggs in it.

Keep stirring the beaten eggs, simultaneously add milk to the flour and parsley mixture.

Stir until you get a super smooth spaetzle batter.

Leave the freshly prepared batter for 20 to 25 minutes at room temperature.

Now take a large pot full of salted water. Boil it.

When 25 minutes are up, put spaetzle batter in a colander and start pouring it directly into the pot of boiling water.

Make sure you keep the texture of spaetzle pasta elongated.

Boil the dough until they rise the top.

Take a slotted spoon to bring out spaetzle from hot water.

Now take a fresh butter.

Melt the fresh butter in a skillet and the flame to medium heat.

Now place the water-drained spaetzle straight into butter.

Fry the spaetzle dough and butter for 5 minutes.

Serve super hot and well garnished with more crushed parsley.
This is how you make the delicious recipe of Spaetzle without using a Spaetzle maker. Try it out!