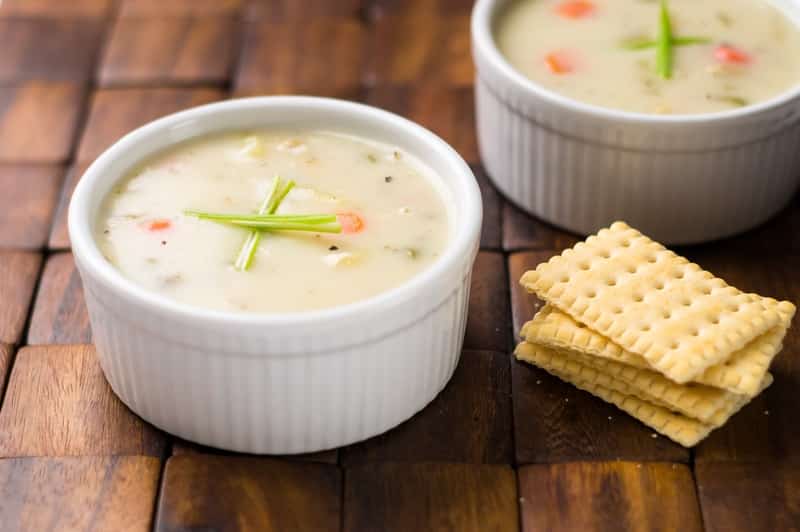 When you need an all-in-one meal quickly, canned soup is a good option, and it's probably healthier than getting a greasy take-out meal. However, nothing can compare to the taste of homemade soup.
That can take hours to make though, so today we're going to show you how to zhoosh up a can of clam chowder. That way, you get the best of both worlds – the convenience of a can with the taste of homemade.
Read on and see how to improve those cans of clam chowder in your pantry. Who knows? They may even be good enough to use as a starter at your next dinner party!
What is Chowder?
For those of you who are confused about the difference between soup and chowder, allow us to enlighten you. Soup, while it may sometimes be thick, is often thin and light.
Chowders, on the other hand, are rich, hearty, and normally creamy (although there are exceptions). They often have a base of seafood or poultry plus chunky vegetables like onions and potatoes.
Almost all chowders are rich and creamy so are a meal in themselves.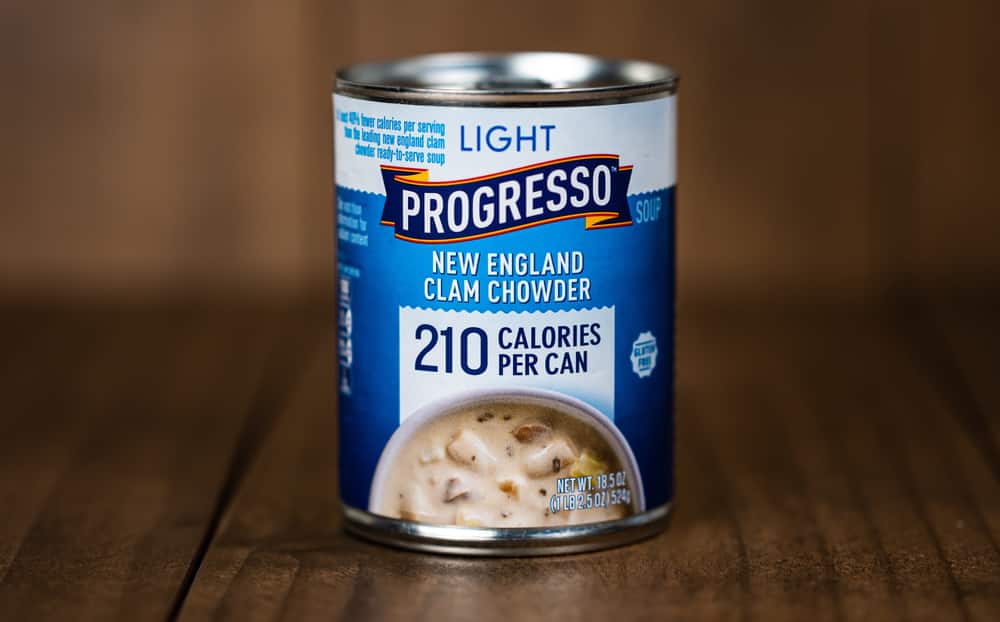 What is Clam Chowder Made Of?
Like many chowders, clam chowder is rich and creamy. Its usual ingredients are clams, pork, potatoes, celery, onions, milk, and cream. Of course, spices and seasonings are added too.
There are various regional differences, for example, New England clam chowder is white and creamy, whereas Manhattan clam chowder is red because of the addition of tomatoes.
As an example of what is inside a can of clam chowder, we provide here the ingredient list from a can of Campbell's New England clam chowder:
Water
Potatoes
Clams
Corn starch
Butter
Other ingredients including spices and flavorings
How To Improve Canned Clam Chowder
If you want to improve your can of clam chowder, the first thing we recommend is to start with a good brand. Campbells is excellent. You'll then need a few kitchen staples to get that can taste and look homemade. Who knows, your friends may even ask you for the recipe! Here's what we suggest:
The can of clam chowder
Some fresh or canned clams
Half a cup of full-fat milk
One tablespoon of butter
One rib of finely chopped celery
¼ finely chopped white onion
Two chopped bacon slices
Finely chopped fresh parsley
Freshly ground black pepper
Half a cup of pouring cream
When you have gathered these additional ingredients, there are two methods you can use to cook them – on the stovetop or in the microwave. We recommend the stovetop for better browning and good flavor but if you're in a hurry, the microwave will do.
Chop the onion and celery finely and put them into a microwave-safe dish along with the bacon and butter.
Add 2 tablespoons of water and cook everything together on high for 3 minutes until the vegetables are tender.
Add the milk, the contents of the can, and your clams, and heat everything together for 2-3 minutes on high. The clams should be tender and just cooked.
Serve hot with a swirl of cream and a sprinkling of finely chopped parsley. Generously grind black pepper over the top.
If you don't want to use a microwave and prefer to use the stovetop method, the following instructions can be followed:
Heat the butter in a saucepan over a moderate flame.
Add the bacon, onion, and celery and saute for a few minutes until the vegetables are golden.
Add the clams, soup, and milk. Simmer gently for about ten minutes until the clams are just cooked. Stir now and then.
Divide into serving dishes and garnish with a swirl of cream, a sprinkle of chopped parsley, and a grinding of black pepper.
Serve hot.
Additional Ingredients That Will Enhance The Flavor
If you have a can of condensed clam chowder, instead of diluting it with water, you can use

milk

for a creamier, richer result.
Fry some extra

chopped bacon

and use it to garnish the chowder.
If you have

leeks

, finely chop them and use them instead of the onion.
Add a touch of

garlic

if you like.

White pepper and thyme

work well instead of black pepper and parsley.
Finely snipped

fresh chives

make a beautiful and tasty garnish.
Use

chopped canned clams instead of fresh

, and add a little of the canning liquid to the soup. Be careful not to make it too salty.
The Bottom Line
Clam chowder is a delicious all-American soup that, as with anything else, is best when homemade. However, you can come pretty close by doctoring up a can of good quality clam chowder with our ideas. Try some of them out and please let us know how it goes!