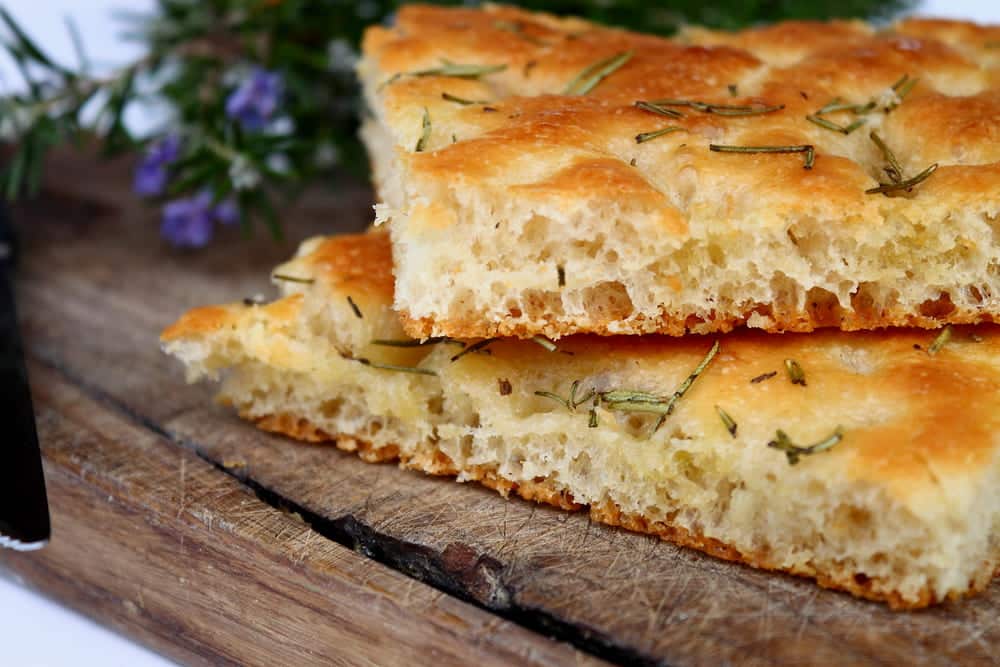 Focaccia Bread is among some of the most delicious pieces of bread worldwide. It has deep traditional roots in Italy and was famous during the Roman Era. This is one of the oldest bread recipes which go as old as 2000 years ago. However, it is still enjoyed after all these years. Focaccia Bread stands out due to its rich recipe bursting with flavors.
There is a wide variety of recipes available, but the traditional recipe uses flour, herbs, tomatoes, and yeast. Other additions in the recipe include making the bread a tad bit sweeter using some white or brown sugar. Sometimes eggs and butter are also used to create a heavier and more filling batch of Focaccia bread.
Focaccia has multiple varities, the ,most common two being the focaccia dolce 'sweet focaccia' and the focaccia veneta 'Venetian focaccia'. Although Focaccia Bread is a landmark of Italy but is now very popular in the US. The distinctive feature of Focaccia Bread is its thin crust. It is necessary to roll it out properly before sending it to the oven. The baking temperature requires specific attention because you can't serve over cooked Foccacia Bread. It must be extra soft and easy to consume.
Now, if you're planning on making a bread basket but feel like skipping Foccaie Bread, here are a few options you can use to replace in your basket instead.
Focaccia Bread Substitutes
1) Keto Focaccia Bread
Given the new craze regarding the keto diet, we won't be surprised if you're looking for a keto-friendly recipe. After all, you can't ever get enough of Focaccia bread. Now to get your body into ketosis, you have to be very specific about the amount and sort of carbohydrates you're consuming.
The two safer flour options include Almond and Coconut Flour. Just follow the regular recipe but use any of these two flours, and you'll be able to enjoy some Focaccia Bread and still not get out of ketosis.
2) Whole Wheat Bread
Focaccia bread can be consumed as it is. At other times, you can dip it in different sauces or make sandwiches. If you're craving a Focaccia sandwich, but you find yourself super lazy to bake some fresh Focaccia bread, you can always replace it with some whole wheat bread.
Roll out the bread, spice it up with some herbs and tomatoes and then send it into the oven. Bake it for 12-15 minutes.
3) Pizza Bread
Most individuals who are not familiar with the culinary history of Focaccia Bread quickly end up confusing it with Pizza Bread. However, Focaccia bread utilizes lesser yeast as compared to Focaccia Bread. But if you're craving some Focaccia bread, but you're not willing to experiment with a new recipe, bake some pizza bread and spice it according to Focaccia bread.
If baked correctly, you might not even feel any difference. (this is, of course, if you're an amateur culinary tester, because, for most qualified experts, they're strikingly the same but excessively different)
4) Ciabatta
The ciabatta bread was first produced in 1982 by Arnaldo Cavallar; like the Focaccia bread, it is traditionally consumed in Italy. Although now it is famous worldwide. Ciabatta bread is an attractive option if you feel like having some bread. It is low in calories, with as little as 52 calories in a medium slice of Ciabatta bread.
Unlike the Foccacia bread, it is not rich in flavor. It primarily contains whole wheat flour, water, salt, and some yeast. But if you feel like having something rich in flavor, make a paste or sprinkle some herbs before eating your Ciabatta bread.
5) French Baguette
The French Baguette is a long loaf of bread, sometimes as long as 6 centimeters in length. Baguettes are also mild in taste and made up of simple ingredients like flour, water, yeast, and salt. They might not be the best Focaccia bread replacement, but they make the perfect garlic bread if baked and appropriately seasoned.
Given the rich palate that Foccacia bread has to offer with its well-baked texture and mouth-watering flavors that are hard to replace, you can still try picking any of these alternatives mentioned. Try seasoning the alternative option yourself if you're craving something rich in flavor.