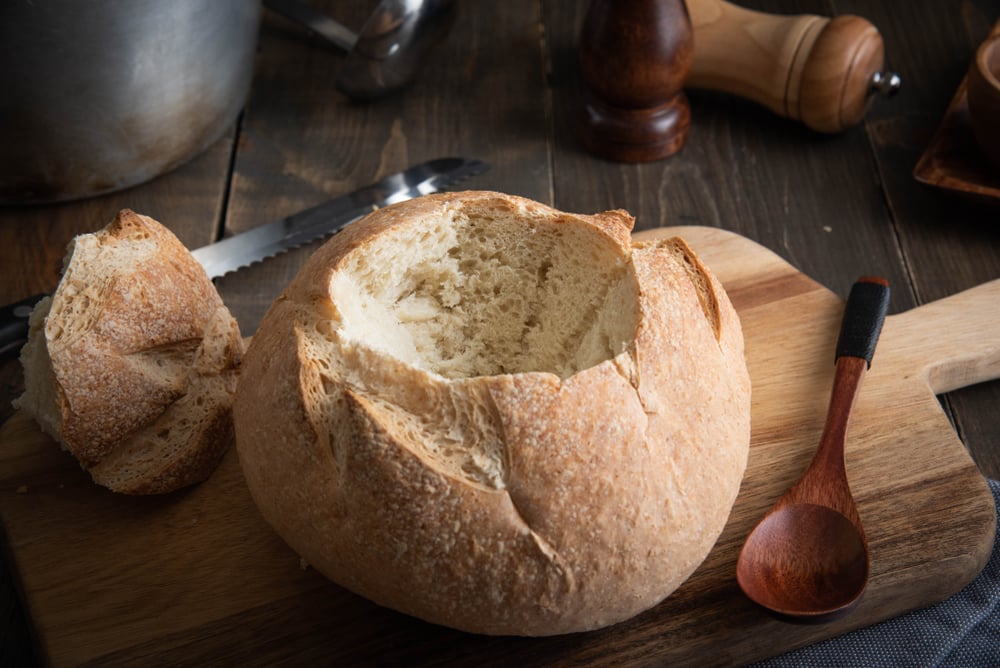 Sourdough bread is a delectable option, especially when you want something to enjoy with your homemade soups. It's an extremely delicious bread, and the sourdough bread bowl can be filled with soups or stews to create a filling and a hearty meal. So, if you want to make this creative dinner for your family and are wondering, "how to make sourdough bread bowls?" we are here with the recipe and some more information!
How to Make Sourdough Bread Bowls?
Sourdough Bread Bowl Recipe
Ingredients
For making the sponge, you need the following ingredients;
One cup of fed sourdough starter
5 cups of lukewarm water
Three cups of all-purpose flour
When you have these ingredients, collect the following for making dough;
One tablespoon of granular sugar
5 teaspoons of salt
Two cups of bread flour
One tablespoon of water
These ingredients are for making the sourdough bread bowls. However, you need to finish them to create a crispy and golden brown appearance. For this purpose, you need a spray bottle filled with water and one tablespoon of egg white beaten up with one tablespoon of water.
Cooking Instructions
Now that you have gathered all the ingredients, we are sharing the cooking instructions with you, such as;
The first step is to mix water, all-purpose flour, and start in the bowl of your electric mixer and make sure they are fully mixed and have a smooth consistency. Let this mixture settle for four hours, and don't forget to cover the bowl with plastic wrap. After four hours, transfer this bowl to the fridge and chill it for over twelve hours
After the said time, remove the bowl and add bread flour, salt, and sugar to the sponge (yes, it will be transformed into a sponge), and keep mixing it until everything comes together. You can also add some water to moisten the sponge and mix the dry ingredients. You have to knead the dough for up to five minutes to ensure the dough has elasticity and is smooth. Now, start forming the dough into smaller balls and transfer them to an oiled bowl and turn it around to ensure proper coating of oil. Again, cover the bowl with plastic wrap and put it in the warmer spot, and let them grow in volume (it will take up to four hours)
In this step, you have to powder/flour the baking sheet and put these dough balls on the sheet and brush them with the finish (the egg and water finish that we mentioned earlier). This is because it helps create a shiny appearance
Now, bake them in a preheated oven for thirty minutes
Once they are fully baked, take them out and let them come to room temperature. After this, just cut out a circle at the top of the bread bowl and scoop the center out
Add your filling, soup, or stew, whatever you prefer, and it's ready!
Additional Tips
Honestly, baking sourdough bowls is a pretty lengthy process. In various cases, people get frustrated with the process or don't get the desired results. So, with this section, we are sharing some tips to make the sourdough bread bowls with ease;
When you put the dough balls on the baking sheet, trace an X on the top because it helps cutting bowl when it's baked (it makes cutting the top easier for you)
Make sure that you use a fresh starter because the older starter won't rise properly, resulting in flat sourdough bread (it won't be a bowl, after all). For this purpose, you should also check the manufacturing date on the starter's box
When purchasing the all-purpose flour, make sure to choose a reliable brand because it directly impacts the quality of the dough and sourdough bread bowl
Understanding Sourdough Bread
Now that we have shared the recipe let's talk a bit about sourdough bread. It has an extensive baking process, and you have to be extremely particular with the ingredients. However, we love the flavor that it brings to the table and is extremely easy to digest. Since it has higher fiber content, insulin production will reduce, which helps control the blood glucose levels. That being said, it's delicious and full of nutrition, so what more could you need?