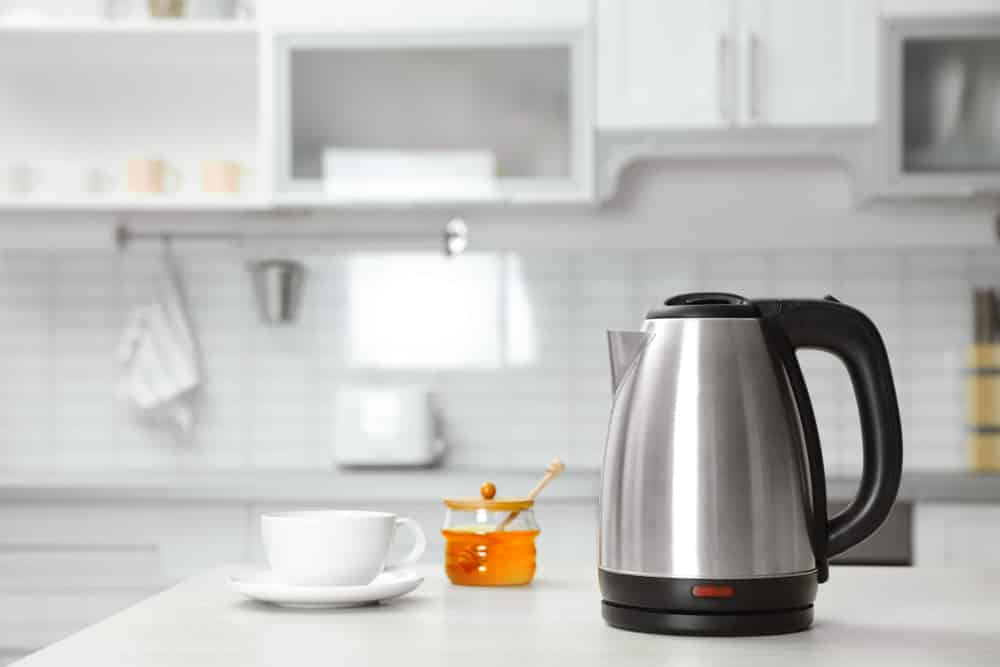 An electric kettle is a basic kitchen appliance, especially for people who are fond of coffee and teas. However, like all electrical appliances, electric kettles are also susceptible to untimely issues that need urgent repairs.
It can be incredibly frustrating when you wake up in the morning to make your favorite cup of joe, only to find that the kettle no longer works properly.
Ideally, with so many moving parts, it can be a bit difficult to figure out exactly where the issue lies. For instance, it could be an internal issue with the kettle, or it could be a problem caused by the switch.
Regardless of the problem, it's important that you know how to fix it properly.
The Best Methods For Fixing Your Electric Kettle That's Not Turning On
Now, if your electric kettle is not working properly, here are a few simple fixes that you might want to try.
1. Check The Lid
Because of the increased risk of injury when using electric kettles, most manufacturers often introduce extra safety and security precautions in their kettles.
For instance, the electric kettle won't turn on if the lid isn't properly closed down. So, your first step should be to check the lid and make sure that it's fixed in place.
There's a tiny lock and a sensor attached in place, which must hook up properly because the kettle starts working. In simpler words, fix the lid in place and see if the kettle starts working.
However, keep in mind that this is not a common feature in all electric kettles. You might have a kettle that doesn't require the lid to be closed before it starts to work. It primarily depends on the make and model of the kettle you own.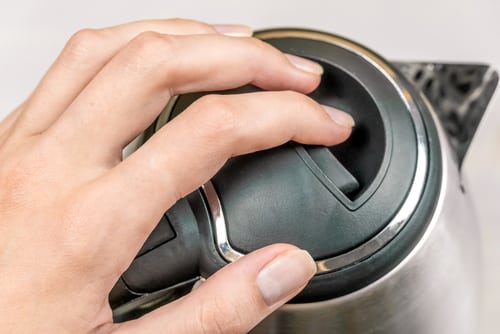 2. Shutdown System
Electric kettles are designed with shutdown systems to ensure you aren't put at risk. However, if the shutdown system suffers a failure, it could be one reason why the kettle isn't turning on.
Most kettles have an internal sensor that detects when the water is hot enough and automatically turns the kettle off.
However, if there's a problem with the sensor or the thermostat, it might send the wrong signal, thus causing the electric kettle to shut down of its own accord.
Ideally, you'll want to clean the kettle thoroughly from the inside. It often happens that debris on top of the sensor might cause issues. It's important that you empty the kettle and clean it thoroughly from the inside out first.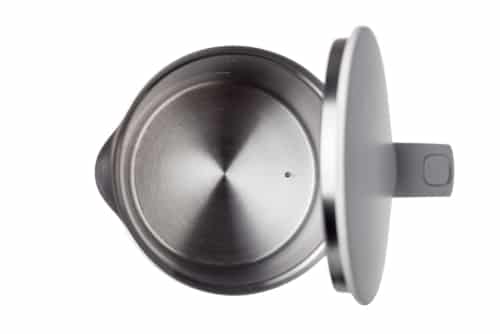 3. Overfilled Kettle
If the above-mentioned fixes aren't working out, there are chances that you have overfilled the kettle. This is because the kettle must be filled to a certain level to make it operational.
So, open the lid and reduce the water level of the kettle. Try switching on the kettle again after you have reduced the level of the water and see if it works.
Depending upon the recommended capacity of your kettle, it's important that you do not fill it up to the max.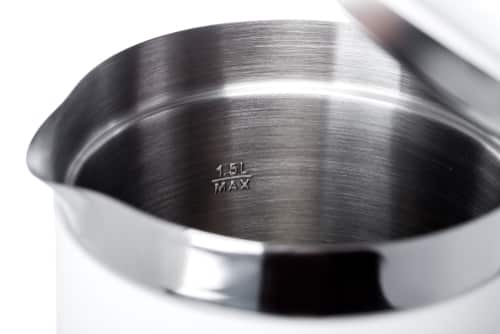 4. Power
Electric kettles will obviously not work if there is no power supply connected to the kettle. For this reason, you have to inspect the cable and ensure that it's properly plugged into the power switch.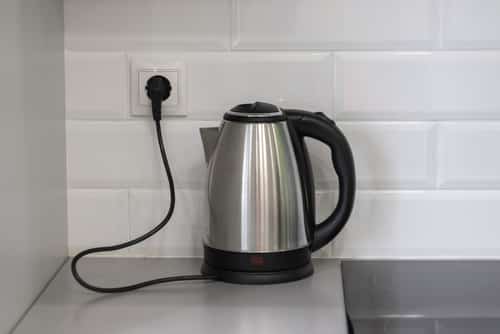 Secondly, the power cable needs to be in good condition to work properly (if the cable is damaged, replacing the cable is essential if you want to avoid any major issues).
On the other hand, if you are using a cordless electric kettle, make sure that the base is placed on a firm surface. That's not all, the kettle should firmly click in place.
Last but not the least, you need to check the switch to ensure that it's working properly.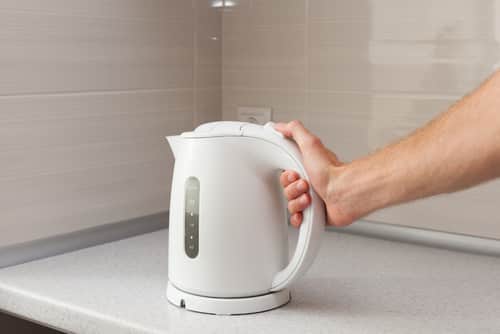 It might be a wise idea to check the kettle in another socket. In most cases, something as simple as a blown fuse might be the cause of the problem.
That is one of the main reasons why it's so important for you to eliminate any external issues first.
Plug in another appliance to ensure that the socket isn't the cause of the problem. Once you have that cleared out, check carefully to see if there are any pieces of gunk in the base connector.
That might be interrupting the flow of electricity to your kettle, thus preventing it from working smoothly. It might be a wise idea on your part to check whether there's anything blocking the connectors and remove them.
5. Check The Temperature
If the kettle is switched on, but water won't heat up or boil, it could be because of a damaged wire inside the kettle.
To be sure, unplug the kettle and dip your finger to check the water temperature. If the temperature hasn't increased, you have to get the internal wiring fixed.
Now, this could be an issue with the internal coils in your kettle. Needless to say, this is not something that you can fix all by yourself. It might be a wise idea to visit a local appliance repair technician.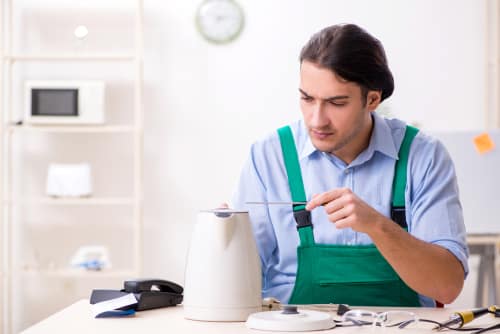 If your kettle's under warranty, you have it easy. You can simply take your kettle to the store you bought it from, along with a proof of purchase, and they'll fix it for you, or replace it free of charge.
More importantly, if your kettle's covered under warranty, it's important to check whether tampering with the appliance might void its warranty.
Most manufacturers have very strict requirements about their products, and you might end up losing your warranty coverage if you tamper with the appliance.
It's best to read the owner's manual first (if you have it) to ensure you don't end up voiding the warranty.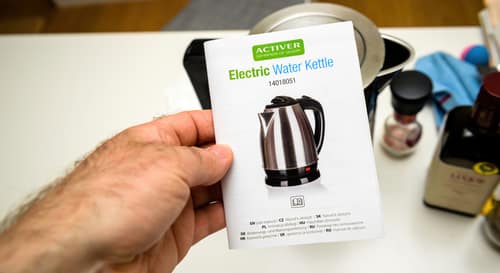 However, if the warranty has run out, then you are going to find it a bit difficult to replace the kettle. Instead, you can get it repaired by a technician.
If you have tried different fixes on this list, and none have worked out for you, you should just take the kettle to the repair technician.
They'll let you know exactly what's wrong and also recommend if you should get it fixed or replace it. If it's an older kettle, it's important to decide whether you want to repair it or replace it altogether.
Electric kettles are generally not that expensive, so you can easily buy an affordable kettle without paying over the top.
With so many different manufacturers in the market now making different kinds of electric kettles, it's considerably easy to find the right one within your budget.
To summarize, these are the only potential reasons behind an electric kettle not turning on. On the contrary, if none of these steps work out for you, you should call an electrician or an appliance technician as they have a better understanding.