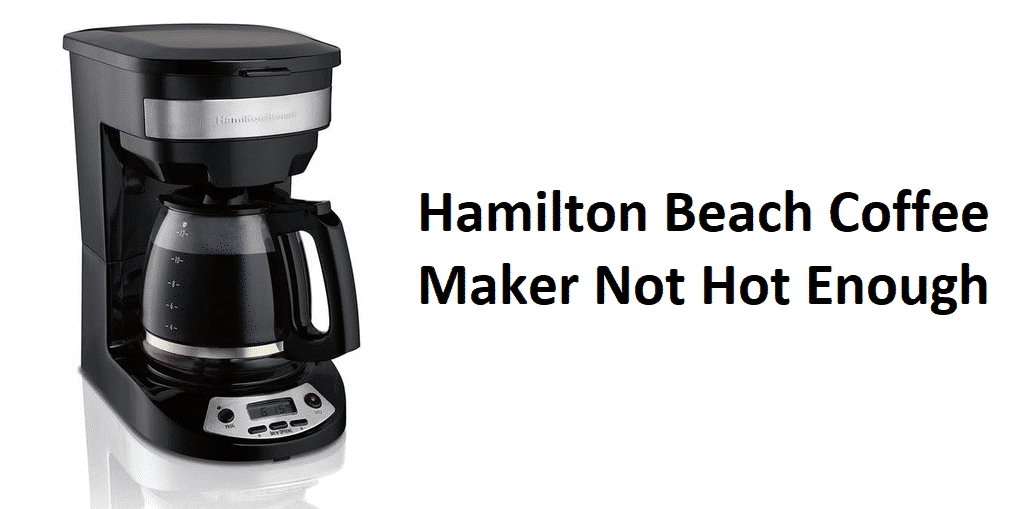 The first thing you want to experience in the morning is the fresh and hot essence of coffee. Many people find an escape in drinking coffee. There are a lot of companies that manufacture quality coffee making machines. Hamilton Beach coffee maker is one trusted company for coffee making machines. Coffee lovers vouch for their coffee makers.
However, some Hamilton Beach coffee maker users have complaints such as their brewed coffee isn't hot enough. What could go wrong? How do you fix it? What can I do to ensure my coffee stays hot after brewing?
Well, you will find answers to all of your queries in this post. We have put together some troubleshooting solutions for your coffee not being hot enough in Hamilton Beach Coffee Maker.
How Do You Fix Hamilton Beach Coffee Maker Not Hot Enough?
Everyone loves piping hot coffee. There is no need to rush towards the market to buy another coffee maker when you can fix your Hamilton Beach Coffee Maker on your own.
Follow these easy and effective fixes for your cold Hamilton Beach Coffee Maker:
Solution 1: Check If The Coffee Maker Has Shut Off
Sometimes people forget to check if their coffee machine is still turned on. Your coffee wouldn't come out sipping hot if the machine is switched off.
Turn your coffee maker on whenever it is dispensed to make sure your coffee flows out piping hot.
Solution 2: Reheat Your Coffee
You can always reheat your cold and dull cup of coffee. All you have to do is to check TO REHEAT COFFEE directions and reheat it. Or you can always brew another cup.
Solution 3: Adjust "Keep Warm Hours" Time On Your Hamilton Beach Coffee Maker
When your coffee flows out unpleasantly cold, the reason can be your coffee machine has run out Keep Warm Hours time duration. If your machine's "Keep Warm Hours" time is up, make sure to set it back and don't let it elapsed. Keep it on to make your Hamilton Beach Coffee Maker hot enough.
Solution 4: Check Your Coffee Maker's Thermostat
If none of the above solves your issue and your delicious coffee still stays cold, then it is time to go a little deeper. Time to check your coffee machine's thermostat to check if it is working so your machine stays cold.
Test your coffee making machine's thermostat following these steps:
Unplug your coffee maker.
Empty the water reservoir.
Turn over the unit.
Remove the base plate.
Gather the tester or multi-tester for checking thermostat functioning.
If the tester doesn't respond, it means your thermostat is defective.
Make sure to replace the defective thermostat with a functional one.
Solution 5: Contact Technician
The issue can sometimes be more complicated than you think. So if no workaround seems to make your Hamilton Beach Coffee Maker hot enough then it is time to contact your manufacturer's company.
You can always appoint a technician for a permanent solution.