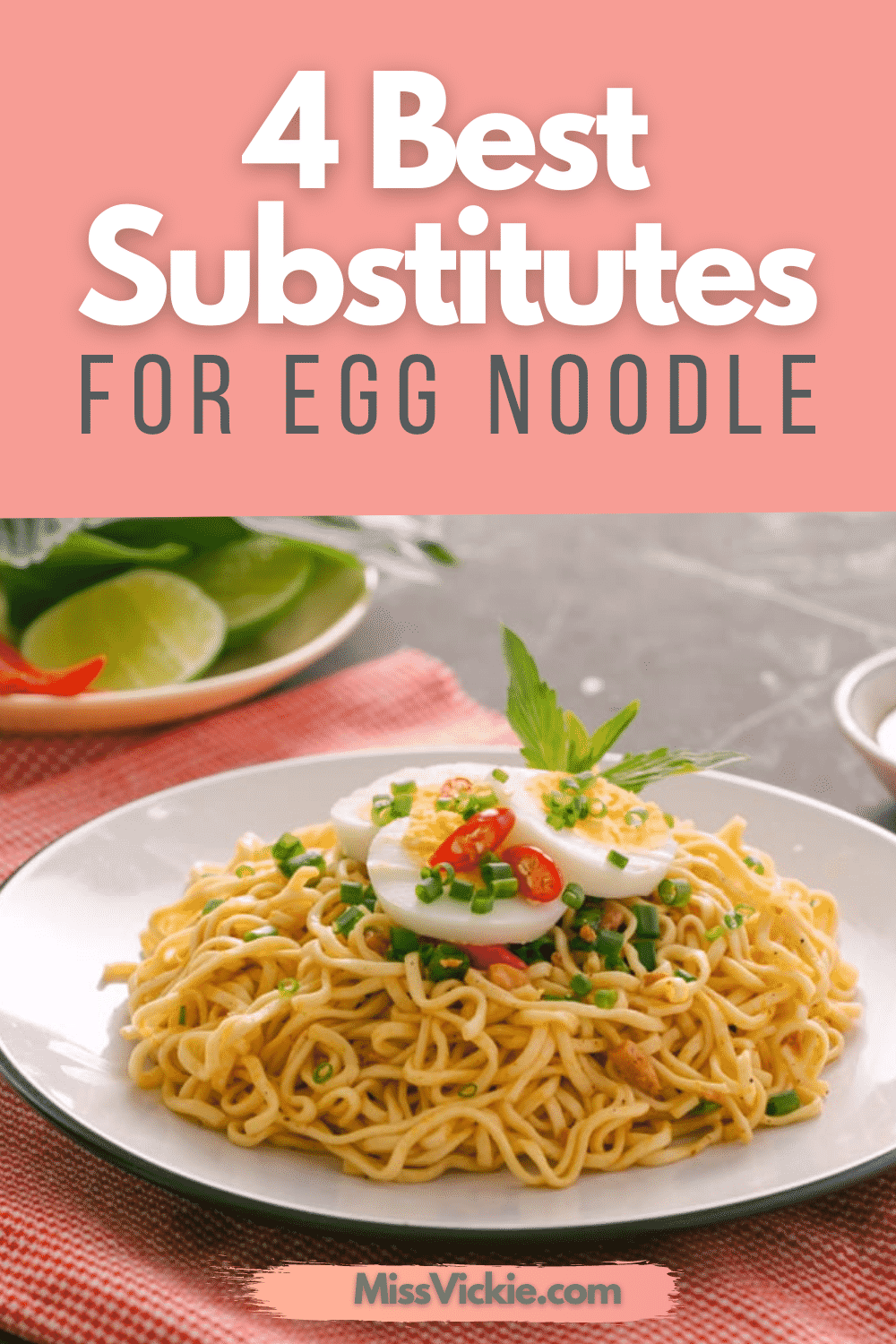 DISCLOSURE: This post may contain affiliate links, meaning when you click the links and make a purchase, I receive a commission. As an Amazon Associate I earn from qualifying purchases.
Egg noodles are a kind of pasta different from other noodles because apart from flour and water, they also contain eggs.
The unique thing about egg noodles is that they are made up of a very balanced ratio of eggs and flour. The egg noodles are thick, wide, and come up in a variety of different shapes.
However, while egg noodles taste great, you should know that there are alternatives available if you don't have egg noodles available to you.
What if you run out of them? It is a situation that no one really prefers, but it can happen in every kitchen.
So, when you run out of egg noodles, you can either go to the market to get some and if that is not possible, you might want to continue reading.
This article will let you know about the perfect substitutes for egg noodles and the differences between each.
Egg Noodle Substitute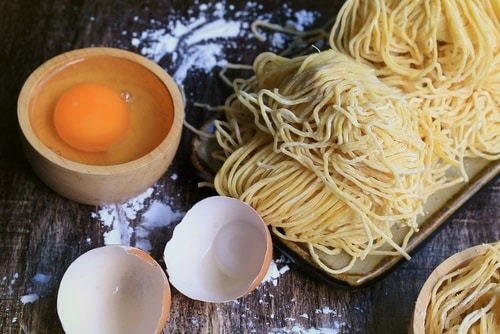 Egg noodles are used in a number of different dishes, and their taste makes them an incredibly popular choice amongst culinary aficionados.
Some chefs don't like cooking with any other alternative instead of egg noodles. It doesn't matter if you want to use them or not, but you must know the possible substitute for egg noodles.
In the following paragraphs, we have highlighted some of the direct alternatives to egg noodles.
Fettuccine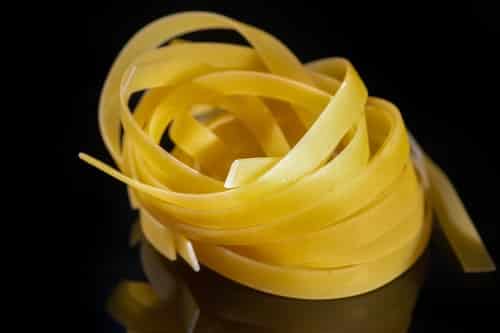 If you are going to make an Italian dish and run out of egg noodles, then the best possible substitution can be fettuccine. They are of the same category as egg noodles.
The fettuccine pasta is made up of flour and eggs, which makes it a very close substitute to egg noodles.
Along with that, considering the taste and the shape of both egg noodles and fettuccine, some people even believe that there is no difference between egg noodles and fettuccine.
Furthermore, if you plan to use fettuccine in place of egg noodles, you need to make sure of balancing the amount of fettuccine with the egg noodles. Make sure you use equal amounts.
2. Linguine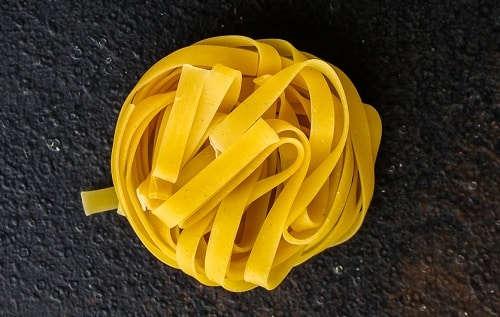 Linguine is the kind of pasta that is often considered the twin brother of fettuccine.
When you are using fettuccine in place of egg noodles, there's no reason why you can't consider using linguine either.
They belong to the family of ribbon pasta and are more elliptical than other members of their family.
Just as egg noodles and fettuccine are made up mainly of egg and flour, approximately 3.5 ounces of flour is required per egg for making linguine.
The ingredients, as you can tell, are quite similar to egg noodles.
So, if you run out of egg noodles, try using linguine. It will taste the same as egg noodles and will make your dish better in taste and texture.
The only major difference that you will find is in the way they look.
3. Ribbon Pasta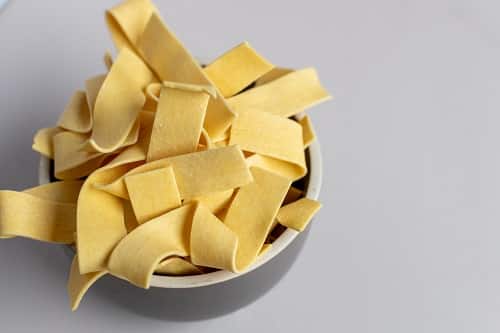 If you are left with no option, then try using ribbon pasta instead of egg noodles. The name is derived from its shape mainly.
The ribbon pasta is a rectangular, fairly cut, medium-sized pasta with curly edges. Though this pasta's shape is not similar to egg noodles, they can replace egg noodles as the taste is more or less the same.
Moreover, you do not need to worry about quantity while using ribbon pasta in place of egg noodles. You need to put the same ingredients as you were putting for making egg noodles.
As long as you know how to balance the ingredients, you won't have much of a problem replacing egg noodles with ribbon pasta.
4. Spaghetti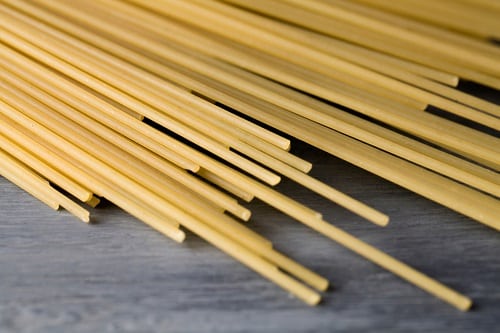 Most spaghetti types are made up of the same kind of ingredients: flour and eggs. As a result, you are free to use any spaghetti instead of egg noodles. It will not differ in taste or the texture of your dish.
So, whenever you run out of egg noodles while making Italian dishes, then do not hesitate to use any spaghetti in place of egg noodles.
Spaghetti has a slightly thinner texture than egg noodles, but they are still a pretty viable alternative.
Conclusion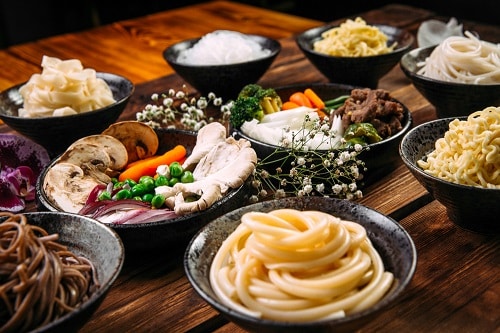 In the above article, we have provided you with some of the best alternatives that you can use if you do not have egg noodles available in your kitchen.
As you can see, you can choose from a variety of options if you are looking for an egg noodle substitute.
If you want to experiment, you can also try other types of noodles instead of egg noodles in your conventional dishes. You will indeed find a new and unique taste in your old dishes after putting these noodles in them.
Furthermore, if you are still not clear about using any of the four products mentioned above, let us know in the comment section. We'll assist you in choosing the best type of noodles instead of using egg noodles.
Remember, a lot of the taste varies upon the sauces you use and how well you cook the noodles.
Some expert chefs don't even bother going for egg noodles and can make a delicious dish by replacing the egg noodles with different kinds of pasta with relative ease.
The success of your dish definitely doesn't depend on just one factor!