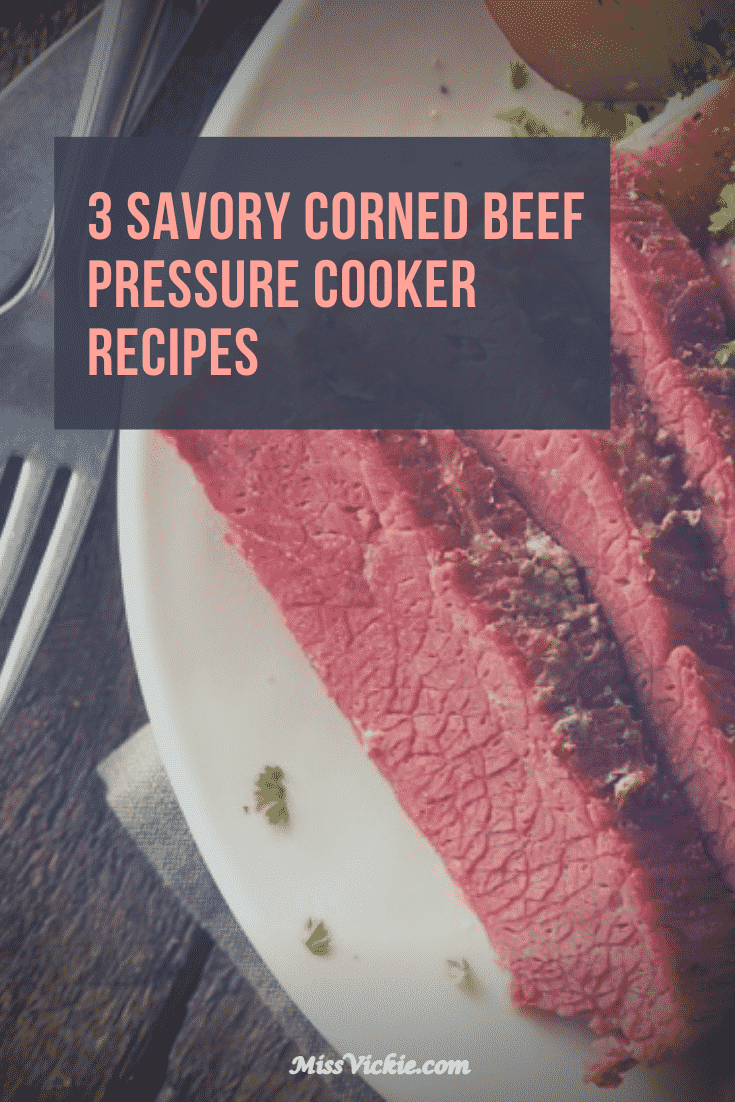 Corn Beef and Cabbage Pressure Cooker Recipe
1. Corned Beef and Cabbage
Ingredients
1 or 2 head cabbage
4 large carrots
10 baby red potatoes
1 onion
4 cups of water
6-ounce beer
4-pound corned beef brisket
Directions
First, put the potatoes, onion, and carrots into a pressure cooker, pour the water, and put the brisket on the top of the vegetables.
Then, pour the beer properly over the brisket.
Sprinkle the spices in carefully from the seasoning packet, and seal the cooker lid.
Finally, cook the brisket smoothly for about 7 hours.
Then mix in the cabbage and properly cook it for 1 more hour before serving.
Nutrition Facts (For Per Serving): calories: 472; fat: 19.6g; carbohydrates: 49 g; protein: 23.6 g; cholesterol: 99 mg; sodium: 1281 mg.
2. Corned Beef and Veggies
Ingredients
1 or 2 bottles of Irish stout beer
3 red potatoes
4-pound corned beef brisket
1 or 2 cups of brown sugar
3 sweet potatoes
1 head cabbage
2 large sweet onions
6 large carrots
Directions
First, pour a glass of Irish stout beer into a pressure cooker.
Next, rinse the corned beef brisket properly and pat it dry. After that, rub it with brown sugar, at the bottom, and smoothly place the brisket inside the pressure cooker with the beer.
Prepare the cabbage, sweet potatoes, onion, red potatoes, and carrots in and throughout the brisket in the pressure cooker.
Finally, pour the remaining 1 or 2 bottles Irish stout-beer on and throughout the brisket and vegetables to rinse the brown sugar properly. Cover the cooker carefully and cook it on Low till the corned beef is tender for 5 to 7 hours. Let the brisket to stand 10 minutes before slicing it.
Nutrition Facts (For Per Serving): calories: 289; fat: 9.9g; carbohydrates: 39.1 g; protein: 23.6 g; cholesterol: 50 mg; sodium: 639 mg.
3. Coconut Milk Corned Beef and Cabbage
Ingredients
1 onion
2 carrots
1-pound potatoes
2 stalks celery
1 or 2 small head cabbage
4-pound beef brisket
4 cups of water
15-ounce coconut milk
2 tablespoons of tomato paste
1 tablespoon of fish sauce
1 teaspoon of red curry paste
2 bay leaves
1 teaspoon of ground coriander
Directions
First, place the fat-side up, brisket in the inside of a pressure cooker. Mix in water, tomato paste, coconut milk, fish sauce, coriander, bay leaves, and red curry paste. Bring it to a boil and properly skim off all foam that expands.
Stir in celery, onion, and carrots. Take the mixture to a boil; smoothly reduce the temperature to low, cover it, and cook it for 2 hours, turning it once.
Finally, stir in cabbage and potatoes; cook it until vegetables are properly tender and the cabbage is smooth and sweet about 30 minutes or more. Transfer the beef to a plate; then slice over the grain properly. Ladle the potato cabbage mix into the bowls and spontaneously top it with the sliced meat.
Nutrition Facts (For Per Serving): calories: 754; fat: 23.8g; carbohydrates: 26 g; protein: 35.9 g; cholesterol: 124 mg; sodium: 377 mg.