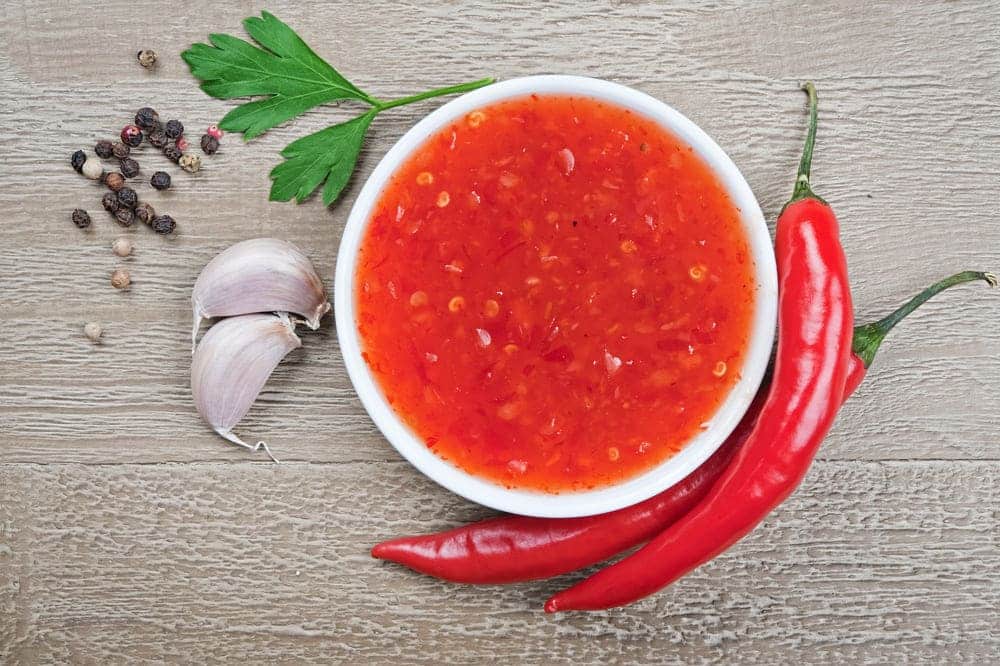 Are you craving something spicy? Just like we crave something sweet every other day, sometimes we want to get a spicy bite. A flavorful and savory sauce can elevate any dish.
Whether you have a favorite sauce of a popular manufacturer or you can make some at home, this sauce works best for hot Asian dishes. It is versatile as you can add a teaspoon in non-Asian dishes too.
However, if you have finished up a bottle and do not have time to go to the market, check out some alternatives. These might altogether give you a new dish to cherish.
Others who love chili garlic sauce put it on eggs, vegetables, and pasta to get an Asian flavor. To give vegetables a necessary flavorful taste, this sauce can work wonders. In case you love spicy dishes, you can add a scant amount to marinades and soups.
Even in a sandwich with mayo spread, chili sauce can make an ordinary dish into something extraordinary. Whether you use it as a sauce in an Asian dish or as a dipping with fried chicken, chili garlic sauce makes its place in every kitchen.
Short on the hot sauce?
Put in some chili garlic sauce. So, now you understand its versatility. Thus, it was necessary to list down substitutes that would relieve you of kitchen stress.
Chili Garlic Sauce Substitute
1) Harissa sauce
This sauce has its origin in Tunisia in North Africa. The sauce contains vinegar, garlic, red chilies, and other spices. You have to add dried chilies and caraway seeds to give the final touch. Caraway seeds are a part of harissa sauce, but you can leave it out in case of unavailability.
The easy way to make it is to put the red chilies in hot water and meanwhile, cumin and coriander seeds are roasted. Add the rest of the ingredients along with paprika and lemon juice.
You can buy it from the store or follow a homemade recipe. You can use it as a marinade, dip, or add in stews or soups.
2) Sriracha
Sriracha hot chili sauce is a condiment for Asian dishes. The chili flavor of this Huy Fong sauce is matchless. The taste is hot and chili with a kick of garlic. The basic ingredients in its making include garlic, vinegar, chili peppers, a pinch of salt, and sugar to add some sweetness.
This sugar is added that then ferments producing a sour taste. However, the chili garlic paste itself does not have any added sugar. Sriracha has a strong distilled vinegar taste in comparison to the garlic sauce.
Hence, we can say chili garlic sauce is more of an ingredient that is added to the dish to be cooked. Sriracha can be considered a condiment. You can add as much as you want according to your needs. However, you can still use both these things for multipurpose.
3) Ketchup with garlic
Interesting combination but it works for those who hate chili. Ketchup will never work alone as it has a different taste than the chili garlic sauce. So, add some fresh garlic paste and mix with your favorite tomato ketchup.
4) Red pepper flakes
This cannot substitute for chili garlic sauce, but its addition can lift absolutely any dish. Red pepper flakes are made from a combination of several peppers.
5) Homemade chili garlic sauce
Is anything better than homemade chili garlic sauce? You need just a few items like garlic, peppers, salt, and vinegar. Add fresh peppers, some cloves of garlic, a couple of tablespoons of vinegar, a pinch of salt and pepper, and one tablespoon of sugar. Put all ingredients in a sauce and mix them well for 10 minutes.
Buying a chili garlic sauce jar is not an easy job. As there are limited companies like Huy Fong that produce a high-quality sauce. Chili garlic sauce goes well with a lot of dishes. it can be used as a condiment and can be mixed in the dish.
In case your recipe calls for some amount of chili garlic sauce and it is not available, then go through our alternatives. These substitutes can be tried in the sauce's place. However, the flavor profile may differ. Learn to make some at home and put the extra amount in a jar for later use.