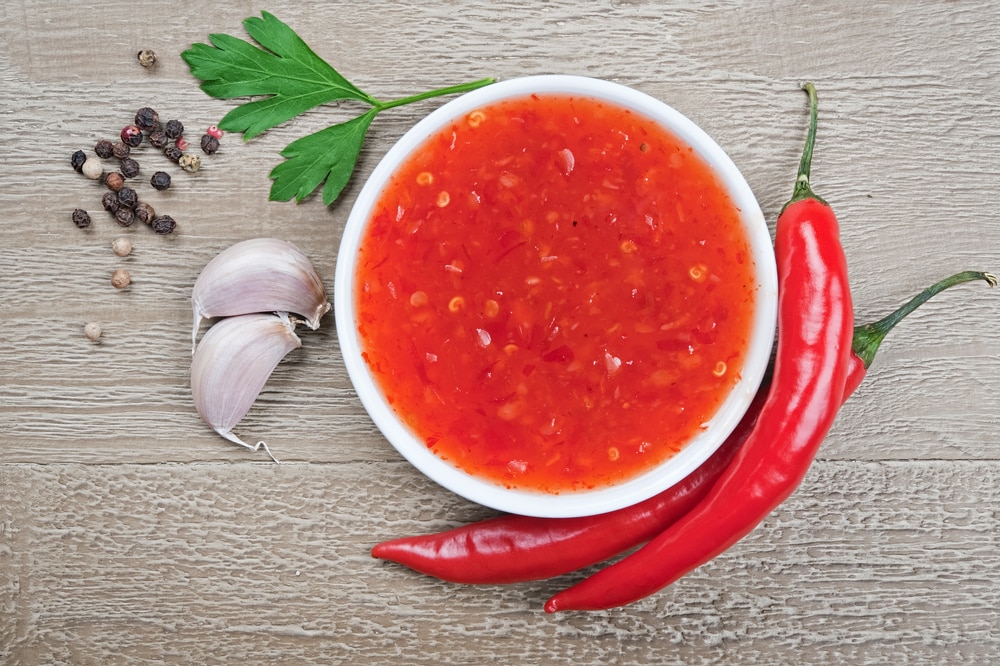 Many people love to have delicious yet spice food. Numerous kinds of sauces do the icing on the cake for your spicy food. These sauces add an extra flavor to our dishes and let us have quality food.
But what if you stuck between two sauces. It's always a hard task to choose when you have two sauces available. It is why we are here to help you out. If you're struggling to find the perfect sauce for your dishes, this article will be the heaven of knowledge for you. Here we'll discuss the most common sauces present: the chili garlic sauce and the Sriracha.
Chili Garlic Sauce vs Sriracha
The Chili Garlic Sauce?
Chili garlic sauce is one of the most common sauces present in the food industry. It is the only sauce that is always present in our kitchen, and it is something that can be used in most of our dishes. But, is it possible to make chili garlic sauce at your home? If yes, what ingredients are you going to use to make the chili garlic sauce, and how will you be preparing the sauce in your kitchen.
Ingredients And Making Of Chili Garlic Sauce
The first and foremost thing that you'll need for making chili garlic sauce are two professional hands. After it, you need to choose what kind of pepper you will use to make the chili garlic sauce. Once you have selected the pepper for making your sauce, then measure it.
The preferable quantity is four ounces. You need to pick dried as well as fresh chilies for the sauce. Now you need to get some cloves of the garlic, two tablespoons of rice wine vinegar if available, salt as per the requirement, and lastly, you can add a tablespoon of brown sugar and fish sauce.
You need to make a paste of the chilies after selecting the sauce's pepper. If you are confused while selecting the chilies, we must let you know that Thai chilies are the most preferable for making chili garlic sauce. Ensure that you are using fresh red chilies for the sauce as you will be preserving the sauce, and bad chilies can ruin the sauce.
Where To Use Chili Garlic Sauce?
Chili Garlic Sauce can be used in various places. Most restaurants and kitchen use this type of sauce as it is quite thick and tastes great. You can use it while making Pasta, Burgers, Sandwiches, Macaroni, Soups, and many more things. There are a lot of other Chinese and Continental dishes where you can use your chili garlic sauce.
The Sriracha Sauce
Unlike the chili garlic sauce, the Sriracha sauce is a bit less dense. The Sriracha sauce was the first time made in Thailand, and now it has become the need for most countries. It is one of the major sauce used in the United States of America. Various big industries make a large amount of Sriracha sauce every day. But, can you make it at home?
Ingredients And Process of Making Sriracha Sauce
Making Sriracha sauce is not a hard nut to crack for those who know a bit about the kitchen. The Sriracha sauce is quite easy to make and can be made in just 20 minutes. The ingredients that you're going to need for making Sriracha sauce are Jalapenos, Pepper, Apple cider vinegar, Tomato paste, Honey, and a tablespoon of fish sauce.
For making the Sriracha sauce, you need to put all of the ingredients in a food processor and blend them well. After it, put them on the flame and bring them to boil. Now, lower the flame and cook the sauce for a few minutes on low flame. After it, turn off the flame and put the sauce into the jar.
Where To Use Sriracha Sauce?
The Sriracha sauce can be used in various dishes like Spaghetti, Macaroni, Pasta, and various other dishes. It can be used to make various soups, and if you love having fast food, this sauce can be the perfect dip for your food.
Conclusion
We have provided you with a clear difference between the chili garlic vs Sriracha sauce in the above draft. The article has got everything that you need to know about these two sauces. Follow the article, and you will be at the peak of knowledge about these two sauces.