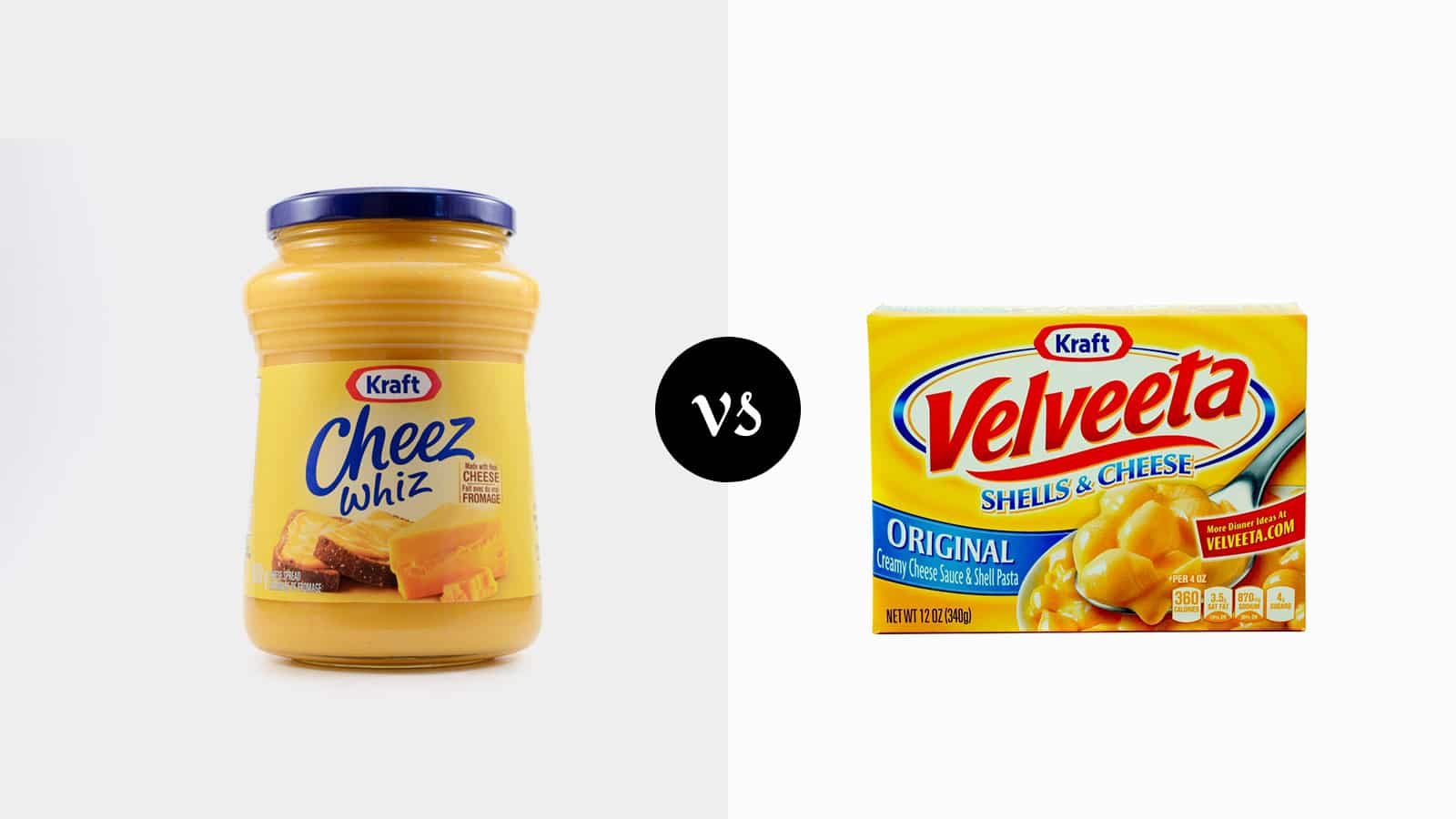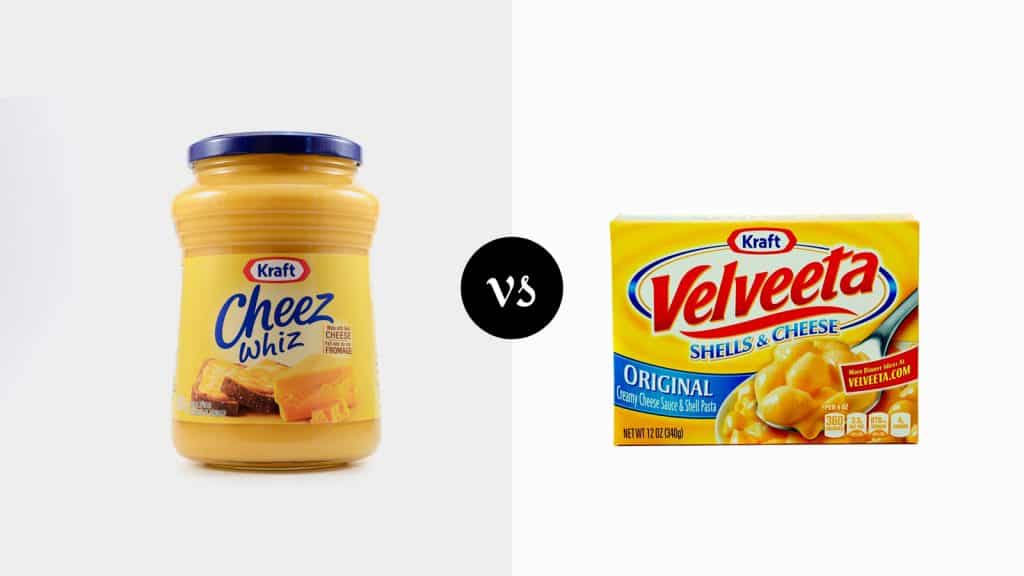 DISCLOSURE: This post may contain affiliate links, meaning when you click the links and make a purchase, I receive a commission. As an Amazon Associate I earn from qualifying purchases.
Cheese is an important ingredient for everyone who wants rich and creamy food. There are many different varieties of cheese out there, and even more types of cheese spread available in today's market.
Out of these many choices, Cheez Wiz vs. Velveeta has arisen as a heated topic of debate. We'll be taking you through a complete look at these two popular, market-leading cheese sauces.
Cheese Whiz Vs. Velveeta Comparison
| | Cheese Whiz | Velveeta |
| --- | --- | --- |
| Origin | Edwin Traisman - 1952/1953 - United States | Emil Frey, Monroe Cheese Company - 1918 - New York, |
| Description | Processed Cheese Spread, Sauce & Dip Made From Whey, Emulsifiers And Seasoning While Supplied In Glass Jars | Velvety Smooth Pasteurized Prepared Cheese Product Capable Of Being Used As Spread, Sauce Or Dip And Boasting Healthy Nutrition And Real-Cheese Flavor, Combined With Excellent Meltability |
| Flavor | Tangy, Pungent Cheesy Flavor Balanced With Mustard & Worchestire Sauce - Similar To Well-Seasoned, Over-Mature Mature Cheddar But More Balanced | Rich, Creamy Velvety Tangy Cheese Almost Identical To American Cheese And Akin To An Infusion Of Colby, Swiss & Cheddar |
| Manufacturing | Whey Emulsified With Oil, Flavored & Stabilized | Whey Protein & Milk Protein Recombined As Whey And Curds Before Flavoring & Emulsification |
| Availability | Philippines, Canada, US, Mexico, Venezuela, Limited Global Availability | US, Canada, Panama, Hong Kong, Philippines, South Korea. |
| Ingredients | Whey, Milk, Canola Oil, Maltodextrin, Milk Protein Concentrate, Sodium Phosphate, Less Than 2% Of Modified Food Starch, Salt, Lactic Acid, Whey Protein Concentrate, Mustard Flour, Worcestershire Sauce, Sodium Alginate, Sorbic Acid As A Preservative, Color Added, Cheese Culture, Enzymes, Natural Flavor | Milk, Water, Whey, Milk Protein Concentrate, Milk Fat, Whey Protein Concentrate, Sodium Phosphate, 2% Or Less Sodium Calcium Phosphate, Lactic Acid, Sorbic Acid, Sodium Citrate, Sodium Alginate, Enzymes, Apocarotenal, Annatto, Cheese Culture |
| Sizes | 15-Ounce Jar, 1-Pound Sachets x 6 | Velveeta Original Cheese 16 ounce, 32 ounce, 64 ounce blocks | 12 Ounce Velveeta Shells & Cheese | 4 Ounce Velveeta Cheese Sauce Pouches |
| Additional Product Lines | Cheez Wiz Light, Tex Mex, Salsa Con Queso, Italia, Bacon, Pimento | Velveeta Cheesy Bowls - Lasagna Meat With Meat Sauce, Bacon Mac & Cheese With Smoky Cheese Sauce | Velveeta Skillets - Chicken Alfredo, Creamy Beef Stroganoff, Classic Lasagna | Velveeta Queso Blanco | Velveeta Mild Mexican Pasteurized Cheese | Velveeta Shreds |
| Affordability | $4-5/15-Ounce Jar | Block - $0.25 To $0.50 An Ounce | $1/Pouch | $3-4 Shells & Cheese | $6-7 Shells & Cheese Jumbo |
Cheese Whiz vs Velveeta
Cheese Whiz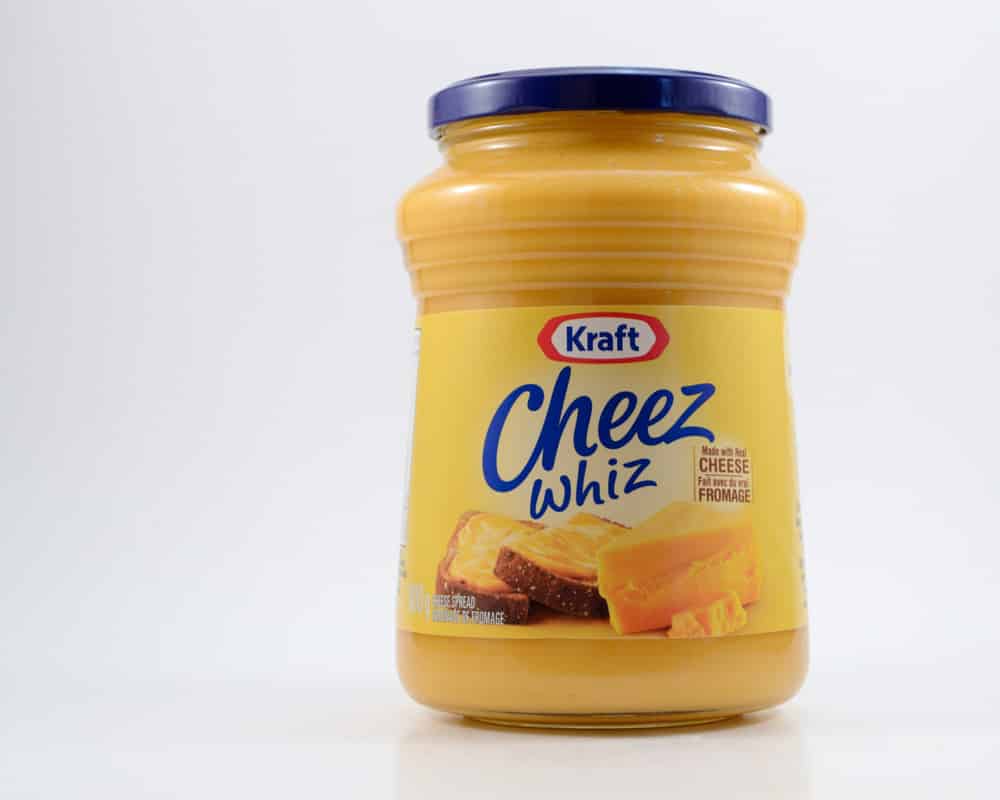 Fondly known to fans as the perfect cheese for the scary but beloved scenario of cheese-on-a-drip, Cheese Wiz has been a favorite for many since the fifties. Let's look closer at what makes this cheese dip, cheese spread, cheese sauce all-in-one such a popular, long-standing favorite.
Origin
Edwin Traisman, who worked from the America-based Kraft Foods Group, invented Cheez Wiz sometime during the early 1950s.
Certain states in the US received their first Cheez Wiz deliveries late in 1952, whereas the rest of the nation, and the vast majority of places, first saw the processed cheese sauce/spread in 1953.
Description
Cheese whiz is processed cheese spread, sauce, and dip created from a cheese-like emulsion of whey and other ingredients that are supplied with an orange and yellow color while delivered in glass jars.
Flavor
As the cheese that's typically topping a Philly cheesesteak, one can expect a tangy, pungent sauce with a subdued but lingering funk that melds with an infusion of mustard and Worchestire sauce.
It's not cheddar cheese but, at the same time, delivers a taste of its own that's best imagined as a very well-matured, well-seasoned cheddar.
Manufacturing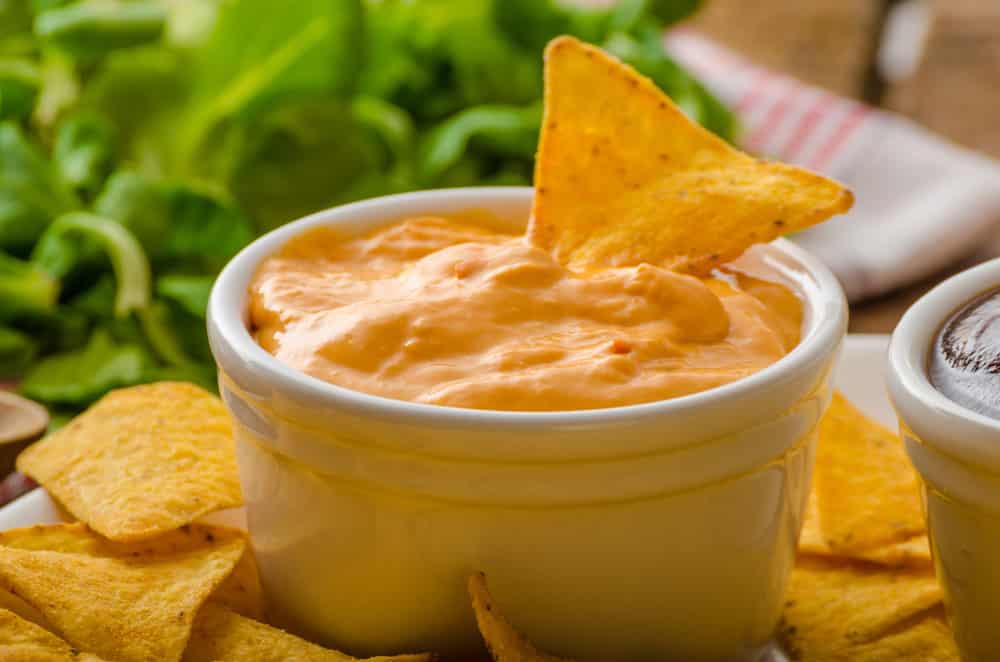 Cheez Whiz is essentially a whey, not a cheese which is why Kraft describes it as a "cheese dip". The whey is emulsified with oil and flavored before being brought to shelf stability.
Availability
This cheese spread is widely available in the Philippines, Canada, the US, Mexico, and Venezuela. It's safe to say that this cheese spread has become the most popular processed cheese food.
Ingredients
Kraft's ingredient list for Cheez Whiz carries whey, milk, canola oil, maltodextrin, milk protein concentrate, sodium phosphate, less than 2% of modified food starch, salt, lactic acid, whey protein concentrate, mustard flour, Worcestershire sauce, sodium alginate, sorbic acid as a preservative, color added, cheese culture, enzymes, and natural flavor from the process itself.
We know that the stabilizing agents include carrageenan and xanthan gum and that the spices include garlic powder, ground celery, and tamarind.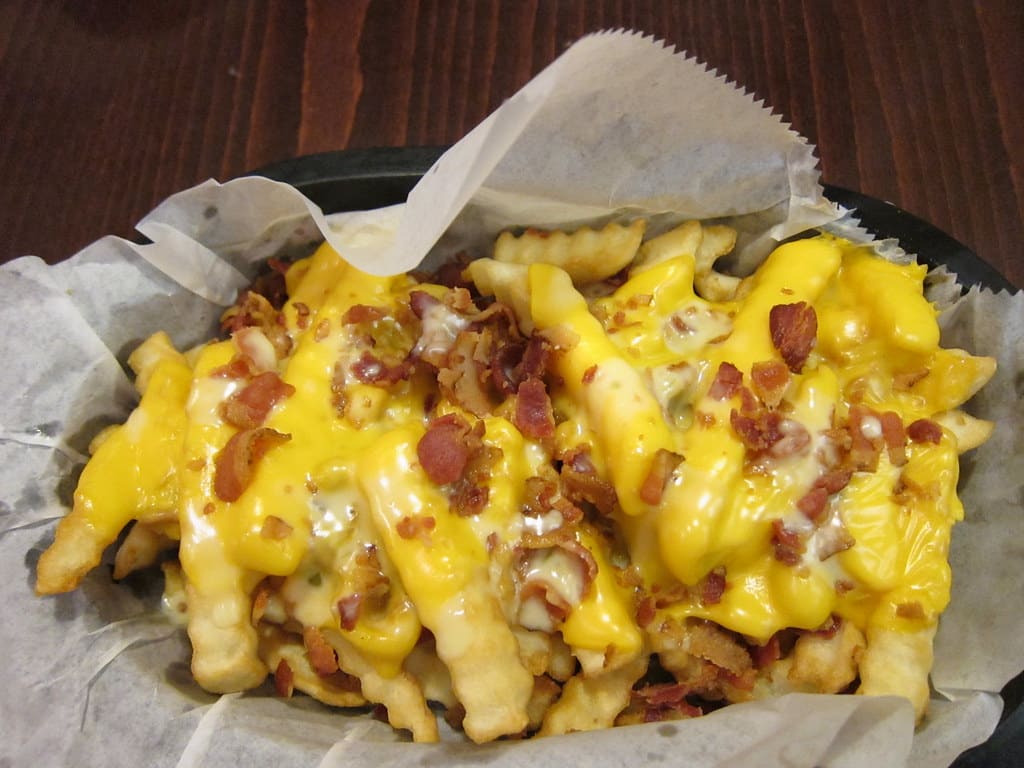 Despite containing no actual physical cheese, all the components of cheddar cheese are present, which grants the authentic cheesy flavor instead of a totally artificial attempt at cheese.
Sizes
There are several different sizes of Cheez Wiz available. The original jar weighs 15 ounces and is on offer in multi-packs that offer considerable savings.
Kraft also has Cheez Wiz Cheese Sauce and Cheez Whiz Cheese Spread (the pasteurized formula) available in 1 pound pouches that are sold in six-packs.
Additional Product Lines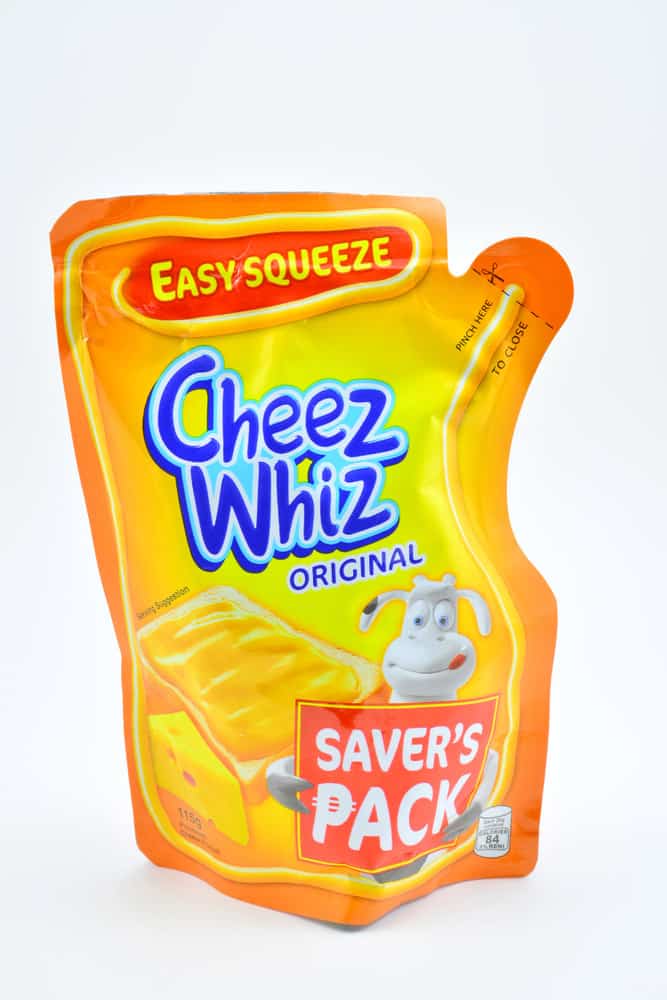 There are different varieties of cheez whiz available in the market, including Cheez Wiz Light, Tex Mex, Salsa Con Queso, Italia, Bacon, and Pimento. In addition, salsa con queso is another famous variety of this cheese spread that makes a great dip.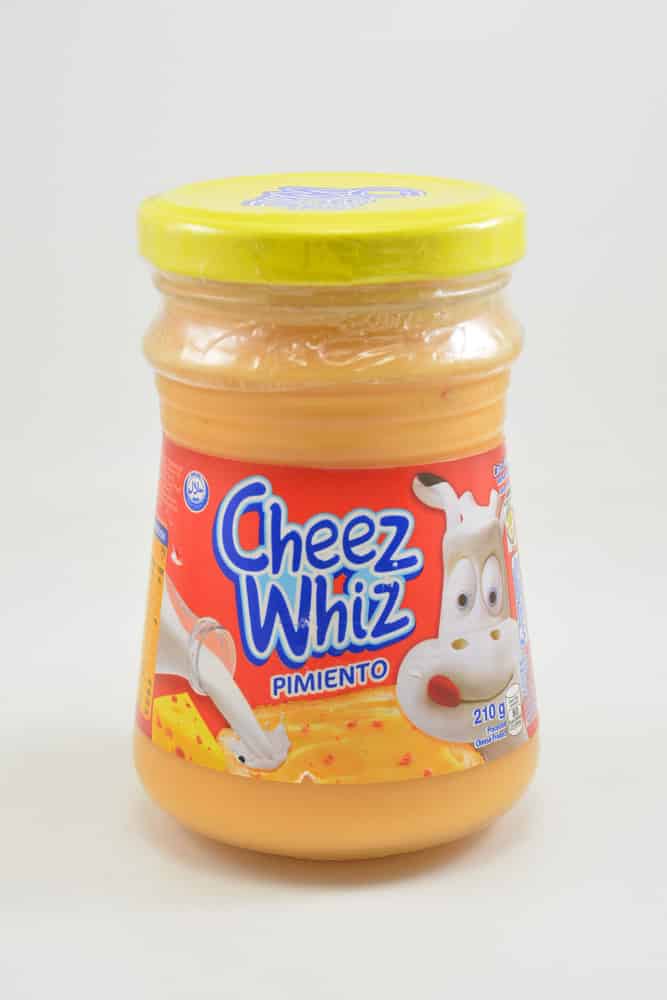 However, ever since the initial launch, the formula has changed. Changes in dairy resources and regulatory environments have impacted the spread and given it a slightly lower "cheese" composition. All this translates to is an ever-so-slightly lighter flavor, but even this is subjective.
Affordability
No matter where in the US you shop, Cheez Wiz Original Plain Cheese Dip always retails for anywhere between $0.25 and $0.40 per ounce, which places the average cost of a 15-ounce jar at around $4.30.
Velveeta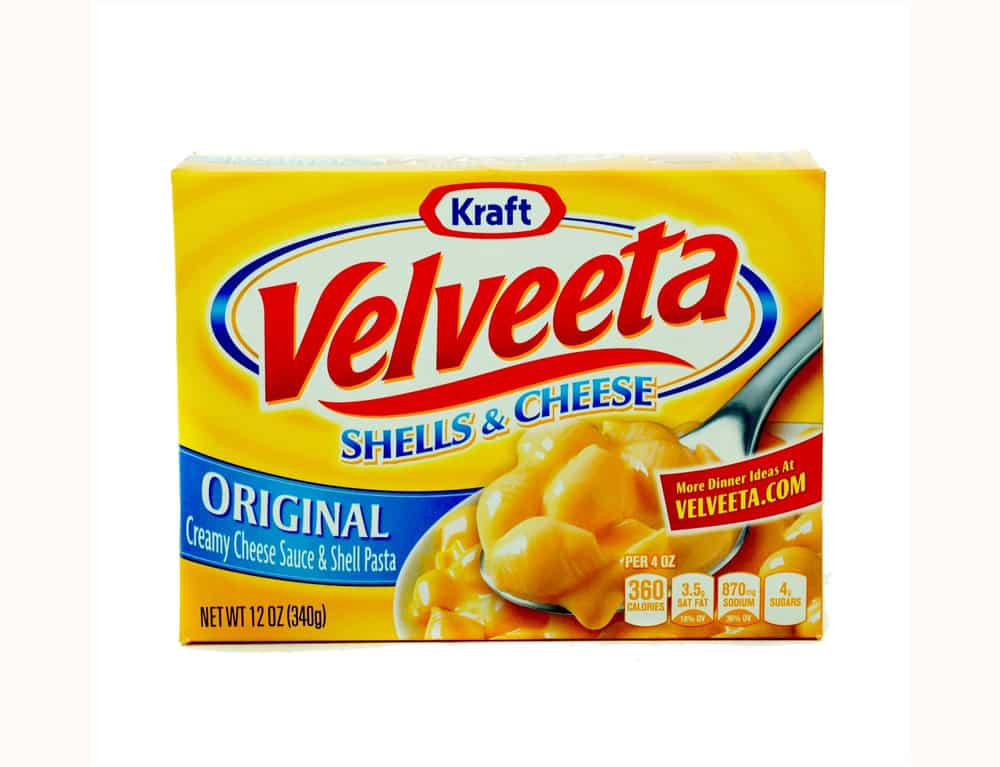 Velveeta is another processed cheese product brand. This processed cheese is popular for tasting the same as American cheese with a much smoother and softer texture as compared to non-processed cheese.
Origin
Velveeta cheese was invented by Emil Frey, who worked for the Monroe Cheese Company of New York in 1918. Years later, the company separated and founded itself as 'The Velveeta Cheese Company,' which was eventually sold to Kraft Foods in 1927.
Description
Velveeta is a velvety smooth pasteurized prepared cheese product that fuses the whey with the curd after both have been separated. The nutrition is surprisingly high, and the flavor is treasured for resembling American cheese to startling accuracy.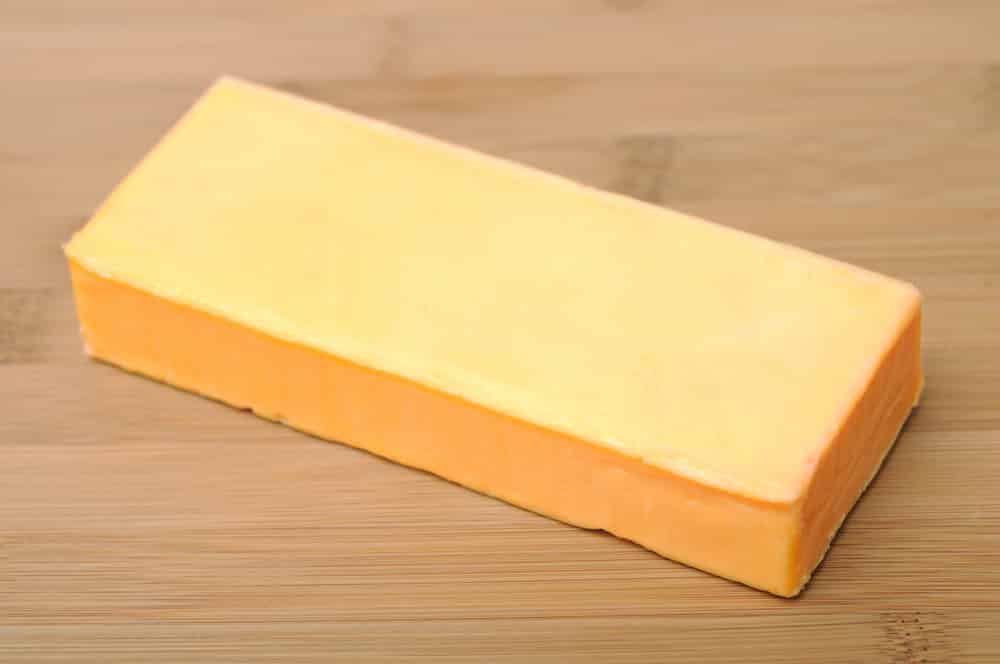 When Velveeta cheese is melted, it turns into a lump-free and liquid texture which is why so many dense sauces and grilled cheese dishes favor Velveeta.
Flavor
Expect a flavor that's almost identical to American cheese from Velveeta, just richer and creamier. It has the taste and texture of Colby, Swiss, and Cheddar all combined into a rich, smooth meltable saucy spread.
Manufacturing
The very first formulation of Velveeta included real cheese, but today it incorporated whey protein and milk protein with milk, fat, and stabilizers to create a spread.
A combination of whey and curds, as well as oil and flavoring, are emulsified to create the silky smooth cheese sauce known as Velveeta.
Availability
You'll find Velveeta available in the US, Canada, Panama, Hong Kong, the Philippines, and South Korea.
Ingredients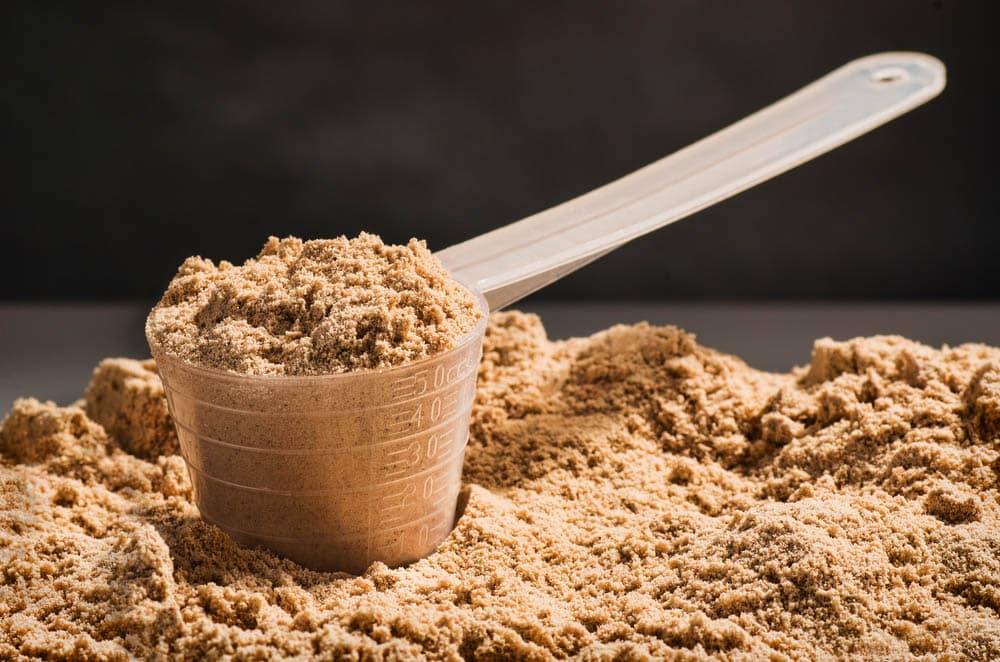 Kraft Foods cites milk, water, whey, milk protein concentrate, milk fat, whey protein concentrate, sodium phosphate, 2% or less sodium-calcium phosphate, lactic acid, sorbic acid, sodium citrate, sodium alginate, enzymes, apocarotenal, annatto, and cheese culture as the ingredients of Velveeta.
Sizes
Velveeta Original Cheese is on offer in 16 ounces, 32 ounce, and 64-ounce blocks. There are also 12-ounce boxes of a Velveeta Shells & Cheese mixture. Finally, Velveeta Cheese sauce is sold in 4-ounce pouches supplied in packs of various sizes.
Additional Product Lines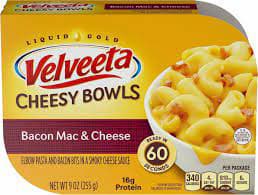 Other than blocks of cheese and cheese sauce, Velveeta has expanded to include the Velveeta Cheesy Bowls selection of microwave meals. Velveeta Cheesy Bowls are available in Lasagna with Meat Sauce and Bacon Mac & Cheese with Smoky Cheese Sauce.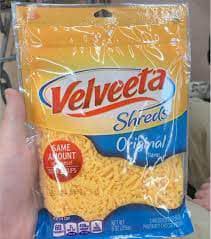 The company also has the Velveeta Skillets one-pan dinner kit range available in Chicken Alfredo, Creamy Beef Stroganoff, and Classic Lasagna. Furthermore, fans will also find loaves of Velveeta Queso Blanco, Mild Mexican Pasteurized Cheese, and Velveeta Shreds on offer.
Affordability
Depending on the quantity of Velveeta purchased, it ranges between $0.25 and $0.50 an ounce for the block and around $1 per 4 ounces pouch.
Velveeta Shells & Cheese Original Shell Pasta & Cheese Sauce Meal retails for between $3 and $4 at most US retailers, whereas the jumbo shells are available at approximately $6-$7 for the 10.1-ounce box.
Which Is Better, Cheez Wiz Vs. Velveeta?
Cheez Whiz has its fan base but isn't known to be the healthiest cheese. There's no real drawback to the recipe or health drawbacks – the nutrition is fine, but Velveeta cheese was specifically created to be healthy.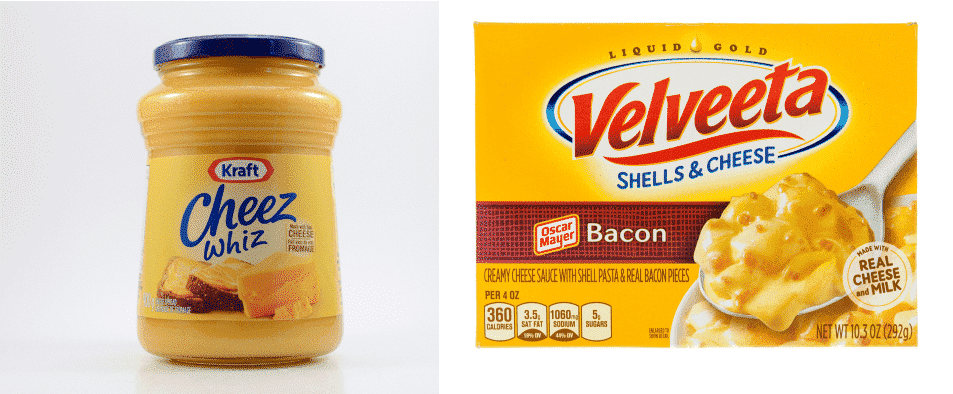 It was also the first cheese spread approved by the American Medical Association to be marketed as nutritious. So which is better between Cheez Wiz vs. Velveeta?
Well, Velveeta goes perfectly with grilled cheese sandwiches and chili con queso, whereas Cheez Wiz should be the go-to choice for anyone who wants anything with a flavor resembling the cheese on a Philadelphia cheesesteak.