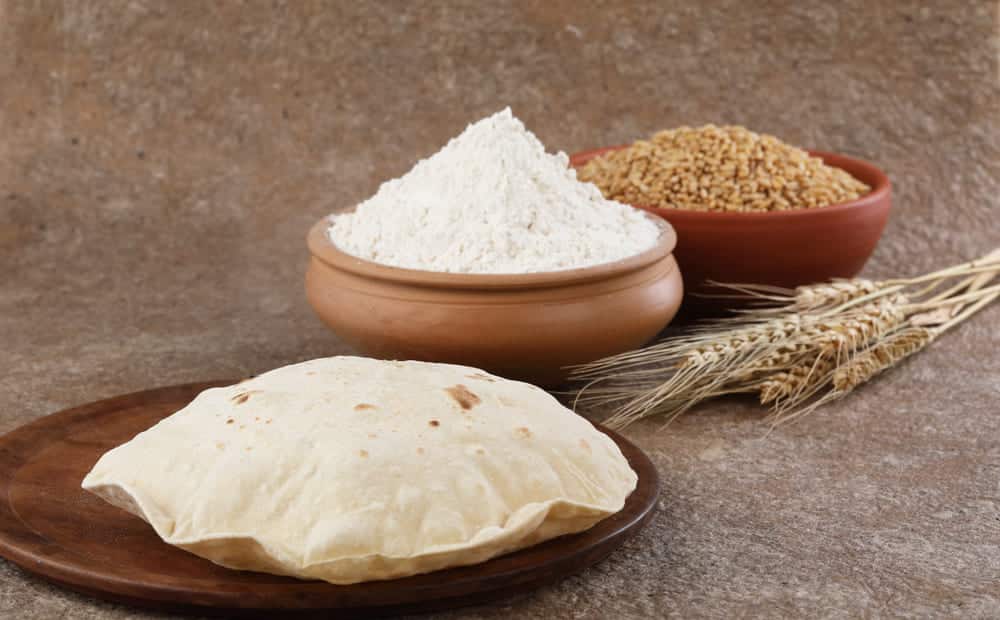 If you are Indian or Pakistani, we are certain that you consume roti (chapati) on a daily basis. These chapatis need specific flour, such as wheat. In case you want to make chapati but have run out of flour, we are sharing the chapati flour substitutes for you!
Chapati Flour Substitutes
The chapati roti made from chapati flour has sweet undertones with optimal fluffiness. These chapatis go perfectly with curries, vegetables, and legumes. However, it needs special chapati flour, known as wholewheat flour. It is basically the powdery ingredient that is made by grinding down the whole grains of wheat (some people also call it wheatberry).
It is used for making roti/chapati, but it's also suitable for baking bread and other baked recipes. It can be mixed with white flours (bleached or unbleached) for restoring the nutrients and texture. In some cases, this flour is also milled from spring wheat but will have germ and bran. Now, we are sharing the chapati flour substitutes for you!
1) Jowar Bhakri
This is an ingredient like flour that can be used to make chapati/roti. It is widely used in Maharashtra and is available pretty easily. The best thing about Jowar Bhakri is that it's a healthy grain and doesn't have many calories. That being said, it's a great option for people who need healthy eating and wants to lose weight while eating roti (yes, it's available). Jowar Bhakri doesn't have gluten, so it's perfect for gluten-sensitive people. In some cases, it is also famous as bajra flour, so just explore the aisles. However, it has a brown color, so the chapatis might turn out darker.
2) Thalipeeth
If you want to substitute or replace chapati flour, thalipeeth is a great option. However, it has a small proportion of wheat flour. Thalipeeth is the combination of coriander seeds, roasted tapioca, cumin seeds, rajgira, wheat, and rice. This flour is suitable for making or preparing the hard dough. This dough can be used to make discs (roti). Thalipeeth is suitable for health-conscious people since it has multiple yet healthy ingredients.
3) Multigrain Flour
When you want to replace chapati flour, multigrain flour is a suitable option. However, you should opt for a refined version because it makes better chapatis. Generally, this flour is hard to handle, which is why it's used for making tandoori roti. Multigrain flour offers a distinct texture and taste because the preparation method is different. On top of everything, multigrain flour has multiple grains, such as ragi, jowar, and bajra, which makes it a healthier option.
4) Oats
For people who are looking for a healthier option for the replacement of chapati flour, you can opt for oats. Also, oats can be used to make roti. The users can knead the dough with water and oats and roll the chapatis from this dough. However, if you use oats, keep in mind that the edges will be uneven since oats are coarse, but the flavor is amazing. For improving the taste, you can also add chopped onions, green chilies, and coriander.
5) Besan
Besan can be used to substitute chapati flour since it can be used to make roti. Besan is basically chickpea flour. It can be kneaded just like you would knead chapati flour. Besan is made from chana daal (100% pure) and is known as gram flour. The chapatis made from besan look pretty similar to roti made from chapati flour. However, the texture is heavier, so you will feel heavier.
6) Ragi
Ragi is commonly known as millet, and its flour can replace chapati flour. It is basically the coarse grain with a reddish-brown color. It has a high iron, calcium, and protein count. The chapatis made from ragi have a nutty flavor and fragrance. Some people feel like the taste is bland. However, you can add coriander, salt, ajwain, and jeera for improving the flavor (they must be added during kneading).
7) Makki Flour
This flour originates from Punjab and is widely available across India. This flour can replace chapati flour pretty easily, and the taste can be improved by adding ajwain and salt. Makki flour has a yellow color and is rich in nutrients. The most intriguing factor is that makki flour is suitable for making tacos, nachos, and tortillas (and chapati, of course).