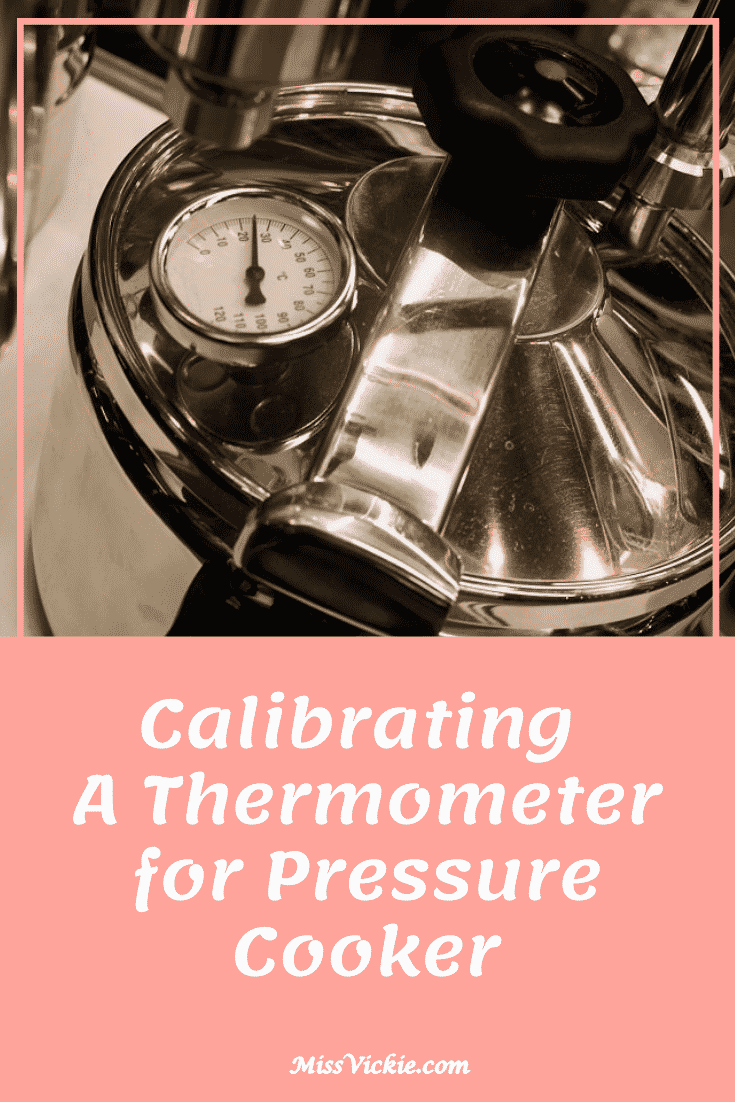 A pressure cooker comes with many benefits including its multicooker ability. As a result, pressure cookers are some of the best tools for busy home cooks to invest in because of the versatility and effectiveness they offer. Although pressure cookers should be included in every kitchen that wants to produce healthy and nutritious food, pressure cookers also come with certain limitations, albeit small ones.
Calibrating A Thermometer For Pressure Cooker
For instance, when using a pressure cooker, it is impossible to test for the doneness of your dishes. Pressure cookers rely on an airtight seal for the pressure and heat inside to be maintained. As such, when you lock down the lid of a pressure cooker, you cannot use your thermometer to probe for doneness. That said, it is always recommended that you check the final temperature of the dishes you are making using a fast, accurate and well-calibrated instant-read thermometer.
Calibrating a thermometer
Just like all gadgets and devices out there in the market, thermometers are also prone to inaccuracies and inconsistencies especially as they continue to age. The accuracy of thermometers can be impacted by a number of things including extreme temperature changes or when roughly handles. If you do not use your thermometer regularly, you will want to make sure that it is properly calibrated so that it can perform at its best while giving you accurate readings. Lucky for you, calibrating a thermometer is a simple and easy process.
How to calibrate a thermometer
There are various techniques that are utilized when calibrating thermometers. Most analog and digital thermometers allow users to offset the temperature when adjusting for the calibrated value. Before you start calibrating your thermometer, ensure that you go through the instructions on the package to ensure that you do it correctly. There are 2 main methods that are used commonly for calibrating as well as testing the accuracy of your thermometer. They include:
The ice water technique
Ice water calibration is used commonly for thermometers to be used for measuring low temperatures. To use this technique, simply add crushed ice in a bowl of distilled water. Stir the ice water to form a slushy-like mixture and let the mixture sit for about 2 minutes before placing your thermometer inside.
Make sure to stick the thermometer at least 2 inches deep into the mixture but take care to ensure that it does not touch the bottom or the sides of the bowl. Wait for at least 30 seconds after sticking the thermometer in the bowl to read the recorded temperature. The temperature should read 32°F or 0°C. If this is not what is recorded, use the dial on the thermometer to adjust the temperature until it lands on 32°F or 0°C.
The boiling water technique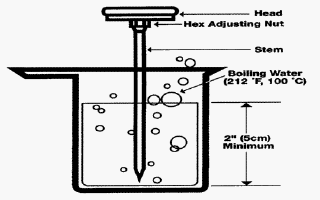 To use this technique, bring a bowl of water to a boil before placing the thermometer in the boiling water. Make sure that it is submerged at least two inches deep in the water and wait for 3o seconds before checking the reading. The thermometer should record 212°F or 100°C. if it does not, keep the thermometer inside the water and use the dial to make adjustments until it reaches 212°F or 100°C.