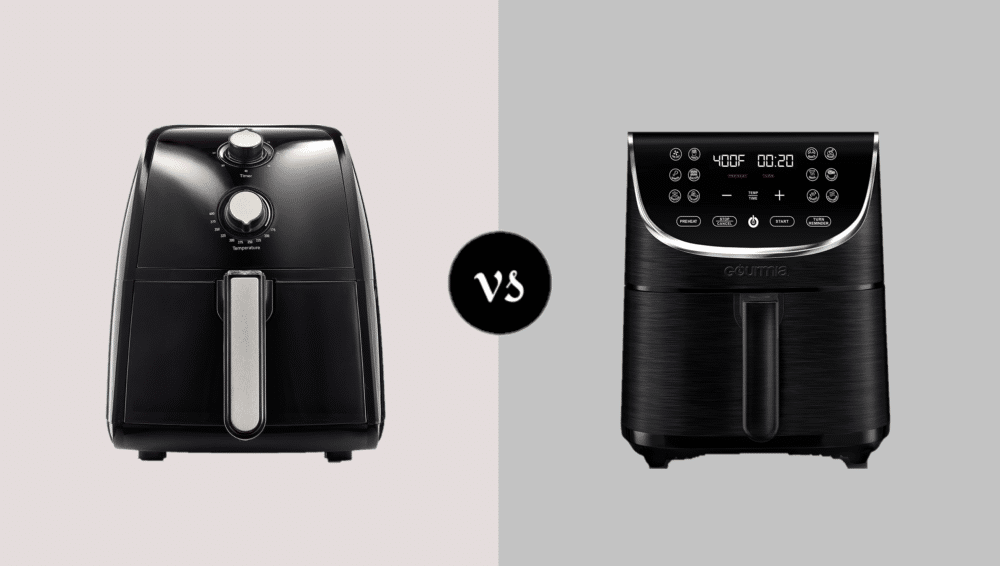 Cooking food with hot air was unheard of just a few years ago. Today air fryers are essential kitchen appliances, especially for the health-conscious. This is because they prepare foods with far less fat than traditional fried foods.
There are quite a few different brands of air fryers around, so you'll need to research them. The Bella and Gourmia Air Fryers are two brand names that are compared together.
Which is the better air fryer? After all, Bella and Gourmia are two popular brands with different features and capacities.
Let's compare the Bella Air Fryer and the Gourmia Air Fryer so you can decide which of the two would be the better choice. Remember that each brand comes with different models. This is a general comparison of the two brands.
Bella vs. Gourmia Air Fryer
Bella Air Fryer
Gourmia Air Fryer
Bella products are

designed in the USA

. Bella is a well-known company for its kitchen appliances. Bella appliances are made with superior materials and modern manufacturing techniques.
The Gourmia company is

headquartered in Brooklyn, New York

. Their mission is to produce products that can help cooks make easy, healthy meals.

The durable Bella comes with a touch screen digital display for ease of use. The multifunction touchscreen air fryer prepares many healthy dishes using little or no oil. Their range of air fryers can cook a family sized meal or a simple, quick meal for one person.

The durable Gourmia Air Fryer has a more traditional design. Some models have a manual dial for time and temperature settings. However, with others, you get one-touch cooking functions to bake, fry, dehydrate, and more. You can easily adjust temperatures and times on the display.

Make sure your Bella air fryer is

placed on a stable, level table

. Plug the cord into the wall outlet and select your frying temperature from 175°F to 400°F. Set your timer dial as well as 3 minutes for preheating. The orange 'heat on' light comes on, and your air fryer starts to heat.
Make sure your Gourmia air fryer is placed on a

stable, level surface

. Plug the air fryer into an outlet, tap the power icon on, select the preset, and then tap "start."
The 10-in-1 Bella Pro model has

1,500 watts

of power.
The power of most Gourmia models is

1700W

.

This airfryer comes with a preheating function. Some other features include an automatic shut-off timer. It also has an adjustable temperature control, so you can cook at temperatures ranging from 175°F to 400°F. The built-in timer can be set for up to 60 minutes.

Some Gourmia models don't have a preheating function, while others do. However, if your air fryer doesn't automatically preheat, you can preheat it manually. Select the air fry setting and set the temperature as required. Most times, the manufacturer recommends a 3-minute preheat.

The smaller air fryer models have a

2.6-quart

capacity. It's suited for small families, couples, and individuals. But then again, the Bella Pro models go right up to the

8-quart

size. It can feed a group of eight people. Also, the divided basket means you can cook two foods at once.
Some models have a compact

2-quart

capacity air fryer, which means it caters for individuals up to larger groups. The Gourmia's

10-quart

capacity air fryer also comes with a dual basket to prepare different foods at one time.
The Bella timer is for up to

60 minutes

.
The Gourmia timer is for up to

60 minutes

.
Adjustable temperature from

175°F to 400°F

Adjustable temperature ranging from

180°F to 400°F

. This air fryer has an additional feature. You can rotate the food inside the basket during cooking. This ensures more even cooking.

It has a removable, non-stick basket. It is dishwasher-safe.

It has a removable, non-stick basket. It is dishwasher safe.

The Bella is

generally cheaper than the Gourmia

, so it suits budget buyers.
The Gourmia tends to be

more expensive than Bella

air fryers.
The Bella Air Fryer comes with a

2-year warranty

. This warranty covers defects in materials and workmanship.
The Gourmia Air Fryers comes with a 1-year warranty.
Check out customer reviews
When you check out customer reviews and ratings, you see that these two sought-after brands offer customers different models.
The smaller models are great for individuals and couples while the larger ones are for larger groups of people. Customers then give their thoughts on the particular model they bought.
You will find that Gourmia has a few more advanced features than Bella, such as being able to use Bluetooth to find recipes. Then again, cooks love the trendy colors that you get with the Bella range.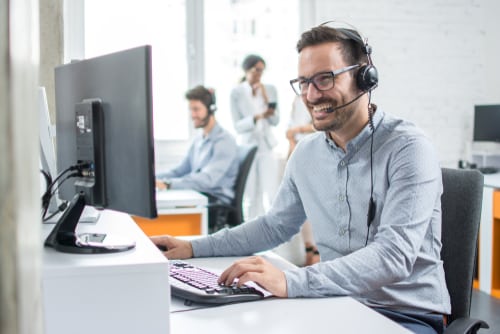 Bella or Gourmia – Which is better?
So, Bella or Gourmia? Which is the better air fryer? Certainly, the cooking possibilities with these two air fryers is endless.
Whether food is fresh or frozen, you can air fry all kinds of foods, from chicken to vegetables to french fries and much more. Your choice of air fryer will depend on the size of your family or whether you're an individual.
What kind of features are needed for your kind of cooking? Air fryers come in different styles with lots of different features. Regardless of style, one benefit of each of these two is that they're so easy to clean.
Kitchen appliances and culinary experts test air fryers to make it easy for us to make an informed choice when buying.
Top air fryers such as these two will air fry your food to a tasty, crispy texture with moist, succulent interiors. Both brands offer awesome features, so it's not particularly easy to choose one over the other.