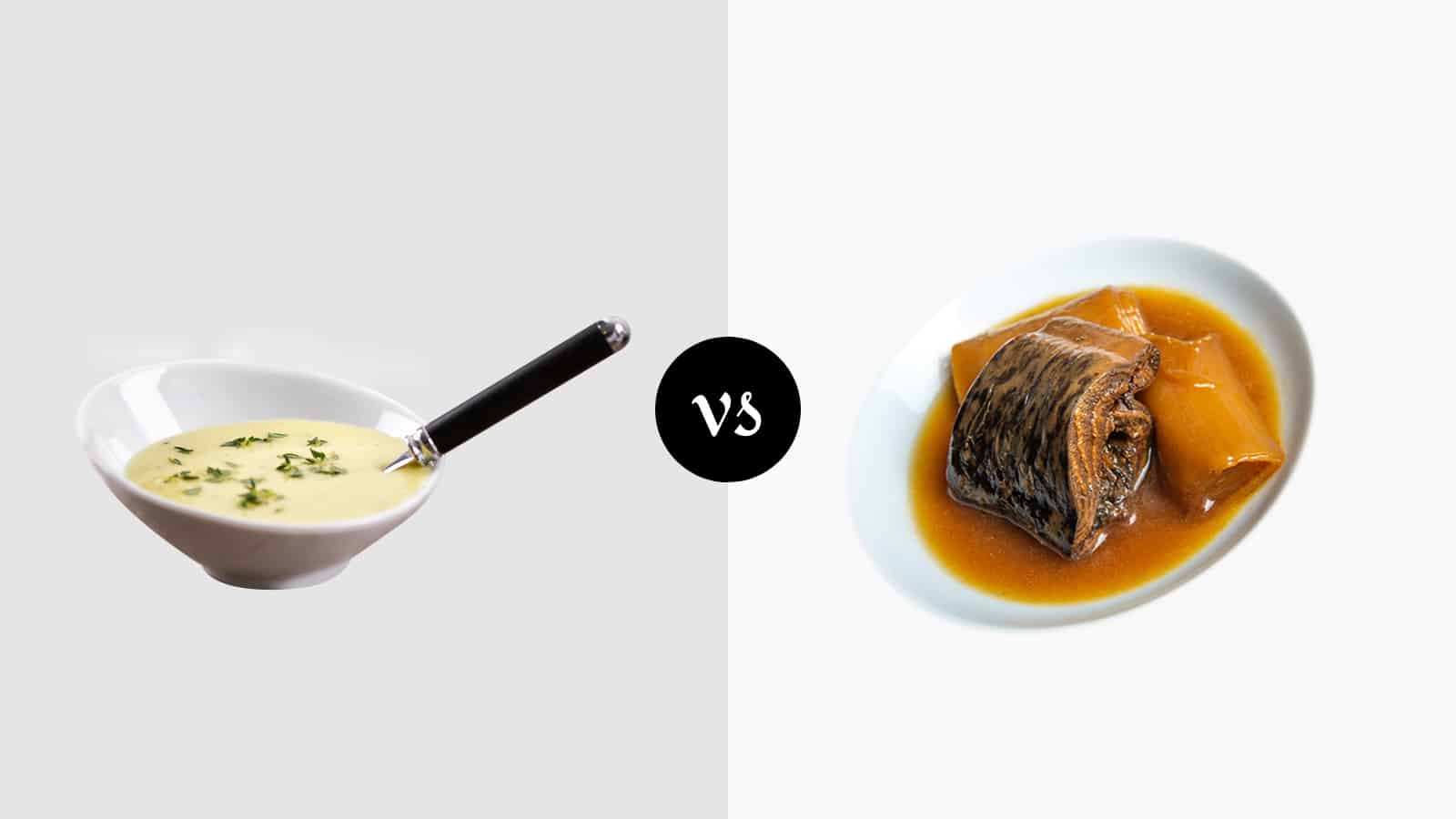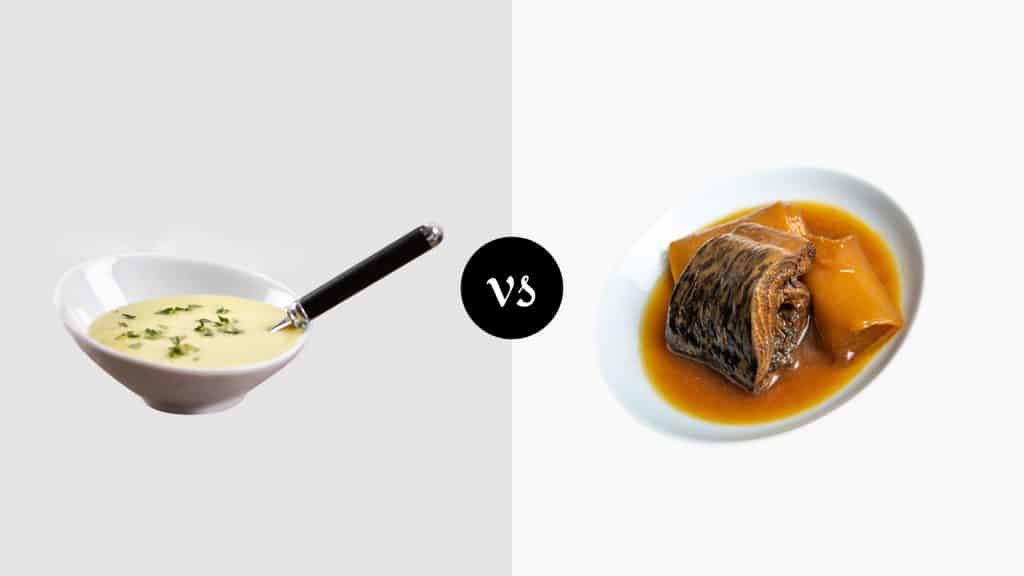 DISCLOSURE: This post may contain affiliate links, meaning when you click the links and make a purchase, I receive a commission. As an Amazon Associate I earn from qualifying purchases.
It's hard to deny just how much most of us love steaks. As we all know, deliciously moist steaks demand equally impressive sauces. However, when it comes to serving steak with sauce, one has to be extremely particular about the flavor and consistency.
How does one choose between bearnaise vs. bordelaise sauce, two leading choices that have arisen as favorites over the years? After all, these two often end in a tie.
In this article, we'll be taking you through a look at everything that you need to know about these two amazing classic options so that you can make an informed decision.
Béarnaise Vs. Bordelaise Comparison
| | Béarnaise | Bordelaise |
| --- | --- | --- |
| Definition | Classic French Steak Sauce, Clarified Butter & Herb Emulsion Of Wine & Vinegar Reduction | Classic French Red Wine & Bone Marrow Sauce Combining Butter, Shallots, Seasoning & Demi-Glace |
| Origin | France, 1836 - Chef Jean-Louis Françoise-Collinet | Burgundy, France, 18th Century |
| Naming | Named After Béarn Whereby Le Pavillon Henri IV (Origin Restaurant) Derived Its Name From Henri IV Place Of Birth | Named After The Town Of Bordeaux Famous For Its Wines Of Which Dry Red Is Included In this Classic Recipe |
| Appearance | Opaque & Light Lemony Yellow, Silky Smooth Buttery Sauce With Flecks Of Green From Herbs | Rich, Deep, Dark Brown With Buttery Oily Silkiness To Its Texture |
| Flavor | Subdued Liquorice Flavor With Light Buttery Notes & Nutty Neutrality | Complex Beefy Rich Savory Taste With Sweet Notes And Roasty Depth Of Flavor |
| Ingredients | Fresh Tarragon, Fresh Shallots, Fresh Chervil, Vinegar, Dry White Wine, Egg Yolks, Clarified Butter, Salt, Pepper | Classic French Bordelaise - Dry Red Wine, Bone Marrow, Butter, Shallots, Pre Prepared Demi-Glace | New Orleans Bordelaise - Butter, Olive Oil, Shallots, Parsley, Garlic, Demi Glace |
| Method | Softened Butter Heated And Infused With Tarragon, Chervil, Crushed Peppercorns (Optional) Wine And Vinegar As Well As Seasoning Cooked In, Then Mix Transferred To Double Boiler For Butter & Egg Yolks To Be Slowly Added/Emulsified | Espagnole, Shallots, Cracked Peppercorns, Thyme, Bay Leaf And Red Wine Combied And Reduced To Thick Before Straining And Flavoring With Lemon Juice And Salt. Finally, Poached Diced Bone Marrow Is Added To Sauce And Cooked Slowly & Briefly To Infuse |
| Uses | Steak, Chicken, Seafood (Salmon Suggested), Vegetables (Green Vegetables Suggested) | Steak, Red Meat, Demi-Glace Based Protein/Recipes, Savory Meals |
Béarnaise Vs. Bordelaise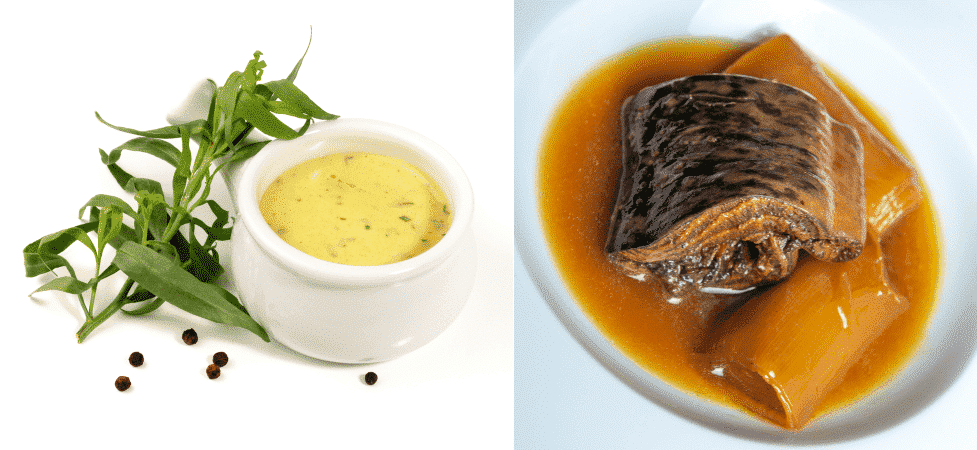 They may sound similar, and both suit steak, but bearnaise and bordelaise are two very different sauces. Here's a breakdown of the defining differences of both so that you always know exactly which you're in the mood for and the variety that suits your meal best.
Béarnaise Sauce
If you're fond of tarragon, béarnaise sauce, France's favorite steak sauce, may just become your new favorite. Its balance of flavor suits meat to perfection, standing out as a surprisingly versatile option no matter what you may be eating.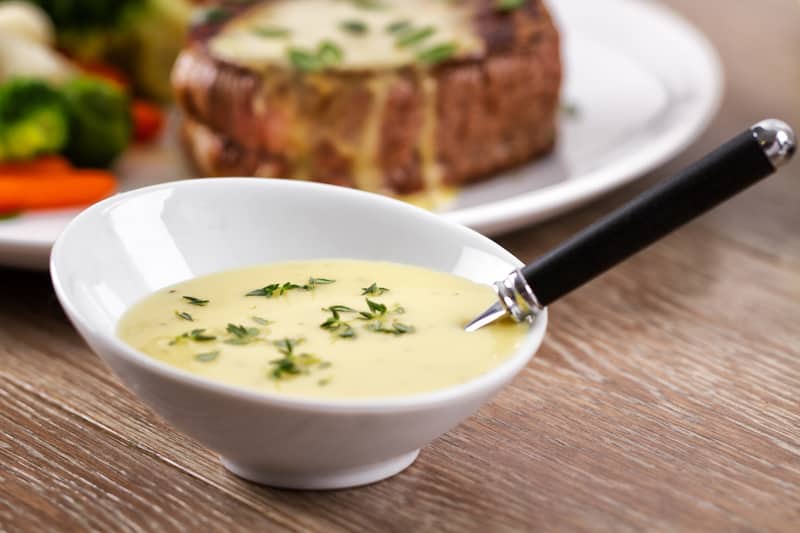 Let's take a closer look at béarnaise and what makes it such a timeless classic.
Definition
Considered by many, especially those fond of French cuisine, to be the quintessential steak sauce, Béarnaise is an egg, vinegar, and wine reduction infused with shallot, chervil, peppercorn, and tarragon.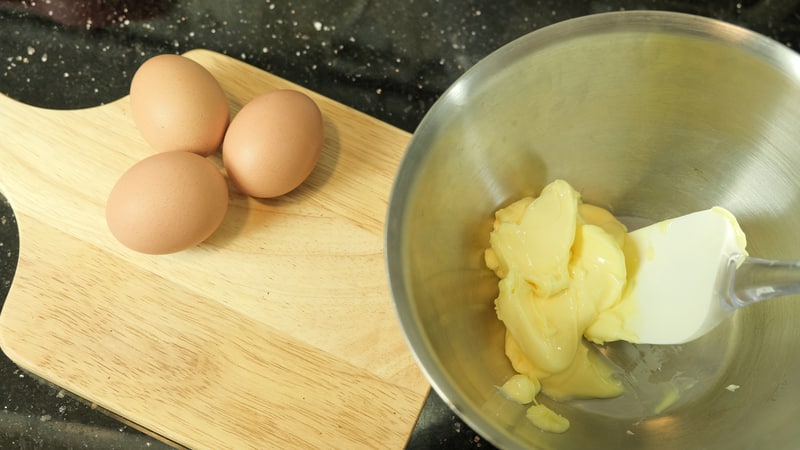 While many different methods of preparation exist, the classic variation always involves clarified butter, yolks, and other ingredients.
Origin
Béarnaise sauce originates in France and is largely accepted to be a closely related sauce to Hollandaise. Chef Jean-Louis Françoise-Collinet, the same person who accidentally invented puffed potatoes, invented the famed sauce in 1836.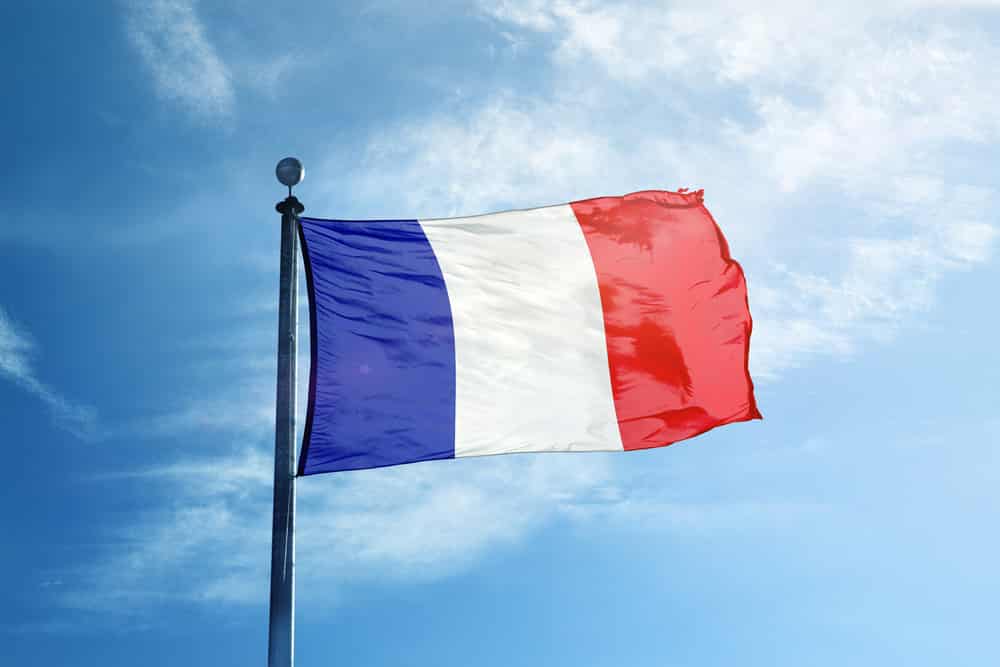 He first began serving it at the opening of the Le Pavillon Henri IV restaurant in the Saint-Germain-en-Laye commune situated north of the Paris city center.
Naming
Béarnaise sauce derives its name from Béarn in France, where the restaurant that invented the sauce found its inspiration. Le Pavillon Henri IV was situated within the former residence of Henry IV of France, who hailed from Béarn.
Today, the location is known as the French department of Pyrénées-Atlantiques.
Appearance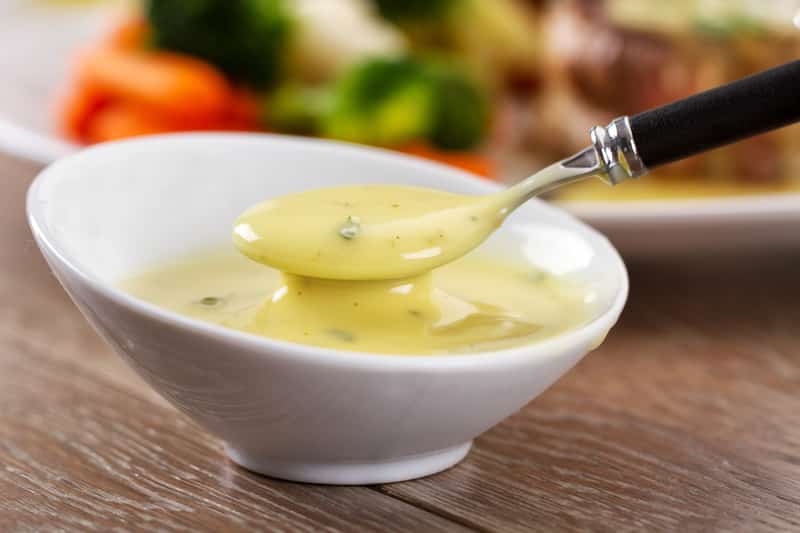 Béarnaise is a light lemon yellow and opaque, silky smooth buttery sauce with touches of green scattered and interspersed from the fresh herbs.
Flavor
Expect a subdued licorice flavor thanks to the tarragon with light buttery notes and nutty neutrality to its overall taste. Only the mild flavor of herbs lingers, while the buttery quality almost absorbs flavor from the meat or seafood it's being served on.
Ingredients
Classic béarnaise contains tarragon, shallots, chervil, champagne vinegar, dry white wine, egg yolks, clarified butter, salt, and pepper. Only fresh herbs are used, not those of the dried variety.
Any type of vinegar can technically be used but as a second-best option to champagne, use white wine vinegar.
Method
The best béarnaise sauce starts from softened butter. Butter is added to a pan over medium heat. The shallots, tarragon and chervil, and, optionally, crushed peppercorns (which the cook later removes) are then added and allowed to infuse, followed by the vinegar and wine.
Once reduced to a few ounces, the liquid is transferred to a bain-marie/double boiler and then slowly combined with melted butter spoon by spoon and egg yolks. Salt and pepper are stirred according to taste, and the sauce is served once it reaches the thickness desired.
Uses
Out of its many outstanding uses, béarnaise sauce is famous for being a steak sauce. As mentioned, it is the ultimate steak sauce in French cuisine. You can, however, serve béarnaise on just about any protein or seafood.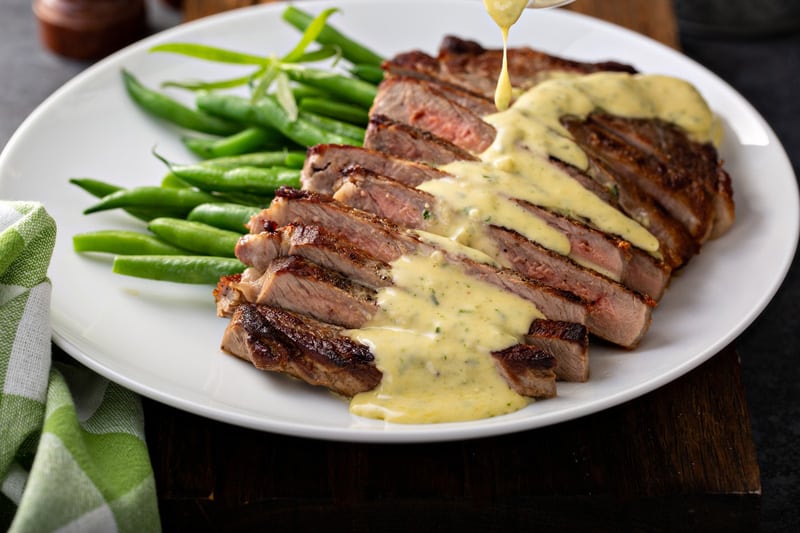 Most are blown away by the combination of salmon or chicken and béarnaise sauce. A little béarnaise goes a long way and tastes fantastic on vegetables too. Give it a try on asparagus, Brussel sprouts, and another green veg for a flavor pairing that's out of this world.
Bordelaise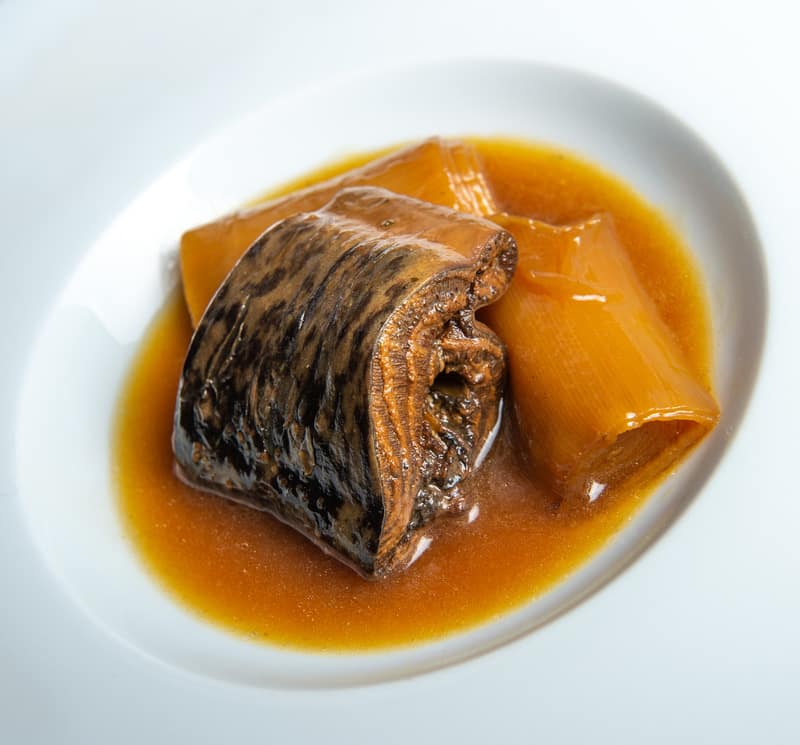 To many, bordelaise is simply known as French red wine steak sauce. After all, there are few sauces that can compare to the savory richness and perfect pairing to red meat. Here are the main characteristics that make Bordelaise sauce unforgettable and a must-try.
Definition
Bordelaise is a classic French sauce that combines dry red wine, bone marrow, butter, shallots, and Demi-glace, or one-part Espagnole sauce and an equal part brown stock finished off with a sherry.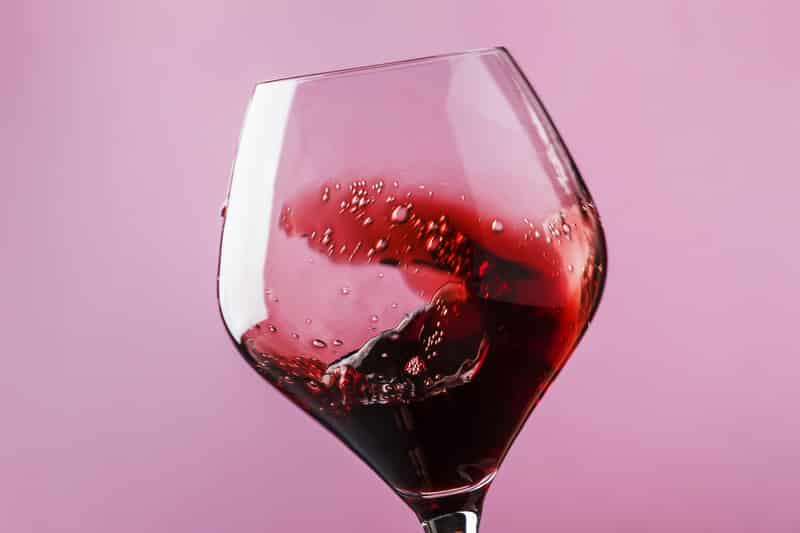 There is also New Orleans bordelaise which bases its flavor around garlic instead of red wine and marrow. The two are actually very different sauces with completely different ingredients despite both being called 'Bordelaise.'
Origin
While the exact period that bordelaise arose is unknown, it did rise to popularity in the 18th century. It is a recipe that was first created in Bordeaux, France, capitalizing on the region's famous wines to infuse immense flavor into the sauce.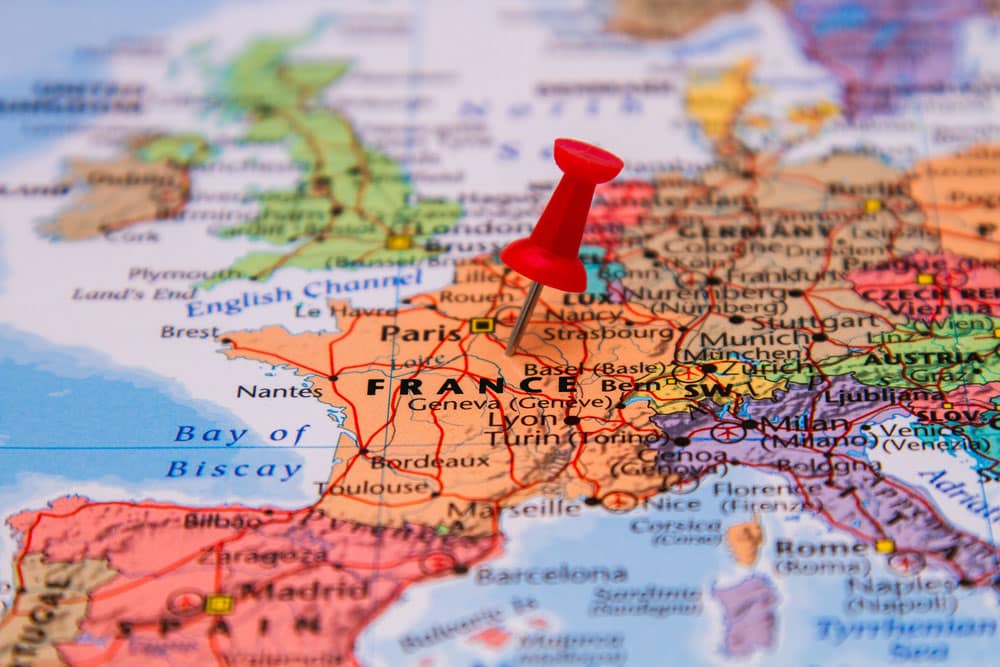 Today, any red wine is often used, not just Burgundy and similar types of wine.
Naming
As the name suggests, bordelaise is named after its area of origin, the Bordeaux region of France. Keep in mind, bordelaise can also refer to the New Orleans version, which is quite different from the original from classic French cuisine.
Appearance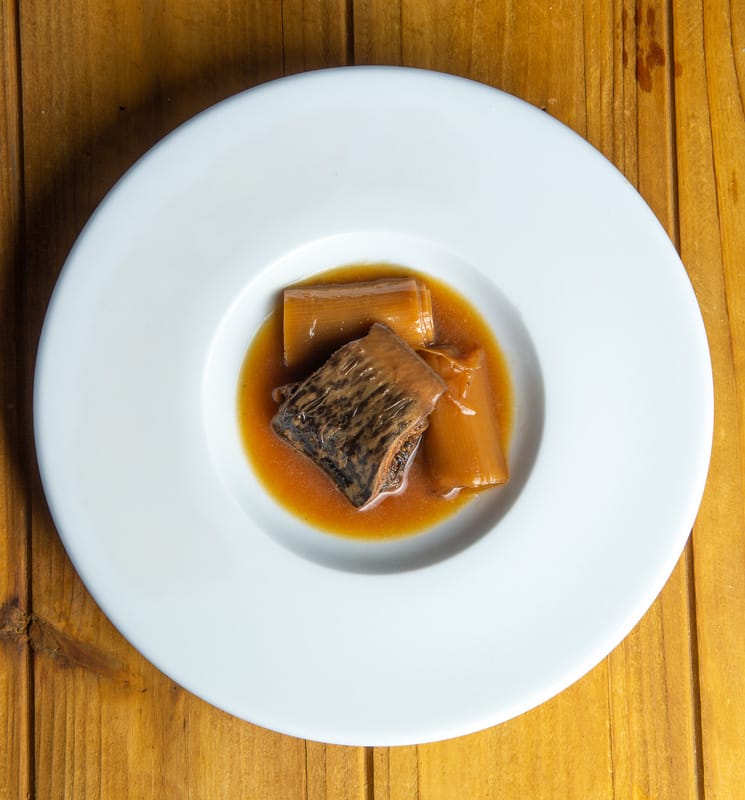 This classic French sauce has a rich brown appearance with deep darkness achieved by the inclusion of red wine and shallots. An oily, buttery quality will be noticed in both the texture and flavor, thanks to the bone marrow.
Flavor
French Bordelaise sauce offers an immense roasty depth of flavor, building on a base of demi-glace, which makes it beefy, rich, and savory. An almost sweet quality is granted thanks to the bone marrow without breaking or dampening the intensity of meatiness.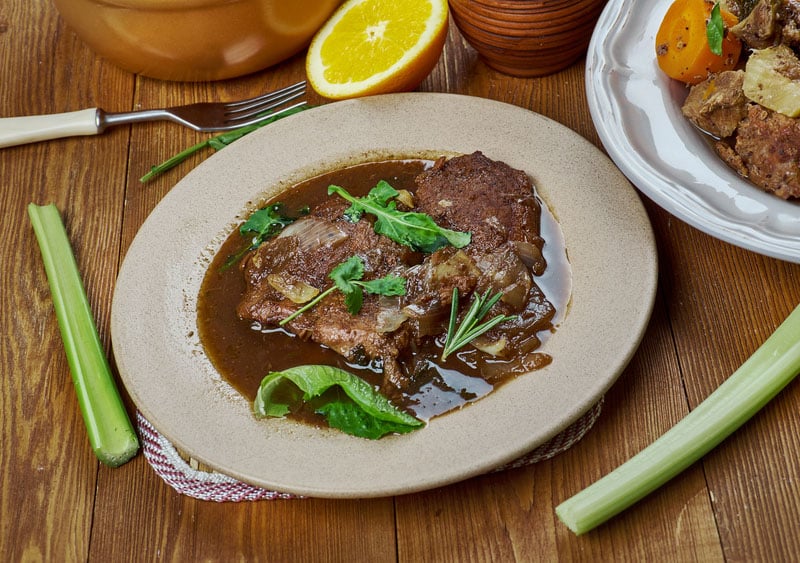 New Orleans Bordelaise sauce offers the same style of beefy rich, savory goodness, but without the sweetness and fatty quality, that marrow adds. The sweetness is replaced by the tanginess of garlic and highlighted by hints of light bitterness thanks to the parsley.
Ingredients
Classic French Bordelaise sauce includes good quality dry red wine, bone marrow, butter, shallots, and pre-prepared demi-glace. New Orleans Bordelaise sauce includes butter, olive oil, shallots, parsley, garlic, and pre-prepared demi-glace.
Method
To prepare a traditional French Bordelaise sauce, the following method is followed. Espagnole, shallots, cracked peppercorns, thyme, bay leaf, and red wine are combined and allowed to reduce until roughly a fifth of the liquid is left.
After straining (traditionally through a chinois strainer), salt and a little accentuating lemon juice are added. The blend is then brought to a simmer before butter is gently stirred in. After poaching the bone marrow briefly in salted water, it is diced and added to the sauce.
The entire almost-complete sauce then cooks for a little longer so the flavor of the marrow can infuse, and it is then ready to serve. To prepare New Orleans Bordelaise sauce, olive oil is heated to which garlic, thyme, and bay leaf are added.
When the garlic browns, lemon juice, and cold butter are added. Once melted, the sauce is strained and then returned to the pan. Finally, the parsley is added, and the sauce is seasoned with salt and pepper before being served immediately.
Uses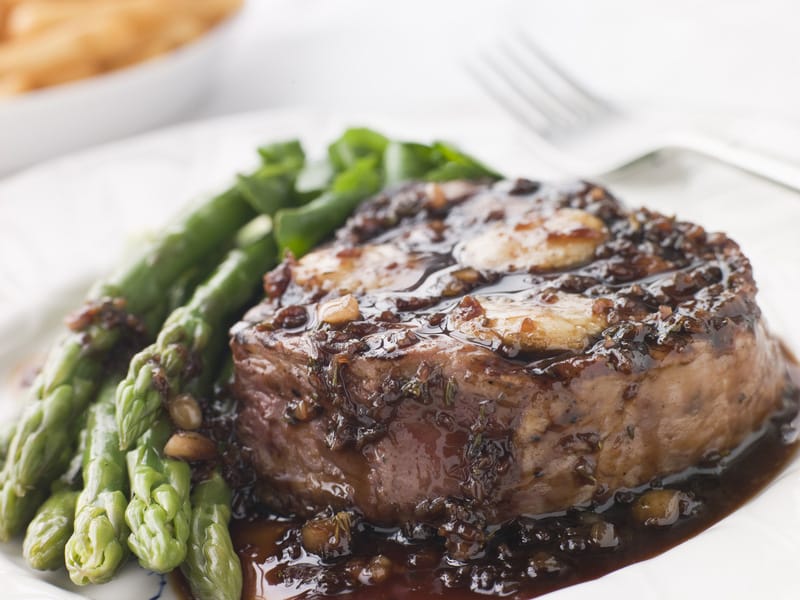 Generally, Bordelaise is served with grilled steak or beef. However, it can be enjoyed with other types of meat that complement red wine and demi-glace-based sauces as well. For the most part, it goes perfectly with all savory recipes and meat varieties.
Which Is Better Béarnaise Vs. Bordelaise?
Bordelaise is the simpler sauce to make but not necessarily the best option for all meals. The exact flavor profile that you feel will determine which is the best between béarnaise vs. bordelaise. If you haven't tried either, both are a must on top of a steak.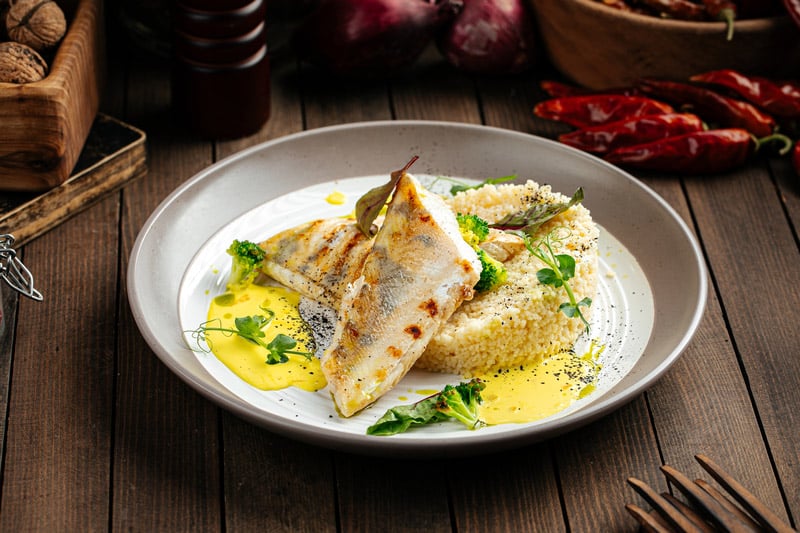 We suggest evaluating your meal and pairing bordelaise with the more savory dish.