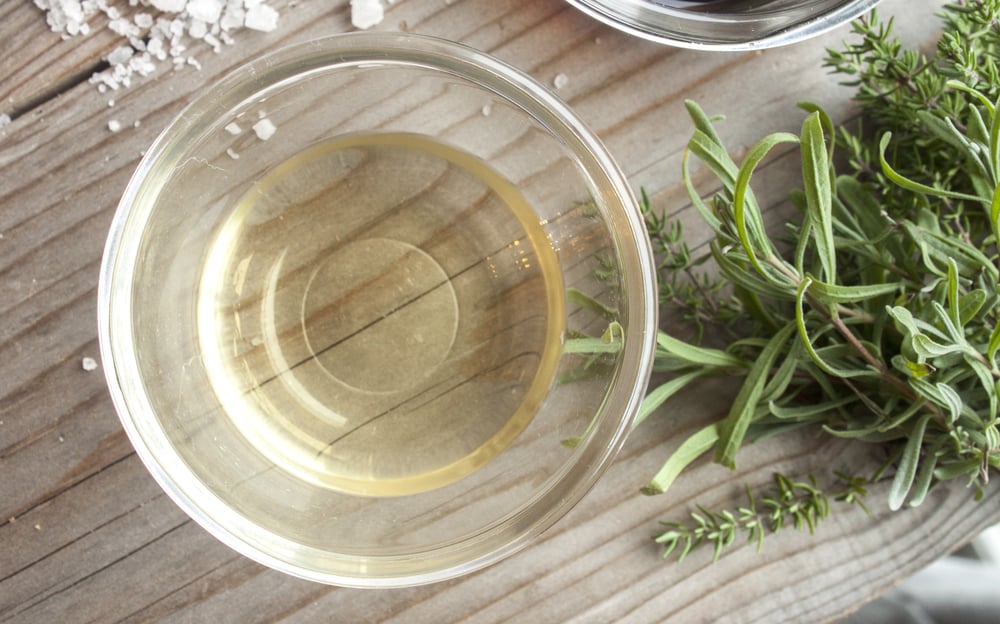 Vinegar seems to be everywhere and in every kitchen. Ranging from salad dressings to steak glazes and pasta, vinegar has become one of the most important ingredients. However, there are different types of vinegar out there for different recipes, such as balsamic vinegar and white wine vinegar. These two are the most commonly used vinegar, and we are focusing on white balsamic vinegar vs white wine vinegar!
White Balsamic Vinegar vs White Wine Vinegar
White Balsamic Vinegar
White balsamic vinegar has become one of the most popular staples for every kitchen and pantry. This vinegar is known to be the mild version of conventional balsamic vinegar that's made from white wine vinegar but is aged for years in wooden barrels or stainless steel barrels. To illustrate, it has a mildly sweet and light flavor, which makes it perfect for vinaigrette recipes, marinades, and salad dressing.
It might sound contradictory, but this vinegar has a golden color because the base wine is made from Trebbiano grapes. These grapes are sourced from Italy and are integrated and combined with the concentrated and uncooked grapes. This vinegar boasts moderate acidity, and it usually ranges from 5.2% to 7%, depending on which brand you are getting. It has a sweeter flavor, making it suitable for regular cooking recipes as well as salad dressings.
White balsamic vinegar is made with the help of an Italian recipe as it's made by brewing the Trebbiano grapes. These said grapes are applied with low pressure and higher temperatures, which leads to a golden yet pale color. The resulting syrup is preserved for aging for around one year to ensure the flavor and color are mild. As far as the uses are concerned, white balsamic vinegar is perfect for a variety of uses, such as seasoning and salads. It can add a sugary and tangy flavor to the salad.
On top of everything, it tastes amazing in soups and sauces, especially tomato soups and sauces, because they call for a tangy flavor. Moreover, it's a perfect addition to braised dishes as it adds brightness to the food, resulting in a rich and deep appearance. Also, if you are someone who marinates the food, it's suitable for marinating the meat and works wonders for tenderizing the red meat, including steaks. Not to forget, many people add to cocktails and soda to make them frizzier!
White Wine Vinegar
The most common introduction of white wine vinegar is as the alternative for white balsamic vinegar. As the name suggests, white wine vinegar is made by fermenting the white wine and is oxidized to improve the acidic nature. Given the fermentation, the vinegar will have a fruity flavor, and the best part is that it's not sugary. For this reason, you can add white wine vinegar directly to the meals and is a great way of pickling vegetables and fruits.
Topping it all, white wine vinegar is a promising choice for marinating the meats as well as steak. In addition, it has a light color and adds a light texture to the food. Keep in mind that white wine vinegar has an acidic nature, which can be removed once the food is cooked. This vinegar is made by fermenting the white wine and goes through the oxidization phases. In addition, it is distilled in the stainless steel vats, which exposes wine's ethanol to oxygen, resulting in palatable acidity with a diluted nature.
For the most part, the acidity ranges from 5% to 7%. The most surprising thing about white wine vinegar is that it can be made by blending different wines, which is known as wine stock. Given the taste profile, it makes a great addition to marinades, sauces, and salad dressing. One can replace white wine vinegar with champagne vinegar, red wine vinegar, cider vinegar, or rice vinegar. However, you need to remember that these alternative vinegar have different acidity levels.
White wine vinegar is readily available and is available by different brands, so it is better that you stick to reputed brands to ensure the flavor and acidity are well-balanced. All in all, this vinegar should be stored in a dark and cool place and should be used within six months of opening the vinegar bottle.