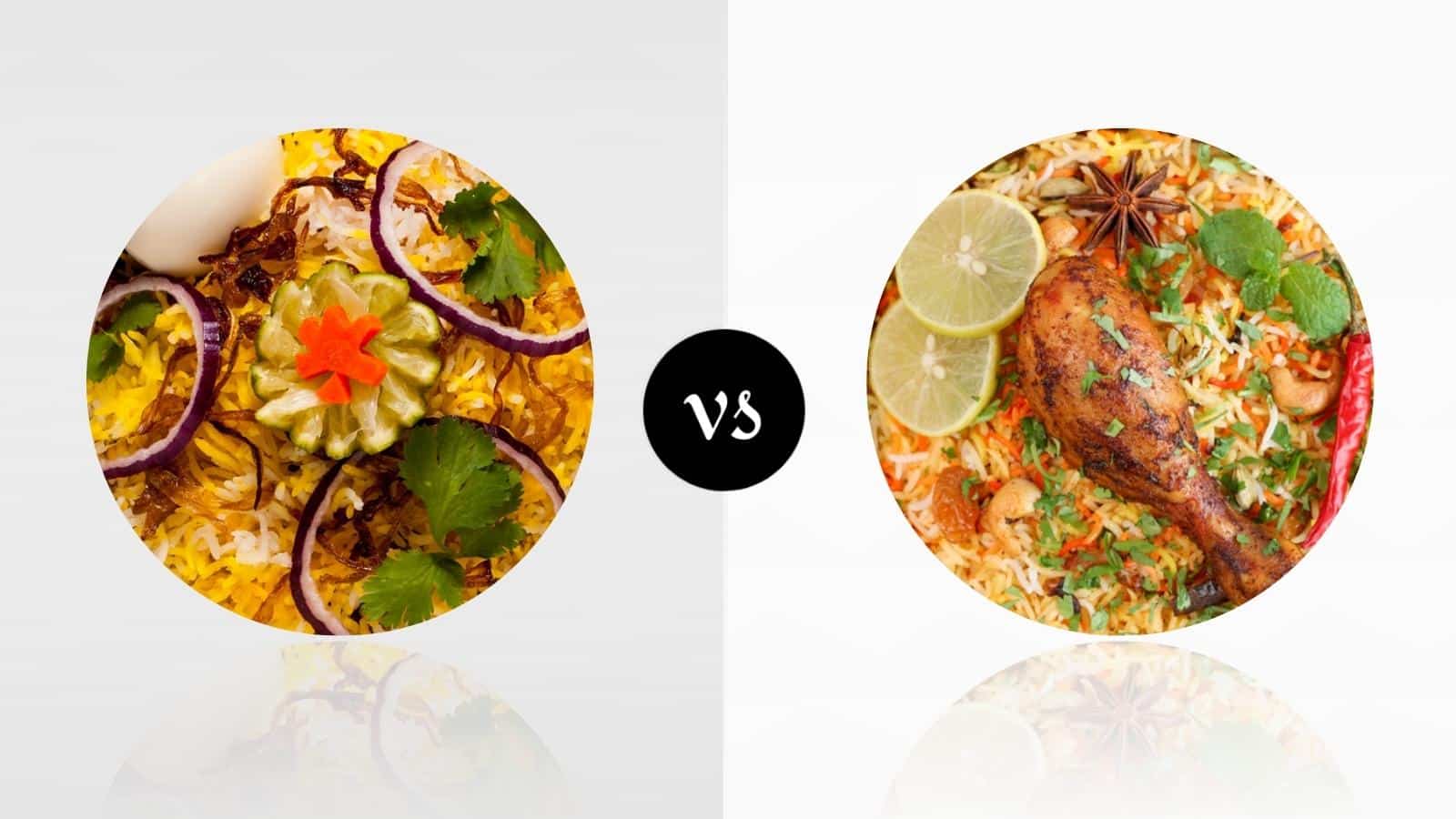 DISCLOSURE: This post may contain affiliate links, meaning when you click the links and make a purchase, I receive a commission. As an Amazon Associate I earn from qualifying purchases.
Has a friend taken you to an Indian restaurant, and you couldn't have enough of their Hyderabadi Biryani…. or was it the Vijayawada Biryani?
After all, both dishes are based on the same foundation – it's rather easy for a newcomer to biryani to get confused.
Biryani is a traditional dish enjoyed in the South-East Asian Subcontinent. It is made using chicken, beef, pork, alternate protein like goat or vegetables, and an array of spices and rice.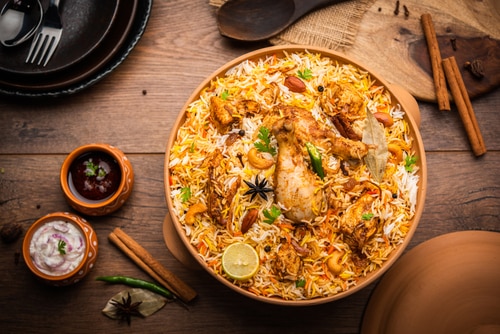 Biryani packs immense flavor. So is biryani just chicken or meat and rice? Not really. It's far more than that. If you'd ask a die-hard biryani fan what biryani is, they'd say it's more than a meal. It's a lifestyle.
It is believed that the Mughals who ruled India and most of the Subcontinent between 1526 and 1700 introduced the concept of biryani to the world.
The Mughals had a rich culture and enjoyed flavorful meals. Yet, some believe that biryani is even older than the Mughal Empire and instead believe it to be of Persian descent.
Whatever the case may be, today, the people in the Subcontinent enjoy biryani in countless different variations.
Countries like India, Bangladesh, and Pakistan consider biryani a festive dish, and it is thus usually cooked at holy festivals like Eid and Diwali.
It is also widely enjoyed as a dish served at celebrations like weddings. Anything worth celebrating is always accompanied by a tasty biryani.
Not everyone can cook good biryani. Since it's a traditional dish rich in herbs and spices, the exact quantity and an accurate recipe are a must. You can find loads of recipes on the internet.
At times, recipes are extremely similar, whereas others are massively different from one another. The difference arises because biryani is a widely cooked specialty dish, with each area having its own way of specially preparing the biryani.
Keep in mind that India is a large country with as many as 4000 cities and endless diversity of culinary tastes.
We'll be taking you through a comprehensive comparison of Vijayawada biryani vs. Hyderabad biryani so that you know which to ask for or cook the next time you're craving something spicy or have an occasion to celebrate.
Vijayawada Biryani Vs. Hyderabad Biryani Comparison
| | Vijayawada Biryani | Hyderabadi Biryani |
| --- | --- | --- |
| Origin | Vijayawada City | Hyderabad City |
| Ingredients | Chicken, Lamb Or Beef & Ginger, Garlic, Coriander, Turmeric, Cornflour, Rice Flour, Basmati Rice, Ghee, Lemon Juice, Cinnamon, Cardamom, Bay Leaf, Cloves, Star Anise, Onions, Tomatoes, Green Chili, Coriander, Mint, Curd | Chicken Or Goat & Turmeric, Red Chili Powder, Bay Leaves, Mace, Cloves, Cinnamon, Green Chilis, Ginger, Garlic, Cardamom, Coriander, Mint, Onion, Ghee, Chicken Or Lamb, Yogurt, Saffron, Lemon Juice |
| Heat Level | Mildly Hot | Hot & Spicy |
| Method | Crispy Coating Given To Meat Which Is Then Fried In Sauce/Gravy, Combined With Rice And Then Slow Cooked | Yogurt Marinated Meat Layered Beneath Sauce & Rice Which Is Then Slow Cooked |
| Variations | Chicken, Lamb, Beef, Vegetable | Chicken Or Goat, Commonly Prepared For Hundreds Of People At A Time |
Vijayawada Biryani vs Hyderabad Biryani
Once you've gone through our breakdown of Vijayawada Biryani vs. Hyderabad Biryani, you'll know exactly which type is your favorite or the flavor that suits your mood and preferences best.
We've got everything you need to know coming up.
Vijayawada Biryani
As the name suggests, the Vijayawada Biryani originated from Vijayawada City within the Indian State of Andhra Pradesh.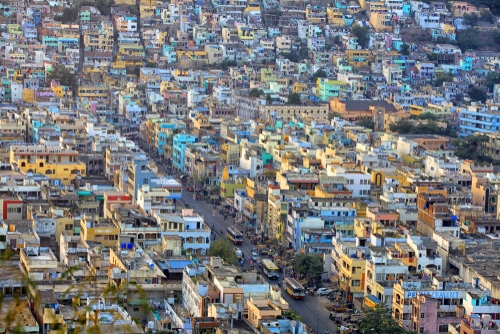 The rich culture of the Andhra Pradesh state clearly shows in its traditional food.
Biryani is eaten all around India, but what makes Vijayawada biryani different? Let's see.
Origin
The culinary mecca Andhra Pradesh in southeast India houses the city of Vijayawada, where Vijayawada Biryani originates.
It's an area that's treasured for its abundance of sacred locations, including Kanaka Durga or the Temple of Hindu Goddess Durga.
Biryani is famous in this region, as is morning idli, Rava dosa, and various pickles like avakaya magaya.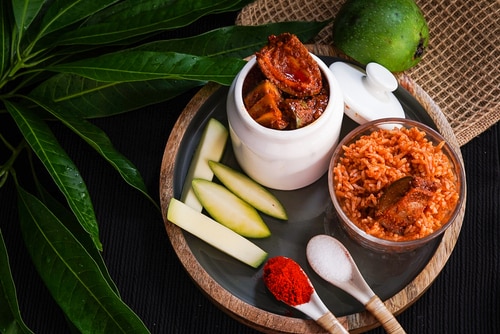 Ingredients
Vijayawada Biryani's traditional recipe typically includes chicken, lamb or beef and ginger, garlic, coriander, turmeric, cornflour, rice flour, basmati rice, ghee, lemon juice, cinnamon, cardamom, bay leaf, cloves, star anise, onions, tomatoes, green chili, coriander, mint, and curd.
Heat Level
In comparison to Hyderabad biryani, Vijayawada Biryani is only mildly hot despite several prominent spices being used.
Method
The meat is given a cornflour and rice flour coating before being cooked crispy and then added to the rice.
A rich gravy containing a variety of spices is blended into the biryani, which is then allowed to bake to perfection.
Slow, steady cooking ensures that the rice fully absorbs all of the flavors.
Variations
While Vijayawada Biryani is traditionally made with chicken, lamb, or beef, the vegetable Vijayawada for vegetarians is a popular variation.
Although the fuller flavor is usually guaranteed when using individual spices, ready-to-make biryani masala ensures that you've got all the spices, bar none.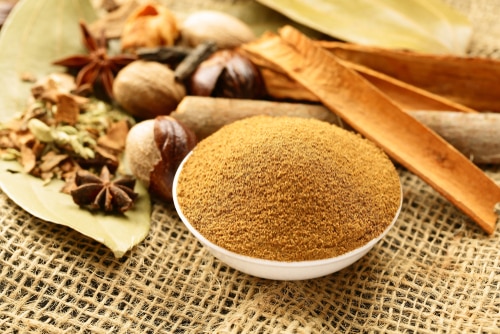 There's no easier way to make a variation of Vijayawada masala that comes super close to the authentic recipe.
Hyderabadi Biryani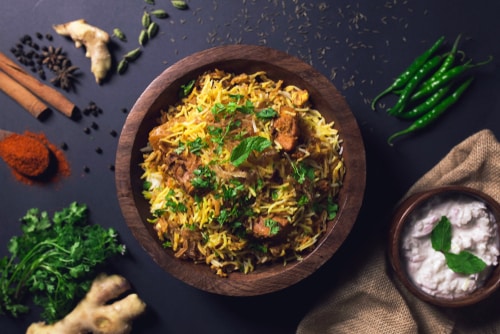 Hyderabadi Biyani is instantly recognizable from its appearance and aroma. Zaffran, the Urdu term for saffron, imparts color and a pungency that can't be missed and is integral to the recipe, as is yogurt.
Let's take a closer look at this delicious biryani.
Origin
The Hyderabadi Biryani is one of the most famous Biryanis. It originated in Hyderabad, India, and later the recipe spread to popularity all around the world.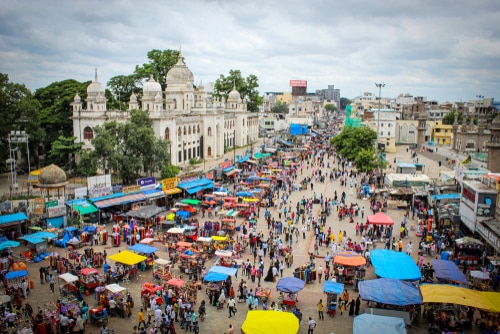 The Muslim community in India is known for its hospitality and unique recipes like this one-of-a-kind biryani that dwarfs all other foods from the region in popularity and fame.
Ingredients
The basic recipe includes biryani masala or a range of individual spices, turmeric red chili powder, bay leaves, mace, cloves, cinnamon, green chilis, ginger, garlic, cardamom, coriander, mint, onion, ghee, chicken or lamb, yogurt, saffron, and lemon juice.
Authentic regional Hyderabadi biryani uses goat meat as the protein.
Heat Level
When compared to Vijayawada Biryani, Hyderabad biryani has a high level of heat and bold use of spice. It's far richer than its counterpart and most other biryanis
Method
Lamb or chicken is marinated in yogurt and ten layered in-between par-cooked rice. To elaborate, lamb meat is properly cleaned and then cooked in spices and yogurt. Adding yogurt makes the meat more tender and rich in flavor.
Next, the lamb is cooked in gravy over a slow flame for an extended period. This is to ensure that the lamb absorbs all the spices properly.
Once the lamb meat is tender and properly cooked, it is shifted to a pot with boiled rice and allowed to cook for about 5 minutes.
Again, it makes sure that the rice absorbs all the flavor. Finally, in the end, the Hyderabadi Biryani is garnished with fresh coriander.
Variations
The Hyderabadis are known for making biryani for as many as 300-500 people in one go.
Side-Dish
This hot biryani is typically served with traditional Indian Raita, which is a cold salad made from yogurt, cilantro, green onions, coriander, cumin, and cucumber.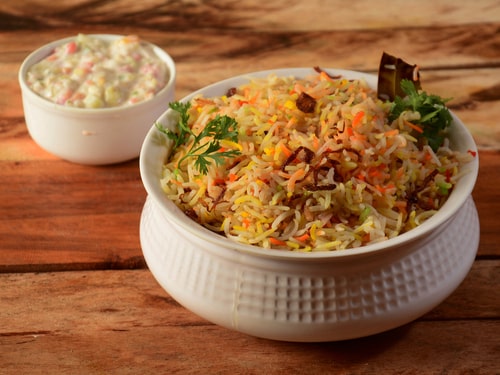 Conclusion
As you can see, it's not only the primary meat type that makes the biryani. The spices and method of preparation between Vijayawada Biryani vs. Hyderabad Biryani are distinctly different, imparting a unique flavor to each meal.
To wrap up, it is safe to say that if you're looking for the hotter, spicier option, Hyderabad biryani is your best choice. Vijayawada biryani is packed with equal flavor but is much milder in comparison.