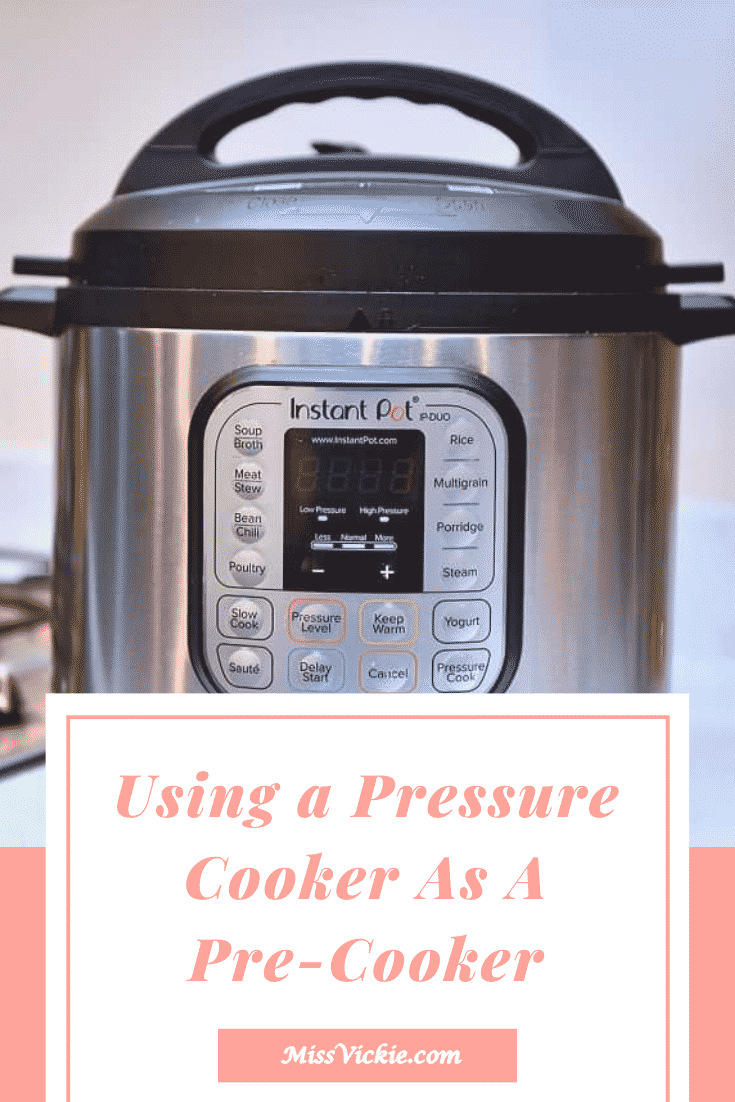 A pressure cooker is a fantastic tool that is convenient for any individual that prefers hands-off cooking. Pressure cookers are great and come highly recommended for busy cooks because they handle all the heavy cooking when braising and stewing different food items such as meat, dried beans and more.
But pressure cookers are also valuable to the pre-cooking process. You can pre-cook just about any food item in a pressure cooker. However, using a pressure cooker as a pre-cooker should generally be left for foods that require extensive cooking times such as dried beans as well as tougher cuts of meat.
Using a Pressure Cooker as a Pre-Cooker
By precooking meats and poultry such as chicken, you end up spending a lot less time frying or roasting your food items. Since pre-cooking only cooks the food partially, you will have time to concentrate on other tasks until you are finally ready to do your cooking. For instance, you can pre-cook ribs and then finish them up later on the grill, which will leave you with plenty of time for other activities especially when you are busy or when hosting guests.
Using a pressure cooker for pre-cooking meat
You can use your pressure cooker to pre-cook all sorts of meat, even ham and turkey before you transfer them to the grill or oven. When using your pressure cooker to pre-cook, you should always pay attention to the cooking time charts before transferring your pre-cooked meal to the grill or oven to get a nice crispy surface on the meat.
You can pre-cook meat in your pressure cooker and then transfer it to an oven, broiler or an electric grilling machine. Foil helper strips will allow you to remove your meat from the pressure cooker so that you can transfer it to the roasting surface with the pressure cooker rack.
Once you transfer your meat to the roasting or grilling surface, bate it with butter or margarine or add a glaze to get the same crispiness that you would get had you roasted it over an open flame or in an oven. The end result will be a glazed shiny surface and a moist, juicy or flavorful interior.
After you have used your pressure cooker for pre-cooking, you can then decide how you want to handle the meat once it is ready. You can shred or cube your meat for use in tacos, burritos or fajitas. Alternatively, you can use your shredded or cubed meat as stuffing for pita bread or you can incorporate it in any type of salad that you want.
Using a pressure cooker to pre-cook vegetables
A pressure cooker can also be used for pre-cooking different types of vegetables. Veggies such as artichokes, potatoes, corn on the cob, as well as asparagus fair well when they are pre-cooked in a pressure cooker.
If you do not want your veggies or meat to turn out dry or overcooked, it is always important to focus on the timing and the cooking time. Remember to monitor your cooking time or use a cooking time chart that will allow you to pre-cook your meals with more accuracy and precision.